Chris Townsend is impressed by Garmin's latest satellite communicator
When I started backpacking smartphones, let alone satellite communicators, were the stuff of science fiction. On long walks I was regularly out of touch for weeks at a time, communicating with home by postcards and letters and the very occasional expensive phone call. Then mobile phones arrived and the world changed. They made for more regular communication, when there was a signal. This century the first satellite communicators appeared and revolutionised communications in the outdoors. I've been using one of the first models for several years. Whilst it seems ridiculous to describe such a high-tech device as basic, compared to the latest ones, like the Garmin inReach Mini 2, it is. There's no screen and it can only send preset messages or an SOS signal. I use it to send the occasional OK message home on overnight trips. A big disadvantage is that I can never know if messages have been received. Mostly they have been but occasionally one hasn't arrived.
When more sophisticated devices with screens and two-way messaging appeared I thought I would probably get one eventually if only to receive acknowledgements of messages. However my old device still worked so I hadn't yet replaced it when Garmin offered me an inReach Mini 2 to test. I've now been using this for several months and I have to say it is excellent and more useful than I thought it would be.
Design & Usage
The inReach Mini 2 is tiny, tough and designed for rough usage. It has an on/off button, four control buttons, and an SOS button, the latter protected by a cover to prevent accidental use. The screen is black and white with a clear display. It uses the global Iridium satellite network to send messages and SOS alerts.
The screen menus are logical and it didn't take me long to remember the sequences. The fingertip size buttons require a little pressure to activate so are unlikely to be pressed accidentally.
The inReach has a receiver protruding from the top and for maximum efficiency needs to be kept upright. This is most easily done when moving by clipping it to a pack strap. A mini-carabiner is provided for this. I like clipping it to a loop on a shoulder strap as then I can use it as a watch (yes, it also tells the time).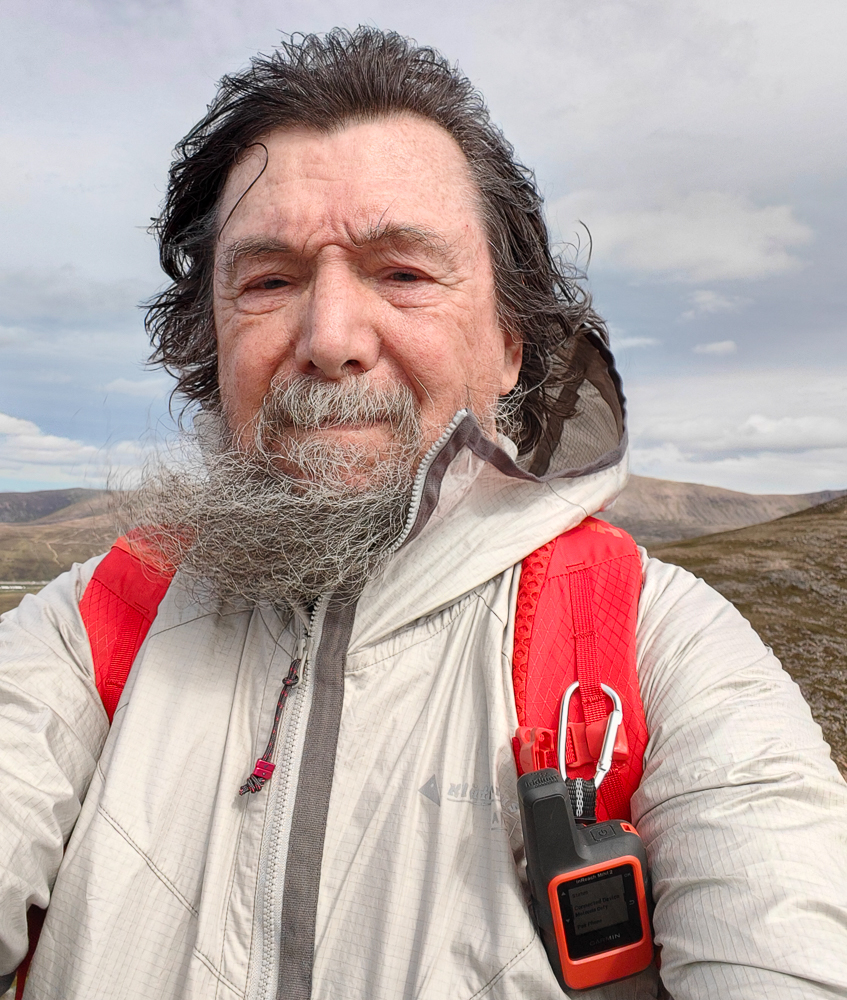 Battery
The lithium-ion battery is built-in and can't be removed. Charging is via a USB-C connection. How long the battery lasts depends on whether you have a full sky view or not, what the tracking interval is, and whether it's set to the High Detail (more frequent updates) or the Standard option. The maximum battery life is with 30 minute Standard tracking when it can last up to 30 days with full sky view and up to 10 days with moderate tree cover. I have the inReach set to standard 10-minute tracking, which gives up to 14 days with full sky view and 4 days with moderate tree cover. I've found this fairly accurate on walks with a mix of full sky view, partial sky view (in narrow valleys), and moderate and sometimes dense tree cover. On any overnight or longer trip I carry a battery pack so I can recharge the inReach if necessary.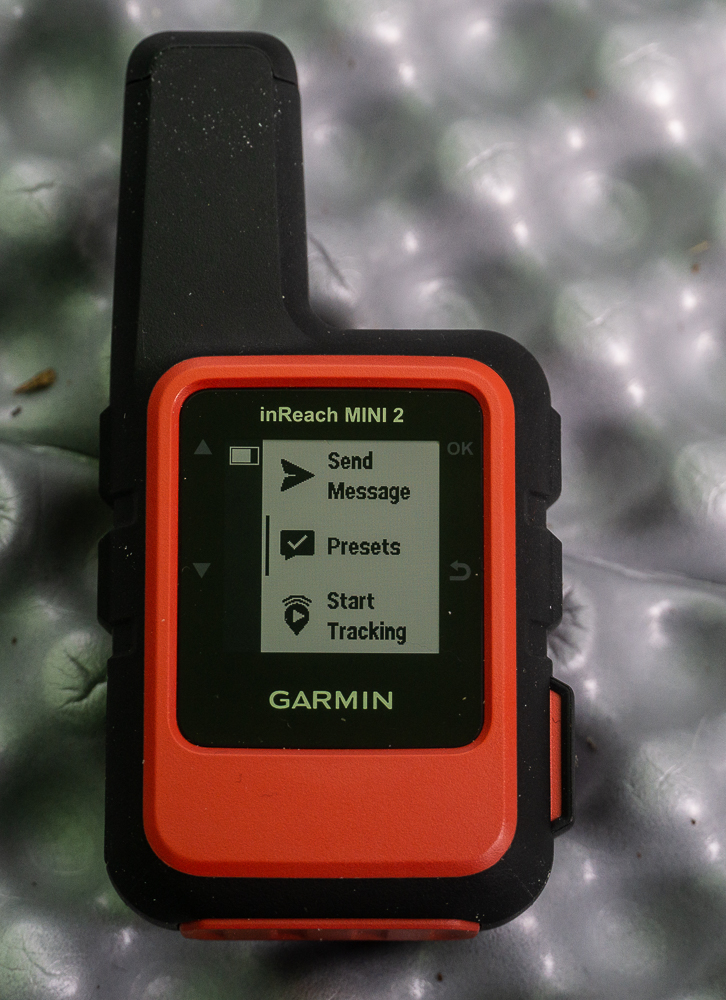 Garmin Explore app & smartphones
Whilst the inReach Mini 2 can be used as a standalone device pairing it with the Garmin Explore app on a smartphone makes it much easier to use. The app can also be used at home on a laptop or desktop computer where you can edit contacts and preset messages, view routes and tracks on the map, and see how many messages you've sent. Using the Explore app on the smartphone you can send texts and emails without needing a phone signal. As typing messages is a very slow and frustrating process on the tiny inReach screen – I would only use it to send preset ones – being able to link it with a smartphone is a great feature. Pairing it with a smartphone is done via Bluetooth and I found it quite easy to do with two different phones.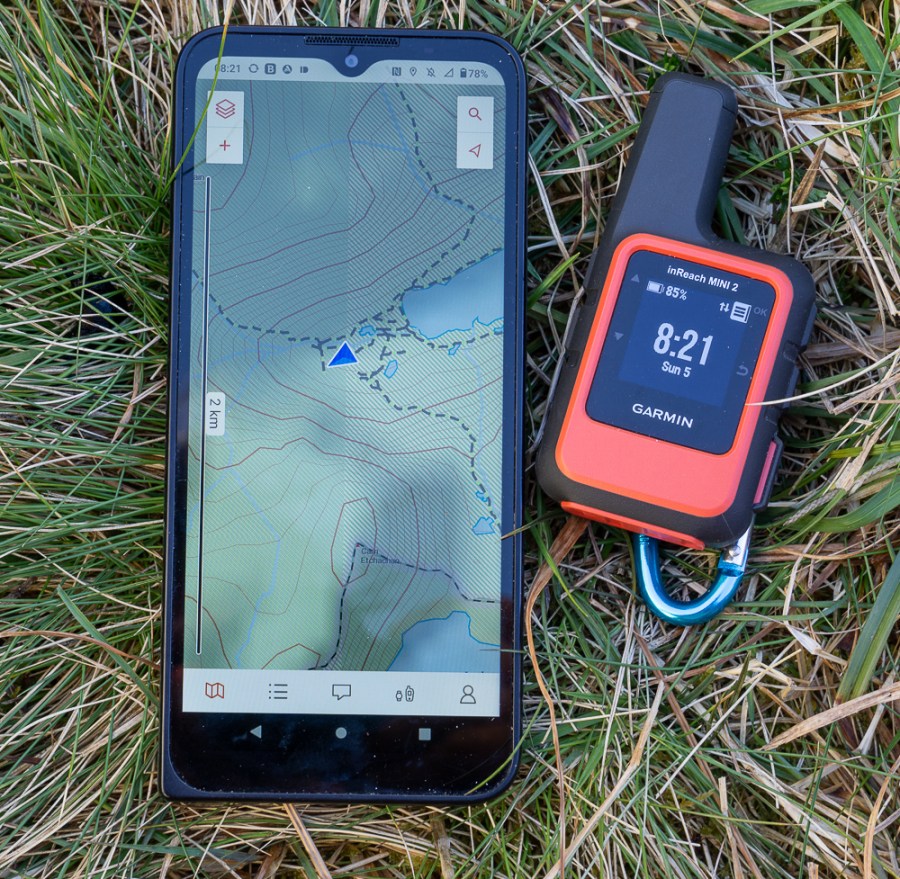 GPS Navigation
The inReach also functions as a GPS navigation unit, using four satellite networks. You can see your location on the map (again, much more clearly on a smartphone) or as a grid reference and share this with contacts. All the usual waypoint functions of a GPS are present, including a digital compass that works when stationary and a GPS compass that only works when moving. There's also a track-back function that enables you to navigate back to your start.  The map with your route can be shared with contacts.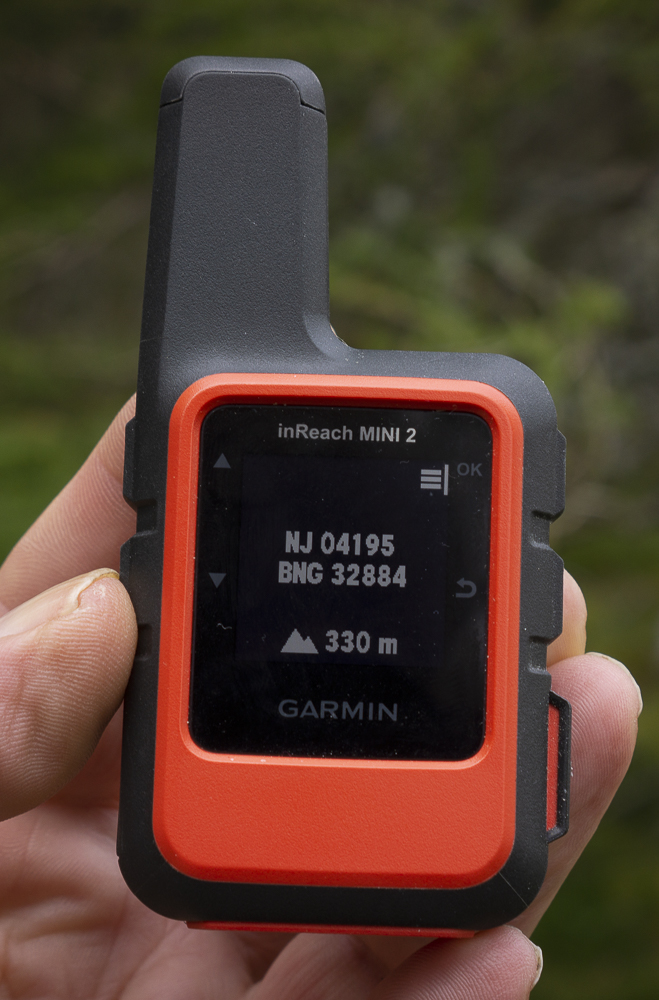 Subscriptions
There are three subscription plans, each with two charging options, monthly and annual. All the plans allow unlimited preset messages and unlimited SOS signals. The basic plan, called Safety, then allows 10 messages per month and charges 10 pence for each track point sent. The Recreation plan allows 40 messages and has no charge for sending track points. Both Safety and Recreation plans have tracking intervals of ten plus minutes. The Expedition plan allows for unlimited text messages unlimited track points, and 2 minutes + tracking intervals. Note that messages include those sent to you as well as those you send.
The costs for monthly and annual plans are £14.99 and £12.99 for the Safety plan, £34.99 and £24.99 for Recreation, and £64.99 and £49.99 for Expedition. The monthly plans are good if you won't be using the inReach much as you can suspend the service when it's not needed. However it wouldn't take much extra usage for the costs to exceed those of an annual plan.
For sending preset messages and the very occasional text on day walks and short backpacking trips the Safety plan looks the best. If you'll be sending more than five messages a month and are out on longer trips then the Recreation plan looks best.
Conclusion
The inReach 2 is expensive to buy and to run but if you want two-way communication with friends and family when out of range of a phone signal it is excellent. The navigation functions work OK but I find this more easily done with the GPS and mapping app on my phone, especially as the Garmin map is not OS standard. Being able to send your location and route to contacts from the inReach is useful though.
The inReach Mini 2 is very light and compact and so far has proved reliable. It will now be with me on every trip.
BEST BUY: This product has been awarded our 'Best Buy' endorsement, meaning our reviewer believes it to be one of the best items of its kind available.