The Extremities Evolution Waterproof hiking glove is fully waterproof but is also extremely stretchy, aiming to give a wide range of use across varied conditions. The gloves are made from Extremities X-Dry Stretch, a three-layered fabric. The first is an inner made of a merino wool and acrylic mix, which is pleasant enough against bare skin; the middle layer is the waterproof and breathable membrane; and the outer layer is a nylon and elastane mix.
Prices: International shipping available | £55 (Available from amazon.co.uk)
The nylon offers very good abrasion resistance and the 2% elastane content gives just enough stretch for the Evolution to fit me well, but not enough to damage the waterproof membrane. This means the gloves feel stiff at first; but this sensation of compression does diminish quite quickly in use, and I've worn them for hours on end without any issue. 
The Extremities Evolution Waterproof gloves are also windproof but there is very insulation from the inner layer, so they're better suited to spring and autumn, as opposed to cold weather. This low insulation level may have helped moisture management as the breathability is fairly good: when working hard my hands get clammy quite quickly, although the gloves dry reasonably quickly in response. 
The outside fabric has excellent DWR. Rain rolls straight off, and this is only starting diminish on the palms and inner fingers through use. I've had mixed results with the touchscreen-compatible tips on the thumb and forefinger.
For example, on a damp day screen interaction can be erratic. A reflective logo aids nighttime safety and makes finding the gloves by headtorch easier. The cuff is long and slim-fitting to effectively seal gaps with your clothing layers, and the palm's silicone print that grips poles and ice axes effectively. Dexterity is excellent with the seamless close-fitting design.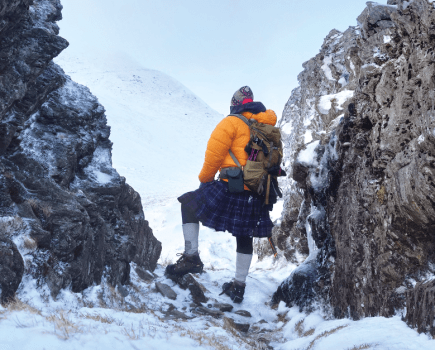 Tested by Peter Macfarlane
Peter wears a size Large in gloves. He suffers from cold hands, and so he wears them almost every time he leaves his house. His review pairs were tested daily over many months from front door to mountain top and everything in-between. The gloves have seen extensive use on the Scottish hills and trails with ice axe and pole use on the Munros and their dexterity has been tested doing everything from camp cooking, fitting crampons, making emergency repairs to a deer fence using tools and wire, and changing a mountain bike tyre on the trail. All weights are for a pair and from Peter's digital scales.