Chris Townsend is impressed by the Built To Send U1 Daypack – a tough, minimalist, lightweight pack.
Over the years daypacks have become increasingly complex. Many have adjustable backs, internal frames, and padded hipbelts just like those found on large backpacking packs. Multiple pockets and external straps are common too. The Built To Send U1 daypack – the first from the brand – isn't like this.
There are no external pockets, no frame, no padded hipbelt, no compression straps, no lid. Built To Send describes it as "ultra-minimal". It's not quite that as it does have a padded back and bungee cord and attachment loops on the front, but the design is simple compared to most daypacks.
At 600 grams the Built To Send U1 daypack is very light. The capacity of 19 litres sounds small for a daypack but it can be extended 22 litres by not closing the top – there is a compression strap to hold gear in – and Built To Send's litres are a little bigger than those of some other companies.  I can fit as much inside as in some 25 litre packs. Litres aren't a fixed measure when it comes to pack capacities!
Materials and Construction
The U1 is made from waterproof composite VX21 X-Pac fabric, described as "one of the toughest materials on the planet". The construction is mono-shell, meaning the pack body is made from a single piece of material. The only seams are those that attach the back panel and those on the base, which is double fabric, and the only stitching is for the front attachment points. This makes the pack very weather-resistant though not fully waterproof.
The Built To Send U1 daypack's back panel and the wide curved shoulder straps are made from firm 10mm foam. There is a sternum strap but no padded hipbelt, just a detachable webbing strap.
To go with the tough materials the construction is excellent. Built To Send says "our seam allowances are almost twice the industry standard, and we triple stitch structural seams using V92 bonded polyester thread, exceeding the military specification for safety-critical equipment. Load-rated webbing is bar-tacked for extreme strength". The Built To Send U1 daypack should last a very long time and stand up to a great deal of abuse.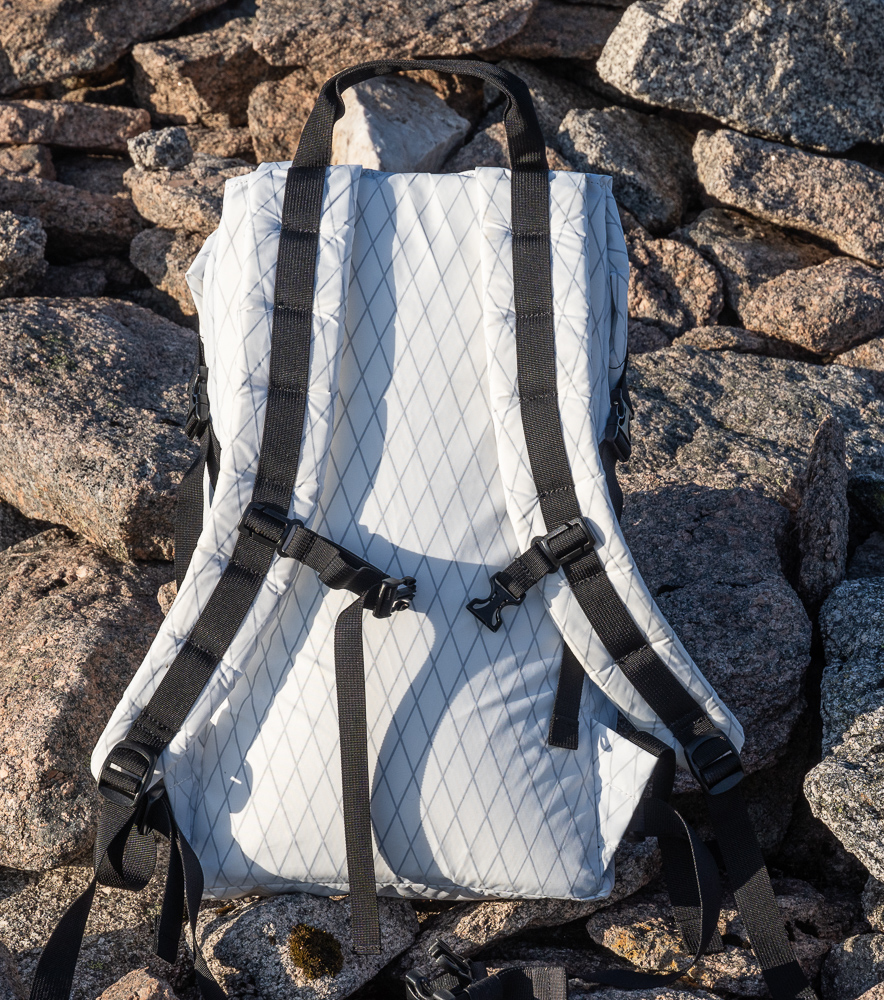 Design
The U1 has a fold over top with three straps and buckles that can be used in different configurations. This is an established design for ultralight packs and it works well, making opening and closing the pack quick and easy. On the back there are two strips of daisy chain webbing with a long bungee cord and ice axe/trekking pole loops threaded through them. Other straps could be attached to the webbing and the cord and loops are removable if not needed.
Inside the Built To Send U1 daypack there's a zipped pocket for small items such as wallet and keys and an open pouch for maps, guidebooks, or a water bladder.
The U1 I have is white, which is good for photography and not losing it (except maybe in snow!) If that's too bright it's also available in black, at a weight penalty of an extra 25 grams. The white does look grubby after a while, as I've found with the much larger X3 (reviewed here).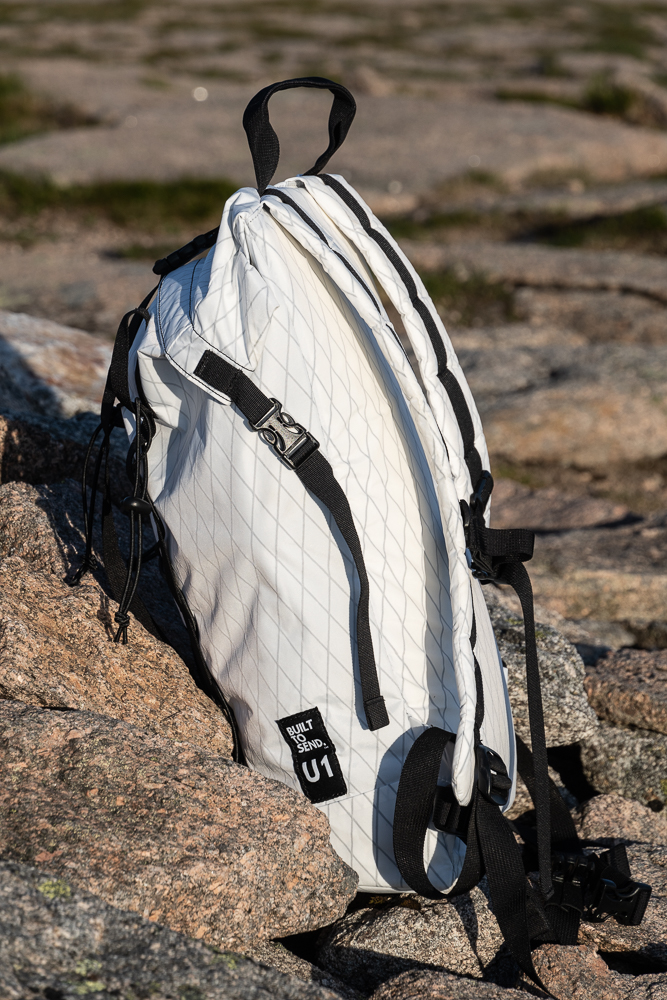 In Use
Being used to daypacks with padded hipbelts, frames, and external pockets I wondered how I would get on with a pack with none of these. After a day out in the Cairngorms I was wondering just how necessary any of these features are in a small pack as the U1 proved comfortable and functional. With a 6kg load the pack carried well, the wide padded shoulder straps easily handling the weight. I didn't miss a padded hipbelt, though with a few kilos more I probably would have done as the narrow webbing strap can't support any significant weight.
The padded back is comfortable too and firm enough that careful packing isn't needed to ensure items don't poke you in the back. As the foam is covered with the same waterproof fabric as the rest of the pack and the design is body-hugging my back does get sweaty in hot weather, a penalty I'll take for a pack that's very stable and lightweight. Combined with its toughness the close fit makes it a great choice for scrambling. The U1 easily holds all my gear for a summer day out. For easy access I found it best to pack items I was most likely to need at the top and to put small items that I would otherwise carry in external pockets together in a bag to stop them slipping down inside. I found a zip-round packing cube ideal for the latter as it could sit in the top of the pack and be accessible without having to be removed. The pack fabric is stiff enough that the top doesn't flop down when unfolded, which is excellent for access.
The bungee cord on the pack is useful for holding a garment you expect to need again shortly or that's wet. It's easy to stuff waterproofs in it. I've also carried a foam sit mat here for quick access when I stop.
I like the U1 more than I thought I would. It does require thinking a little differently and won't appeal to everyone, especially those who like external pockets. With heavier loads a padded hipbelt might be missed too. An optional detachable one would be good to see.
The Built To Send U1 daypack is expensive but this is an extremely tough pack that should last for ages.
RECOMMENDED: This product has been awarded our 'Recommended' endorsement, meaning our reviewer believes it is a strong product which works well for its intended purpose.