Straight from the box, the Mission Leather Low looks durable and well suited for repeated use on rocky terrain. The sole compound is one of Black Diamond's own, designed for mountain use specifically, and is grippy on rock. The climbing zone wraps around the toes, and the rest of the sole has medium-depth lugs. The heel shank is angled enough to help on vegetated descents, although it's designed with via ferrata in mind.
Price: $169 / £150 (Available from blackdiamondequipment.com)
Materials: nubuck leather | Features: BD Dry lining, BlackLabel-Mountain sole | Sizes: UK 3-8.5 including half sizes | Men's version: yes
There is some flex at the forefoot, and a pretty stiff heel, with a chunkier midsole that protects from sharp rocks but reduces groundfeel. The nubuck helps with waterproofing and is supplemented with a BD Dry membrane, but in my experience, this didn't compete with Scottish bog, and I ended up with wet feet. It might fare better in showery weather.
The rand on the mission leather covers a good amount of the toe and heel sections that are most exposed to wear. The lacing lets this shoe down a bit. It doesn't cinch as well in the right places and leaves the foot moving around inside the shoe, which is more noticeable on the downs but doesn't affect the ups as much. That extra volume in the midsole enhances the feeling of the shoe moving around the foot.
With a couple of small adjustments, this could work well on scrambles. As it is, it's better suited for rocky, heathery terrain.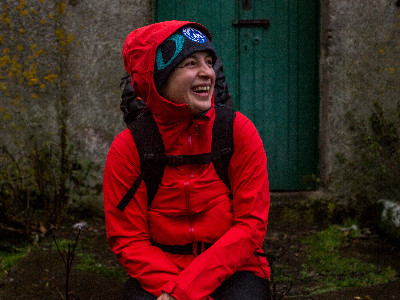 Tested by Kirsty Pallas
Kirsty has size 5 feet, with a wide forefoot and low volume. These models were all tested in Scotland whilst waiting for winter to return, in fairly muddy and wet conditions. Ground covered included rocky terrain, bog, and general off path scrub. Shoe weights are per pair, measured on Kirsty's scales.