This fleece is warm and comfortable and has an excellent design, says Chris Townsend.
Fleece jackets are generally much the same. The new Berghaus MTN Guide MW Hoody is different and has a much more interesting and practical design than most.
Firstly it's made from Polartec Power Grid, a bi-component fabric with a hydrophilic inner with a raised grid pattern that wicks moisture fast and a smooth outer surface that spreads and disperses moisture quickly. Two weights of Power Grid are used, with lighter fabric under the arms for faster moisture transfer. The grid pattern also helps breathability by creating air channels.
The jacket also has a sewn-in neck gaiter that can be pulled up as a mask, an unusual feature I haven't seen in a fleece before. This neck gaiter is made from Polartec Power Wool, another bi-component material with merino wool on the inside for comfort and moisture absorption and polyester on the outside to disperse the moisture.
Both the jacket and the neck gaiter have an elastane component that makes them very stretchy so they can be close-fitting without being restrictive.
The jacket has a close-fitting hood and two chest pockets that sit well above a hipbelt and so are easily accessible when wearing a pack. The outer of the pockets is made from a thin plain stretch polyester.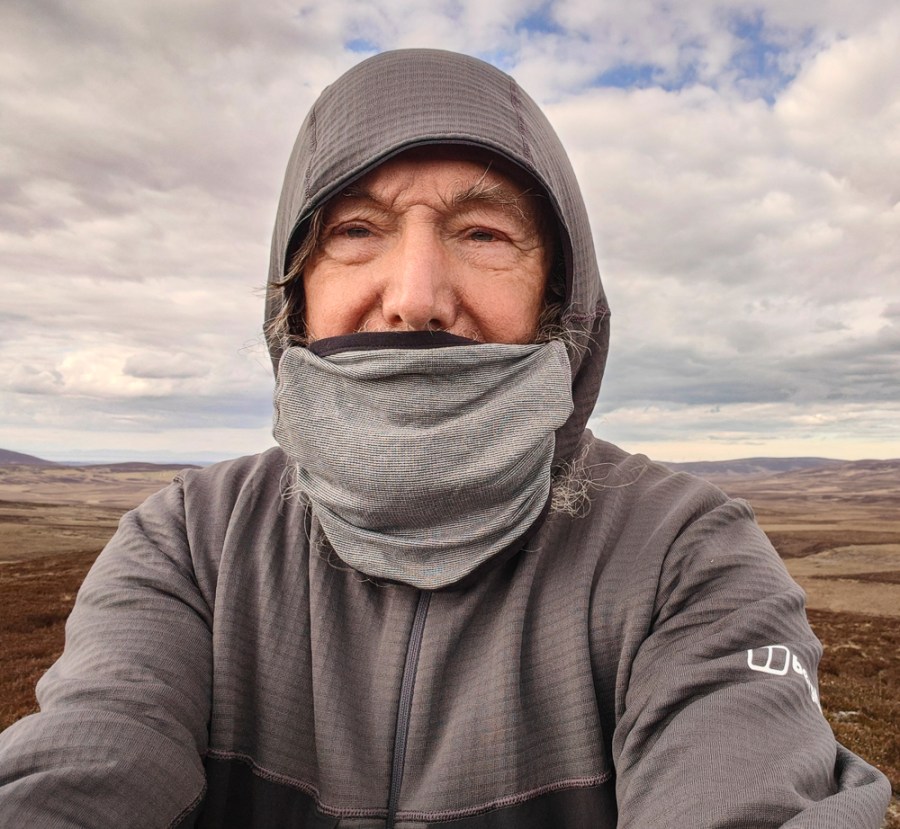 In use I've found the Berghaus MTN Guide MW Hoody (not the catchiest name!) warm, comfortable and very breathable. I did have my doubts about the neck gaiter. I thought it might feel restrictive or too hot. In fact it was neither as it can be flipped back over the head when opening the jacket for ventilation. Most of the time I didn't notice it. On cold summits pulling it up as a mask helped keep me warm. In the end I decided I liked it. The hood is good for the same reason. It's not adjustable but in any wind strong enough to blow it off the head a shell jacket would be needed anyway.
The jacket isn't windproof of course and in a cold wind a shell is needed. This where the fast wicking and the close fit really make a difference for comfort.
The Berghaus MTN Guide MW Hoody is quite light for the warmth provided and the price is reasonable for a fleece made of technical materials. I think it's an excellent jacket with a practical design and useful features not usually seen in a fleece. It's one of the best midlayers I've tried in many years.
BEST BUY: This product has been awarded our 'Best Buy' endorsement, meaning our reviewer believes it to be one of the best items of its kind available.