Despite the expense and garish camera colours, Alex Roddie still recommends the iPhone 14 for outdoor use. Find out why.
The Apple iPhone 14 was released in September 2022, and is almost identical to the iPhone 13: more RAM (6GB vs 4GB), a fractionally faster processor (which remains industry-leading), and about an hour more battery life. It's a compact, lightweight phone made from high-quality aluminium and glass. Although marketed as Ceramic Shield, and claimed to be crack resistant, it's still slippery glass and I wouldn't use this phone on the hill without a durable case and screen protector. On the plus side, it's waterproof. There are no user-programmable hardware buttons.
Stars: 4
Price: £849
Weight: 169g
Pros: Extremely fast and fluid; high build quality; unmatched app quality and ecosystem; bright, sharp screen; thin and light
Cons: Expensive, especially for more storage; no telephoto camera; garish camera colours; screen only 60Hz; requires case; no programmable buttons
Size: 146.7 x 71.5 x 7.8mm | Screen: 6.1" OLED, 460ppi pixel density, 60Hz refresh rate | Materials: Toughened glass screen and back with Ceramic Shield, aluminium frame | Operating system: iOS 16 | Storage: 128–512GB storage (non-expandable), 6GB RAM | Battery: 3,279mAh | Cameras: 12MP f/1.5 (wide), 12MP f/2.4 (ultrawide), 12MP f/1.9 (selfie) | Features: Lightning port, face unlock, satellite comms (SOS and Find My only), IP68 dust/water resistant, 15W fast charging, MagSafe wireless charging
SQUIRREL_BUTTON_12942755
Storage capacity starts at 12GB, but prices soon climb to stratospheric levels if you upgrade. The 512GB model tested costs a blistering £1,179 and is otherwise identical to the base model.
The screen is smaller than the other phones tested, but brighter and easier to read in direct sunlight. Clarity, sharpness and colour accuracy are by far the best of the phones tested. However, after using phones with high-refresh-rate screens (including my own iPhone 13 Pro), going back to 60Hz is painful – everything seems just a bit choppy, despite the overall speed of the device.
One notable upgrade is Emergency SOS via satellite – a service that is free for two years (information on pricing beyond this not currently available). Via an easy-to-use interface, the phone helps you get a satellite lock and then communicate with emergency services. It's a bit slow, but it does work and its idiot proof. You can't text friends or family via satellite, although it will integrate with Apple's Find My feature to share your location with Apple-using contacts. This won't replace an inReach or SPOT but could offer just enough functionality for some users – and without the hefty bill.
The phone lacks a telephoto lens, but the wide and ultrawide lenses create consistently sharp, detailed and noise-free images in any light, with excellent dynamic range. However, results often have garish colour that looks unrealistic. This has been a problem for several years now and unfortunately the Apple iPhone 14 is no different. Video quality is, however, superb – far better than the other devices tested, with unbeatable stabilisation.
Despite the small battery capacity on paper, in practice battery life is about equal with the Nokia and more than good enough for two days on the hill with careful use.
While the price of the Apple iPhone 14 is high, and there are few meaningful upgrades over last year's iPhone 13, the satellite functionality is a welcome addition – and could even save your life. If you're already an iPhone user with a phone more than three or four years old, this is a worthy upgrade. If your phone is newer, there's no substantial reason to get the 14.
Compare more devices in our Buyer's Guide to smartphones for the outdoors.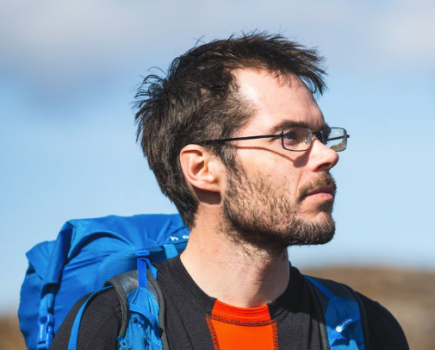 Testing conditions
Our tech expert, Alex Roddie tested these phones on a variety of day hikes and short backpacking routes in the Scottish Highlands throughout spring and summer 2023. Weights stated are as measured on Alex's digital scale. He is an iPhone user but has extensive experience with Android devices over more than a decade.