This new jacket uses a fabric that dates back to World War Two. Chris Townsend puts it to the best, and find it works surprisingly well.
For its latest jacket, the Ranger, Alpkit has chosen a classic natural fabric that dates all the way back to 1941 and the Second World War when it was developed for immersion suits to help downed RAF airmen survive in the Atlantic Ocean. The fabric, Ventile, is a high quality, tightly woven cotton that's windproof, weatherproof, and tough. It's not fully waterproof but will keep out rain longer than other windproof fabrics.
Today's Ventile is made in Switzerland from organic cotton and has a PFC-free durable water repellent treatment that keeps off light rain. In continuous heavy rain Ventile absorbs the moisture and the outer fibres swell, forming more of a barrier. The fabric becomes stiffer too, giving more protection against stormy weather. At the same time Ventile is very breathable as there's no solid coating or membrane to impede perspiration passing through it.
The dense weave and high-quality cotton make Ventile a tough fabric and great for scrambling or pushing through vegetation. And if it does tear it's easy to repair with stitching or a patch.
Alpkit says it is using Ventile because "we wanted to offer a natural alternative in our outer layer range so people can enjoy the natural environment without having to wear synthetic fibres. We believe that traditional technologies using natural fibres still have a place on the hill and in our gear cupboards."
As well as organic cotton, which of course is biodegradable, Alpkit uses recycled polyester for the zips and labels and recycled brass for the studs.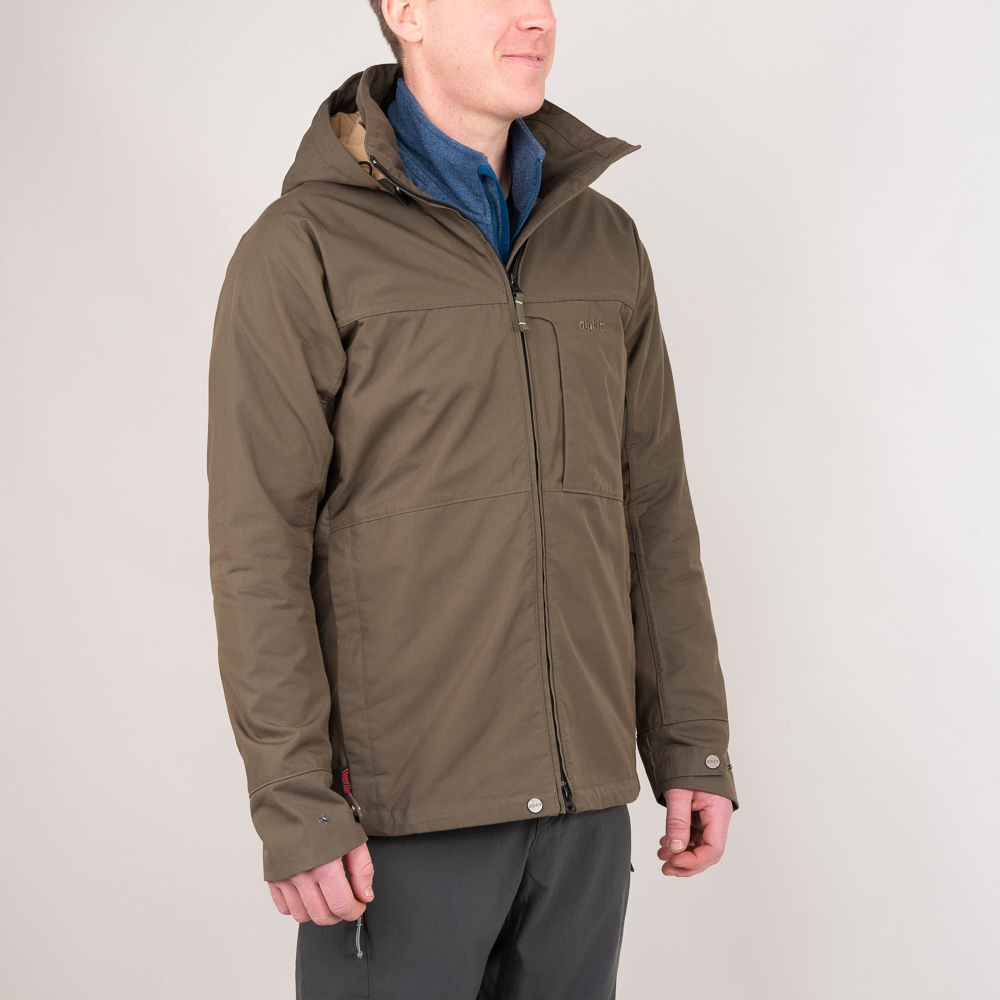 The Ranger has a double layer of Ventile on the front, hood and shoulders and a single layer on the back, sides, and arms. There's an adjustable high collar and a detachable hood with a wired peak and adjustment cords front and rear. The pockets are all zipped and the external ones have protective flaps. Inside the main zip there's a flap with rain drain channels to repel any water that gets through the zip. The zip is two-way and there's a stud fastening at the bottom so you can undo the zip for ventilation without it flapping open.
Ventile is soft and comfortable and lovely to wear. The Ranger arrived at the tail end of last winter, so I haven't yet tried it in really severe conditions. I have worn it in strong winds and showers and it's been fine. I haven't had any rain get through yet but in a prolonged downpour I wouldn't expect the single layer panels to keep it out. As Ventile is quite thick and the front and hood are double layer the Ranger is quite warm compared to synthetic windproof fabrics. I've worn the Ranger over just a base layer on cool days and been warm enough while moving. The hood fits well and moves with the head. It's easily big enough to wear a thick hat underneath but it's not a giant helmet compatible one. The hand pockets are roomy and big enough for maps but are cut off by a hipbelt. The chest pockets aren't mapsize but are fine for smartphones or GPS units.
The Ranger is an excellent jacket. It is quite heavy though. I wouldn't choose it for a multi-day backpacking trip except in winter when I'd expect to wear it every day.  For overnight trips and year-round hillwalking it's a good choice. As it's so protective there's no need to carry a fully featured waterproof jacket as well. A lightweight waterproof is all that's needed.
RECOMMENDED: This product has been awarded our 'Recommended' endorsement, meaning our reviewer believes it is a strong product which works well for its intended purpose.