Peter Macfarlane dubs the Alpkit Mica – a "very capable outoor glove" – his Best Buy.
The Alpkit Mica hiking glove has the look of a vintage driving glove with its leather palm and knitted back, but the materials and construction make it a very capable outdoor glove. The medium-length low-profile cuff and back are a chunky knitted wool and nylon blend whose good amount of stretch allow unrestricted movement.
Price: | $55 | £40 
This fabric is warm and had proved durable after numerous encounters with brambles and only minor snags after months of near-daily use. It's also very windproof but performs poorly in rain, wetting out very quickly and being slow to dry. There is an inner light fleece lining – rain doesn't penetrate this on a showery day – but I often carry a lightweight waterproof overmitt to wear on top in constant rain. 
The palm is a soft leather that is supple enough when new for the Mica to require very little breaking in, although through use the fit, dexterity and comfort improve further over time. The palm and the area between first finger and thumb is reinforced where a trekking pole or ice axe would naturally sit. The leather at the fingertips is 'rolled' (continues from the base of the finger over the top to where your nail bed is with no seams).
This gives excellent feel and dexterity and I find I can carry out most gear adjustments easily on the move without the need to remove a glove. Breathability has worked well for me. I've rarely found my
hands clammy whilst working hard, and handwashing them is straightforward enough to keep them fresh.
It's worth noting that I tested an XL of the 2022 model where I usually wear a Large. Alpkit says this sizing issue will be addressed.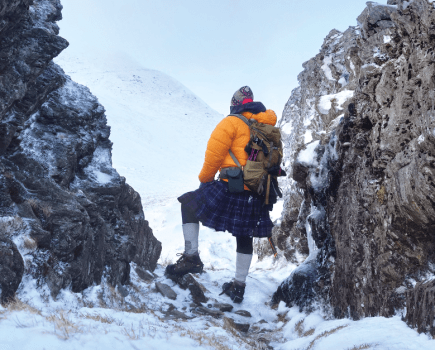 Tested by Peter Macfarlane
Peter wears a size Large in gloves. He suffers from cold hands, and so he wears them almost every time he leaves his house. His review pairs were tested daily over many months from front door to mountain top and everything in-between. The gloves have seen extensive use on the Scottish hills and trails with ice axe and pole use on the Munros and their dexterity has been tested doing everything from camp cooking, fitting crampons, making emergency repairs to a deer fence using tools and wire, and changing a mountain bike tyre on the trail. All weights are for a pair and from Peter's digital scales.
This review was first published in the May 2023 issue of The Great Outdoors.