Chris Townsend likes the comfort and warmth of the 66°North Hengill insulated jacket.
Synthetic insulated jackets are excellent for the wet-cold conditions common in the British hills as they stay warm when damp and dry quickly. The 66°North Hengill is a good example of a mediumweight synthetic insulated jacket suitable for all but the coldest winter weather. It's a very comfortable jacket, the stretchy shell having a pleasant soft feel. The shell fabric doesn't get a brand name and neither does the fill, but both seem as good as materials that do.
The design is standard with a zip front, 2 hand warmer pockets, a chest pocket, and a hood. Some of these features work well, some aren't quite so good. The hand pockets are situated just high enough to be usable when wearing a hipbelt though the bottom is cut off. However the outer isn't insulated so the pockets don't provide much warmth, just wind resistance. The chest pocket is just big enough for a smartphone or a few cereal bars.
The biggest disappointment in the 66°North Hengill is the hood. Like those on too many insulated jackets it's not adjustable. It's also huge. The combination means that it only stays on if you have your back to the wind and even then there are big gaps at the side for cold air to enter. The hood rim is lightly elasticated, but this makes no difference as it doesn't touch my face or my head. A drawcord would be a huge improvement.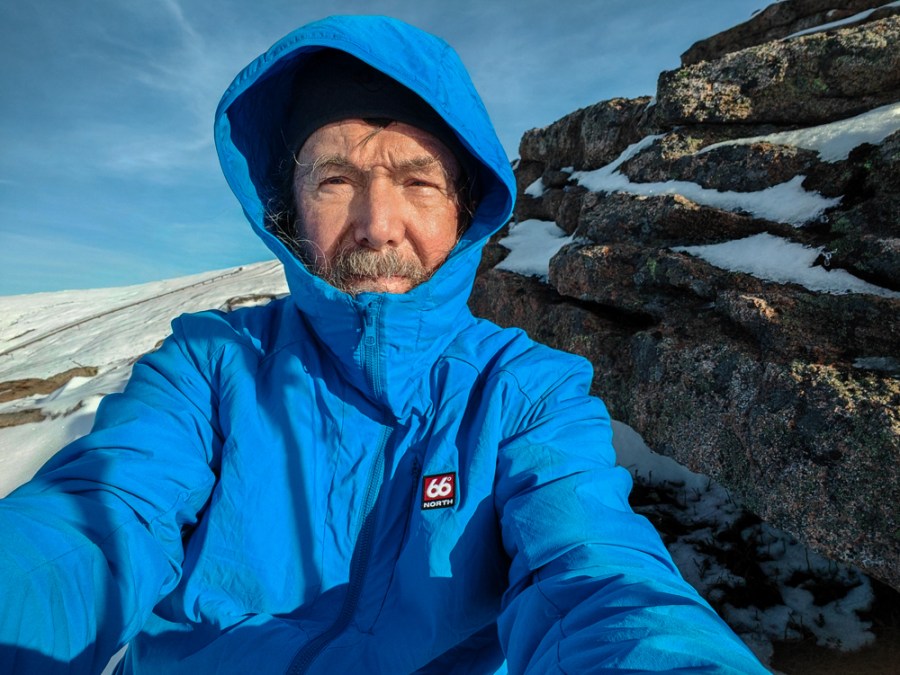 The cuffs and hem are also lightly elasticated. On the cuffs this helps keep cold air out as they are close-fitting anyway. On the hem it doesn't have any effect.
The fit is quite roomy. I can wear the Large over a fleece, which is good as this is the sort of jacket to pull on over other layers when cold. At the same time it's not too bulky or restrictive with a waterproof jacket on top.
In use the Hengill is a lovely jacket to wear as it's so soft and flexible. It's not fully windproof – you can blow through it if you blow hard – but keeps out most wind. On a beautiful but very windy day in the Cairngorms with the temperature just below freezing it kept me warm while walking, though the hood was useless, and warm when resting in the shelter of some boulders. In the latter case the hood was worthwhile.
I can recommend the 66°North Hengill for the comfort and warmth but not for the hood or the uninsulated handwarmer pockets. It's almost a really good jacket. The weight is reasonable for the warmth and the price not too high. But please, 66° North, do something about that hood!