Chris Townsend likes this lightweight roomy daypack
Helly Hansen are best known for their clothing, but the company does make other gear as well, including this roomy daypack. The Transistor pack is big enough for year round use, especially as Helly Hansen's litres are bigger than those of some other companies! I have other 30 litre packs that won't hold as much. Ultralight backpackers might be able to get all their gear inside for summer two or three day trips too. The Transistor is quite light itself.
The Transistor has a large zip round opening that gives good access to the contents. Inside there's a zipped mesh pocket with a key clip. There are stretch mesh side pockets easily big enough for litre size water bottles. The tops of these are about half way up the pack's sides and aren't angled towards the wearer. I can't remove a bottle while wearing the pack, which doesn't matter to me but may be important to those who like to drink on the move. There are zipped mesh pockets on the hipbelt which are useful for small items. Like many such pockets they curve round with the hipbelt and so aren't suitable for long rigid items like a phone. On the bottom of the pack there's another zipped pocket. This doesn't hold a rain cover as such pockets do on many packs. I used it for hat and gloves. On the front of the pack there's a long length of shockcord that can be used for attaching items – I used it for a half-length foam pad I use as a sitmat – and for compressing the pack when it's not full. There are side straps for both these uses too.
Like most packs while the Transistor fabric has a waterproof coating the seams aren't sealed so it's not waterproof. In fact it's less waterproof than many packs as the top zip is unprotected. A pack liner or a series of dry bags (my preference) are essential to keep water-sensitive items dry.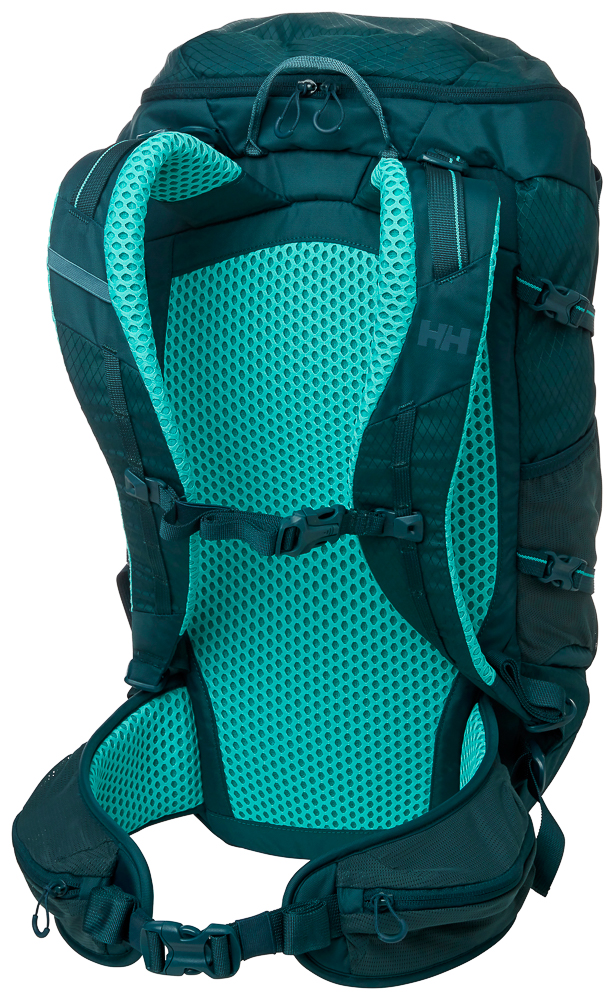 There is a thick foam pad in the back, covered with a mesh panel for ventilation. The same mesh lines the shoulder straps and hipbelt. Because the pack is close-fitting, which is good for stability, some sweat build-up does occur but it's not as bad as with packs with smoother backs. The foam pad isn't very stiff so careful packing is needed to prevent it bellowing.
The Transistor only comes in one back length – 45cms. This is too short for me. With the hipbelt in the right position the top tension straps on the shoulder straps are well below the tops of my shoulders, making them useless. I don't think this really matters as I don't think packs this size really need top tension straps anyway. Even so if a pack has this back design, it ought to fit correctly so at least one more back length would be a good idea.
On the hill I find the Transistor comfortable and stable. I really like the big zipped opening and the low weight. The nylon fabric feels tough, and I expect the pack to be durable.
RECOMMENDED: This product has been awarded our 'Recommended' endorsement, meaning our reviewer believes it is a strong product which works well for its intended purpose.