Discover Britain's greatest mountain hikes, lose yourself on their secret alternatives and explore some incredible long-distance trails from the England Coast Path to the Greater Caucasus – all in the June issue of The Great Outdoors. 
What makes a mountain walk truly 'great'? To some extent it's a matter of perspective. Do you prefer spiky ridges or rolling hills? Heather-covered slopes or forested hinterland? Views across moor, sea, tarn or mountain range? Even allowing for variations in opinion, though, there are a few British walks that fall indisputably into the 'greatest hits' category. We asked an elite team of writers to pick their favourite classic – and then, just to mix things up, to follow that up by sharing a B-side trail that deserves more attention than it gets.
Also in the adventure-stuffed June issue:
James Forrest fastpacks a 107km section of the England Coast Path
Stefan Durkacz backpacks through the north-west Highlands
Richard Hartfield attempts a 1200-kilometre hike across the mountains of the Greater Caucasus
PLUS: The walkers who took on Britain's longest line, the bright future of Britain's most remote pub, how expanding access could be the best way to save our landscapes, Jim Perrin's portrait of Cross Fell, day packs and dry-bags reviewed, 5 fabulous wild walks – and lots more.
How to get a copy
Order a single copy of this issue and get it delivered with free postage.
Take out an annual subscription and take advantage of our new subscriber offer (£15 for your first 6 issues).
Download the digital version to your tablet or smartphone and start reading straight away.
Take advantage of our special lockdown offer (3 issues along with the accompanying digital editions for just £9.99 plus free postage, with no ongoing commitment to subscribe.)
Buy it in shops across the UK.
Read more: a look inside the issue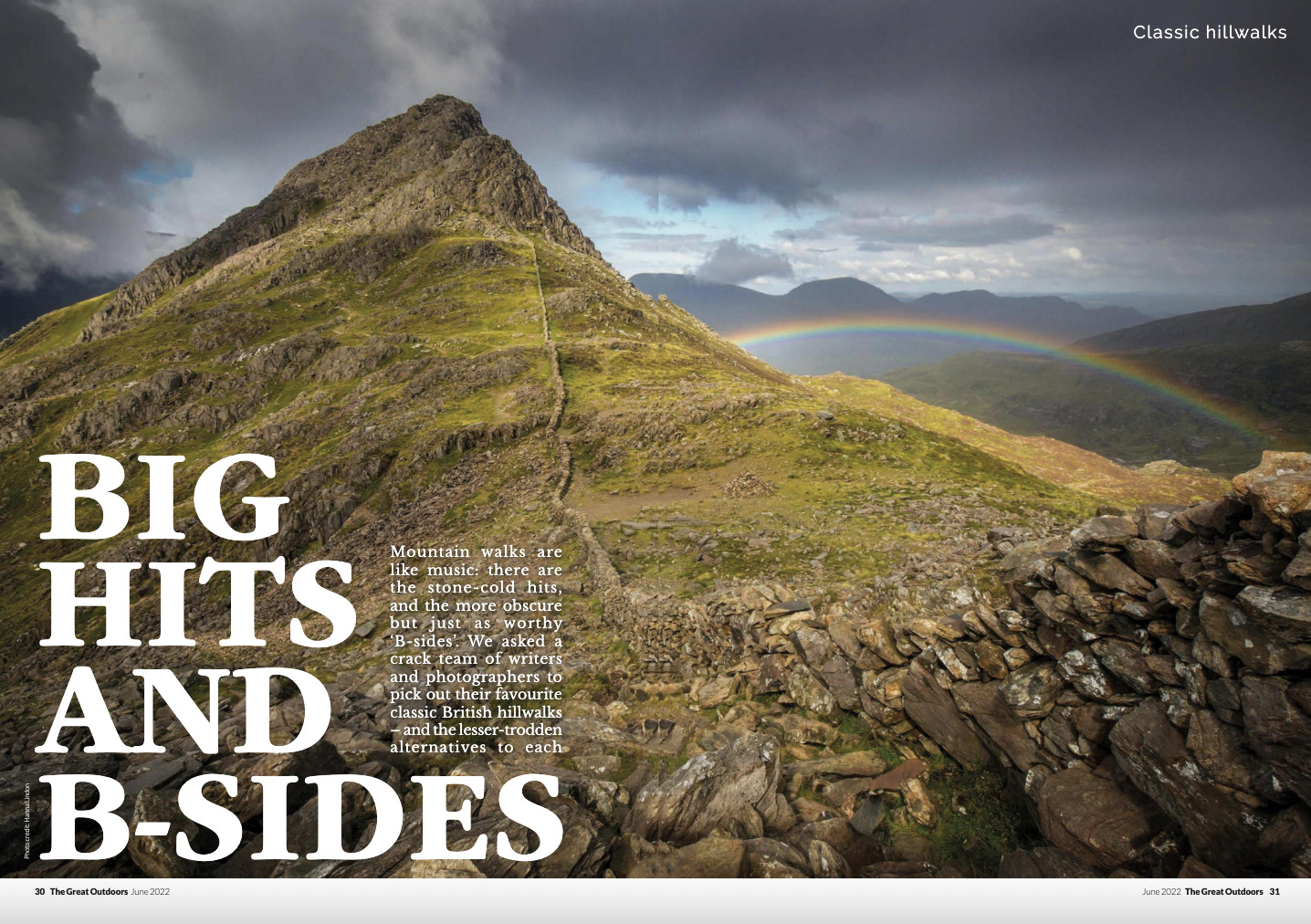 Big hits and B-sides: Mountain walks are like music: there are the stone-cold hits, and the more obscure but just as worthy 'B-sides'. We asked a crack team of writers and photographers to pick out their favourite classic British hillwalks – and the lesser-trodden alternatives to each.
"These more modest mountain songs provide the perfect foil to the razzmatazz of their famous siblings, shedding new light on familiar ground. And they often come with a fraction of the crowds, without suffering in quality. Get away from the well-worn grooves – even by just a little – and you can be amazed at how easy it is to get a piece of mountain heaven to yourself."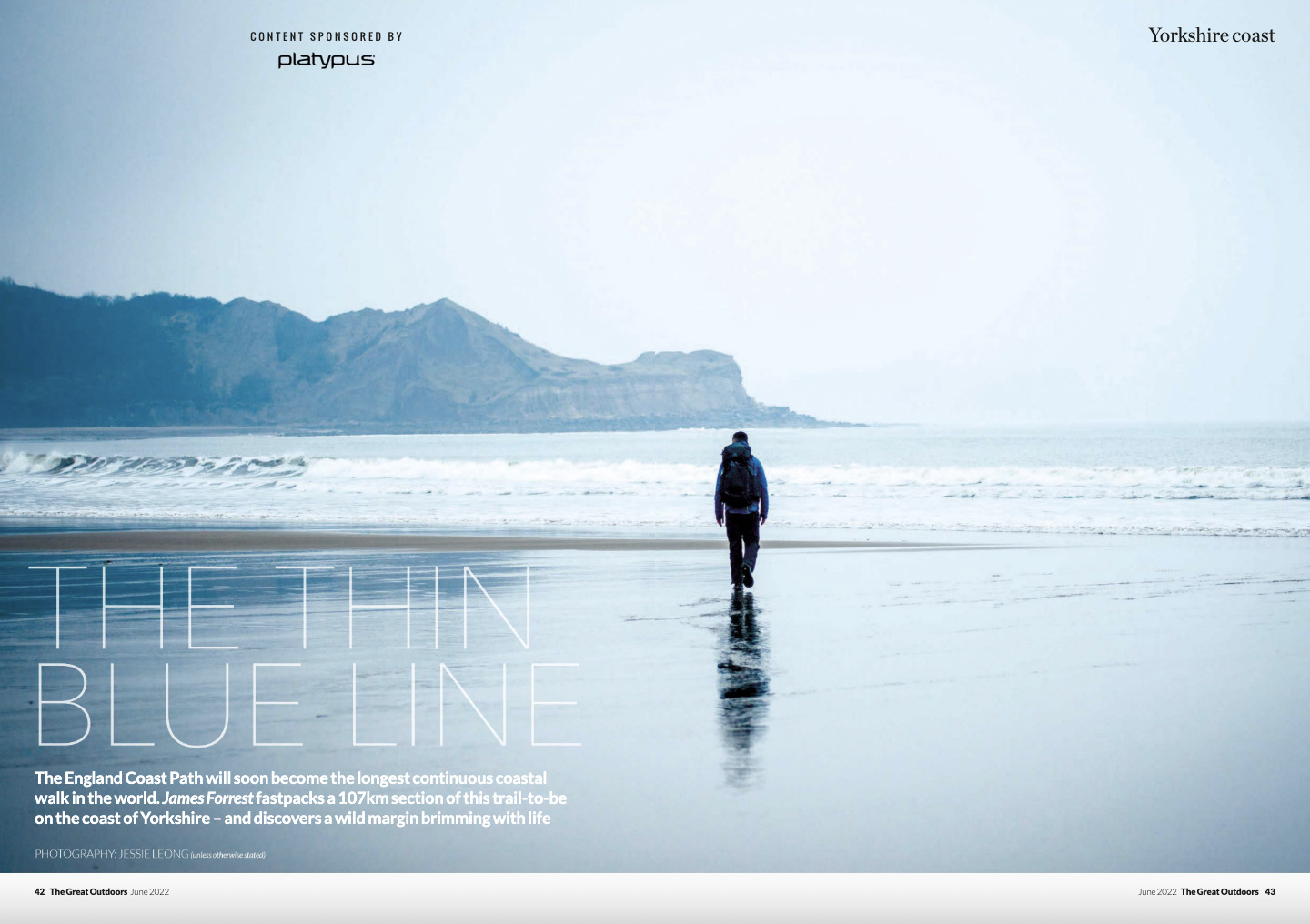 The thin blue line: The England Coast Path will soon become the longest continuous coastal walk in the world. James Forrest fastpacks a 107km section of this trail-to-be on the coast of Yorkshire – and discovers a wild margin brimming with life.
"From a wooden RSPB viewing platform, I gaze across the chaotic traffic of busy razorbills, guillemots and gannets to spot the first puffins of the season. The brightly-coloured bill is unmistakeable, as are the black and red eye markings and bright orange legs; and there's a comical cuteness to the individuals I'm watching. Their heads jerk from side to side, and they waddle around the tightest clifftop ledges, utterly nonchalant to the precipitous drop mere centimetres away. It is the first time I've seen puffins in the wild, and it feels like a gift from the coastal trail."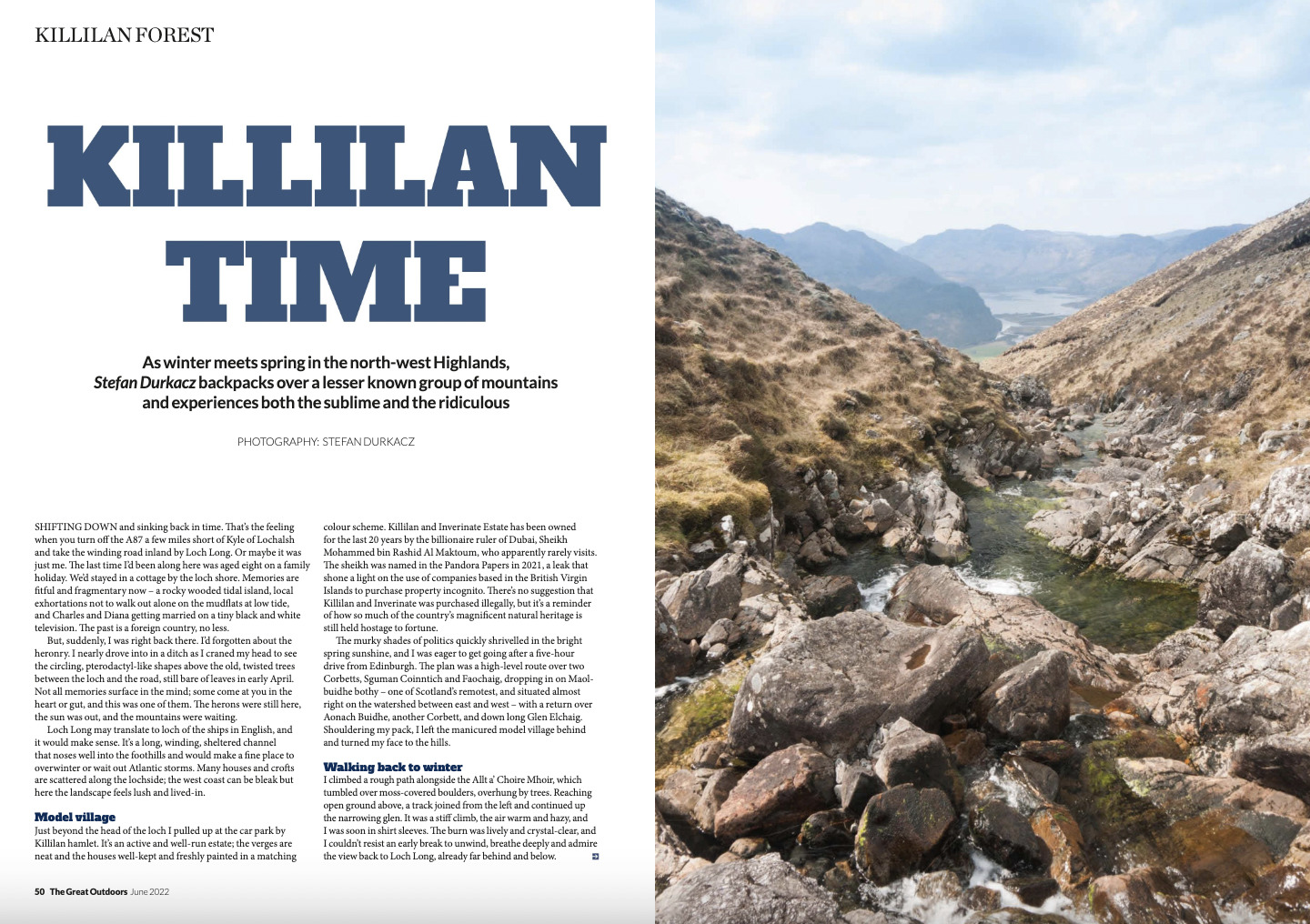 Killilan Time: As winter meets spring in the north-west Highlands, Stefan Durkacz backpacks over a lesser-known group of mountains and experiences both the sublime and the ridiculous.
"Across the burn, I took a mazy route through boulders and around outcrops, looking for a way onto Sguman Coinntich. Reaching a bealach and tiny lochan west of the summit, sudden new horizons stopped me dead. From south round to east, ridge upon tortured ridge shaded into the distance like an ocean frozen mid-tempest, mountains too numerous to name. I was looking into the crumpled crux of the north-west Highlands, the long miles of the Kintail and Affric ridges strung across the country between west and east."
No borders in the mountains: In 2018, lured by the prospect of a 'secret' mountain range almost the size of the Alps, Richard Hartfield attempted a 1200-kilometre hike across the mountains of the Greater Caucasus. In this contested region on the Russian border, beset by conflict, he found no small measure of paranoia and hostility – but also kindness, kinship and spectacular beauty.
"Over the coming days, the North Caucasus presented me with the most committing and immersive hiking experience that I've ever experienced. I climbed through pristine forests full of bear tracks and stared out at a glaciated ridgeline that separated Karachay Cherkessia from the breakaway region of Abkhazia. Along with South Ossetia, Abkhazia was annexed from Georgia during a war with Russia in 2008. In a remote valley below, a beautiful river wound its way past camouflaged tents surrounded by sandbags, the first of many military checkpoints that lay along my route."
Order a single copy of this issue and get it delivered with free postage.