Water: that most essential, life-giving element with the capacity to permeate and carve its way through any given landscape. When combined with the rough edges of mountains, water and land create an irresistible spectacle – as any hillwalker who has scoured their map for promising spots or trails of blue will know. In this issue, we've attempted to do some of the hard work for those who seek sea to summit; waterfalls and long walks. Our contributors have rounded up some of the finest water features in the UK – and the hikes that'll take you there – in eight thrilling water walks.
Elsewhere, on Skye, James Roddie finds that mountain and water do indeed work together to craft arguably the best view in the UK. Our contributors have also been following in the alpine footsteps of a copper age murder victim and finding a certain continental style of hiking in England's own Lake District.
Cover: The view of Loch Coruisk from Sgurr na Stri. | Credit: James Roddie
Highlights of this issue:
James Roddie scrambles lochside and mountain-high to reach Skye's best view
Our contributors share their favourite water walks – from falls to tarns – in the UK
Ronald Turnbull plots a 'Tour du Scafell Pike' and recreates alpine treks gone by
James Forrest treks through the Tyrolean Alps following in the footsteps of Ötzi the Iceman
Alex Roddie reveals how to stay dry while hiking – and begins with a secret…
Chris Townsend puts a host of gear through its paces in the Rough Bounds of Knoydart
10 mapped walking routes to help get you in the mood for 'spooky season'
PLUS: Jim Perrin puts Thorpe Cloud in profile; Kate Ashbrook ponders the Dartmoor wild camping victory as a catalyst for a more open England; expert gear reviews including the best waterproof jacket and flasks; an adventurous weekend in Keswick; the latest mountain book reviews; and Mountain Rescue volunteer Carys Rees on why 'This Girl Walks'.
Find your flow with water walks and sea to summit views: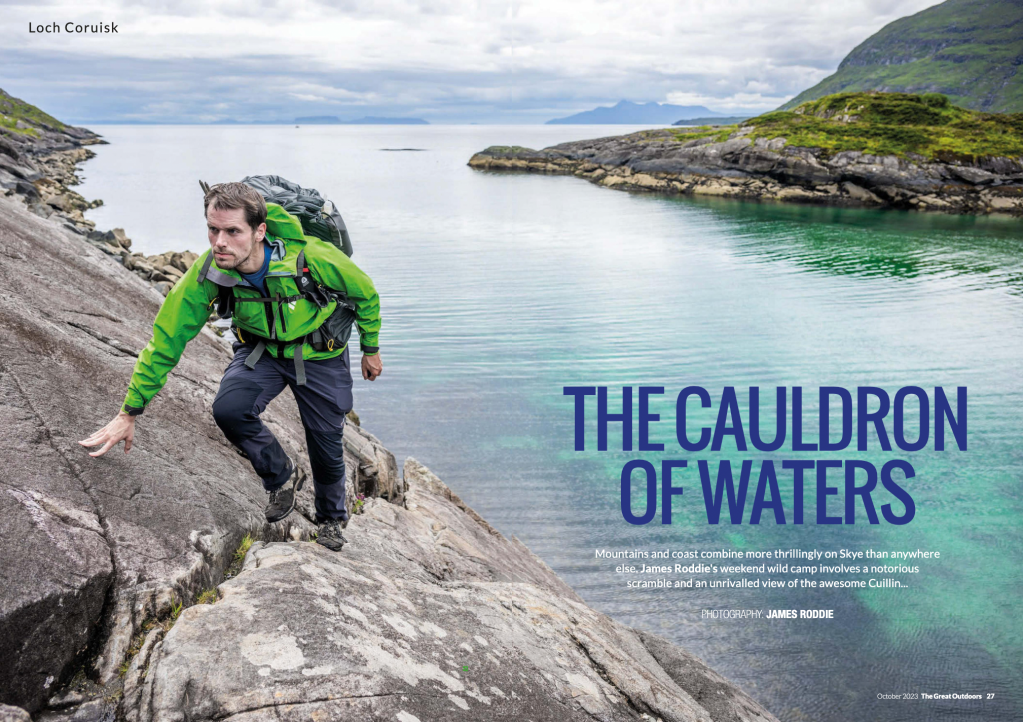 The cauldron of waters: Mountains and coast combine more thrillingly on Skye than anywhere else. James Roddie's weekend wild camp and water walk involved a notorious scramble and an unrivalled view of the Cuillin.
"I was instantly embarrassed. I hadn't meant to shout it out loud. Loch Coruisk jetty was busy with sunburnt walkers and tourists waiting for the boat to take them back to Elgol. A friendly couple looked excited at my exclamation, but I mainly just got a few odd looks. Idly lifting my binoculars to look out to sea, the long, slender back of a minke whale had broken the surface in the far distance. I still often think of the moment that it reappeared minutes later, so close to the boat that you could smell its breath. Skye is far more familiar to me now, over a decade later. Visits have been frequent and there have been more minke whales, and I even called the island home for a while. There is a comfortable familiarity to its improbable landscapes. Even now though, I find approaching the open jaws of the Coruisk basin a uniquely stirring moment, whether by boat or by foot…"
Go with the flow: Waterfall wonders, lovely lochs, sea-to-summit epics, and tempting tarns – we round up our pick of the best aquatic-inspired mountain water walks in Britain.
"It is fitting that Britain's highest waterfall is located in a remote spot in Assynt – unquestionably one of the finest landscapes in Scotland. Eas a'Chual Aluinn cascades for 200 metres, and when in spate it is an extraordinary thing to witness. The route may be only a few kilometres but it feels further than it is. A rough track passing several lochans takes you to the top of the falls. The best vantage point is a short distance to the south of where the river goes over the cliffs. Take great care here, as the terrain is serious, and crossing the river may be impossible after heavy rain…"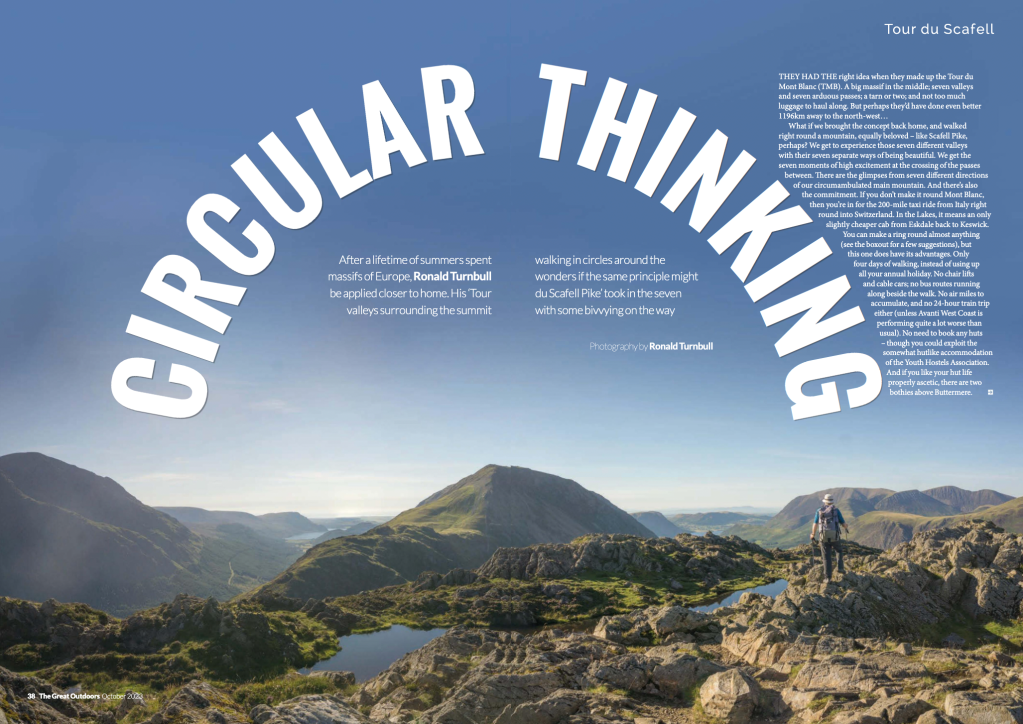 Circular thinking: After a lifetime of summers spent walking in circles around the massifs of Europe, Ronald Turnbull wonders if the same principle might be applied closer to home.
"They had the right idea when they made up the Tour of Mont Blanc. A big massif in the middle; seven valleys and seven arduous passes; a tarn or two, and not too much luggage to haul along. But perhaps they'd have done even better 1196km away to the northwest… What if we brought the concept back home, and walked right round a mountain, equally beloved – like Scafell Pike, perhaps? We get to experience those seven different valleys with their seven separate ways of being beautiful. We get the seven moments of high excitement at the crossing of the passes between. There are the glimpses from seven different directions of our circumambulated main mountain. And there's also the commitment. If you don't make it round Mont Blanc, then we're in for the 200-mile taxi ride from Italy right round into Switzerland. In the Lakes, it means an only slightly cheaper cab from Eskdale back to Keswick…"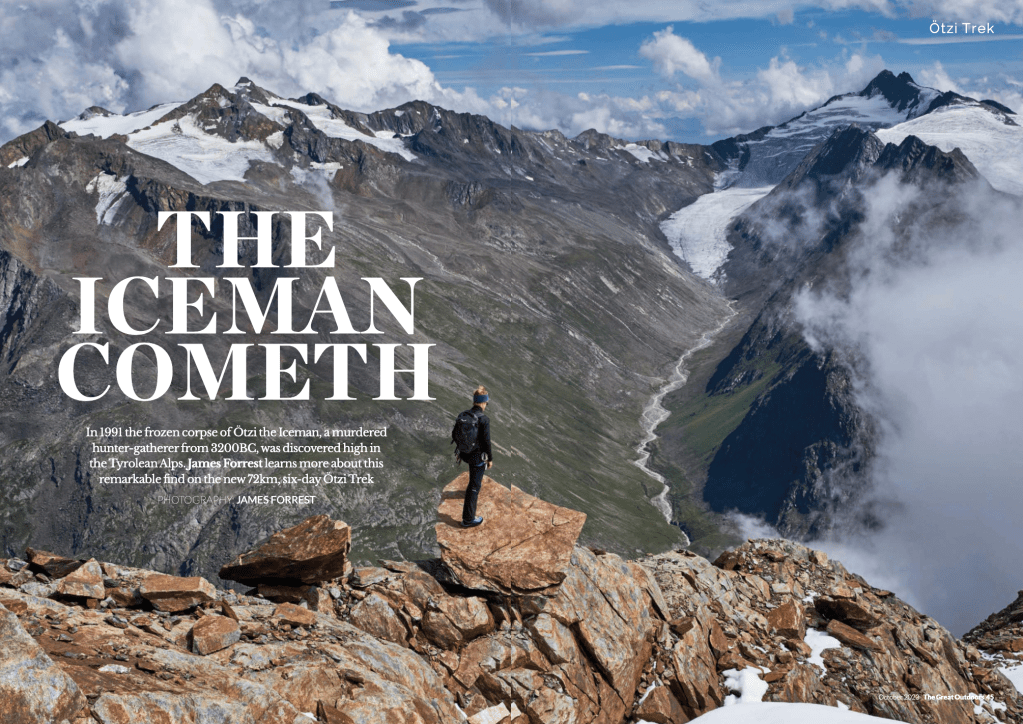 The iceman cometh: In 1991 the frozen corpse of Otzi the Iceman, a murdered hunter-gatherer from 3200BC, was discovered high in the Tyrolean Alps. James Forrest learns more about his remarkable find on the new 72km Otzi Trek.
"Mummified in ice for 5,000 years, the skeletal remains of Ötzi – warped and sinewy, with desiccated eyes and a macabre grimace – rise morbidly to the surface, like a resurrection of the undead. It sounds more like a scene from a zombie movie than real life, but this is exactly what unsuspecting hikers Erika and Helmut Simon encountered on the Austrian-Italian border in 1991. The German couple were hiking at 3,210m in the Tyrolean Alps, close to the Tisenjoch pass and Fineilspitze peak (3,514m), when they stumbled across what must have been a petrifying and unthinkable sight – the head and shoulders of a mummified human piercing out of the ice. Frozen for millennia, glacial melting had finally revealed this pre-historic being to fresh air once again, and so ensued a scientific scramble for answers from one of the most important archaeological discoveries of our time…"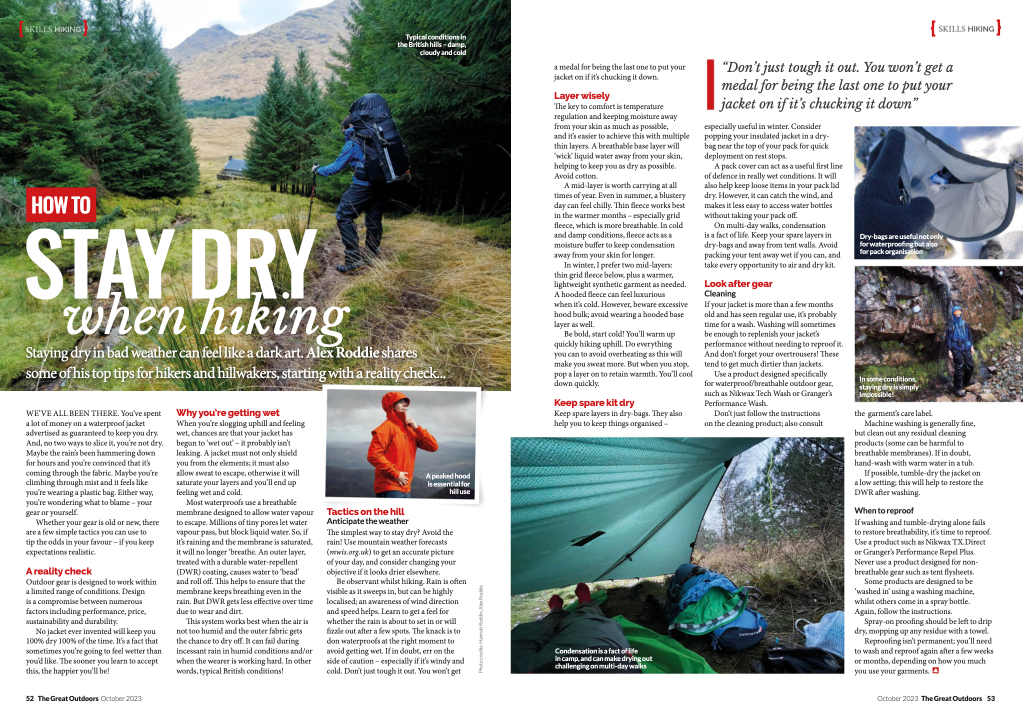 How to stay dry when hiking: Staying dry in bad weather can feel like a dark art. Alex Roddie shares some of his top tips for hikers and hillwalkers, starting with a reality check.
"We've all been there. You've spent a lot of money on a waterproof jacket advertised as guaranteed to keep you dry. And, no two ways to slice it, you're not dry. Maybe the rain's been hammering down for hours and you're convinced that it's coming through the fabric. Maybe you're climbing through mist and it feels like you're wearing a plastic bag. Either way, you're wondering what to blame – your gear or yourself. Whether your gear is old or new, there are a few simple tactics you can use to tip the odds in your favour – if you keep expectations realistic…"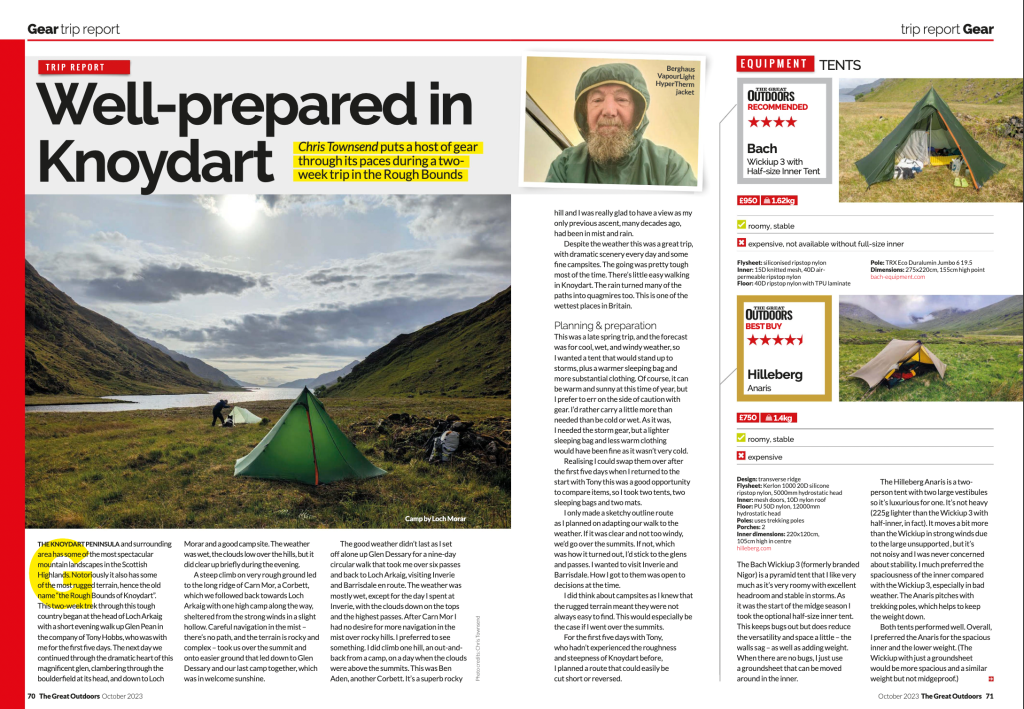 Well-prepared in Knoydart: Chris Townsend puts a host of gear through its paces during a two-week trip in the Rough Bounds.
"The Knoydart Peninsula and surrounding area has some of the most spectacular mountain landscapes in the Scottish Highlands. Notoriously it also has some of the most rugged terrain, hence the old name – the Rough Bounds of Knoydart. This two-week walk through this tough country began at the head of Loch Arkaig with a short evening walk up Glen Pean in the company of Tony Hobbs, who was with me for the first five days. The next day we continued through the dramatic heart of this magnificent glen, clambering through the boulder field at its head, and down to Loch Morar and a good camp site. The weather was wet, the clouds low over the hills…"
Order a single copy of this special sea to summit issue and get it delivered with free postage.