Be inspired to take on Britain's best scrambling routes with the new issue of The Great Outdoors – featuring starter spice, hidden gems, and advanced techniques.
Scrambling is one of the greatest hill thrills available to walkers without climbing equipment. So let us introduce you to 11 of the finest scrambling routes in the UK, along with our eight-page scrambling special, where we explain the scramble grade system, share tips on footwork and route finding, introduce advanced scrambling equipment, and share the secrets to overcoming your fear of heights.
Our main features also have a lofty feel: get ready to tackle the famous Crib Goch, take on some heady hiking in the Dolomites, and unlock Lake District hidden gems (just bring your waterproofs for that one…)
Cover image: The Crib Goch scramble in Snowdonia | Credit: Ben Cannon
Highlights of this issue:
Hanna Lindon tackles Crib Goch post-parenthood to face new fears
11 mapped classic scrambling routes across Britain
Eight-page scrambling skills special packed full of vital know-how
John Fleetwood gill scrambles his way up hidden routes to well-known fells
Ronald Turnbull gets big mountain highs in the Brenta Dolomites
Stefan Durkacz reflects on Scottish wild backpacking and compiling the ultimate guidebook
PLUS: an in-depth guide to the West Highland Way; The Wrekin in profile; unpicking the Nepalese ban on solo trekking in the name of safety; expert gear reviews including the best three-season gloves, camping stoves, and approach shoes; how rewilding is winning despite criticism; the teacher wild camping her way across Dartmoor; and a selection of the best mountain events this month.
Read more:
Dawn Delight: Arguably the best circuit of Snowdon for non-climbers, the Snowdon Horseshoe is a classic multi-ridge scramble that offers incredible exposure whilst never venturing above Grade 1. Hanna Lindon braves a sunrise to enjoy scrambling it crowd-free.
"NO DIRECT ROUTE TO THE SUMMIT OF SNOWDON, warns the new and slightly shouty sign. EXTREME: TECHNICAL ROUTE / GRADE 1 SCRAMBLE. There were more warnings underneath, which I paused to read in the light of a headtorch as Ben and I trudged past. Route for experienced and very fit mountaineers with good technical skills, said one. This almost certainly ruled me out…"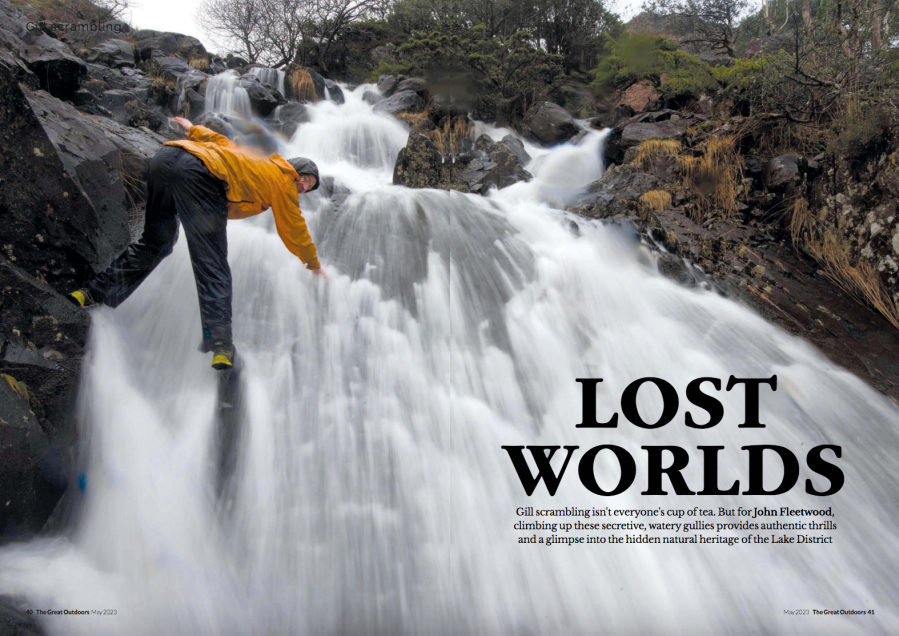 Lost Worlds: Gill scrambling isn't everyone's cup of tea. But for John Fleetwood climbing up these secretive, watery gullies provides authentic thrills and a glimpse into the hidden natural heritage of the Lake District.
"In an age of manicured paths, creeping commercialisation and manufactured adventure, gill scrambling offers a return to Victorian exploring – a far cry from the Lake District's more celebrated attractions. Gills also harbour the relics of our original forest vegetation, fragments that show what the original landscape would have been before humans made their mark on the lakes in such a dramatic way. Gill scrambling can invoke a primeval past…"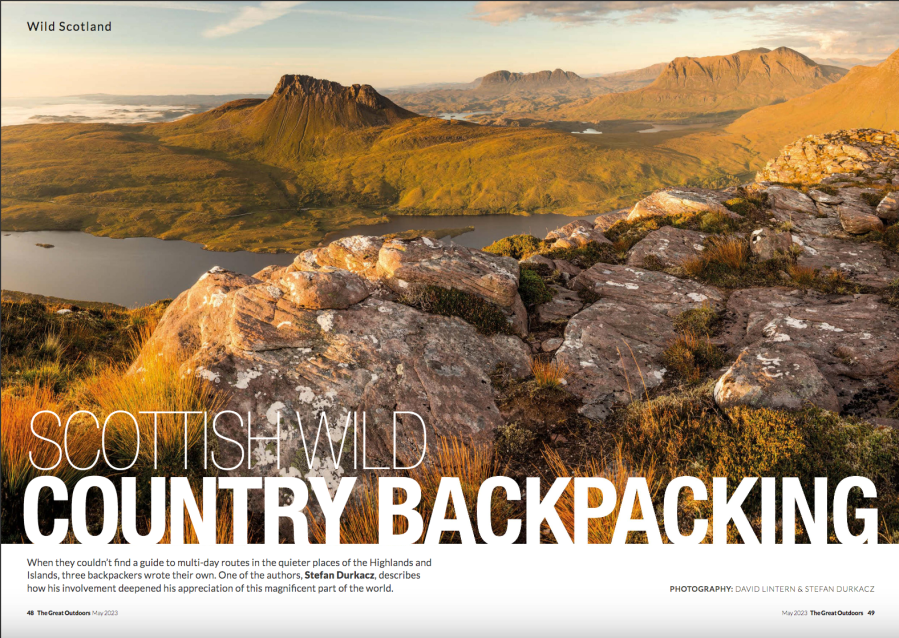 Scottish Wild Country Backpacking: When they couldn't find a guide to multi-day routes in the quieter places of the Highlands and Islands, three backpackers wrote their own. One of the authors, Stefan Durkacz, describes how his involvement deepened his appreciation of this magnificent part of the world.
"I realised I was looking for something different, more than day trips and bagging alone could offer. I wanted something more immersive, less goal-driven – just to be out there for longer, in the glens and woods as well as on the hilltops, open to experiences rather than chasing them, and balancing movement with stillness by camping out overnight…"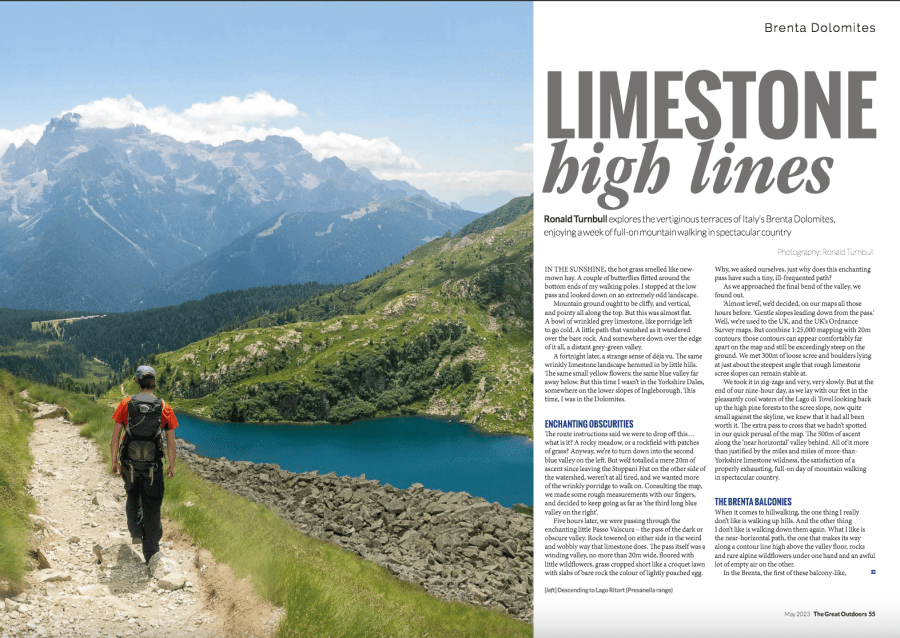 Limestone High Lines: Ronald Turnbull explores the vertiginous terraces of Itlay's Brenta Dolomites, enjoying a week of full-on mountain walking in spectacular country.
"A little path that vanished as it wandered over the bare rock. And somewhere down over the edge of it all, a distant grey-green valley. A fortnight later, a weird sense of déja vu. The same wrinkly limestone landscape hemmed in by little hills. The same small yellow flowers; t the same blue valley far away below. But this time I wasn't in the Yorkshire Dales, somewhere on the lower slopes of Ingleborough. This time, I was in the Dolomites…"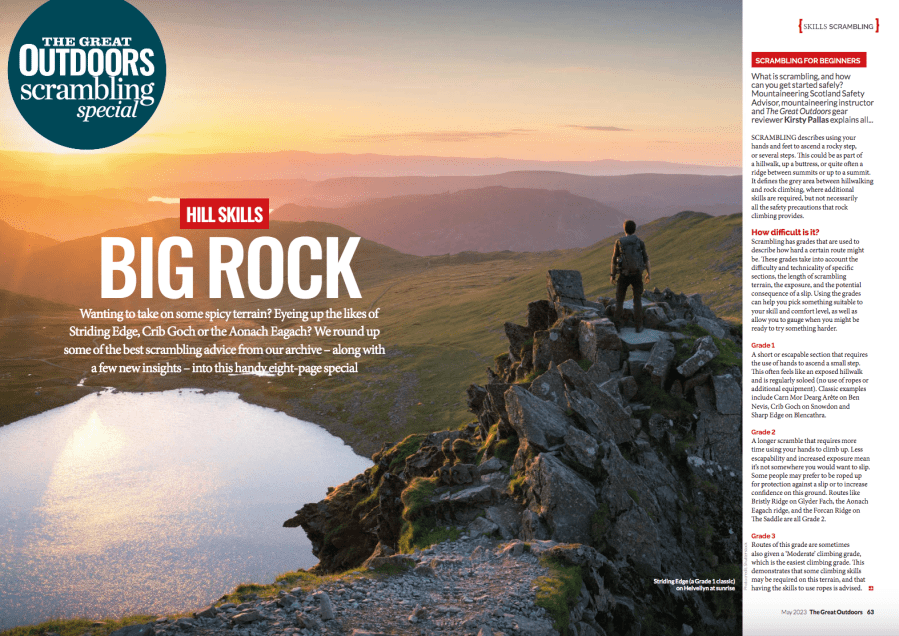 Big Rock: Want to take on some spicy terrain? Eyeing up the likes of Striding Edge, Crib Goch, and Aonach Eagach? We round up some of the best scrambling advice from our archive – along with a few new insights – into this handy eight-page special.
"In 1802, Romantic poet Samuel Taylor Coleridge, took the 'wrong' way off Scafell in the Lake District and made an accidental descent of Broad Stand. It was an experience that "put my whole limbs in a tremble and…I began to suspect I ought not go on." He "shook all over", began "to laugh at myself for a madman" and fixated on falling backward off a narrow ledge to his death. More than 200 years on, many hillwalkers can relate."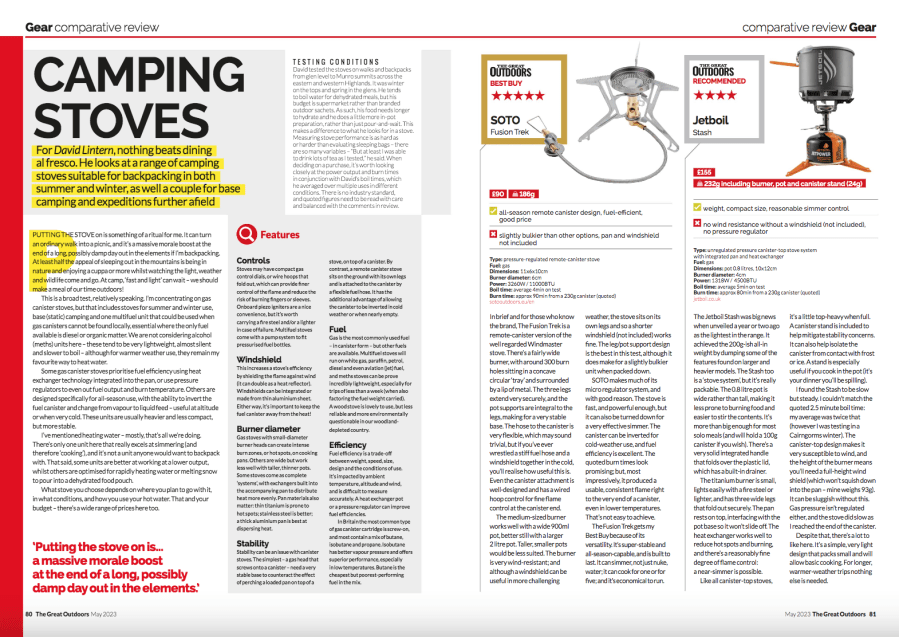 Camping Stoves: For David Lintern, nothing beats dining al fresco. He looks at a range of camping stoves suitable for backpacking in both summer and winter, as well as a couple for base camping and expeditions further afield.
"Putting the stove on is something of a ritual for me. It can turn an ordinary walk into a picnic, and it's a massive morale boost at the end of a long, possibly damp day out in the elements if I'm backpacking. At least half the appeal of sleeping out in the mountains is being in nature and enjoying a cuppa or more, whilst watching the light, weather, and wildlife come and go. At camp, 'fast and light' can wait – we should make a meal of our time outdoors!"