Get inspired to tackle life-changing walks and take on the world's biggest long-distance trails – or micro-adventures closer to home – with the new issue of The Great Outdoors.
Even the shortest bimble in the great outdoors can be mood-boosting. So, what happens when you forgo the everyday to trek one of the world's greatest long-distance trails for several months or more? In the issue, five 'thru-hikers' share those experiences of freedom in nature on their own life-changing walks.
Freedom is a common theme of this backpacking special of The Great Outdoors, from micro-adventures to multi-day mountain routes. Our gear experts have also tried and tested the best backpacking gear, including solo tents and large backpacks. Now that the longer evenings have arrived, it's time to pack up the stove and spend a night – or many more – under the stars.
Cover image: A Snowdonian/Eryri sunrise camp | Credit: Benjamin Cannon
Highlights of this issue:
Five thru-hikers recount their life-changing walks on some of the world's greatest long-distance trails, including the Pacific Crest Trail, the Te Araroa and the Haute Route Pyrenees
Francesca Donovan uncovers the quiet corners of Snowdon/Yr Wyddfa
10 mapped routes across Britain to some of the finest camping spots and bothies
Parent and backpacker Andrew Terrill goes on a 52-night micro-adventure quest 
Stephanie Killingbeck embarks on a LEJOG with an environmental difference
Arctic mountain guide Willem Vandoorne solos through the wilderness of southwest Greenland
The best tents for one are tested by gear editor and backpacker extraordinaire, Chris Townsend
PLUS: Jim Perrin puts Ben More Assynt in profile; the UK's ecological illiteracy problem; expert gear reviews including the best one-person tents, eight new backpacking packs including a world-first, and budget hiking boots; why Welsh places need more renaming – in Welsh; and a selection of the best mountain events this month.
Read more: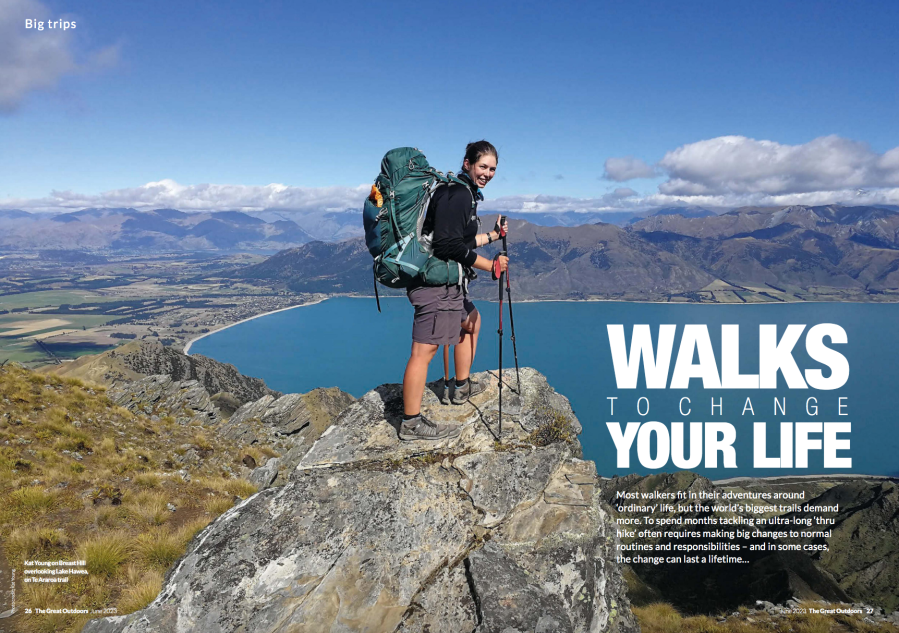 Life-changing walks: Most walkers fit their adventures around 'ordinary' life, but the world's biggest trails demand more. To spend months tackling an ultra-long 'thru hike' often requires making big changes to normal routines and responsibilities – and in some cases, the change can last a lifetime…
"In 2016, my life was turned on its head after just 42 days. Not only was the Haute Route Pyrenees (HRP) my first attempt at backpacking across an entire mountain range, but I quit my 9 – 5 job halfway through and decided then and there to build my life around being outside. The HRP led me on a journey that meant so much more than the route itself. What I took most from my trip was a sense of feeling at home in the mountains. Each night of wild camping led me to another place where I felt like I belonged. I finished my 42-day journey by running headlong into the Mediterranean Sea. Looking back, the mountains have felt like home ever since…"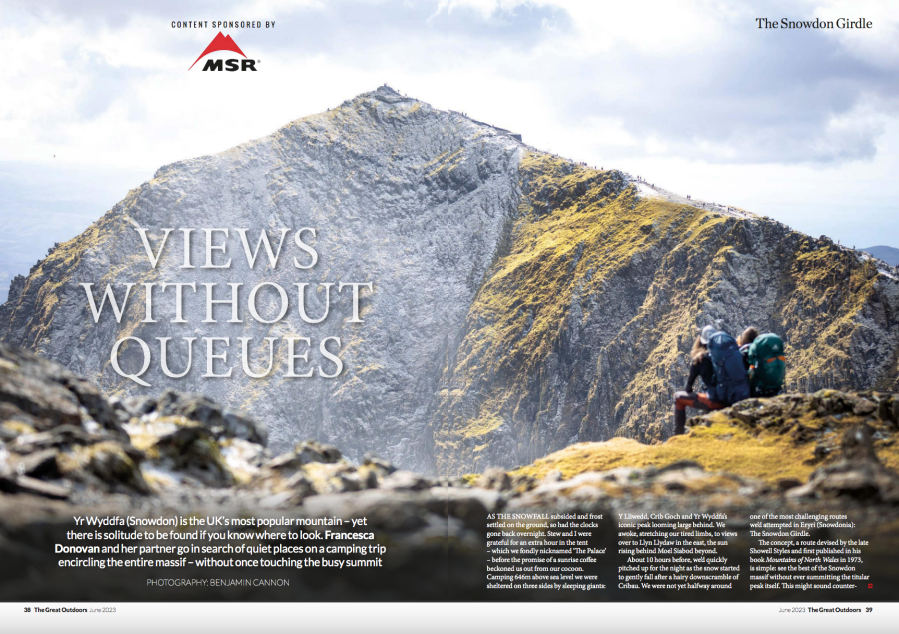 Views without queues: Yr Wyddfa (Snowdon) is the UK's most popular mountain – yet there is solitude to be found if you know where to look. Francesca Donovan and her partner go in search of quiet places on a camping trip encircling the entire massif without once touching the busy summit.
"Camping 646m above sea level we were sheltered on three sides by sleeping giants; Y Lliwedd, Crib Goch and Yr Wyddfa's iconic peak looming large behind. We awoke, stretching our tired limbs, to views over to Llyn Llydaw in the east, the sun rising behind Moel Siabod beyond. About 10 hours before, we'd quickly pitched up for the night as the snow started to gently fall after a hairy down scramble of Cribau. We were not yet halfway around one of the most challenging routes we'd attempted in Eryri: The Snowdon Girdle…"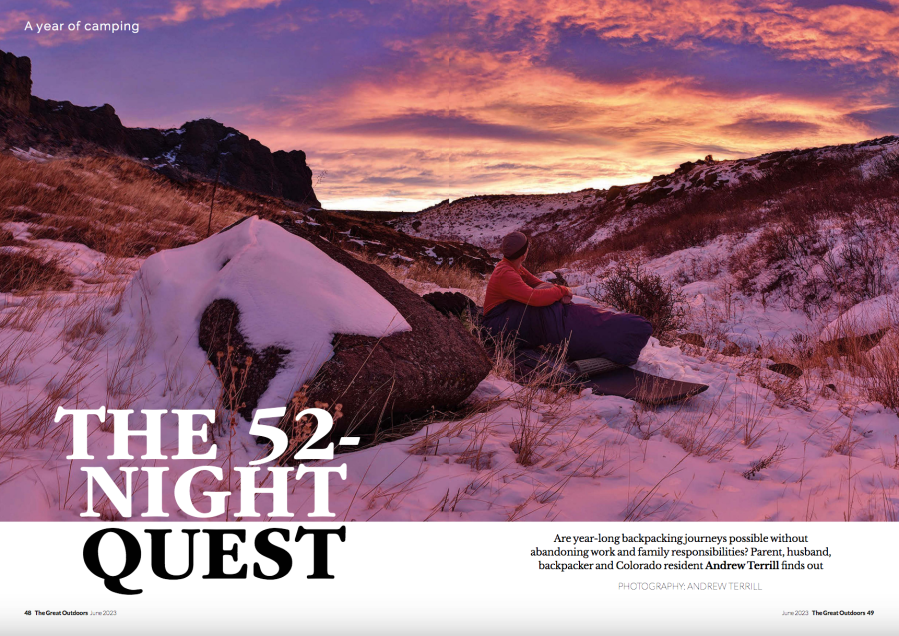 The 52-night quest: Are year-long backpacking journeys possible without abandoning work and family responsibilities? Parent, husband, backpacker and Colorado resident Andrew Terrill finds out.
"It began with a simple plan: to camp in the hills fifty-two times during a year, one camp for each week. Except to call it 'a plan' is to grandly overstate it. To be honest, there wasn't much planning – it was more a spur-of-the-moment idea. I didn't consider it a Lofty Goal or a Big Backpacking Adventure; it was merely an excuse to get out more. I had no idea it would come to mean so much…"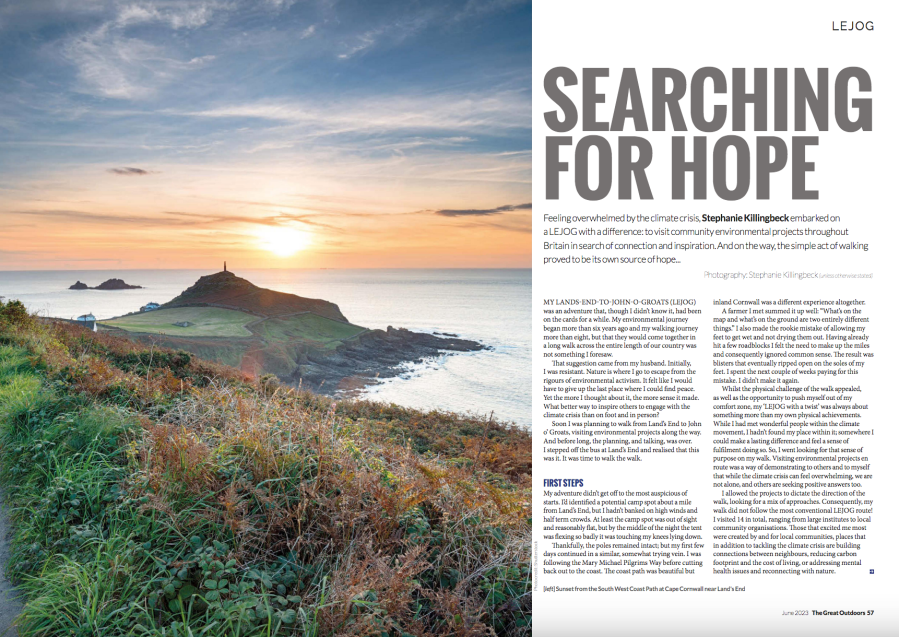 Searching for Hope: Feeling overwhelmed by the climate crisis, Stephanie Killingbeck embarked on a LEJOG with a difference: to visit community environmental projects throughout Britain in search of connection and inspiration. On the way, the simple act of walking proved to be its own source of hope.
"Whilst the physical challenge of the walk appealed, as well as the opportunity to push myself out of my comfort zone, my 'LEJOG with a twist' was always about something more than my own physical achievements. While I had met wonderful people within the climate movement, I hadn't found my place within it; somewhere I could make a lasting difference and feel a sense of fulfillment doing so. So, I went looking for that sense of purpose on my walk. Visiting environmental projects en route was a way of demonstrating to others and to myself that while the climate crisis can feel overwhelming, we are not alone, and others are seeking positive answers too…"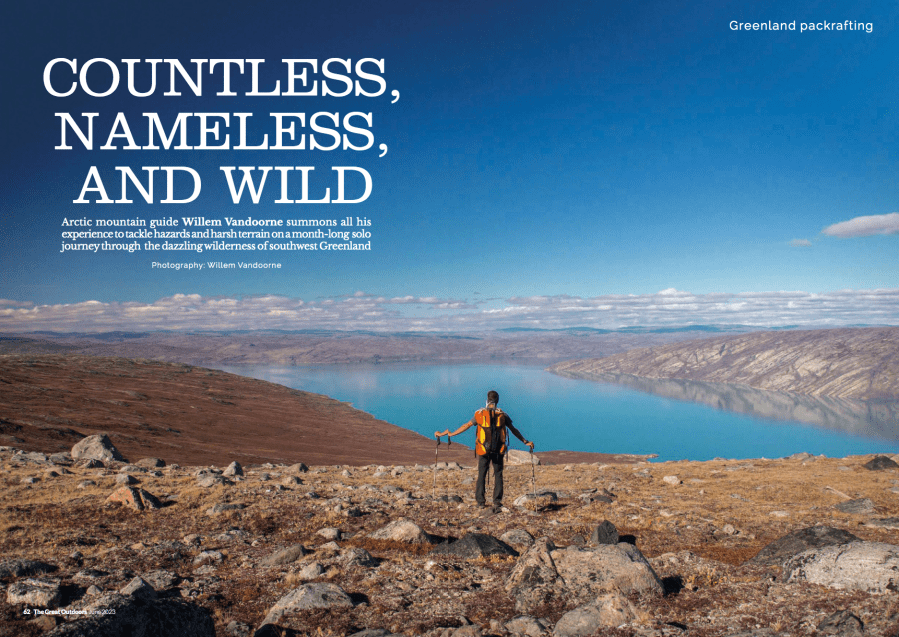 Countless, nameless and wild: Arctic mountain guide Willem Vandoorne summons all his experience to tackle hazards and harsh terrain on a month-long solo journey through the dazzling wilderness of southwest Greenland.
"I watch the yellow fly of my tarp flap in gusts while unpacking my tiny daypack. I've returned from a five-hour hike up a nearby, nameless summit, and the weather remains unchanged. The strong August sun shines brilliantly in a completely cloudless, deep blue sky. It is an almost perfect campsite – an intimate, sheltered corner surrounded by large boulders scattered across a beautiful grassy plain. A collar of cotton grass lines the tiny stream I take water from down towards the Sondre Stromfjord, the longest fjord of West Greenland. The fjord and surrounding glaciers are lined by kilometer-high, near-vertical granite walls. But, as impressive as the scenery may be, the afternoon is nerve-wracking…"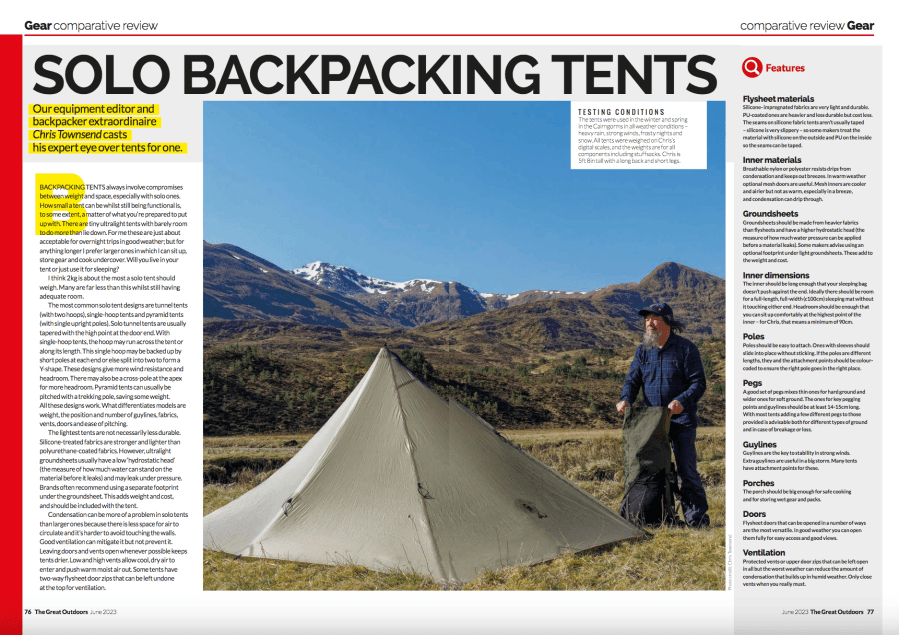 Solo backpacking tents: Our gear editor and backpacker extraordinaire Chris Townsend casts his expert eye over tents for one.
"Backpacking tents always involve compromises between weight and space, especially with solo tents. How small a tent can be whilst still being functional is, to some extent, a matter of what you're prepared to put up with. There are tiny ultralight tents with barely room to do more than lie down. For me, these are just about acceptable for overnight trips in good weather but for anything longer, I prefer larger ones in which I can sit up, store gear, and cook undercover. Will you live in your tent or just use it for sleeping?"
Order a single copy of this special issue on life-changing walks and get it delivered with free postage.