Go where the wild things are in January's issue of The Great Outdoors, in which we explore the mountains' natural wonders, go bothy hiking in the Cairngorms and discover a 7000-mile journey across Europe.
Often, we go to the mountains to experience something akin to the wild. In this issue, a host of nature-seekers recall their most extraordinary mountain encounters and give their advice on how to see natural wonders yourself, from waking up to cloud inversions and observing Brocken Spectres to spotting rare animals and even seeing an elusive 'mountain ghost'. James Roddie also recalls some exceptional moments in a decade-long journey to photograph an icon of the wild, the golden eagle. We hope these stories and nature hikes inspire you to head out and enjoy the wild along the way.
Cover image: A cloud inversion on Helvellyn | Credit: Chris Sharp
Elsewhere, we hear other stories from the wild:
Minreet Kaur on a transformative climb of Snowdon / Yr Wydffa with a group of South Asian women
Dan Aspel discovers that uninspiring conditions can be rescued by the humble Scottish bothy
Alice Morrison reveals the best walking in the Atlas Mountains – from an insider's perspective
Andrew Terril shares an extract of his book documenting a 7000-mile quest into Europe's wild places
PLUS: Rhinog Fawr in profile, the TGO Reader Awards, dreaming of increasingly rare snowy mountain days, 22 pages of expert gear reviews including trekking poles and gaiters, advice on how to stay dry on a walk, a trip report from Glen Feshie, five amazing Wild Walks, and much more.
How to get a copy
Order a single copy of this issue and get it delivered with free postage.
Take out an annual subscription and take advantage of our subscriber offer (£15 for your first 6 issues).
Download the digital version to your tablet or smartphone and start reading straight away.
Buy it in shops across the UK.
Read more: go where the wild things are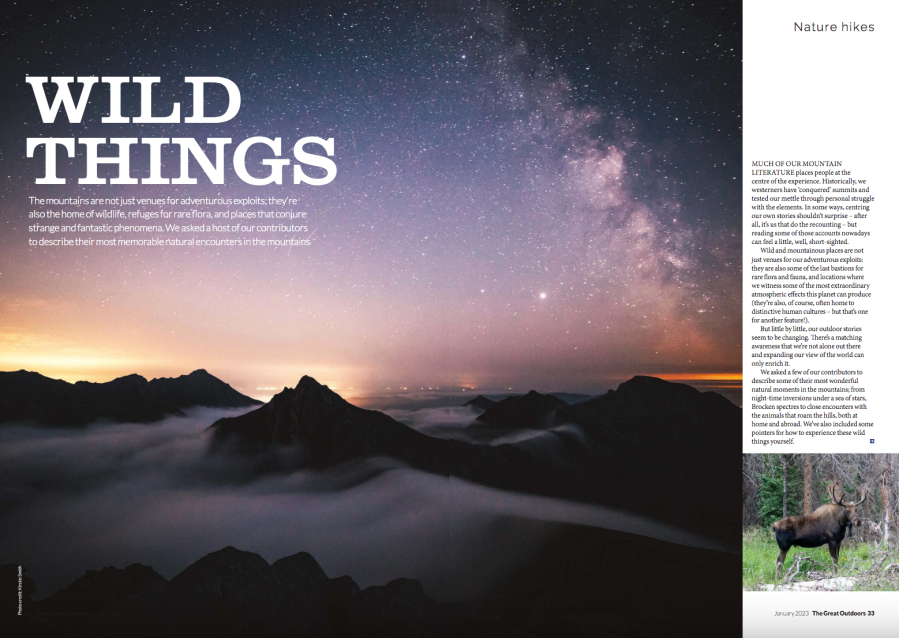 Wild things: The mountains are not just venues for adventurous exploits: they're also the home of wildlife, refuges for rare flora, and places that conjure strange and fantastic phenomena. We asked a host of our contributors to describe their most memorable natural encounters in the mountains, both in Britain and beyond.
"For several minutes I just stood in awe. Against the pewter light of the sky, the steppe seemed to hold its breath and all I could do was gaze into this phantom's big eyes and watch. There was no doubt it wasn't a ghost, but the experience of locking eyes with a wild puma and walking several steps in union with her and her litter felt utterly supernatural."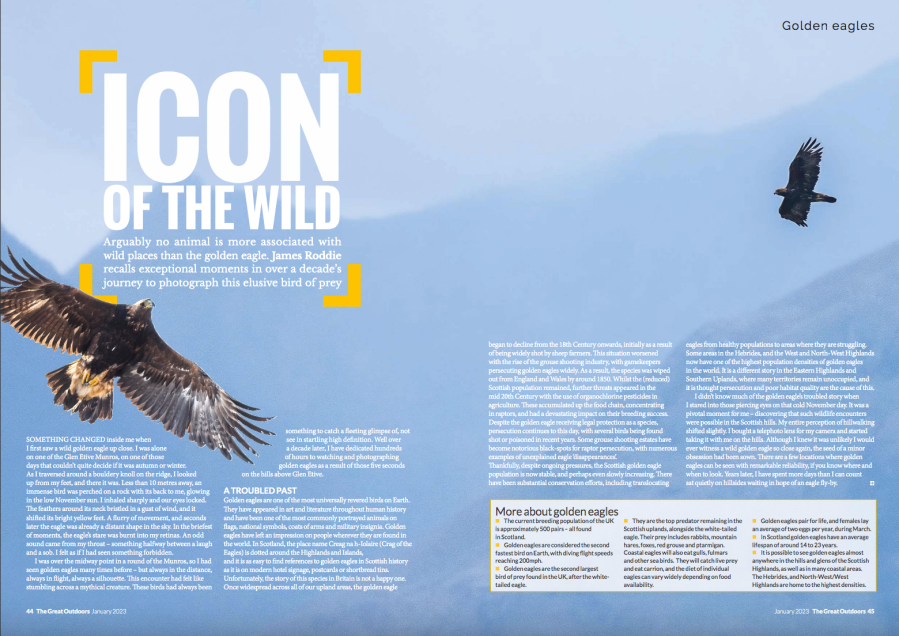 Icon of the wild: Arguably no animal is more associated with wild places than the golden eagle. James Roddie recalls some exceptional moments in a decade-long journey to photograph this elusive bird of prey.
"Something changed inside me when I first saw a wild golden eagle up close. I was alone on one of the Glen Etive Munros, on one of those days that couldn't quite decide if it was autumn or winter. As I traversed around a bouldery knoll on the ridge, I looked up from my feet, and there it was. Less than 10 metres away, an immense bird was perched on a rock with its back to me, glowing in the low November sun. I inhaled sharply and our eyes locked. The feathers around its neck bristled in a gust of wind, and it shifted its bright yellow feet. A flurry of movement, and seconds later the eagle was already a distant shape in the sky. In the briefest of moments, the eagle's stare was burnt into my retinas. An odd sound came from my throat – something halfway between a laugh and a sob. I felt as if I had seen something forbidden."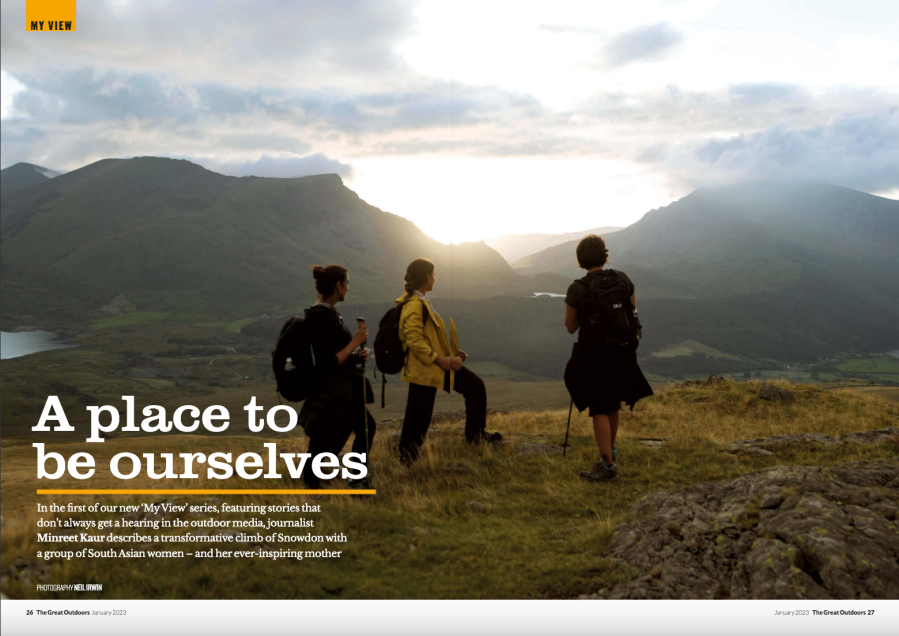 A place to be ourselves: In the first of our new 'My View' feature series, featuring stories that don't always get a hearing in the outdoor media, journalist Minreet Kaur describes a transformative climb of Snowdon with a group of South Asian women – and her ever-inspiring mother.
"I came away from this trip, and the conversations with the other women that I had on it, believing that more people from under-represented backgrounds need to discover the outdoors. If we don't see people like us outdoors then people will think it's not for them. But for some people, getting outdoors means overcoming hurdles which are not always easily understood by people who have climbed mountains their whole lives. Even the simplest things – like what to wear, what to bring and how to stay safe – don't seem simple if you've never done it before!"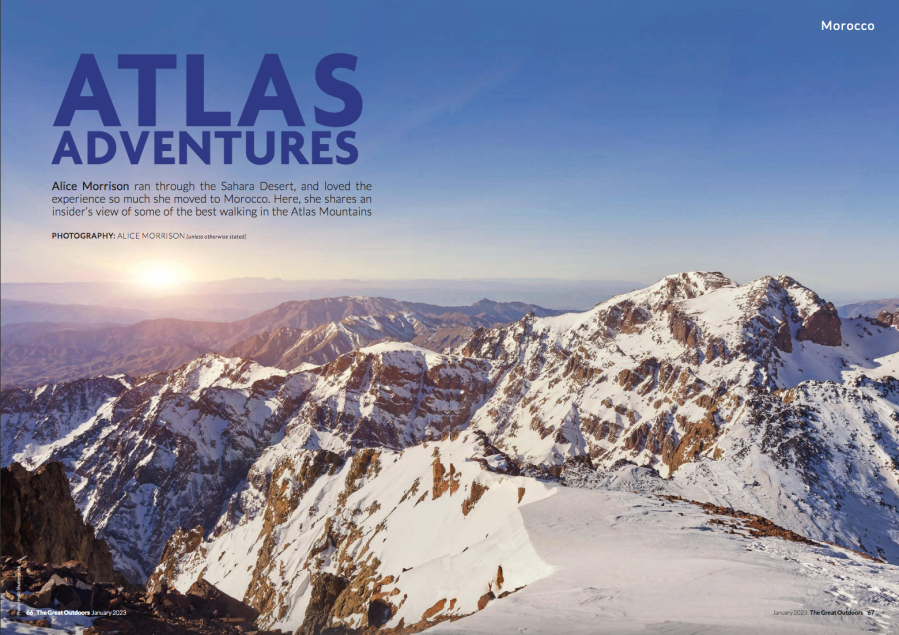 Atlas adventures: Alice Morrison ran through the Sahara Desert and loved the experience so much she moved to Morocco. Here, she shares an insider's view of some of the best walking in the Atlas Mountains.
"A long, gentle slope lulled us into a false sense of security before suddenly giving way to a rock wall, with only a narrow ledge around the side of the mountain. There was just room for one foot at a time, above a sheer drop of several hundred metres. I was in my element, edging around, only stopping to take slightly precarious videos. Up ahead, Sam was facing her own personal hell. Her eyes were glued to the rock in front of her while Lahcen held her arm and tried to shield her from the dizzying drop below."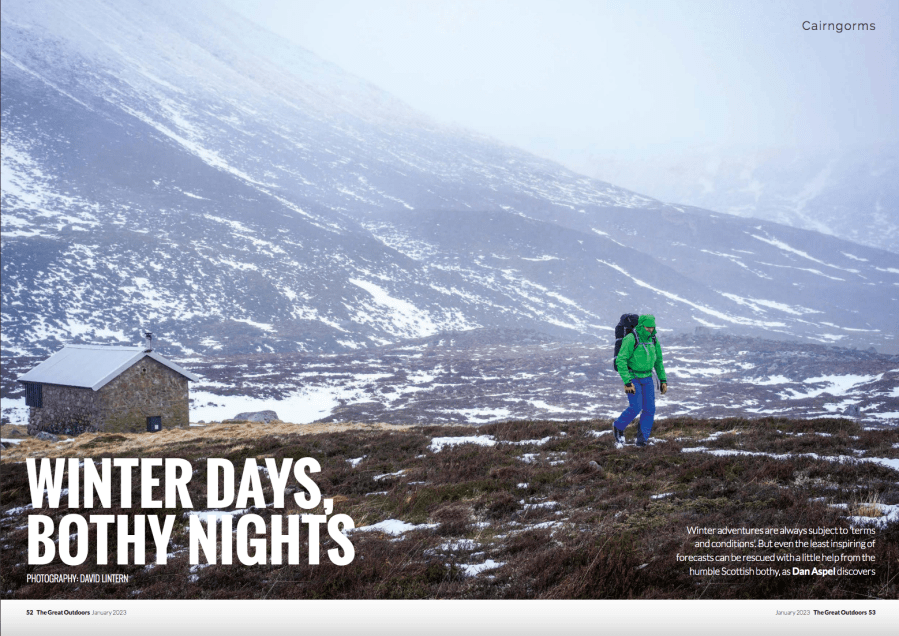 Winter days, bothy nights: Winter adventures are always subject to terms and conditions. But even the least inspiring of forecasts can be rescued with a little help from bothies, backpacks and broad-backed beauties, as Dan Aspel discovers.
"The first hut was Bob Scott's bothy. Sitting around 5km from the Linn of Dee, it's an idyllically situated place. Neatly made of stone and wood the waters of the Lui rush beside it. Within, the warmth of the stove (it's a popular place in regular use) washes over you, and the bunks and seats provide a welcome place to rest or shelter from the rain. But this, of course, was not our destination…"
Order a single copy of this issue and get it delivered with free postage.