Discover the finest routes up Wainwrights – and the ones to avoid! – in the latest issue of The Great Outdoors, plus adventurous inspiration from Wales, Scotland, Spain and more.
This issue of The Great Outdoors spans from Spain to the Scottish Highlands by way of the Wainwrights, Wales and beyond. But we have trained our eye particularly on the Lake District, England's celebrated mountain kingdom. It's no secret that Cumbria's fells, crags, communities and culture make it one of the finest places to spend time as a walker and outdoor enthusiast.
In our lead feature, we asked a team of Lake District dwellers to round up their favourite Wainwright routes and then, just for fun, give us their most-loathed approaches – the 'Wainwrongs'. We also take a look at the 'Lost' Wainwrights – the fine Lake District fells left out of the famous author's list – while our Wild Walks section of mapped routes also has a strong Lake District flavour.
Cover image: James Forrest on Great Gable | Credit: Stuart Holmes
Highlights of this issue:
Lakeland connoisseurs round up their favourite Wainwrights, as well as the routes – the 'Wainwrongs' 
A return to the Strafarrar Munros for David Lintern on a thought-provoking backpacking trip
Carey Davies experiences the incredible highs of the Picos de Europa, Spain
A masochistic march across all 189 Welsh mountains recalled by Will Renwick
Your expert guide to the walking all 298 miles of the Cambrian Way 
The best three-season sleeping bags are tested by our experts
Gear editor and backpacker extraordinaire, Chris Townsend, delivers a Glen Affric trip report
PLUS: Jim Perrin puts Cairn Toul in profile; how to have an adventurous weekend in Newcastle, Northern Ireland; the lost history of suffragette mountaineers and its relevancy to women outdoors today; learn how to hike in the heat safely; the latest gear news and reviews; the need for adaptive adventure with our Creator of the Month; and 10 mapped routes to inspire exploration.
Read more: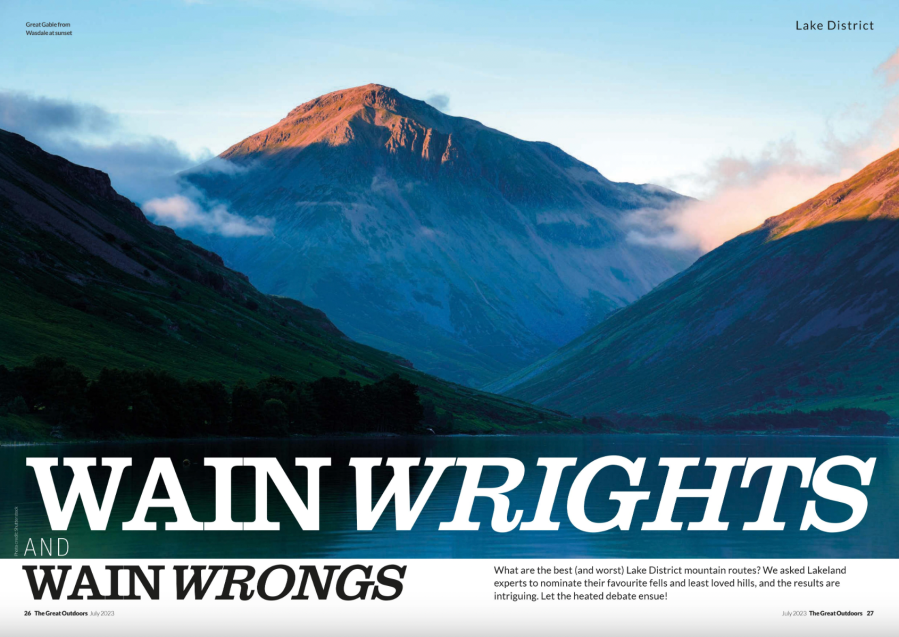 Wainwrights and 'Wainwrongs': What are the best (and worst) Lake District mountain routes? We asked Lakeland experts to nominate their favourite fells and lest loved hills and the results are intriguing. Let the heated debate ensue! We also take a look at the 'Lost' Wainwrights – the fine Lake District fells left out of the famous author's list.
"Cue 100 strongly-worded complaints to the editor. Cat Bells is commonly cited as a family favourite, a classic Lakeland outing for toddlers, grandparents and everyone in-between, with breathtaking views across Derwent Water and Borrowdale. But for some it's way, way too busy with Keswick tourists. "The sweet, dear little, over-trodden, over-hyped, litter-sprinkled Instagram hotspot that's Cat Bells is my worst route, heading up the north end after some irresponsible parking above Hawse End", says Ronald Turnbull. "But take the boat to Brandelhow, divert over Maiden Moor, and come down to Cat Bells just in time for sunset, and of course it's quite a nice place to be."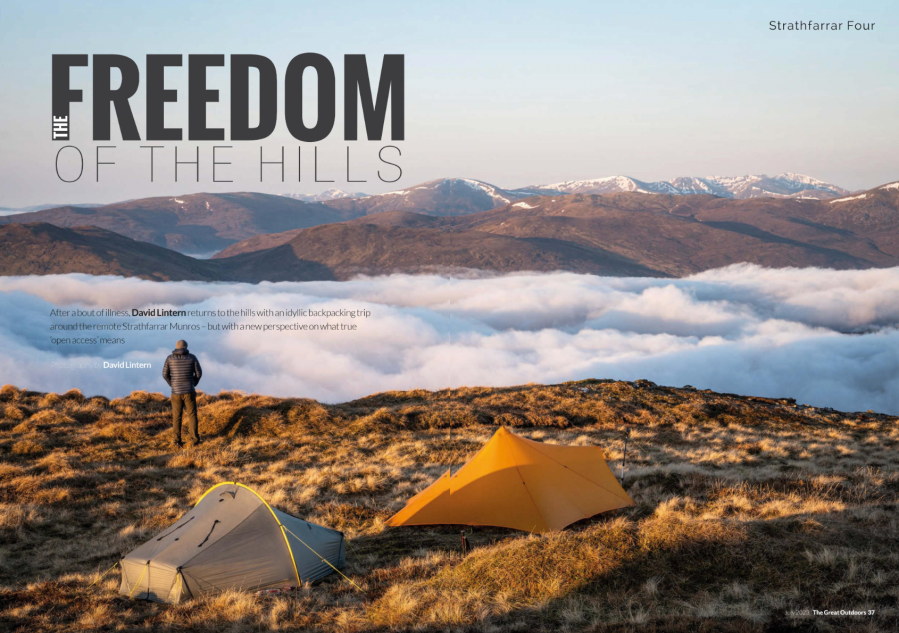 Freedom of the hills: After a bout of illness, David Lintern returns to the hills with an idyllic bacpacking trip around the remote Strathfarrar Munros – but with a new perspective on what true 'open access' means.
"Strathfarrar and its four Munros remained out of reach. I kept reading about access restrictions. Different rules depending on the time of year, and a limit on the number of vehicles allowed in the glen. In the winter, it seemed you had to be a member of Mountaineering Scotland to get in at all. I'm sure I was overcomplicating things, but it sounded like a faff. And to be honest, it rankled a little. By all accounts, Scotland has some of the best access legislation in the world. The owners of Strathfarrar, Glenavon and Braulen estates (and their agents, Bidwells) weren't playing fair. Last year, things became less free, with no vehicle access in the winter allowed at all and walkers restricted to just the Munros themselves . In context, access rights in Scotland do seem to be under threat, post pandemic, with lots of questionable signage, blocked rights of way and cuts to local government path and access work. Access in Scotland is rightly celebrated, but it's not a given. Still, all my wailing and gnashing of teeth isn't going to get my Munros done…"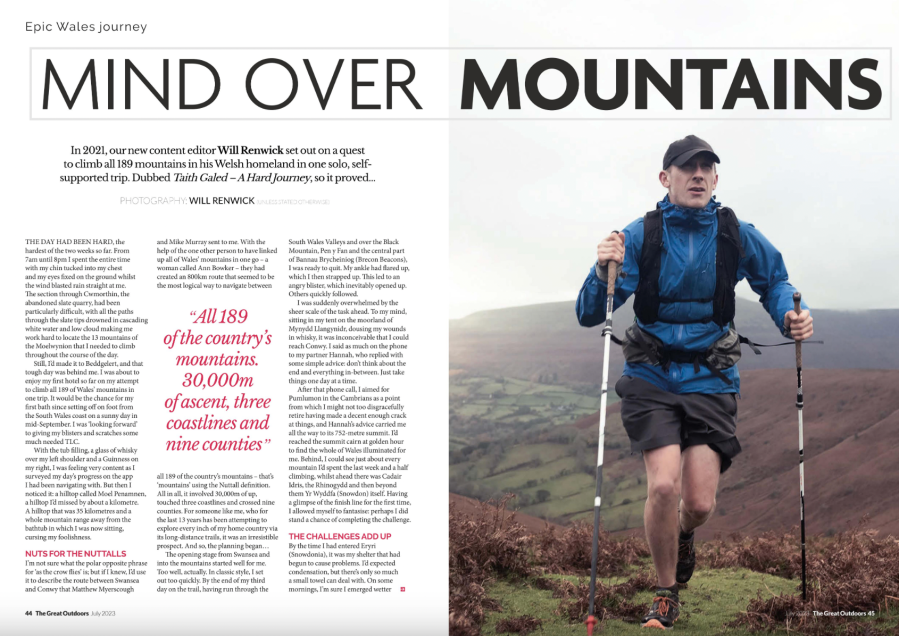 Mind over mountains: In 2021, our new content editor Will Renwick set out on a quest to climb all 189 mountains in his Welsh homeland in one solo, self-supported trip. Dubbed Taith Galed – A Hard Journey, so it proved.
"I was 'looking forward' to giving my blisters and scratches some much needed TLC. With the tub filling, a glass of whisky over my left shoulder and a Guinness o n my right, I was feeling very content as I surveyed my day's progress on the app I had been navigating with. But then I noticed it; a hilltop called Moel Penamnen, a hilltop I'd missed by about a kilometre. A hilltop that was 35 kilometres and a whole mountain range away from the bathtub in which I was now sitting , cursing my foolishness…"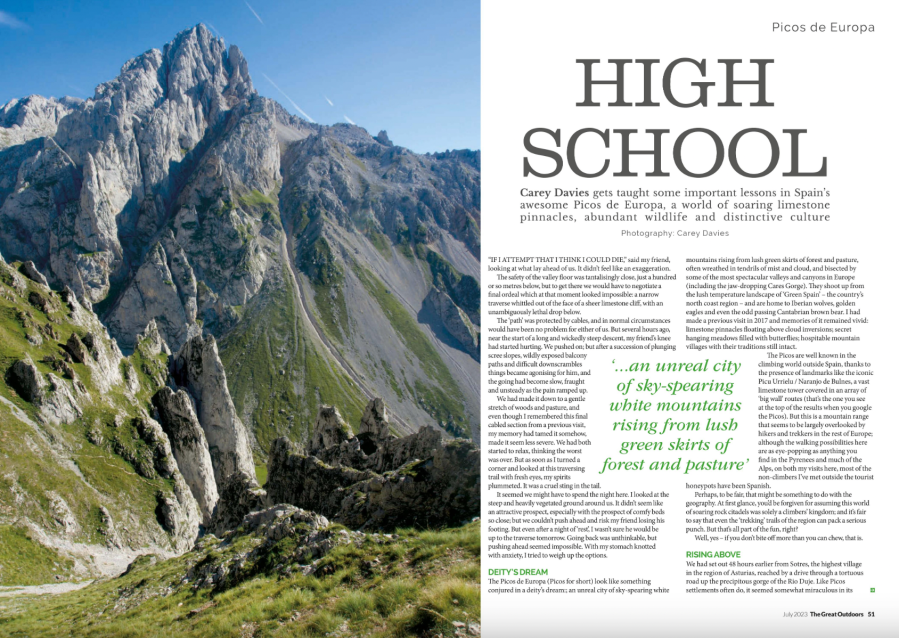 High School: Carey Davies gets taught some important lessons in Spain's awesome Picos de Europa, a world of soaring limestone pinnacles, abundant wildlife and distinctive culture.
"It seemed we might have to spend the night here. I looked at the steep and heavily vegetated ground around us. It didn't seem like an attractive prospect, especially with comfy beds so close, but we couldn't push ahead and risk my friend losing his footing. But even after a night of 'rest', I wasn't even sure he would be up to the traverse tomorrow. Going back was unthinkable, but pushing ahead seemed impossible. With my stomach knotted with anxiety, I tried to weigh up the options…"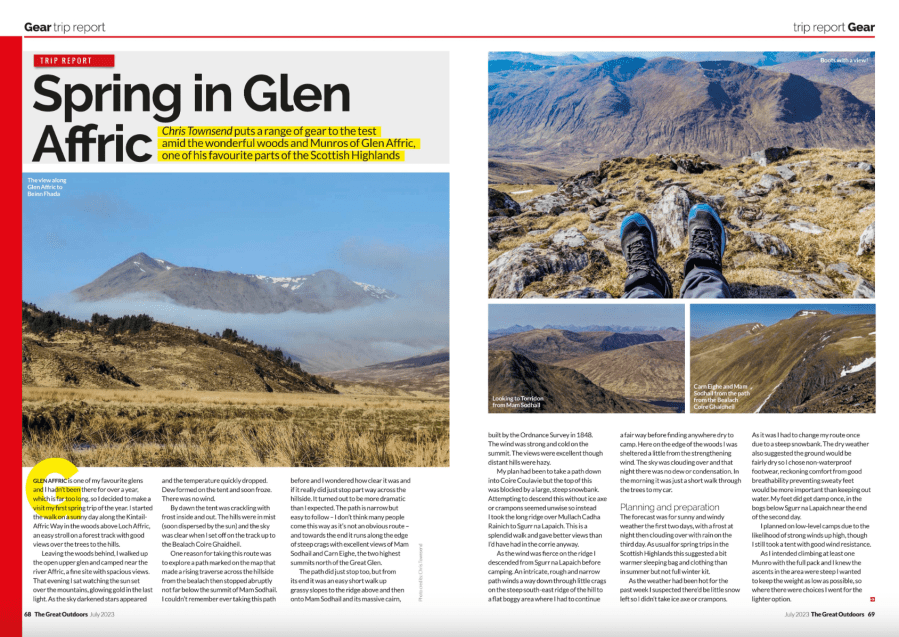 Spring in Glen Affric: Chris Townsend puts a range of gear to the test amid the wonderful woods and Munros of Glen Affric, one of his favourite parts of the Scottish Highlands.
"Leaving the woods behind I walked up the open upper glen and camped near the river Affric, a fine site with spacious views. That evening I sat watching the sun set over the mountains, glowing gold in the last light. As the sky darkened stars appeared and the temperature quickly dropped. Dew formed on the tent and soon froze. There was no wind. By dawn the tent was crackling with frost inside and out. The hills were in mist, soon dispersed by the sun and the sky was clear when I set off on the track up to the Bealach Coire Ghaidheil…"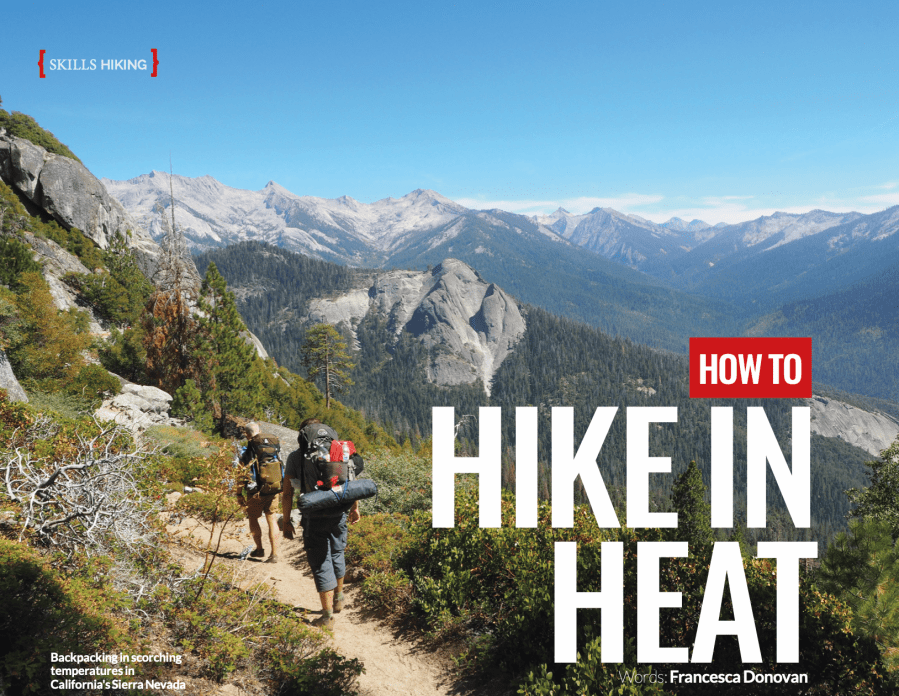 Here comes the sun: International Mountain Leader Mike Raine shares his advice for walking on sunshine (safely) during the incoming hotter days in the hills.
"Due to an unfamiliarity with the sun, we hillwalkers are often woefully underprepared for its appearances. Mike Raine (WMCI, IML and author of The Mountain Leader – a practical manual) told The Great Outdoors that "we typically underestimate the effect of the sun". You only need to glance into a Borrowdale beer garden at 3pm on the second Saturday of summer in Lakeland to see he's not wrong…"
Order a single copy of this special Lakeland issue and get it delivered with free postage.