There are some treks whose fame precedes them, even in non-hiking circles. Name drop Everest Base Camp, the Inca Trail on social media and your post will instantly sprout a forest of likes.
It's easy to dismiss the world's bucket list treks as crowd-pleasers – but they are popular for a reason, often passing through some of the most beautiful landscapes you'll find anywhere on Earth. They also present enough of a challenge to satisfy all but the most masochistic of walkers. In this issue, we explore how to get your trekking fix on five 'household name' treks while avoiding the pitfalls of their popularity – plus a bonus trek you probably haven't heard of. We also discover the autumnal joys of the Tour du Mont Blanc out-of-season.
Elsewhere, we hear stories from the mountains closer to home with a love letter to Eryri/Snowdonia, Jim Perrin paints a portrait of Beinn Alligin, and 10 TGO Challengers tell their tales of camaraderie, survival and nature's healing power on the annual backpacking event, which sees more than 300 participants hike from the east coast of Scotland to the west – an experience just as epic as any of the world's big treks.
Cover: The view from Gokyo Ri, a trekking summit in Nepal | Credit: Shutterstock
Highlights of this issue:
Hanna Lindon looks at how you can hike 'The Big Ones' and avoid their popularity pitfalls
Jilly Sherlock treks the Tour du Mont Blanc in off-season (relative) solitude
Photographer Grant Hyatt captures the landmarks – physical and emotional – of Eryri/Snowdonia
The TGO Challenge Class of '23 shares their stories and battle scars from the trail
Alex Roddie reveals how to sleep well when backpacking – and debunks some myths…
10 mapped autumnal walks in the UK's national parks
PLUS: Mary-Ann Ochota explains why we must share the joy of wild camping with newcomers; expert gear reviews including the best active insulation and headtorches; an adventurous weekend in Aviemore; Chris Townsend shares advice on choosing a three-season sleeping bag; and seabird ecologist-cum-musician Jenny Sturgeon on how Nan Shepherd inspired her music.
Read on: the world's greatest treks and beyond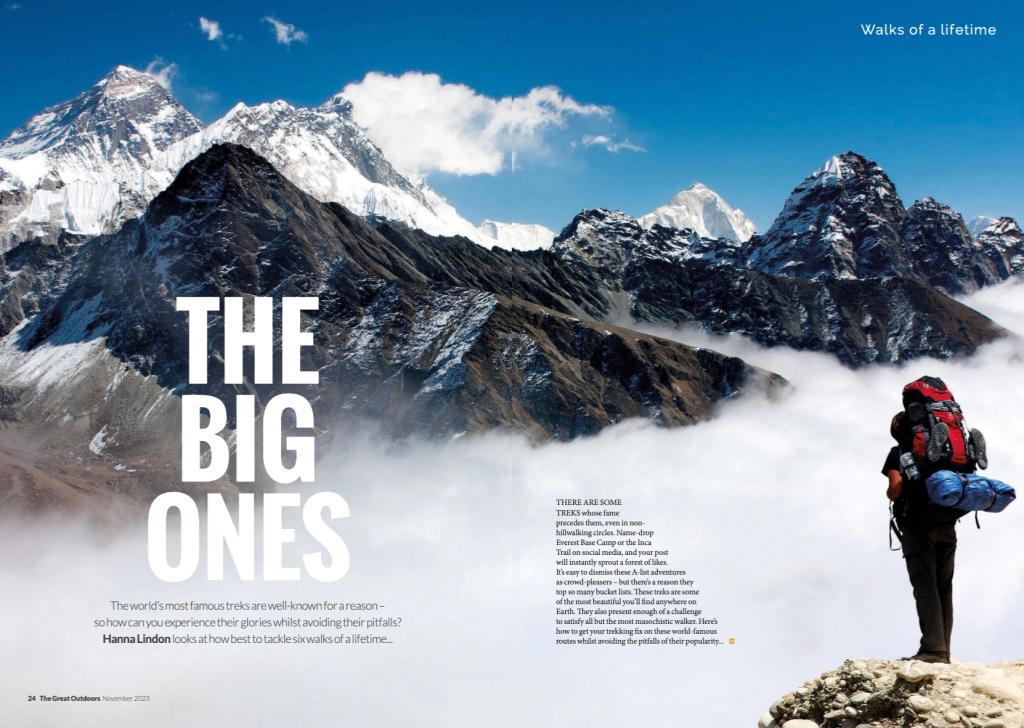 The Big Ones: The world's greatest treks are well-known for a reason. So, how can you experience their glories whilst avoiding their pitfalls? Hanna Lindon looks at how best to tackle six walks of a lifetime.
"The ruined 15th-century citadel of Machu Picchu rises out of the tropical Peruvian forests like a custom-made Indiana Jones set. It was built by the Incan civilisation, and their construction skills weren't half impressive. The site sprawls over five miles and its levels are linked by more than 3,000 stone steps. Exploring the place is a hillwalking challenge in itself, but the real draw for trekking types is the walk in…"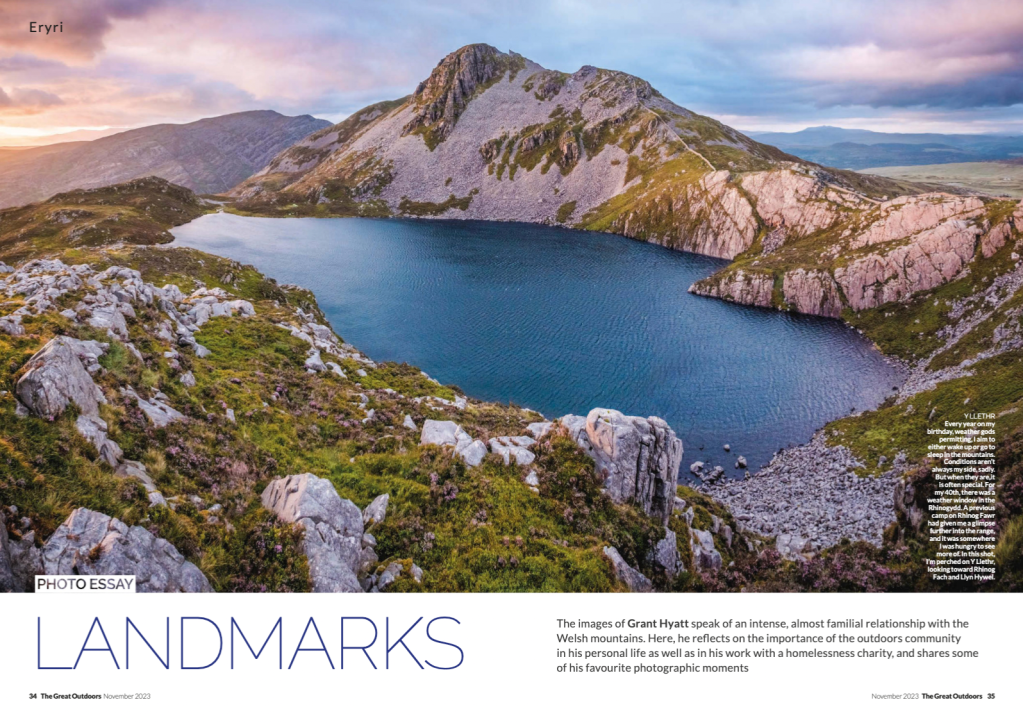 Landmarks: The images of Grant Hyatt speak of an intense, almost familial relationship with the Welsh mountains. Here, he reflects on the importance of the outdoors community in his personal life as well as in his work with a homelessness charity.
"Sometimes, a change of heart lasts only as long as the change of scene, but that doesn't make it any less precious and important. On one of our walks in the Brecon Beacons, I spoke to a man with an opiate dependency, whose bed for the night was never guaranteed. Our conversation developed as we walked off Fan Brycheiniog toward Llyn Y Fan Fawr, somewhere I often visited, and held a deep-rooted connection to – a connection strengthened by the sentence that followed. He said, "Do you know what, Grant, I've not thought about where I'm going to sleep all day." A single day outdoors is not an instant cure for homelessness – far from it – but it can offer relief, and a glimpse of an alternate reality…"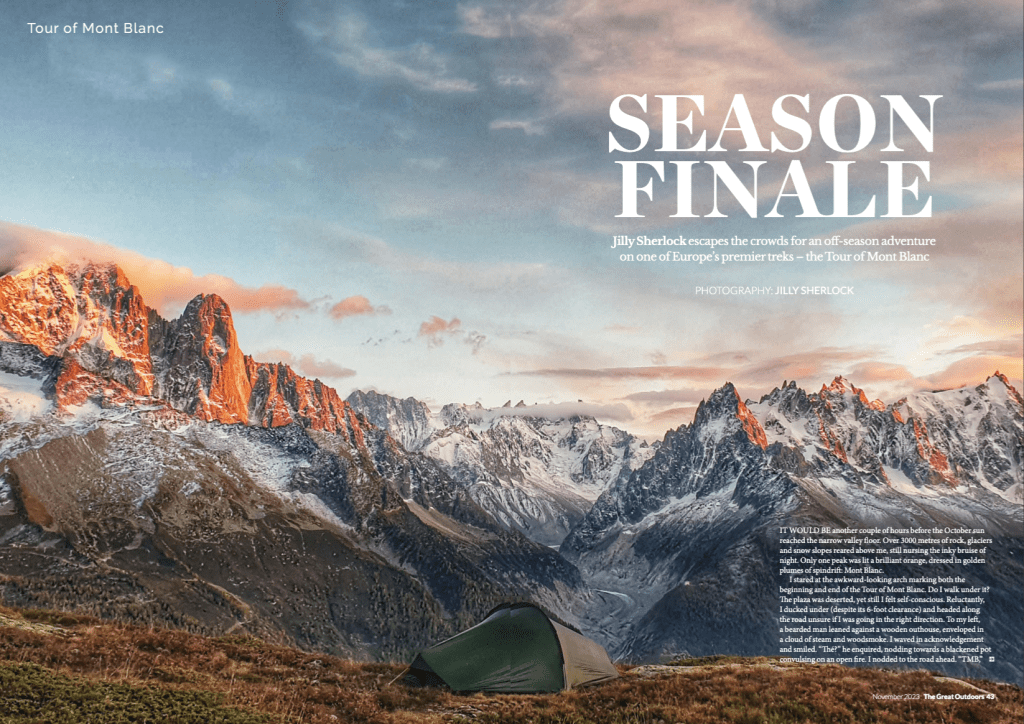 Season finale: Jilly Sherlock escapes the crowds for an off-season adventure on one of Europe's premier treks – the Tour of Mont Blanc.
"It would be another couple of hours before the October sun reached the narrow valley floor. Over 3,000 metres of rock, glaciers and snow slopes reared above me, still nursing the inky bruise of night. Only one peak was lit a brilliant orange, dressed in golden plumes of spindrift: Mont Blanc. I stared at the awkward looking arch marking both the beginning and end of the Tour of Mont Blanc. Do I walk under it? The plaza was deserted, yet still I felt self-conscious. Reluctantly, I ducked under (despite its six-foot clearance) and headed along the road unsure if I was going in the right direction…"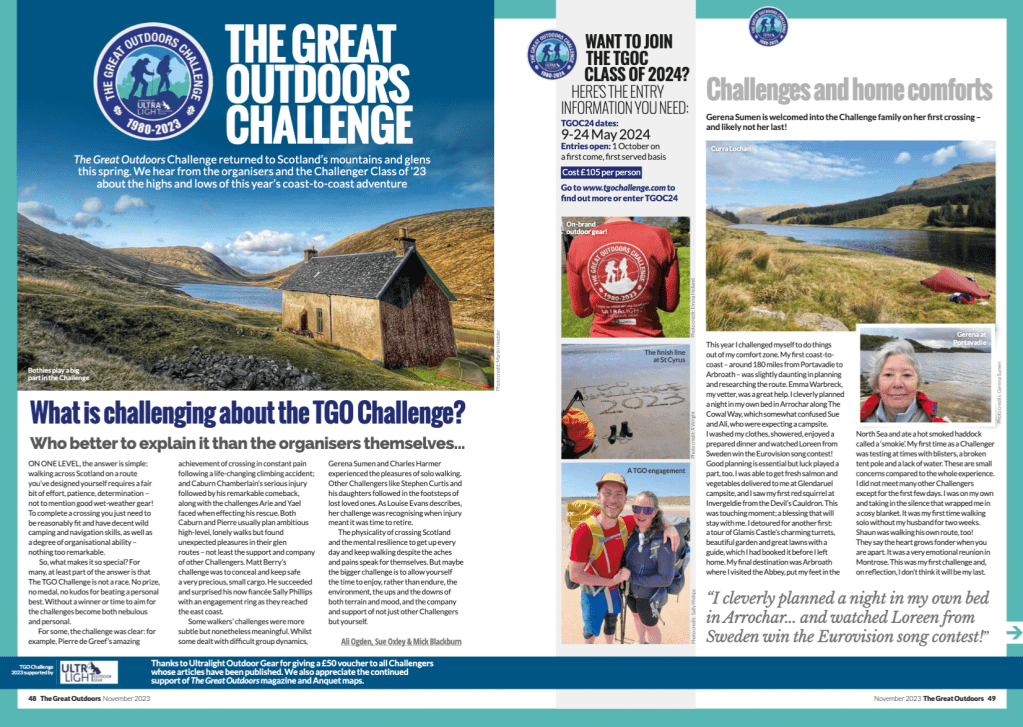 The Great Outdoors Challange 2023: TGOC returned to Scotland's mountains and glens this spring. We hear from the organisers and the Challenger Class of '23 about the highs and lows of this year's coast-to-coast adventure.
"I knew it would be my toughest Challenge so far and that it would be beyond painful. But after almost one year of "non-life", I wanted to see where, what and who I still was. Andrew Walker, a friend from the TGOC family, and I plotted a 272km route cut in 12 steps with an average distance of 14 miles…six more than my longest walk since the accident. Although everything had been carefully planned, I didn't feel strong enough to face certain disappointment and probable failure. I started my "personal" challenge at Shiel Bridge, not sure if I would make it to my first end-of-day. The first two days, 12 hours of walking each, were absolutely excruciating. My antibiotics increase the skin's sensitivity to UV rays and I developed second-degree sunburn on my hands and face. On the fifth day, I met Lindsay Jones, another member of the TGO family who had left Sheil Bridge the same day as me. Reaching Newtonmore on the same day as her was an incredible moment. Nobody expected to see me walk so far… not even myself."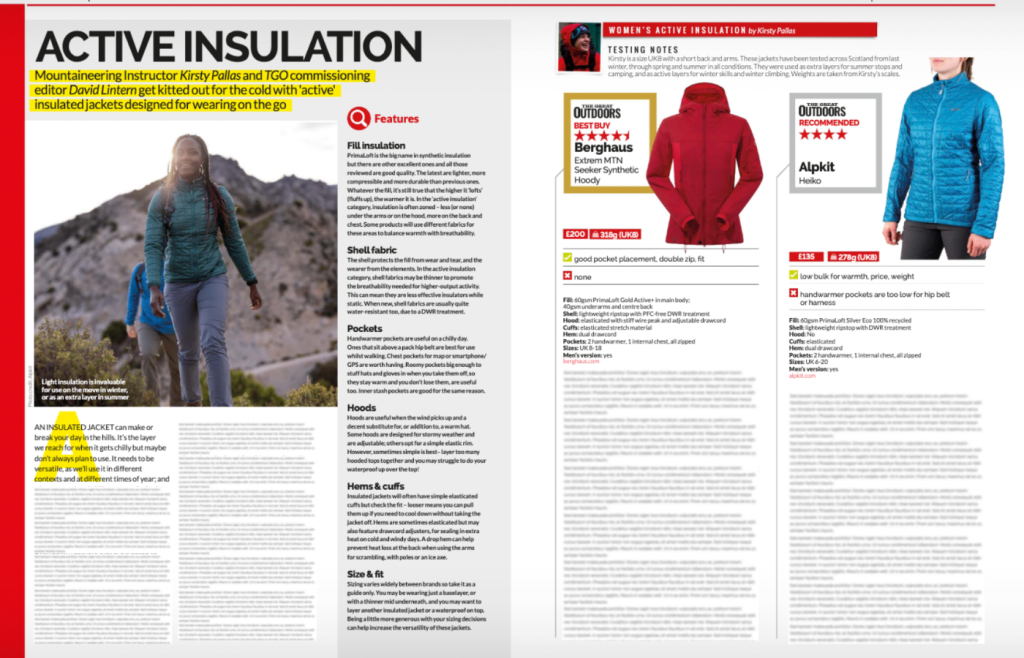 Active insulation: Mountaineering instructor Kirsty Pallas and TGO commissioning editor David Lintern get kitted out for the cold with jackets designed for wearing on the go.
"An insulated jacket can make or break your day in the hills. It's the layer we reach for when it gets chilly, but maybe don't always plan to use. It needs to be versatile, as we'll use it in different contexts and at different times of year, and of course, we're all different too. So finding one that works for you is important…"
How to sleep well when backpacking: Not getting the best night's sleep while backpacking? We've all been there. Alex Roddie shares a few tips on getting a few more winks.
"The thing nobody seems to tell you about backpacking is that actually sleeping is the hard part. You've carried your gear to the top of the hill, enjoyed the sunset, and replenished calories burned. And a few hours later, chances are that you're sleeping fitfully – maybe due to being uncomfortable, too hot or cold, or disturbed by nighttime noises. Even long-distance walkers might find themselves struggling to sleep well after a week or more on the trail. So, what can you do to stack the odds in your favour and finally drift off into a backpacking dreamland?"
Order a single copy of this issue all about the world's greatest treks and get it delivered with free postage.