From first scrambles, ultra running and packrafting to trail tales from TGO Challengers, the October issue of The Great Outdoors is all about stepping outside your comfort zone.
'Challenge' means something different to every mountain lover. For one it might be completing an ultramarathon. For another, taking on an exposed ridge walk. Whatever your personal definition, it feels good to push yourself occasionally. That's why the October issue of The Great Outdoors is all about rising to the challenge. We kick things off with a roundup of Britain's very best beginner scrambles – perfect if you're a hillwalker looking to have a crack at something a bit steeper. Also in this issue:
Hanna Lindon climbs Tryfan with her 6-year-old daughter in tow
Lucy Thraves tries to keep up with ultrarunner Simon Roberts in the Brecon Beacons
Richard Hartfield takes on a mountaineering challenge in the Cairngorms
Andrew Wasley takes a long walk through history on the South Downs Way
Mark Waring goes packrafting across the wild landscapes of Sweden
Eleven TGO Challengers share their tales
PLUS: waterproofs and kids' footwear reviewed, the amazing history-inspired adventures of Elise Wortley, an ode to Great Whernside, 5 wild walks and lots more.
How to get a copy
Order a single copy of this issue and get it delivered with free postage.
Take out an annual subscription and take advantage of our new subscriber offer (£15 for your first 6 issues).
Download the digital version to your tablet or smartphone and start reading straight away.
Take advantage of our special subscription offer (3 issues along with the accompanying digital editions for just £9.99 plus free postage, with no ongoing commitment to subscribe.)
Buy it in shops across the UK.
Read more: a look inside the issue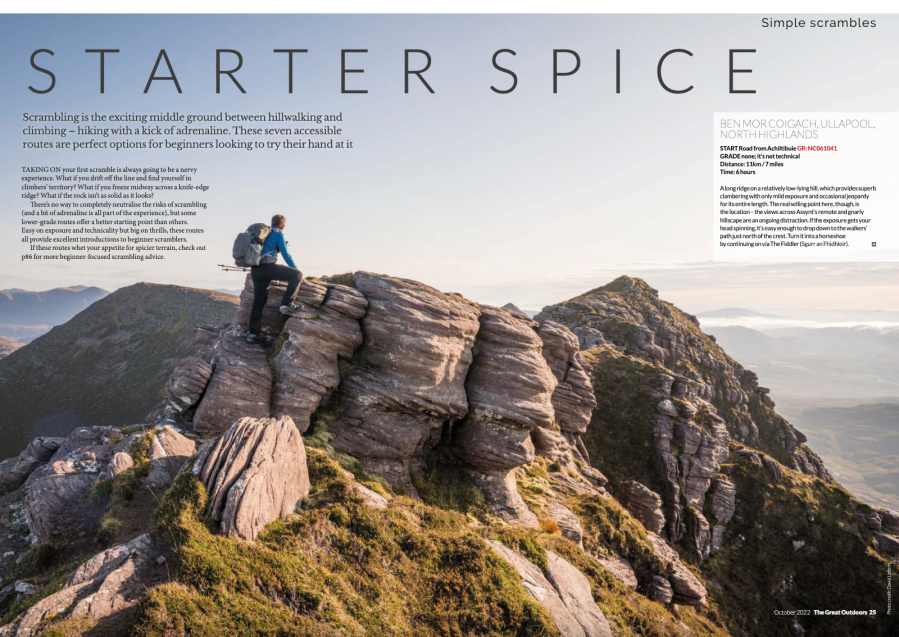 Starter spice: Scrambling is the exciting middle ground between hillwalking and climbing – hiking with a kick of adrenaline. These seven accessible routes are perfect options for beginners looking to try their hands at it.
"Taking on your first scramble is always going to be a nervy experience. What if you drift off the line and find yourself in climbers' territory? What if you freeze midway across a knife-edge ridge? What if the rock isn't as solid as it looks? There's no way to completely neutralise the risks of scrambling (and a bit of adrenaline is all part of the experience), but some lower-grade routes offer a better starting point than others. Easy on exposure and technicality but big on thrills, these routes all provide excellent introductions to beginner scramblers."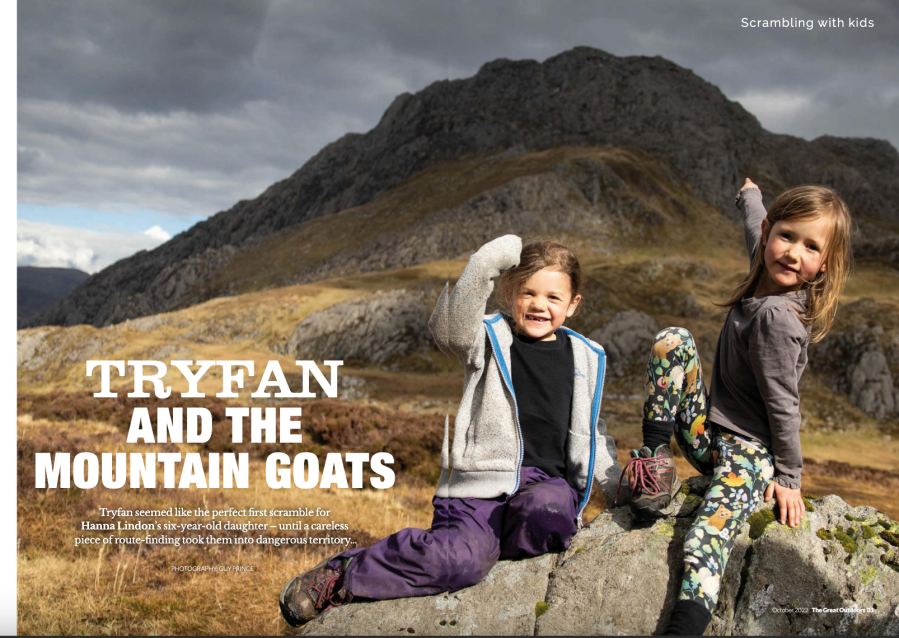 Tryfan and the mountain goats: Tryfan seemed like the perfect first scramble for Hanna Lindon's six-year-old daughter – until a careless piece of route-finding took them into dangerous territory.
"Each adult was behind a kid with one hand hovering protectively just below them. I tried to swing across a notch in the route one-handed, slipped, wobbled and nearly toppled backwards off the mountainside. That's when the fear kicked in. What the hell was I doing? I'd led three kids up a steep and dangerously exposed scramble that would put the wind up most adults. This was criminal negligence. "Mummy," said the voice of reason above me. "We're nearly there. Why are you standing there looking all weird and starey?"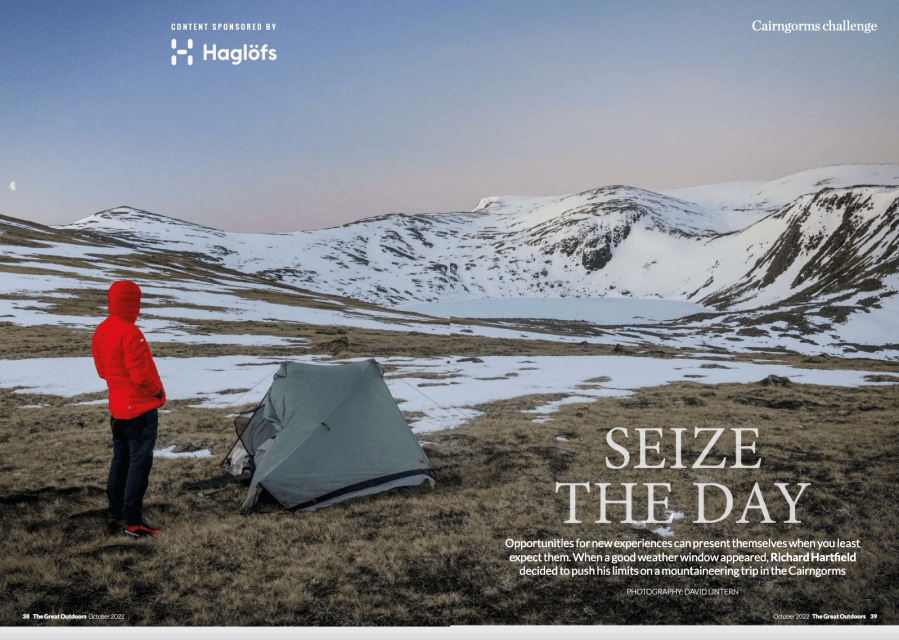 Seize the day: Opportunities for new experiences can present themselves when you least expect them. When a good weather window appeared, Richard Hartfield decided to push his limits on a mountaineering trip in the Cairngorms.
"It felt like climbing into the heart of the mountains; and a deep, calm focus settled through me. Two brief steps over deep cracks in the snow ice and a short section of mixed terrain near the top added a little more excitement to the mix. Placing crampons on rock edges and pulling up over the final boulders wasn't so different from 'winter walking' – or was it? This place was remarkable, but it was also consequential, and the atmosphere intimidating. One false move, and a long, hard fall to the bottom awaited. I have grown into this kind of adventure over time, learning slowly, increasing difficulty gradually."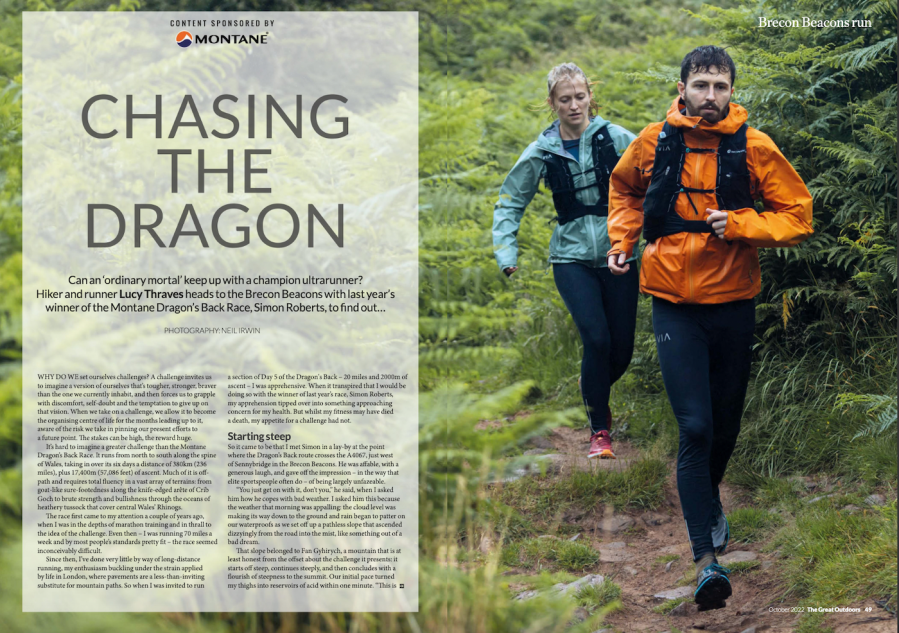 Chasing the dragon: Can an 'ordinary mortal' keep up with a champion ultra runner? Hiker and runner Lucy Thraves heads up to the Brecon Beacons with last year's winner of the Montane Dragon's Back Race, Simon Roberts, to find out…
"I'd brought four energy gels with me, and by the halfway point I had had all of them. How woefully I had underestimated how much food would be needed. Coming from a road-running background, I hadn't taken into account how much energy is expended simply staying upright in rough terrain, let alone the toll that repeated ascents and descents take on one's reserves. I wobbled down Fan Fawr like a Slinky toy collapsing itself down stairs, eyes fixed on the car park in the valley below. As we neared, a little green food van presented itself to me like a heavenly vision."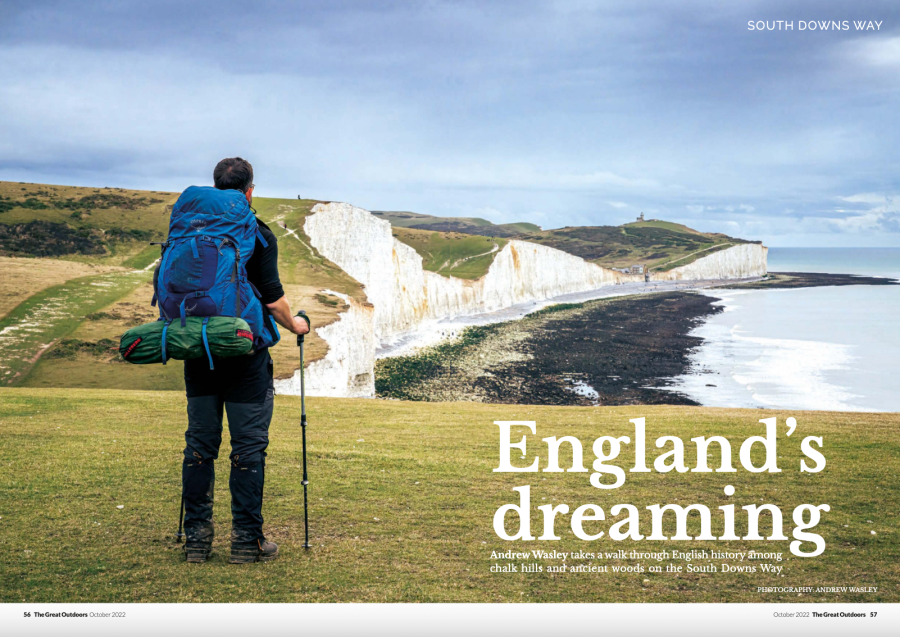 England's dreaming: Andrew Wasley takes a walk through English history among chalk hills and ancient woods on the South Downs Way.
"The South Downs are the English landscape in stereotype: a furrowed chain of chalk hills, crisscrossed with hedgerows and narrow lanes that separate fields like a lead lattice in a stained-glass window. Life seems to imitate art, calling to mind the modernist, romantic brush strokes of Eric Ravilious. The chalk escarpment commands spectacular views of the English Channel to the south and the Weald to the north, taking in great broadleaf forests, river valleys and bare hilltops. At their southern edge the Downs meet the Channel at the Seven Sisters, a terminal wall of chalk cliffs – England's limit, and its start."
Dreaming the river: In Europe's wildest landscape, you can go for weeks and hardly see a soul. Mark Waring and friends head to Arctic Lapland for a wild and immersive expedition combining hiking and packrafting.
"We pack our boats and don dry suits for the waterborne phase of our long-awaited expedition. Padje Kaitumjaure is the first stretch, a 20-kilometre lake surrounded by cathedral-like cliffs that today provides easy travel on flat water. It's a joy to be there, at long last, and we are all caught in the moment. The day has a celebratory feel, capped with a little too much whisky at camp that evening, toasted under an opaque midnight sun."
Order a single copy of this issue and get it delivered with free postage.