For many adventurous souls, life is a constant balancing act between seeking adrenaline and respecting the limits of our own experience and skill. But are there ways you can hike smarter and reap the rewards with a boost to your confidence in the mountains?
This is the question we hope to answer in the latest issue of The Great Outdoors. With the help of our expert contributors, as well as the volunteers of Keswick Mountain Mountain Rescue Team, we bring you essential navigation skills for beginners, spotlight the UK's mountain blackspots, and much more.
Cover: Francesca Donovan scrambles Sharp Edge under the watchful eye of KMRT. | Credit: Neil Irwin
Our contributors have also been bikepacking away from the crowds on the Isle of Skye and scrambling all of Torridon in one whirlwind adventure.
Highlights of this issue:
Keswick Mountain Rescue Team show Francesca Donovan the ropes on Blencathra's Sharp Edge and give their tips on avoiding an unwanted meeting with Mountain Rescue
Richard Hartfield and John Fleetwood scramble all of Torridon 
Annie Lloyd Evans and Huw Oliver bikepack away from the crowds on the Isle of Skye
Alex Roddie puts smartphones for the outdoors and hiking apps to the best and picks out the best
Lucy Wallace demystifies the art of finding our way with essential navigation tips for beginners
10 mapped walking routes to help you explore new wild places and boost your confidence in the mountains
PLUS: Jim Perrin puts The Cobbler (Ben Arthur) in profile; Chris Townsend asks if we should be responsible for funding mountain path repairs; expert gear reviews including the best three-season boots; an adventurous weekend in Castleton; and the ultimate guide to hiking the Snowdonia Slate Trail.
Read more and boot your confidence in the mountains: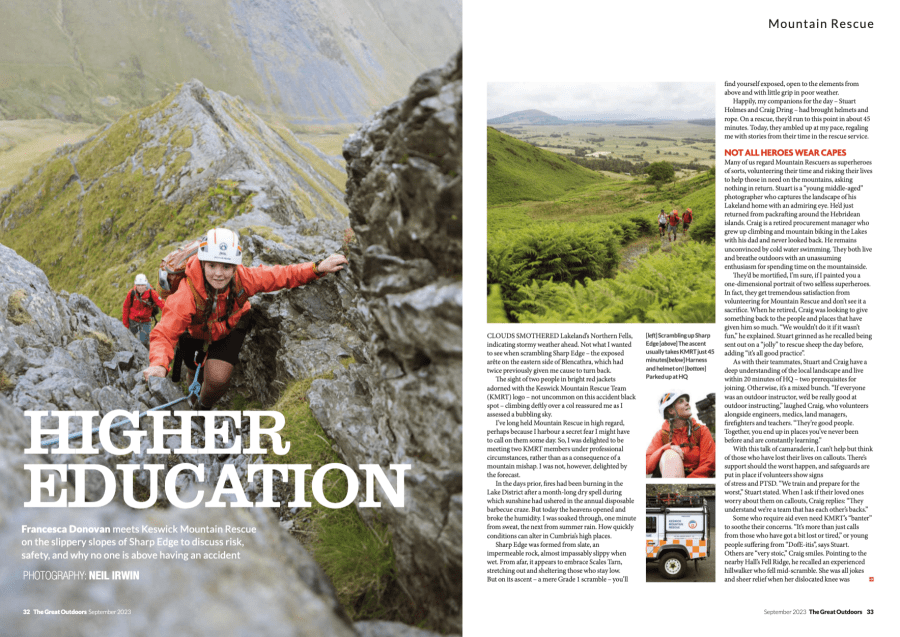 Higher education: Francesca Donovan meets Keswick Mountain Rescue on the slippery slopes of Sharp Edge to discuss risk, safety and why accidents can happen to anyone.
"I used to be embarrassed to tell people I'd attempted Sharp Edge three times before finally reaching the summit with the thrill of a full scramble pulsing through my veins. I felt silly for not being able to predict the conditions down to the last minute, checking MWIS all the way home, refreshing the page as though it would show me what I'd got wrong. I felt unfit, cowardly, weak – feelings of failure that may sound familiar to you. Now, years later with the awareness of experience – and the word 'risk' still ringing in my ears – I was suddenly proud of my past decisions to leave Sharp Edge for another day. If I had made the braver – riskier – choice, I may have met one of these fine KMRT volunteers a lot sooner…"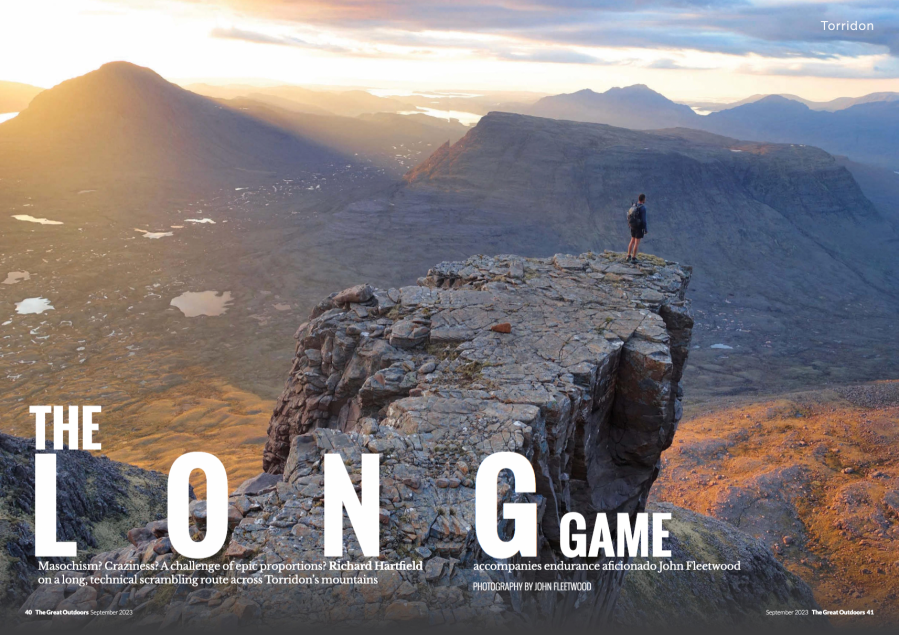 The long game: Masochism? Craziness? A challenge of epic proportions? Richard Hartfield accompanies endurance aficionado John Fleetwood on a long, technical scrambling route across all of Torridon's mountains.
"Charging down towards the next scramble, we were stopped in our tracks at the edge of a tiny lochan. With no-one else left out on the hills, the view back towards the northern corries of Liathach felt like a secret saved just for us. Mild evening air rippled across the glassy water. The evening sun cast shadows across a myriad of gullies and buttresses, revealing their endless complexities. Against a backdrop of fatigue and sustained effort, the view meant more. The magic of doing a long round began to reveal itself to me. Our journey would lead us into so many quiet spaces between the well-walked summits…"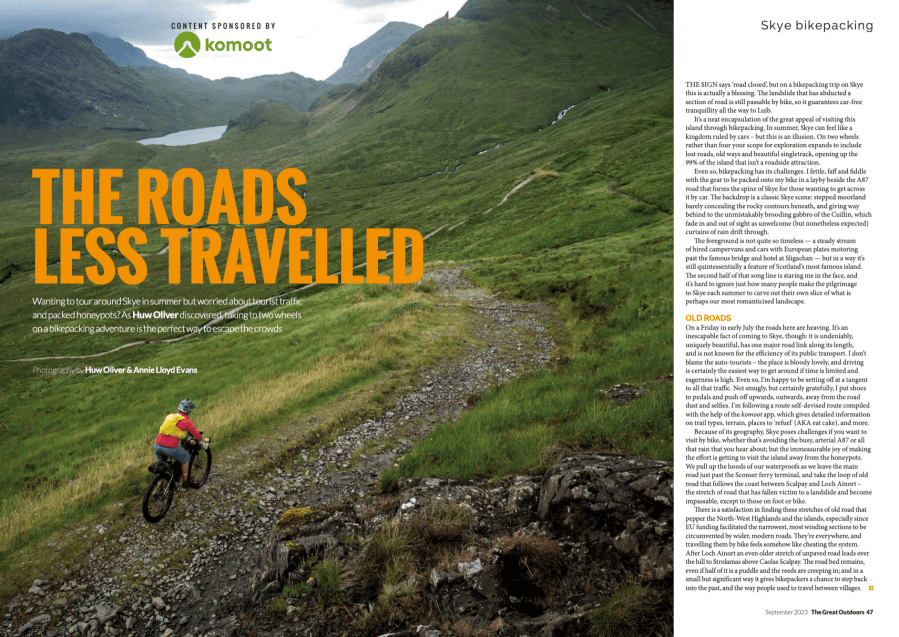 The roads less travelled: Wanting to tour around Skye in summer but worried about tourist traffic and packed honeypots? As Huw Oliver discovered, taking two wheels on a bikepacking adventure is the perfect way to escape the crowds.
"It's another thing about slow travel, I think through a mouthful of buttery scone — when you travel by bike or by foot, or even by bus or train with just the contents of a rucksack, you make yourself more vulnerable and more reliant on your destination to provide food and shelter. It leads, inevitably, to more human interaction, more opportunities to understand the people that shape the place, and vice versa. The appeal of filling a camper with cheap food and fuel in Inverness is obvious, but when I think about the number of unexpectedly happy meetings that have come about because I really wanted a bit of fresh fruit or a hot chocolate, I get another flash of feeling that 'light and slow is the way to go'."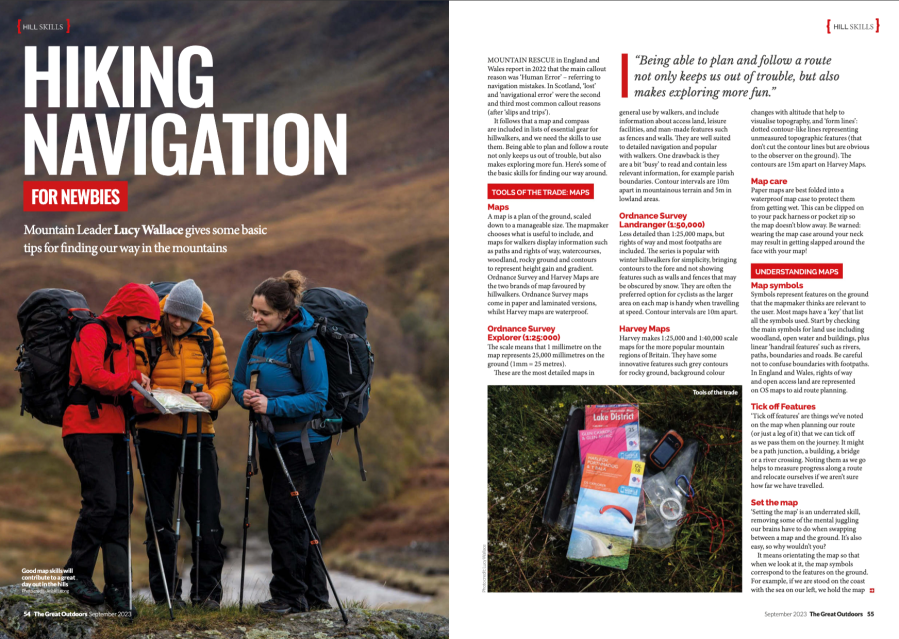 Basic navigation for hillwalkers: Mountain Leader Lucy Wallace is our guide to finding our way in the mountains with this lesson in hillwalking navigation.
"Mountain Rescue in England and Wales report in 2022 that the main callout reason was 'Human Error' – referring to navigation mistakes. In Scotland, 'lost' and 'navigational error' were the second and third most common callout reasons (after 'slips and trips'). It follows that a map and compass are included in lists of essential gear for hill walkers, and we need the skills to use them. Being able to plan and follow a route not only keeps us out of trouble, but also makes exploring more fun. Here's some of the basic skills for finding our way around…"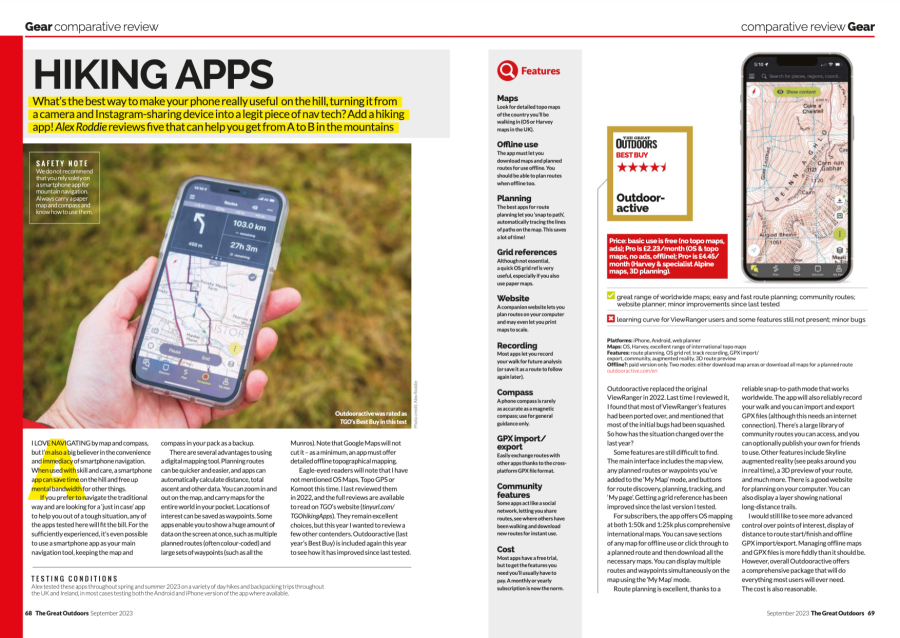 Hiking apps: What's the best way to make your phone really useful on the hill, turning it from a camera and Instagram-sharing device into a legit piece of nav tech? Add a hiking app! Alex Roddie reviews five apps that can help you get from A to B in the mountains.
"Although I love navigating by map and compass, I'm also a big believer in the convenience and immediacy of smartphone navigation. When used with skill and care, a smartphone app can save us time on the hill and free up mental bandwidth for other things. If you prefer to navigate the traditional way and are looking for a "just in case" app to help you out of a tough situation, any of the apps tested will fit the bill. For the sufficiently experienced, it's even possible to use a smartphone app as your main navigation tool, keeping map and compass in your pack as a backup…"
Order a single copy of this issue on how to boost your confidence in the mountains and get it delivered with free postage.