"When you start a race at over 5,000m, it's not a case of going hard from the start line – it's about setting off at a pace that will ensure you don't blow up before halfway."
Angela Mudge is a Scottish champion hillrunner and skyrunner whose achievements include winning the Scottish Hill Running Championships in 1997, 1998 and 2006, and she holds the women's record on more than 13 courses in Scotland alone. In 2007 she set a new women's record in the Everest Marathon, the world's highest marathon, which starts two hours from Everest Base Camp, at an altitude of 5,200m.
Registration is now open for next year's Original Everest Marathon (Nov 15 – Dec 7 2019), which supports the charity Community Action Nepal. Find out more about the marathon here. Register here.
We got in touch with Angela to find out a bit more about her remarkable mountain running career .
TGO: Please introduce yourself. Who are you and what do you do?
Angela: My name is Angela Mudge, and live in the Loch Lomond and Trossachs National Park in Scotland with two Jack Russell terriers and a cat. I work part time as a massage therapist and have recently taken on a role with Scottish Athletics – National lead for hill and mountain running. When not working I'll be found in the hills, running, cycling or simply dog walking.
TGO: How did you get into mountain running and eventually high-altitude running? Tell us a bit about your journey and progression. What were the high and low points along the way (figuratively, that is)?
Angela: I started running at school in Devon, and followed the conventional path of track and field and cross-country running. It wasn't until I moved to Scotland to study at Stirling University in 1991 that I was introduced to hill running. A gang of university employees used to head up Dumyat (the local hill) at lunch times so I naturally joined them and found the discipline of running I much preferred. Shortly afterwards, the Ochil hill running club formed and I was quickly introduced to the hill races in Scotland and found myself climbing Munros most weekends. After a few years I gained my first international vest for Scotland and was introduced to racing on the continent, spending summers racing in the Alps where there were limitless mountains to run up and trials to explore. I won the World Mountain Running Championships in 2000 and was runner up in 2003.
"I'd never trekked in Nepal so decided the best introduction to trekking would be to do the Everest Marathon."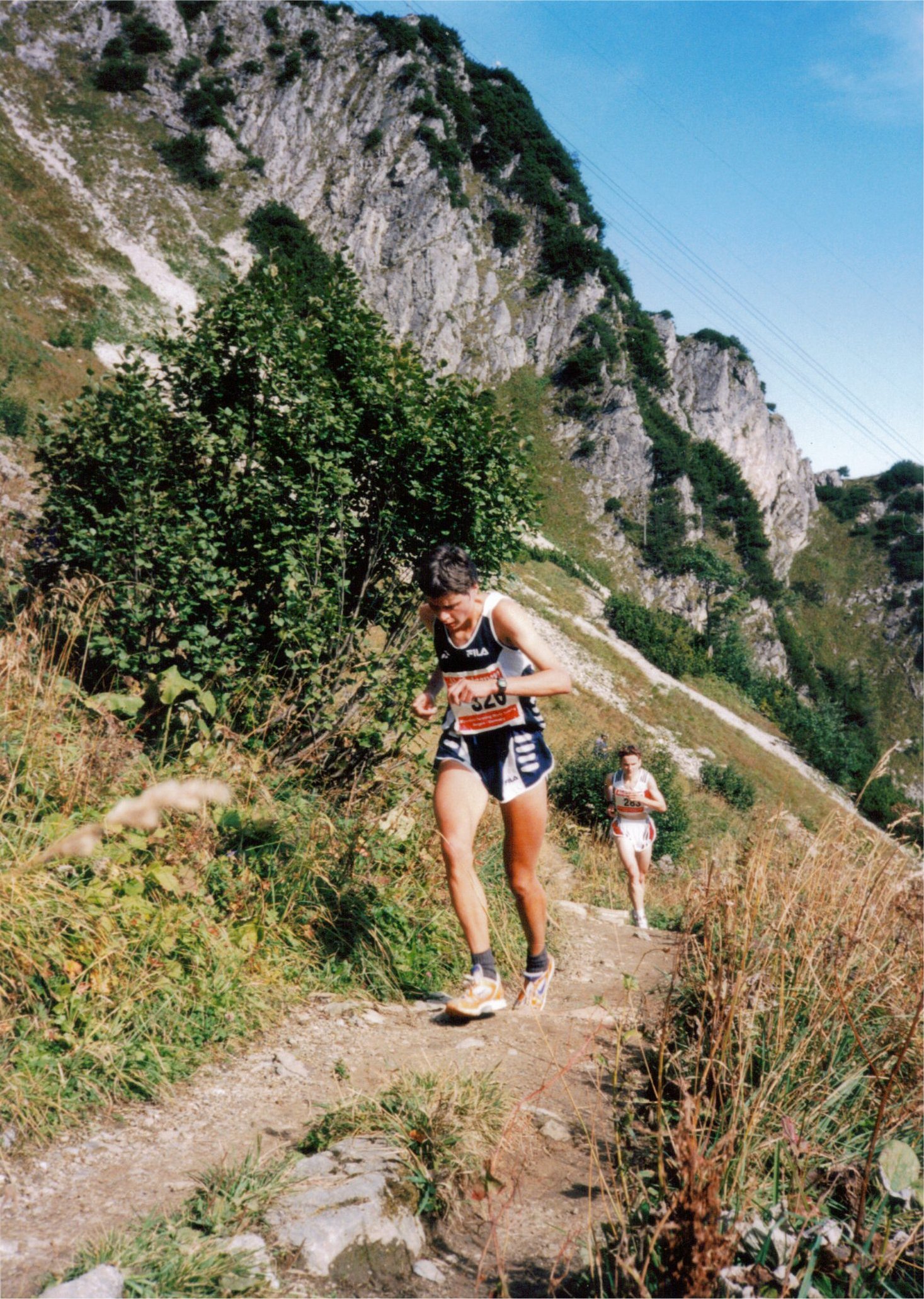 In 2004 I suffered a career-threatening knee injury and after an operation and lots of rehab I decided in 2007 to try something different. Instead of competing in the world mountain-running circuit (predominantly based in Europe) I decided to give skyrunning a go. I found I was no longer able to do the intense faster training (my knee would swell) required for the shorter races, so reckoned longer would suit me. At the time sky races were all at altitude and mostly around marathon distance. At my first race in Zergama, Spain, I broke the course record and found I was good at the longer, rougher events. I'd already competed the Mount Kinabulu race in Borneo several times but found I underperformed. It was that bit too high, whereas races up to 3,000m suited me better – living at sea level I could perform at a reasonable altitude but not an outrageous one.
TGO: You've been injured a few times – how has that affected both your training and your racing?
Angela: All runners are injured some time in their career, unless they are not training hard enough! I was born with club foot so have always suffered from lower limb issues. When I've been injured I've always turned to the bike, either road or mountain biking, and very often head off on a long cycle tour to forget about running for a bit. In 2004 I wore the cartilage away on my femur so had an operation on that which saw me non-weight bearing for two months then a very slow road back to running. I was in my thirties so cross-trained really hard and was able to start racing again a year later at international standard.
"Scotland is my favourite place to run. It's one of the few places in the world where you have the freedom to run wherever you like."
In 2015 I had an ankle operation after I ruptured my spring ligament. This injury has taken a long time to recover from and due to my age I'll never get back to where I was. So now I'm just happy running and have realised I can't run every day and twice a day like I used to. So the bike supplements a lot of my training, and I'm seeing parts of Scotland I'd never run through before. I'm racing a lot less than I used to but am just happy to still be able to run in the hills.
TGO: Tell us about the 2007 Everest Marathon. How was the experience for you, and what attracted you to the race? What did it take to break the previous record by 14 minutes?
Angela: I'd never trekked in Nepal so decided the best introduction to trekking would be to do the Everest Marathon. I've never had a desire to climb Everest so a run back from base camp to Namche suited me fine. I liked the concept of trekking into base camp with the guys you were racing against and acclimatising along the route. I didn't travel out early to gain any advantage of acclimatising better for the race; I wanted to compete on a level playing field. As far as I was concerned I was just another competitor there for the race and the experience of the Himalayas. The race was always secondary to the trek in. It's a lottery – many of the competitors fell ill on the trek and some suffered from altitude sickness so weren't even able to make the start line. For me it was always a case of getting to the start line as healthy as possible.
When you start a race at over 5,000m, it's not a case of going hard from the start line – it's about setting off at a pace that will ensure you don't blow up before halfway. I had no expectations and just set off at a pace I was comfortable with I don't even use my watch to gauge my time. I always run to how I feel, so it was a nice surprise when I finished to find I'd broken the record. I didn't plan how I was going to race the event, as it was a race into the unknown – I had no idea how long each section would take as I'd only trekked on the route and hadn't trained on it.
TGO: How do you find the hillrunning at home in Scotland compares with some of the running you've done in bigger mountain ranges abroad? Any favourite routes in the Scottish hills?
Angela: Scotland is my favourite place to run. It's one of the few places in the world where you have the freedom to run wherever you like. I love running on grassy, boggy terrain; having spent my childhood on Dartmoor, bog and tussocks feel like a second home. Scotland has its fair share of bog! Another attraction to Scotland is that you can always get to the top of the mountain, whereas in many of the places I've trained abroad, the top involves scaling a glacier or some very unstable rock. Don't get me wrong, I love the Alps but always look forward to returning home and having the freedom to roam, not be constrained by where the paths will take me or who owns the land. As spectacular as the Dolomites are I always return home loving the wet green landscape.
I'm frequently up the local hills: Ben Ledi, Stuc a' Chroin, the Ochils and Ben Lomond. On weekends I'll venture further afield and I love the west coast of Scotland. One of my favourite races is the Scottish Island Peaks Race, which is a combination of running and sailing.
TGO: Do you have any advice for people hoping to get into running at high altitude?
Angela: Try running at a sensible altitude first. Running above 1,500m will have an effect on your performance, so see how you fare at lower altitudes before venturing higher. Your body takes a while to get acclimatised to altitude – anything from ten days to much longer. So it's best to either arrive ten days before a race at altitude or arrive at the last minute. The body doesn't have time to try and adapt to the altitude. If you are spending a period running at altitude you have to appreciate it takes a lot more out of your body than running at sea level so you need to do less than normal initially – else you will crash and burn.