Lightweight gas stoves are the backpacker's best friend. Judy Armstrong puts five of the best to the test.
The ability to cook food, boil water to rehydrate meals or just make a decent cup of coffee outdoors can't be underestimated. Backpackers have always carried a stove of some sort, but in winter I often include a lightweight unit in my rucksack for day walks too. Yes, I have a caffeine addiction, and pre-made coffee in a flask is disgusting, but it's a comfort on freezing days to have a warming brew, and know it's there as emergency back-up. I've never been benighted but there's always a first time.
I had a tough time choosing Best Buy in this test. The Jetboil, MSR and Optimus stoves are all the best in their fields and I spent weeks trying to decide which five star stove should take the top spot. Jetboil, as a package with the heat exchanger pot, is unbeatable in total weight and gas efficiency, both important factors. MSR is the best canister-top stove I have ever used due to its power regulator allowing maximum use of gas. Optimus is super-versatile for stability, use in varied conditions (canister inversion), pan size, wind protection. I would like to give all of them Best Buy. In the end I chose the Optimus as the stove I would be most likely to use most often. But honestly, you can't go wrong with any of them. Before you decide which to buy, here are a few useful tips…
Fuel
Multifuel, meths and biomass stoves are commonly available, but for the best ratio of weight, bulk and simplicity, stoves that run on gas canisters are a hiker's best friend. Most have a controllable flame so can simmer; many also incorporate piezo (automatic spark) ignition (although I always carry a lighter, in case of failure). Some – notably Jetboil, in this test – are sold as units with heat exchanger pots. These are heavier but incredibly fuel efficient and also work well in cold conditions.
Stability
Stability can be an issue with canister stoves. The lightest systems – a gas head that screws onto a canister – need a very stable base to counteract the effect of perching a loaded pan on top of a stove, on top of a canister (I call this a tower, or stack, system). The alternative is the remote canister stove. This is a self-supporting stove with fold-out legs, attached to the canister by a flexible fuel line, which allows the canister to be inverted in cold weather or when nearly empty.
Gas
Brands will specify their stoves should only be used with their own brand gas canisters. In reality they will work with any canister with a compatible connection (in Britain, the most common type is the screw-on). Virtually all compact cartridges contain a mix of butane, isobutane and propane. Isobutane is far superior in terms of vapour pressure, and high vapour pressure translates to better performance, especially in low temperatures. Isobutane is more expensive to source than butane, so you'll usually find it in higher-quality canisters. Normal butane is the cheapest and poorest-performing fuel in the mix. Burning efficiency is also reduced by cold temperatures, high altitude and wind.
Windshield
Increases a stove's efficiency by shielding the flame against wind (it can double as a heat reflector). Windshields can be integrated or made from thin aluminium sheet. If you go the DIY route, ensure the gas canister is not included in the heat zone (and if you use your rucksack as a wind block, keep it far enough away not to burn holes in it… and yes, I speak from experience/stupidity).
Pans
Gas stoves with small diameter burner heads can create intense burn zones, or hot spots, on cooking pans. Titanium pans have thin bases so are prone to this, stainless steel is better, a thick aluminium pan is best at dispersing heat.
Controls
These are flame control, and piezo. Ensure they are not too close to the burner head, as they will rapidly get hot to touch, and there's the risk of flames singeing synthetic sleeve fabric (sigh. It was such a lovely jacket). Knurled knobs are now less common than wire loops, which are easier to manipulate with gloves and usually more predictable for smaller adjustments.
---
5 gas stoves for 2021 reviewed
BEST BUY: Optimus Vega (£105)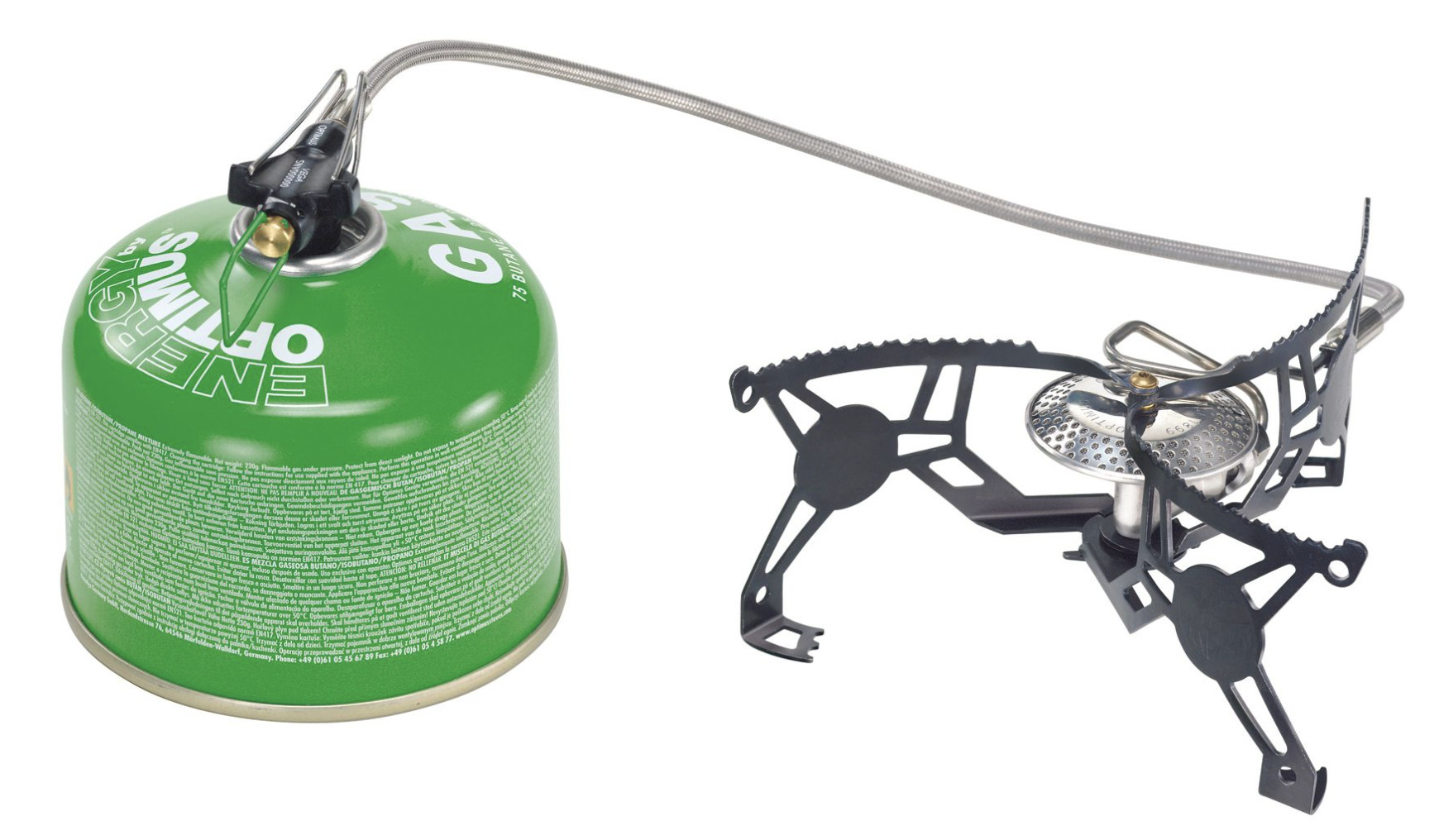 Rating: 5/5
Likes: stability, weight, performance, versatility, quality, windshield
Dislikes: nothing
Weight: 185g + 55g case + windshield | Dimensions: 65mm / 85mm | Burner diameter: 50mm | Power: 4760 BTU / 1400 W | Efficiency mode: 12,625 BTU / 3700 W 4-season mode | Boil time: 2min 20sec (Efficiency Mode) | Gas used: 8g
This exquisite little stove is a thing of beauty in performance, aesthetics and build quality. Vega is a lightweight, remote canister stove with 'integrated 4-season mode' which simply means you can invert the canister when cooking in cold temperatures or at altitude, or when extra fast boil times are needed.
Read more: Optimus Vega review
RECOMMENDED: Jetboil Stash (£140)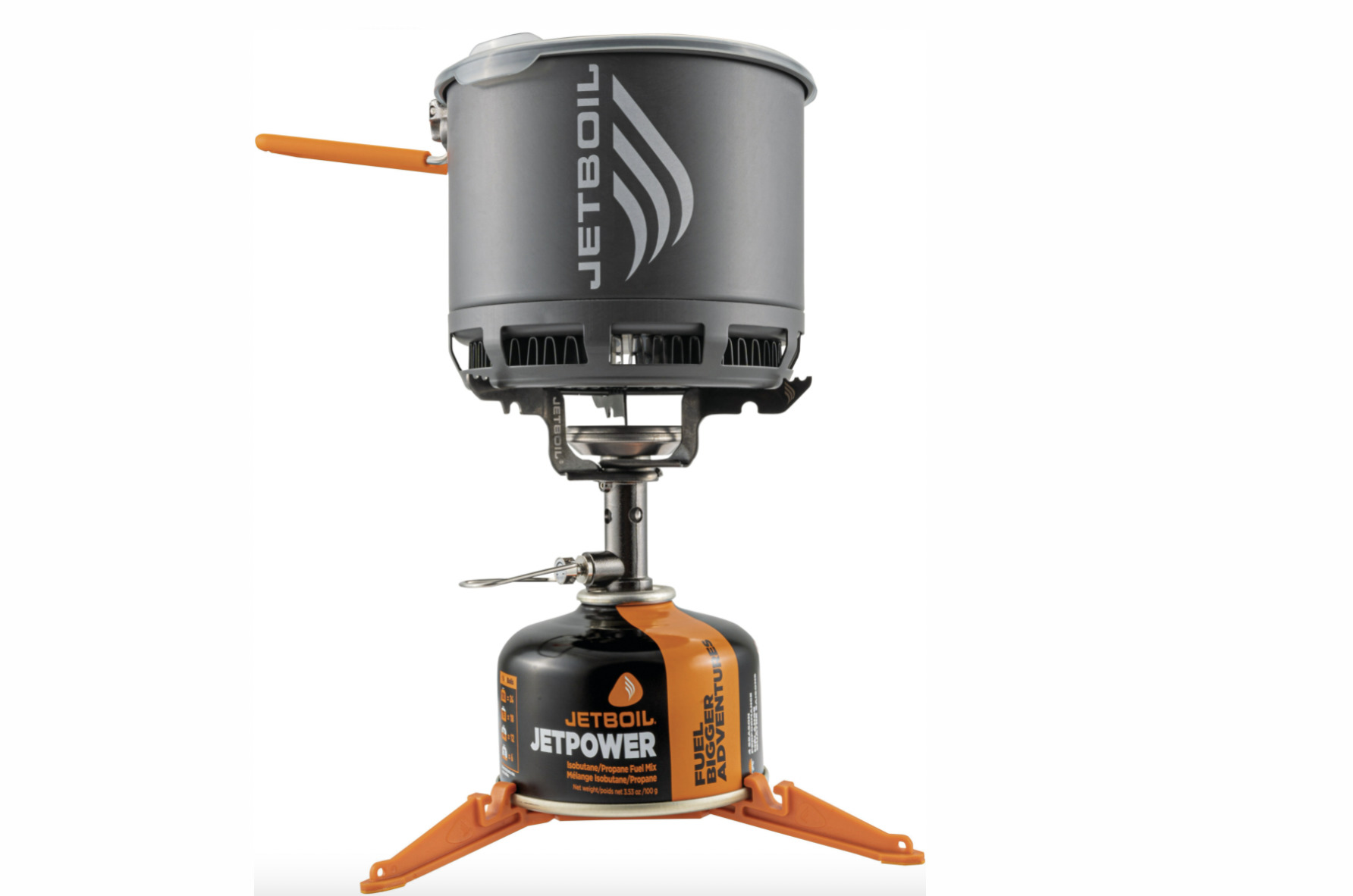 Rating: 5/5
Likes: compact, low weight for complete unit, efficiency, canister tripod support, clear lid, handle
Dislikes: difficult to protect against wind gusts
Weight: 231g (unit inc.pan), 59g burner head only | Dimensions: 160mm / 65mm | Burner diameter: 40mm | Power: 4500 BTU/h / 1320 Watts | Boil time: 1min 40 sec | Gas used: 5g
With its titanium burner and anodized aluminium FluxRing heat exchanger pot, Stash is Jetboil's newest addition, and the lightest, most compact stove in the range. The pan has a boiling capacity of around 600ml so the unit is ideal for solo use, and feasible for two as it can also be used with a normal pan. FluxRing is the key to its efficiency – 500ml of water boiled in just 1min 40secs, using a meagre 5g of gas.
Read more: Jetboil Stash review
RECOMMENDED: MSR Pocket Rocket Deluxe (£70)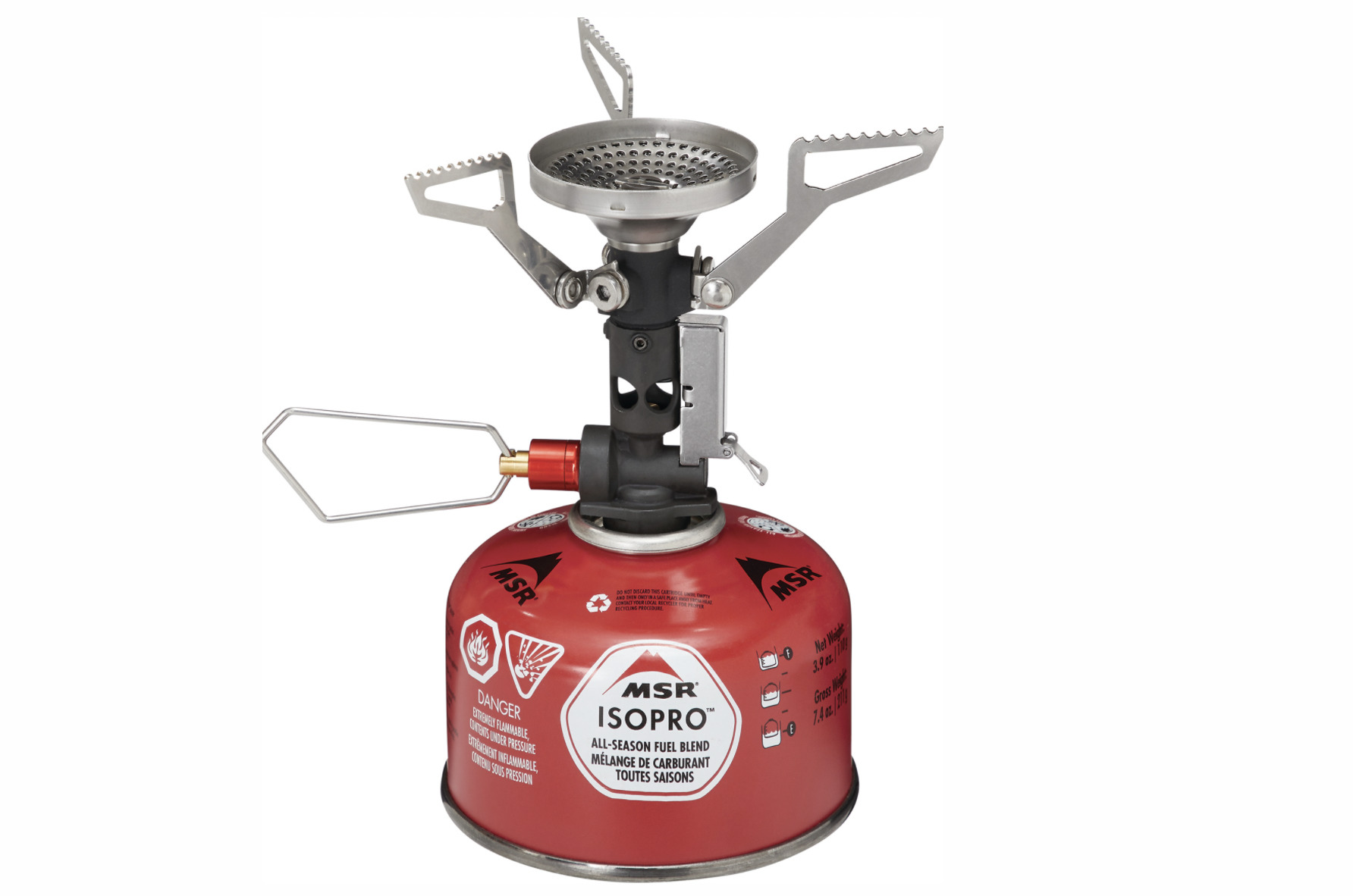 Rating: 5/5
Likes: pressure regulator, efficiency, boil time, simmer control, build quality
Dislikes: nothing
Weight: 82g + 17g case | Dimensions: 180mm / 65mm | Burner diameter: 47mm | Power: 10,400 BTU / 3200 W | Boil time: 1min 35 secs | Gas used: 9g
I have long been a fan of MSR stoves, for their versatility and performance, and this is no exception. The Pocket Rocket Deluxe is lightweight and compact, has a very fast boil time yet is efficient and easy to control with a lower flame. The built-in Piezo is positive, firing with a single click, and close to the canister so distant from the flame.
Read more: MSR Pocket Rocket Deluxe review
Primus FireStick (£80)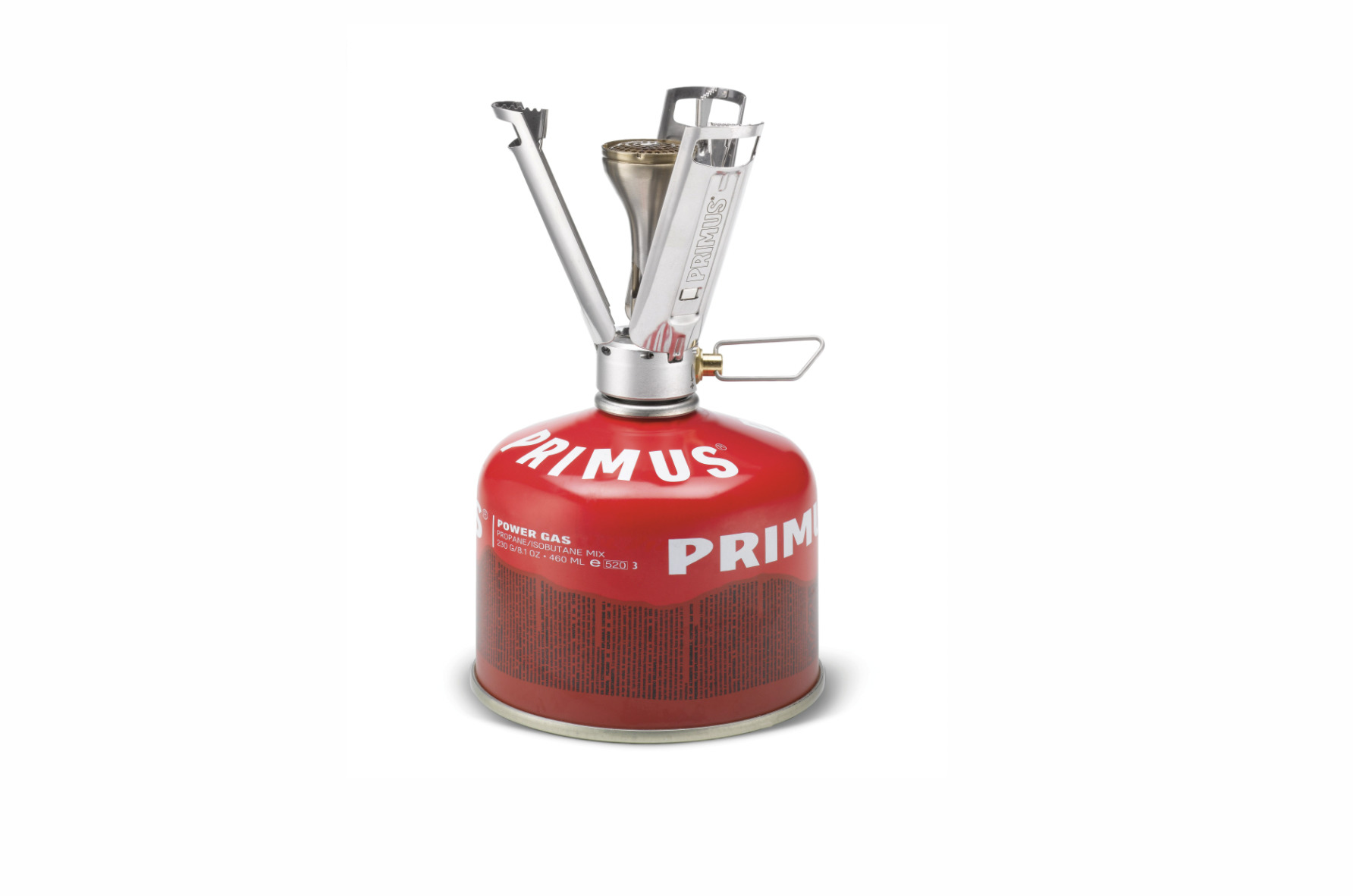 Rating: 3.5/5
Likes: compact, wool pouch, separate piezo, reasonable in wind
Dislikes: small pan support area, lack of stability
Weight: 105g + 29g case/piezo | Dimensions: 180cm / 50cm | Burner diameter: 30mm | Power: 8530 BTU / 2500 W | Boil time: 3min 30 sec | Gas used: 12g
Firestick certainly stands out from the crowd. It is supplied in a wool storage pouch which acts as a pan holder: this is novel lateral thinking by Primus, and is genuinely useful. Also in the pouch is a cigarette-sized Piezo ignition stick, which works by clicking the end, like a biro.
Read more: Primus Firestick review
Vango Folding Gas Stove with Windshield and Piezo (£42)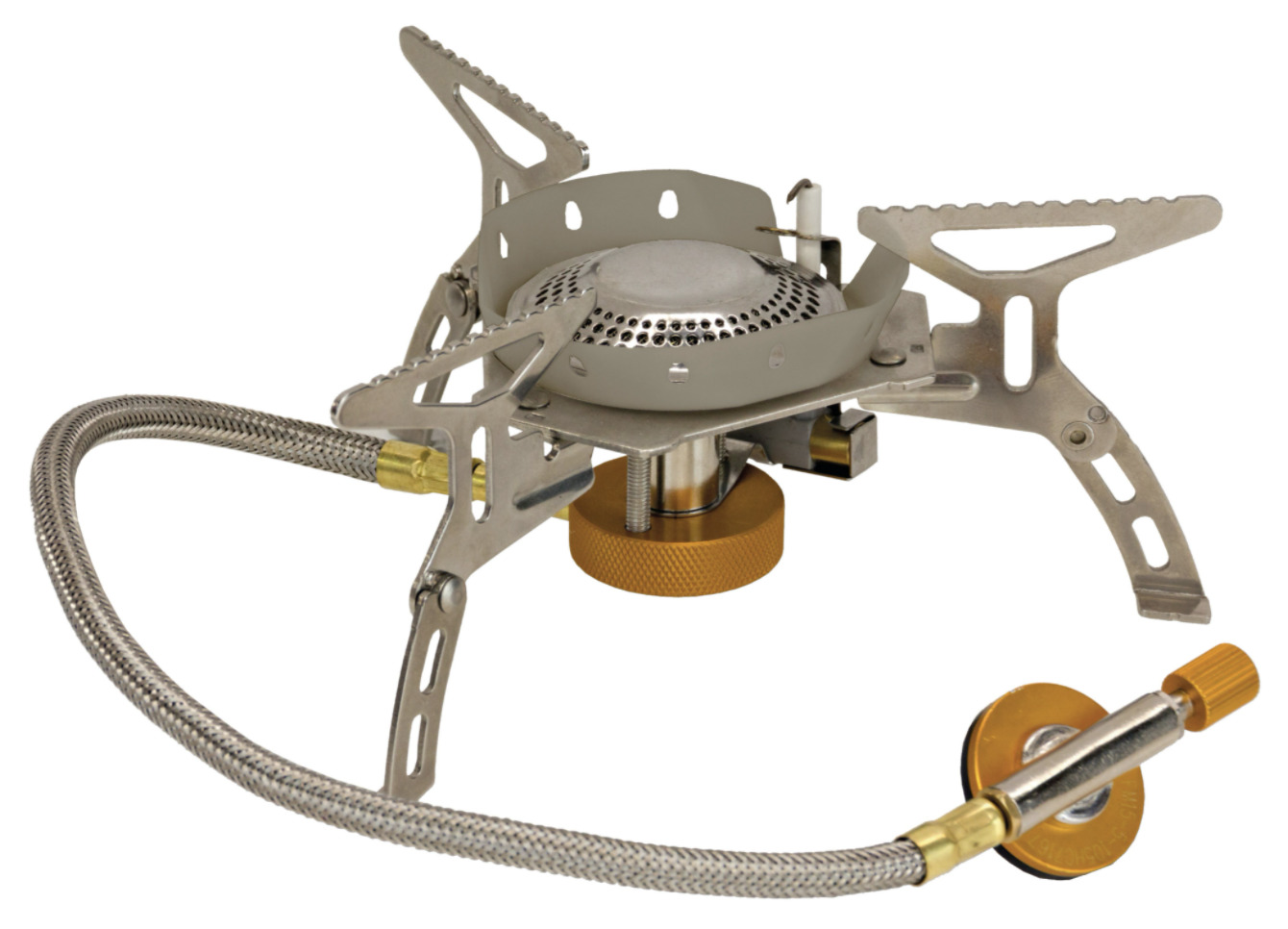 Rating: 4/5
Likes: price, stability, good for larger cookware, can tilt canister
Dislikes: weight, stiff hinges, small control knob, piezo under burner
Weight: 242g + 50g case | Dimensions: 75mm / 85mm | Burner diameter: 50mm | Power: 8850 BTU / 2600 W | Boil time: 2min 30 sec | Gas used: 10g
This is a reasonable example of a remote canister stove and worth considering on a tight budget. It has a large pan support area, and a low off-the-ground height, which both aid cooking stability. Each of the support arms is 55mm long; adding in the wide burner gives a massive radius of 85mm – 170mm across full width – so can safely take large cookware.
Read more: Vango Folding Gas Stove with Windshield and Piezo review