Food is usually the number one topic on any backpacker's mind after a long day in the hills. Alex Roddie taste tests five dehydrated backpacking food meals for your next multi-day trip.
Backpacking food is essential fuel in the mountains, and never more so than on a long-distance walk – but it can be far more than just fuel. If the meal I'm carrying for the end of the day is unpalatable or doesn't give me the energy, I need to recover for upcoming exertions, I could be facing a miserable night and poor performance the next day.
Put simply, the food you carry in your back pack is mission-critical.
There are a few objective constraints to backpacking that make wise food choice all the more important. Cost, weight and calories are going to be priorities for most people.
It may be easy to find cheap, lightweight and highly calorific alternatives, but nutritional value and the quality of ingredients can suffer. Convenience also ranks highly and helps newcomers to backpacking develop good fuelling habits at the start and end of the day.
Specialist meals are really easy and quick to prepare, and are often eaten from the bag, so whilst there may be additional packaging to carry out, there is less washing up to do at camp! This is where specialist dehydrated meals find their niche – fast, nutritious and tasty.
Ultimately, it comes down to your personal tastes, and this is a far more subjective category of product to test than many others. In other words, you may not like what I like. The good news is that there has never been a better range of high-quality options than there is today.
Find out more about nutrition when hiking here
Hiking and backpacking food contents
Our backpacking food test conditions
I tasted all of these meals out in the mountains whilst backpacking or fastpacking. Although trail hunger is the best sauce, I also find that real-world testing is essential for checking out whether meals agree with me after a big hill day – as well as for testing details such as how glove-friendly the pack opening is.
What to look for in backpacking and hiking food
How much does backpacking food cost?
Cost varies from around £5.99/pack for the cheapest meals to roughly £9.99 for premium options. This quickly adds up, so when provisioning for a long trip it's worth looking at a mix of brands. More expensive meals are often made from higher-quality ingredients and have fewer additives.
Calories
You could be burning 2–3000 more calories on a long hill day than you would in everyday life, making high-energy food essential. Look for at least 500kcal in a meal – ideally more. In winter I prefer at least 800kcal. Some brands offer 1000kcal+ options.
Weight
Lighter is better, but only if the food gives you enough energy. This is why it's useful to know how many Calories/100g the food offers.
Taste and texture
Variety is a spice of backpacking life – old favourites can become tiresome if you have no options. Better-quality grub tend to have more flavour and texture, meaning it's more like
a real meal.
Ingredients
Some products will contain palm oil or artificial additives and preservatives; other brands make a point of avoiding these, focusing on nutrition and quality natural ingredients.
Dietary requirements
Many vegan, vegetarian, lactose-free and gluten-free meals are available. This is usually clearly marked on the packet, along with any allergens.
Method of preservation
Meals are either freeze-dried or dehydrated after cooking. Opinions vary on which leads to better preservation of texture and flavour, but both will remove 100% of the water, reducing bulk and weight.
Ease of preparation
You'll need to add boiling water and leave the meal to hydrate. A good product will tell you how much water to add, and a shorter rehydration time means less time waiting hungry. A well-designed pack is easy to open and easy to reseal whilst you wait.
Here are the best hiking and backpacking foods for you
LYO Expedition – Vegan Barley and Lentil Risotto
Price: £8.99
Weight: 128g
Pros: Excellent flavour and texture, top-quality ingredients
Cons: Poor calorie-to-weight ratio
Rating: 4.5/5
Calories: 504 | Calories/100g: 394 | Calories/£1: 56.06 | Time to hydrate: 9 minutes | Vegetarian/vegan: vegan | Allergens: none listed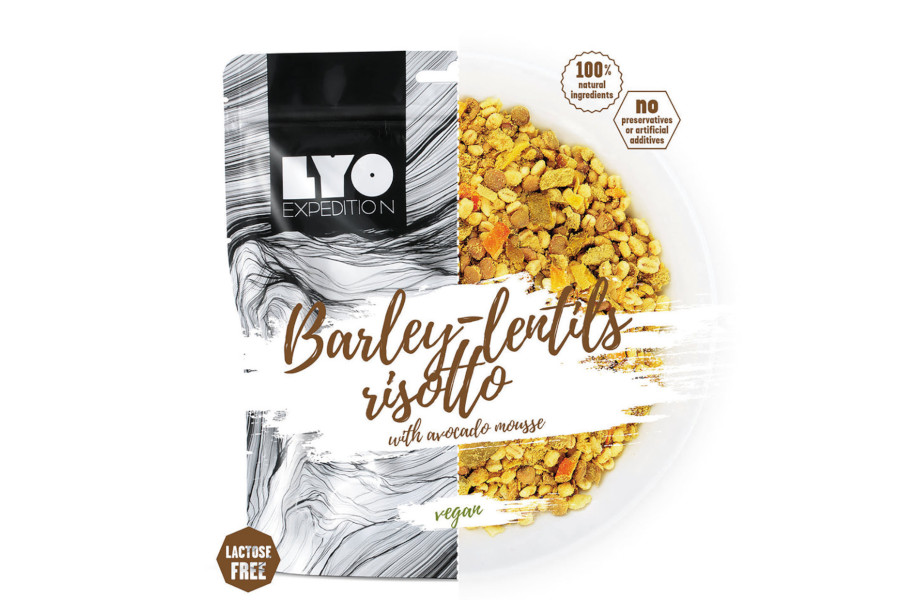 One of the best backpacking meals I've tried in recent years is LYO Expedition's nettle curry, and this brand has a reputation for coming out with unusual recipes that make a real change from the norm when it comes to dehydrated meals, so I was intrigued to try its vegan barley and lentil risotto with avocado mousse.
First impressions were very positive. The packaging is intelligently designed, with two sets of tear points (one at a lower level for ease of eating) and clear pictorial instructions for preparation. I found the 9-minute stated rehydration time to be conservative; it was adequately hydrated after only about 6 minutes.
For me – and I stress that this is subjective – this was easily the best-tasting and most satisfying meal on test. In terms of texture, the combination of lentils and pearl barley meant that the food had an excellent bite to it, whilst the hint of avocado was delicious after a long day in the mountains.
It surprised me by how good it was! Looking at the ingredients list, there are no artificial additives or preservatives whatsoever, and no palm oil.
The calorie count is low, so hungry hikers may want to pair this one with a dessert – I'd prefer a slightly heavier pack with about 200 extra calories. However, in my opinion the low calorie count is offset by this meal's superb quality.
Blå Band – Couscous with Chilli Spiced Vegetables
Price: £7.65
Weight: 151g
Pros: Delicious, convenient pack to eat from, good value
Cons: Contains palm oil, calorie-to-weight ratio not the best
Rating: 4/5
Calories: 647 | Calories/100g: 428 | Calories/£: 84.58 | Time to hydrate: 10 minutes | Vegetarian/vegan: vegetarian | Allergens: durum wheat flour, celery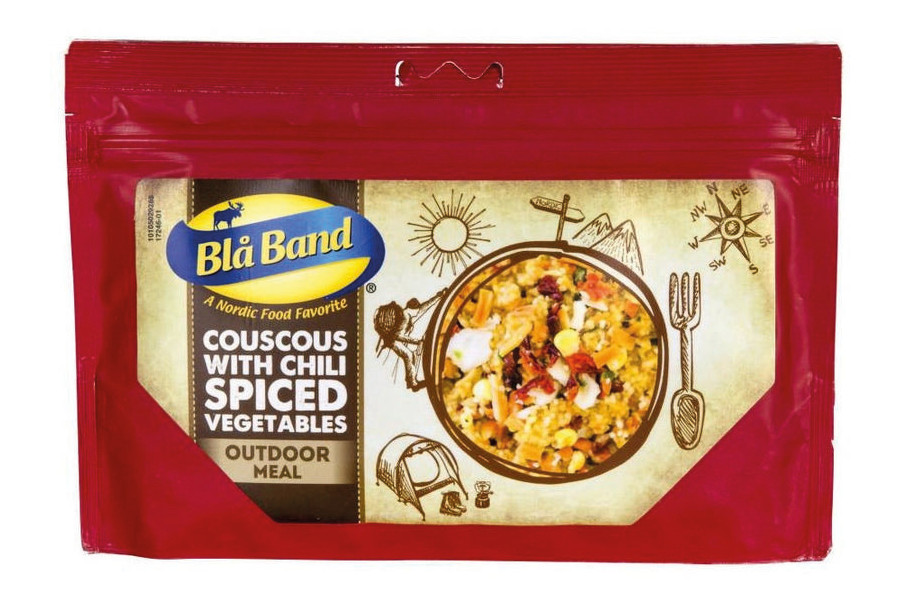 Blå Band is a stalwart Scandinavian brand that has been offering dehydrated backpacking meals for many years. One quirk – some might call it the brand's trademark –
is that the packs are wider than they are tall, unlike the more typical vertical format used by almost every other brand.
This doesn't make much difference when it comes to packing meals inside your rucksack, but it does make a big difference when preparing and eating the food. It's easier to thoroughly mix the food with hot water (fewer hidden crunchy spots left in the corners!) and much easier to eat without resorting to a long-handled spoon.
This is a simple vegetarian meal made with couscous, vegetables (carrot, red pepper, cabbage, leek, sweetcorn), and spices. I found that it rehydrated quickly, more quickly than the stated 10 minutes, and tasted really good. One thing to note is that the veg tended to float to the top and the couscous sinks to the bottom; it needed more thorough stirring than usual.
The level of chilli kick was perfectly judged, to my taste – I don't like my backpacking food to blow my head off, but it added a bit of interest to the flavour. The meal was filling and didn't leave me feeling hungry after I'd finished it.
At 647kcal per pack, you get a decent amount of energy, although the weight is slightly high at 151g. It also contains palm oil. The overall value is good, though.
Expedition Foods – Vegan Mushroom Risotto
Price: £8.99
Weight: 150g
Pros: High energy for weight and cost, quick to rehydrate
Cons: Flavour and texture not the best
Rating: 4/5
Calories: 800 | Calories/100g: 534 | Calories/£1: 88.99 | Time to hydrate: 5 minutes | Vegetarian/vegan: vegan | Allergens: none listed
Expedition Foods has every base covered: a wide variety of breakfasts and main meals, and in many cases a choice of 450, 800 or 1000kcal packs. You can also buy its meals in bulk, making them a good option
for extended trips or multi-person expeditions.
Expedition Foods tends to offer an extremely high energy-to-weight ratio, and its vegan mushroom risotto (I tested the 800g version) is no exception, with an unmatched 534kcal/100g. This is a long way above the next best meal tested – a clear choice for energy-intensive stuff such as high-altitude trekking or Scottish winter mountaineering. Rehydration is incredibly fast too.
Although I'm partial to a mushroom risotto, the taste and texture of this one didn't thrill me. The mushroom flavours were somewhat overpowered by onion, and the mushrooms themselves lost their definition, leading to a homogenous texture.
A plus point: the packaging is excellent. There's the usual tear point at the top, just above the seal, but another tear point about a third of the way down, which you can open up for ease of eating. Although priced higher than some of the other meals, the calories-to-price ratio is best in test, making it excellent value.
REAL Turmat – Pulled Pork with Rice
Price: £9.99
Weight: 155g
Pros: High energy, superb flavour and texture
Cons: High cost
Rating: 4/5
Calories: 700 | Calories/100g: 452 | Calories/£1: 70.07 | Time to hydrate: 8 minutes | Vegetarian/vegan: no | Allergens: soy sauce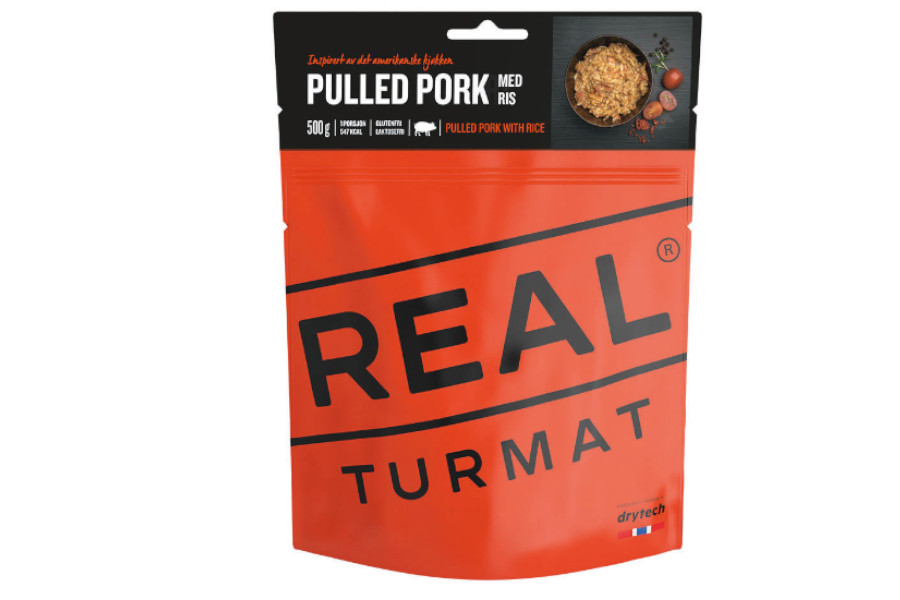 Another Scandinavian brand, REAL Turmat is known for hearty meals with a bit more chunkiness than you'll find from other brands (I'm particularly fond of its reindeer stew). This is achieved thanks to its Drytech freeze-drying technology – another method of preservation that aims to retain the food's original characteristics.
REAL Turmat meals are also vacuum-packed. All the air is removed from the packaging, reducing its bulk, although this can actually make them slightly more awkward to pack in your rucksack as the packets are hard rather than pliable, and don't stack together as easily.
My other minor packaging gripe is that calories/100g are displayed far more prominently than the (more useful) calories per pack, which can be confusing when you're tired at the end of a long day. This is another brand with a secondary tear point for ease of eating, although it's closer to the top than other brands tested, and I found a long-handled spoon essential.
This pulled pork with rice offers a respectable 700kcal per pack, it's gluten- and lactose-free, contains no palm oil, and the meal rehydrated very quickly – it was fit to eat within 5 minutes. Flavour was delicious and the pulled pork retained its texture admirably.
It was a very satisfying meal, although I note that the ingredients list is quite long compared to some other meals tested and contains a few (natural) additives such as rapeseed oil and ascorbic acid. The cost is high, but if you like a meaty meal after a big hike then this is a fine choice.
Firepot – Spicy Pork Noodles
Price: £7.45
Weight: 105g
Pros: No palm oil or artificial additives, quality ingredients
Cons: Difficult to open pack, standard size low in calories, extremely spicy
Rating: 3.5/5
Calories: 510 | Calories/100g: 486 | Calories/£1: 68.46 | Time to hydrate: 15 minutes | Vegetarian/vegan: no | Allergens: soya beans, wheat flour, sesame oil, anchovy extract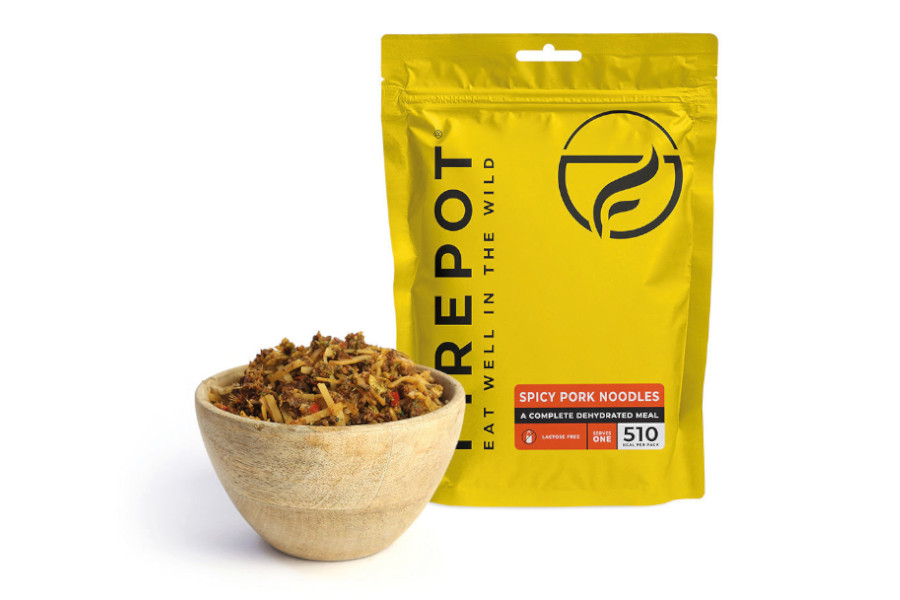 Firepot specialises in a small range of meals hand-made from high-quality ingredients, cooked and then dehydrated after cooking. The entire range is free from artificial additives, flavourings and preservatives, as well as palm oil, making them worth a look if you value quality.
Like many of their meals, the spicy pork noodles I tasted are available in both standard and extra-large portions – 105g / 510kcal and 160g / 765kcal respectively, in this case. The extra-large version costs £9.45, giving 80.95kcal/£1 – this is better value, and a more realistic pack size for hungry adventurers.
Described as "inspired by the sweet and salty flavours of Thailand", this dish contains rice noodles, pork mince, broccoli and spices. Stated rehydration time is rather long at 15 minutes, and it was only just hydrated enough at this point (I decided to leave it for another minute or two).
The noodles themselves are very good, and it had decent texture, although I found it simply too spicy overall – the heat overpowered all other flavours for me, making me wish I had a glass of milk to hand. This is subjective, of course! Another downside is that I found the pack impossible to open without a blade. The tear line failed to tear correctly from either side.
In general, this brand's spicy offerings tend to be on the hot side, so if you like that then this one could be worth a look. I would advise opting for the extra-large size, though.