Walkers crampons with a unique easy-to-use binding system
Crampons for hillwalking should be lightweight, easy to attach, and adequate for moderately steep slopes. Micro spikes are okay on easy terrain, climbing crampons are best for really steep slopes – steeper than most walkers will tackle. That leaves walkers crampons, which usually have ten points and the same attachment system as climbing crampons. The Hillsound Trail Pro crampons fit into this category, but they are a bit different to other ten-point crampons.
Firstly, the points are shorter, ranging from 2 to 2.5cms, which makes the crampons easier to walk in on ground where the snow and ice is thin and stones poke through. The curved front points don't protrude far beyond the toes of your boots. These are not crampons for front-pointing up steep slopes. Hillsound describes them as 'non-technical'. The front points do help when walking up moderate slopes where you don't put your foot down flat.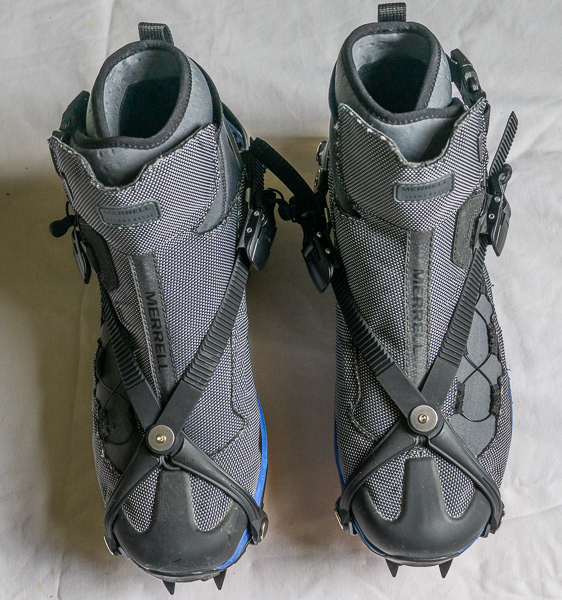 What makes the Trail Pro crampons stand out though is the binding system. This is by far the easiest I've ever used. It is excellent. It consists of a flexible X strap at the front and a curved strap with two ratchet buckles attached at the rear. Simply feed the X straps into the buckles and pull on the long tabs to tighten them. It's very simple and very quick and easy to do when wearing thick gloves. In case of deep snow four 'alpine stoppers' are provided. These can be slid onto the strap behind the buckle to reduce the chance of snow pushing the buckle open. Not having used the crampons in deep snow yet I can't say how well they work but they do seem to secure the buckles in place. They are bright orange, but care is still needed not to lose them, or misplace them in the pack, as they are very small.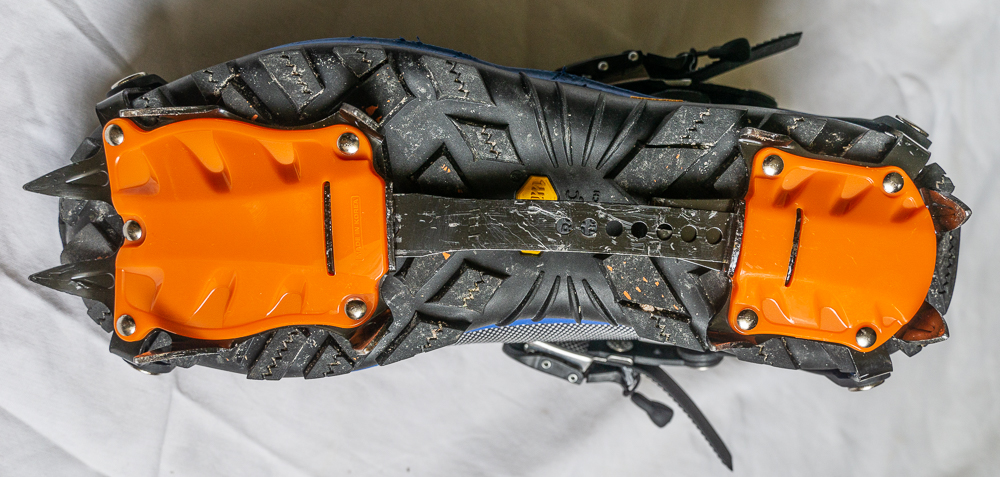 The crampons are made from heat-treated carbon steel and should last well. They come with anti-ball pads that work really well in soft, sticky snow. Like other walking crampons the Trail Pros have a flexible bar linking the front and rear sections that can easily be adjusted for length. Two sizes are available, R and XL.  The R size weighs 700 grams.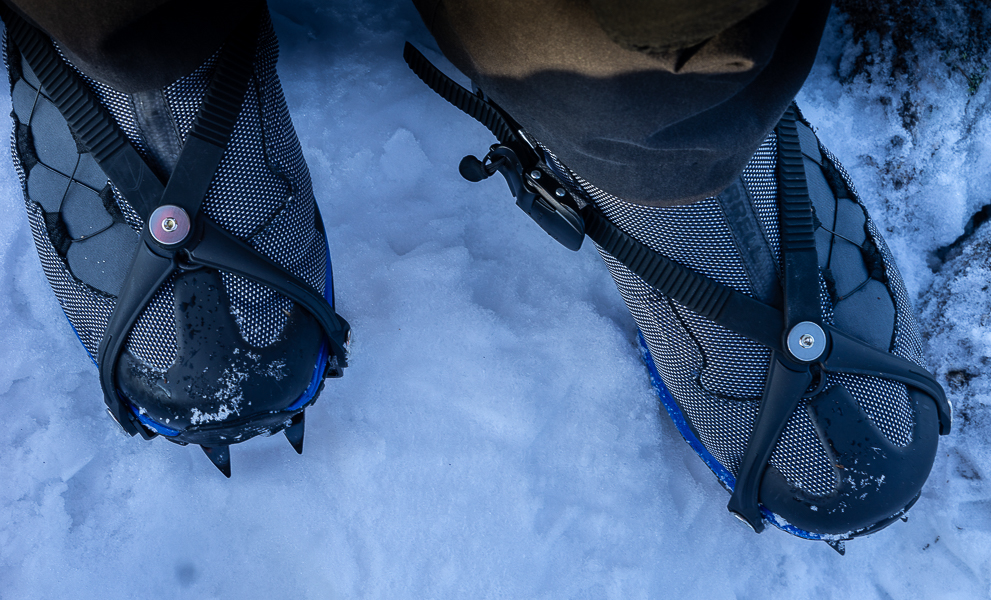 The Trail Crampon Pro fits between micro spikes and mountaineering crampons. I think it's probably all most walkers need. It'll fit most walking boots with a degree of stiffness in the sole.  I've been using them in the Cairngorms with the Merrell Thermo Rogue 2 boots and have found the combination excellent. For steel crampons they are quite light, and they pack quite small. The bindings are so good I'd choose these over any other ten-point crampons.
£60