Lightweight winter walking boots with a unique design
The futuristic hi-tech look of these new Merrell boots with a very long name – I'll just call them Thermo Rogues – is appropriate as they are futuristic and hi-tech and very much not your average walking boot.
Two factors determine the appearance – the sparkly upper, which consists of a neoprene bootie overlaid in potential wear areas by a glittering ballistic textile, and the BOA Fit System side adjustment, which consists of a very thin lace running through fabric loops to a dial. When turned the dial tightens the lace for a precise fit.  There's also a strap and clip buckle round the ankle.
Inside the Thermo Rogues have a Gore-Tex membrane and 200 grams of Primaloft Gold insulation. Plus 1.5mm of Primaloft Aerogel over the toe for extra insulation that works even when compressed. The toe is also protected by a hard rubber bumper.
The midsole is a thick layer of compression moulded EVA plus a moulded nylon arch shank. The outsole is the Vibram Arctic Grip All Terrain, exclusive to Merrell and said to give grip on wet ice and packed snow as well as being more durable and abrasion resistant than other soles. The removable insole is the usual soft flexible one – rather disappointing after everything else!
The boots are very light for ones designed for cold winter conditions, weighing just 1130 grams for the size 10 test pair. They're stiff side to side and only flex a little at the toe. They are built on a rocker last.
Finally, in keeping with current trends the boots are vegan.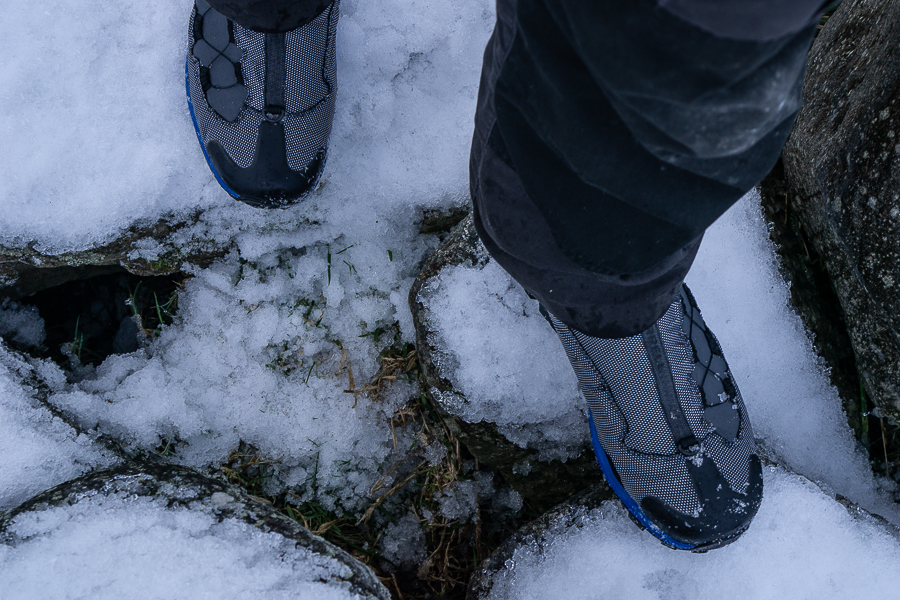 All this technology sounds amazing but what matter is how the boots perform. I've worn them up in the Cairngorms on sub zero days to find out. Firstly, I found they are a little hard to get on due to the relatively small opening compared to boots with conventional tongues. I had to loosen the laces as much as possible to get my wide feet in. The toe box is quite roomy though and once on the boots fitted well. Adjusting the fit with the BOA system makes it easier to get a close fit than with standard laces. It doesn't slip or come undone either, which is great as having to retie laces with frozen fingers is a real pain, literally. At the end of the day when I wanted to loosen the laces to take the boots off I found I couldn't operate the dial with thick gloves on. With thin ones it was okay. The thin lace seems very tough – BOA describes it as super-strong. The ankle strap would keep the boot on reasonably well if the lace or dial did break.
I wore the boots with medium weight wool socks and my feet stayed very warm and cosy walking for hours in snow and hanging round on summits looking at the views and taking photographs. They felt comfortable too. The toes and edges are hard and stiff enough for step kicking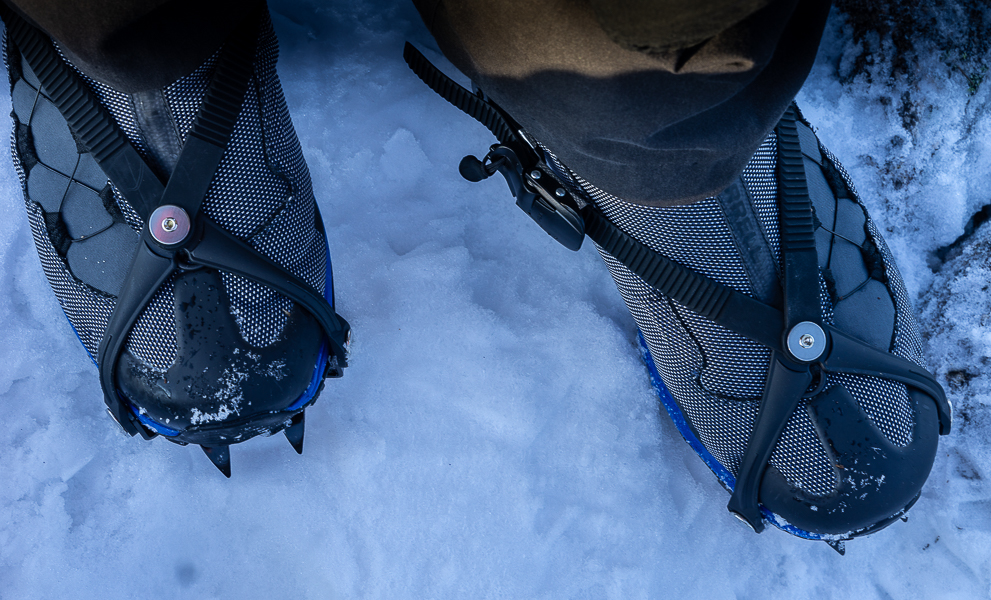 The Arctic Grip sole does grip better than most rubber soles on wet snow and ice on gentle terrain. It's not a substitute for crampons of course. On a day on old hard refrozen snow interspersed with black ice in the Cairngorms I soon found the limitations and put on crampons. Walkers' ones fit well.
These unique lightweight boots are excellent for winter hillwalking. Initially I thought they might be a bit of a gimmick. I've found they're not; the design really does work well.
£230