Ed Heads out into unfamiliar territory to explore some of the hills that have been incorporated into the Yorkshire Dales National Park
---
Published: August 2016
As I write this, the United Kingdom is in turmoil. Britain has voted to leave the EU. There is a leadership battle going on for both main political parties. Uncertainty and chaos reign supreme. The ordinary people have apparently shaken up the metropolitan elites, which means we now have to wait while those metropolitan elites are replaced by other metropolitan elites – some of whom wanted to leave the EU, some of whom wanted to stay in the EU and some of whom wanted us to leave the EU but were hoping we'd vote to stay in the EU so they could complain about it. If the forecasts are to be believed, you, dear reader, just a month or so in the future, are probably residing in a post-apocalyptic hellscape resembling something out of Mad Max: Fury Road.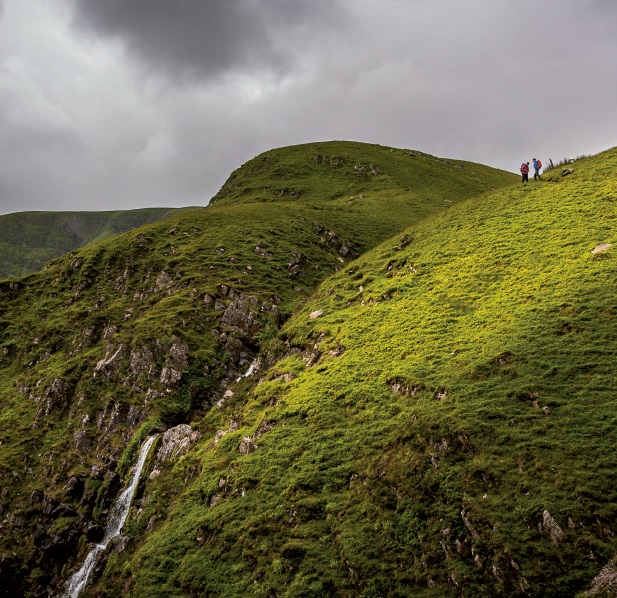 What better time to go for a walk? And in this time of rudderless and directionless governance what could be better than a walk that celebrates the good that that can be done when people engage with the democratic process? I refer, of course, to the expansion of Britain's National Parks. As of 1 August, the Yorkshire Dales will become 161 square miles larger. It has, by some accounts, been a long slog to get here but the expansion is finally offiial and I thought it would be nice to take a look at some of the ground it would be gaining. I meet Adrian Cottrell outside the Cross Keys Temperance Inn on the A683. Adrian is the perfect guide to this neck of the woods as he's team leader with the Kirkby Stephen Mountain Rescue Team so knows
the area as well as anyone. We cross the footbridge and start to o towards Cautley Spout, the longest above-ground, cascademwaterfall in England. The reason for such a qualified accolade is because Gaping Gill on Ingleborough falls further but disappears into a pothole. Hardraw Force, meanwhile, has a greater unbroken fall than Cautley Spout but, hey, all three are in the Yorkshire Dales so let's not quibble.
RELATED: ED Byrne tries canyoning
The hike up to Cautley Spout is a steep one and we gain a lot of height early on. I don't know if you do this too, but I like to walk for as long as possible before the first time I turn around and look down. I find I've always climbed higher than expected and I love that moment of "Ooh, look how far we've come in just half an hour!" For some people, however, this comes as not just a pleasant surprise, but an outright shock. Adrian tells me a story about getting a call to say that a family of four had gone to view the waterfalls but had got stuck on a crag and were in desperate need of rescue. A Mountain Rescue team was assembled and despatched to Cautley Spout, only to find that the family of four – a mother and her three children – had hiked up to the falls, turned around and suddenly been hit by a collective sense of vertigo, panicked and frozen to the spot. Such was their anxiety that Adrian and his team had to attach ropes to them and walk them down the few hundred feet they had just walked up. Made of sterner stuff , we stop for a moment to enjoy the view below us, before continuing upwards towards the summit of The Calf, the highest point of the Howgill Fells. Adrian selected The Calf as our first objective for good reason. As well as being a high point, it also lies right on the boundary of the old National Park.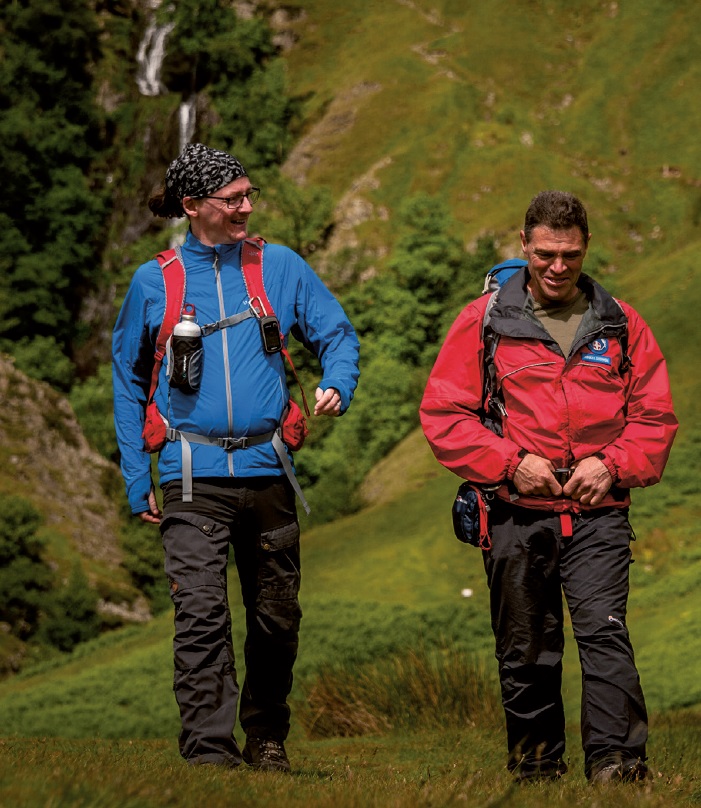 From the trig point you get a commanding view north of the rest of the Howgill Fells, which are now coming into the fold. I was almost disappointed that the grass currently outside the National Park wasn't a subtly different shade from that inside. Of course there is no visible delineation. It was only the ancient border of the Yorkshire Ridings that previously caused the rest of the Howgills to be left out of the Yorkshire Dales. Looking at them from the summit of The Calf, it makes sense that they should be covered by same protection that the rest of the landscape enjoys.
Having taken in the majesty of the rolling landscape, we venture further into the Howgills. I figure I might as well take the opportunity of being out with a mountain safety expert to fid out more about what I should be doing to keep myself out of trouble. A first aid kit's a good idea, right? Yes… but Adrian warns that people often weigh themselves down with a big bag of bandages without the first idea of how to utilise them. As with everything, the skills are as important as the kit. But there's one piece of equipment that Adrian is particularly keen on: the portable shelter – those big orange bags that you can use as makeshift bothies. They're an excellent way to prevent exposure and hypothermia when you have to stop moving, he explains.
I concur. I've never had to use one in an emergency but I do have a two-person shelter and it's a great respite from driving rain when you want to eat your sandwiches without getting them soggy.
Eventually we reach a point where we must decide our return route and how much more of a walk we will do. Randygill Top is there for the taking, as is Yarlside, or we could just descend into the valley and hike out. We opt to go for a middling challenge, dropping down into the valley for the climb back up Yarlside. As we pass sheep grazing on the hillside I realise I've been watching way too much news lately, as I'm tempted to go up to one of them and do a "man in the street" interview to see how the switch to National Park status has affected their days of gambolling about and eating grass. I'm sure it would be only marginally less fruitful than the endless "What do you think about the EU?" vox pops aroundtown squares and farmers' markets that the media have been bombarding me with.
The steep and pathless slog up Yarlside is worth it, not just for the sense of achievement but because it would be a shame to leave this place without one more bird's eye view. The Howgill fells may not have the drama of some of Britain's ranges but they are very beautiful and whether their inclusion in the National Park scheme has been out of a desire to protect them or publicise them, they are a deserving addition. When the 1st of August comes, I shall raise a glass to the Howgills, provided they're still here and the metropolitan elites haven't reduced the UK to a smoking crater by then.
For more safety tips, check out the Kirkby Stephen Mountain Rescue Team's excellent website, 'Safe in the Hills', at www.ksmrt.org.uk.
Images by Dave Willis.