Over the years Black Friday has evolved from deal obsessed crowds rushing into the high street stores at opening to now being dominated by online retailers and brands, with the majority of shoppers deciding to purchase online, rather than in-store.
Black Friday has also evolved from one day a year into a whole weekend of shopping deals, all of which ends with Cyber Monday, an online only sales day originally meant as a way for smaller online retailers to compete with the larger shopping outlets on the high street. However, as traditional high street shopping fades, Cyber Monday is now a free for all for everyone with an online store.
But the real question here is "Are Black Friday deals actually worth it?" Are you getting a bargain price or have you been lured into a clever marketing trap to make you think that the TV you've wanted all year has finally been put on sale and is now worth getting.
Things to remember when looking at Black Friday Deals
Don't get swept up in discounts –  It's very easy to see 50% off and immediately want to put those walking boots you've wanted in your basket. But first make sure that you've shopped around, don't jump at the first discount you see. Another thing to remember is to not start putting everything in your basket, just because it's on offer, make sure the product you're after is something you actually need and want and you're not just getting it because it has suddenly dropped in price.
Budget accordingly – Keeping the cost of living crisis in mind, make sure you set a budget for your Black Friday purchases and as mentioned before make sure you're buying items that you need and not just because they're discounted.
Do your research – Shop around! It has to be the number one rule of any shopping trip and the same applies to Black Friday, whether in-store or online, don't just accept the first price you see.
How to make sure you're getting a good deal
Something that I use religiously when Black Friday shopping is a website called idealo – Your Price Comparison. If you haven't heard about Idealo then you're about to be enlightened, as it's a great way to see if that waterproof jacket you've wanted is at its lowest price or if it's actually more expensive than two months ago.
Idealo is super simple to use and can be used for pretty much any product you can think off. For example I've decided to look up the Altra Lone Peak 7 Wide shoe as it got a best buy recommendation when we had a look at it earlier in the year. As you can see from the below, at the minute the Altra Lone Peak 7 is £77.35 new.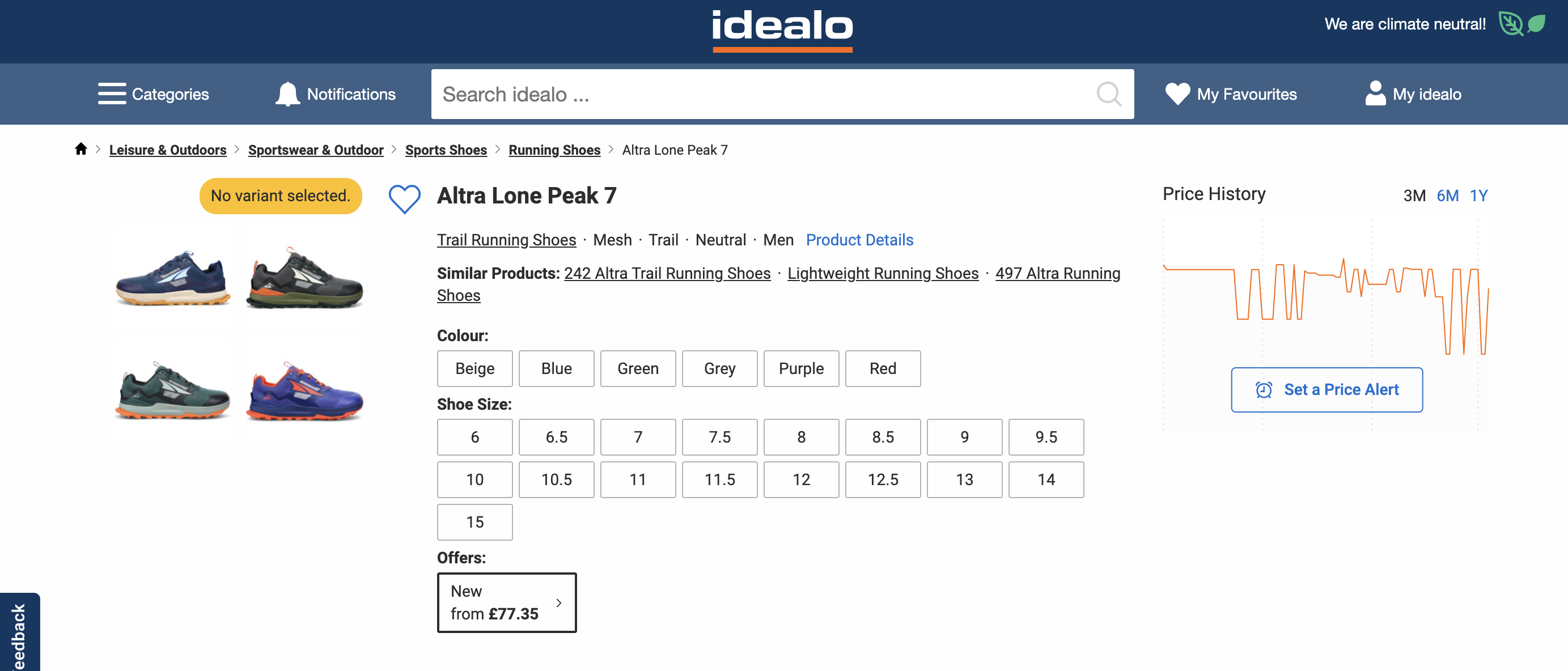 However, if you look to the right you will see a price history graph, this means you can see the price fluctuation of this shoe in the last 3 months, 6 months or year depending how long the product has been available. At the minute i'm only looking at the last 3 months, and as you can see, the shoe has actually been available for less in the last few weeks (A whole £15 cheaper!).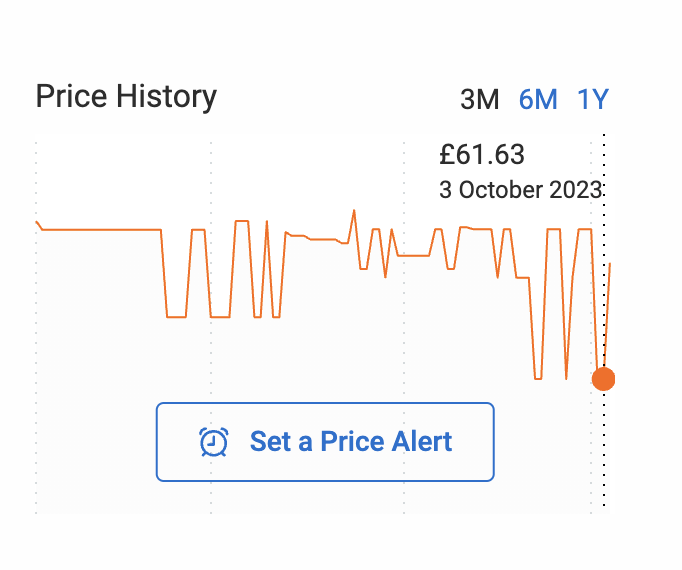 So, as we're all now very savvy shoppers, we obviously want to get the best price possible, which is why we set a price alert. This is something you can do through Idealo, you may need to create an account to access this feature but if you're planning a lot of buys it's worth signing up to and it's all free!
When setting up a price alert I can ask Idealo to email me when a product hits a certain price point. For example, I want to buy the Altra Lone Peak at £65. Well, I can easily, set that up as an alert and once it hits that price i'll receive and email and result! I've got my bargain.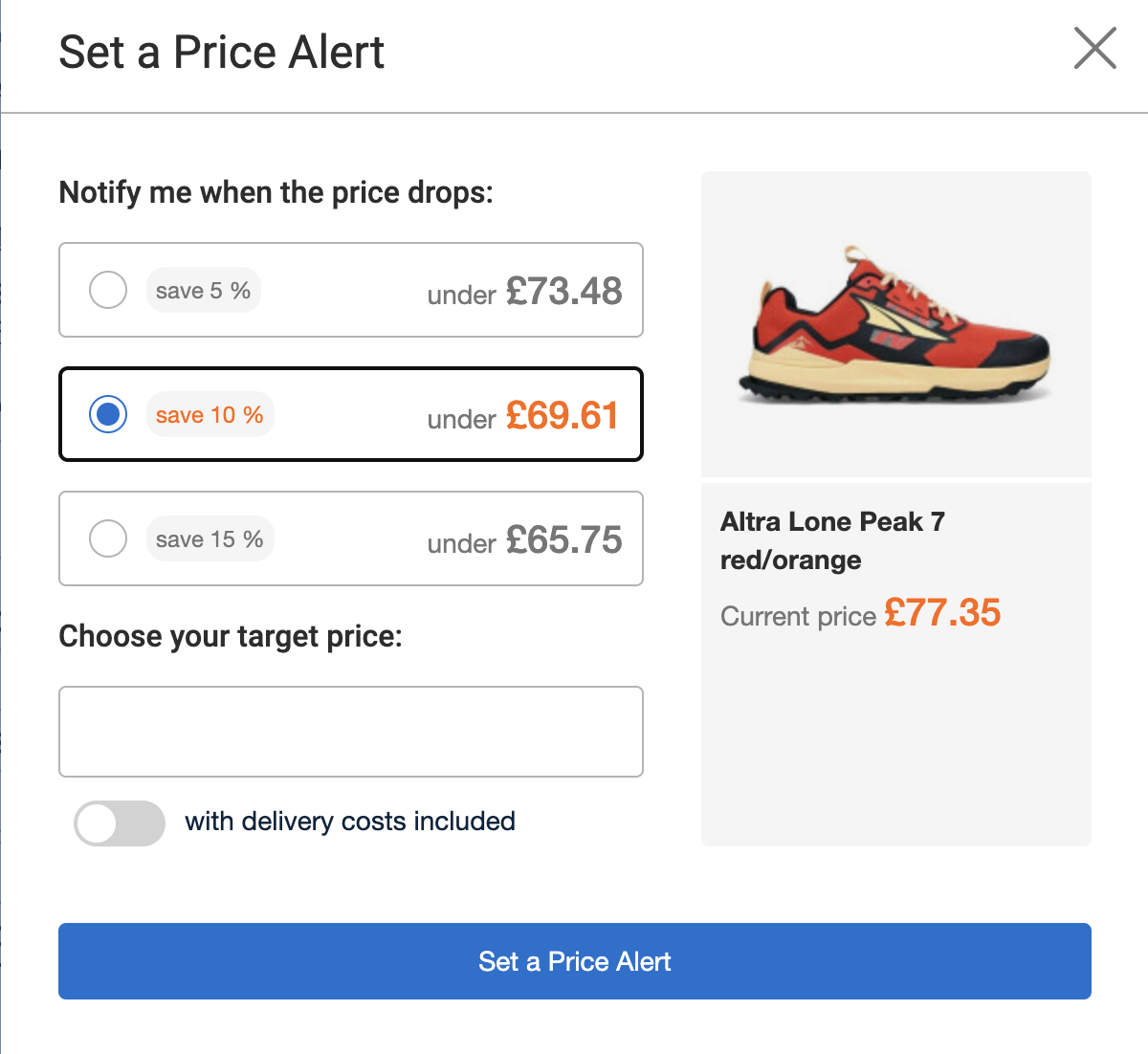 So, why use this in Black Friday? Well, it gives you a great idea on whether the discount you're getting is as good as they say or, in fact its been that price most of the year, but last month it went back to its RRP and now it's back down to its usual sale price. It helps rule out those dodgy deals that you're not quite sure on or when they feel too good to be true!
Answering the Are Black Friday Deals really worth it? question, is quite tricky as it means assuming what everyone thinks is a good deal. But, by using tools such as Idealo and shopping around multiple places to see if the first deal you saw was the best is the easiest way to make sure that the product and deal you want are worth it.