First on the scene – how to handle emergencies on the hill, from potential incidents to what should be in your first aid kit.
This skills guide was first published in the December 2017 issue of The Great Outdoors.
Contents
About the authors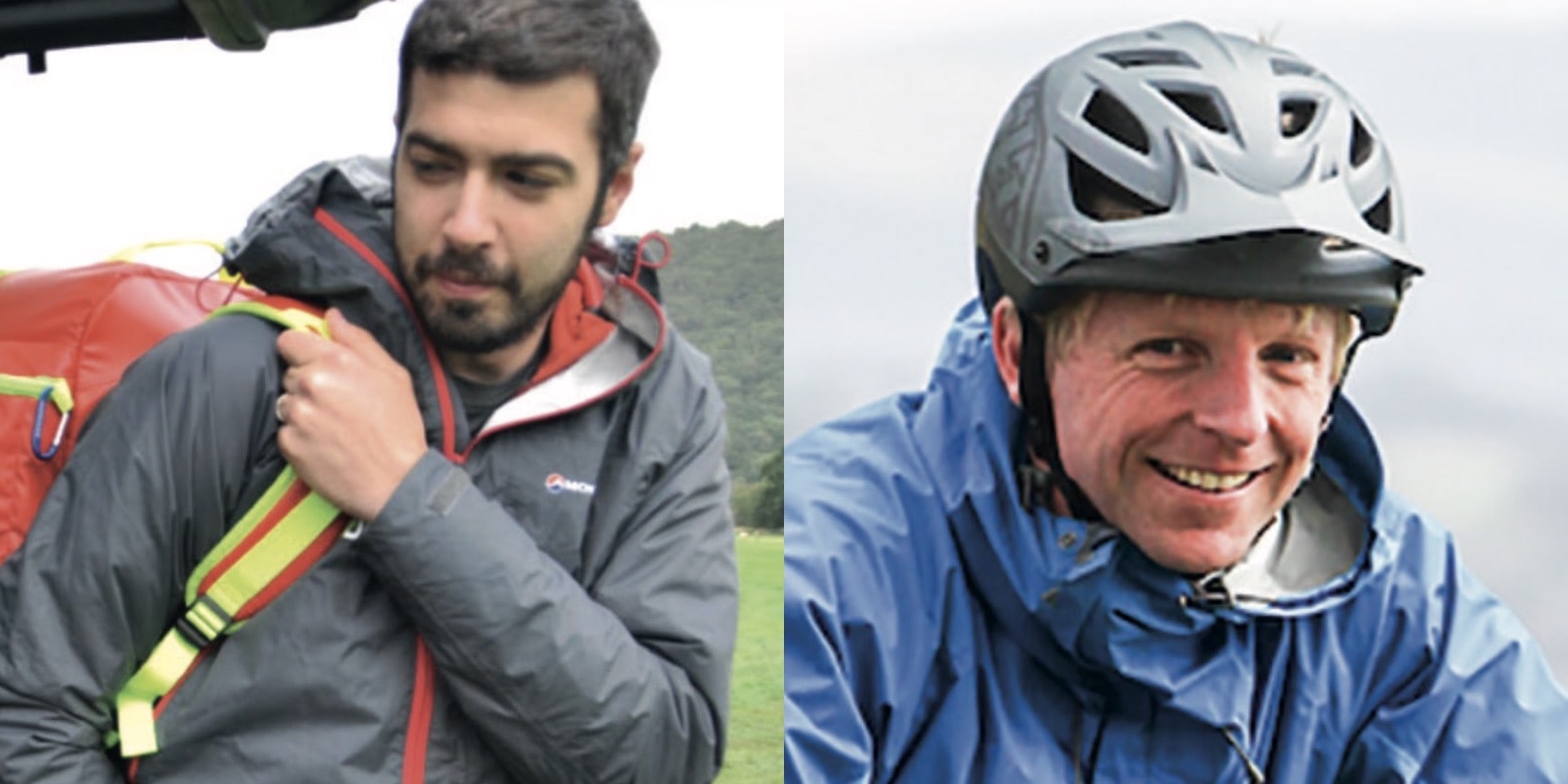 Nick Wright is a paramedic and is director of MedSkills Academy which offers first aid, clinical and rescue education. For further information and details of first aid and other courses offered, email info@medskillsacademy.co.uk.
Tom Durham is the founder of the Scotland-based First Aid Training Cooperative. He has taught outdoor sports for 20 years and has trained thousands of first aiders. He specialises in delivering specifically tailored outdoor first aid courses.
---
Potential incidents
Most days out in the hills are fun and completely safe. Hillwalking is increasingly popular, and while every walker is likely to suffer wet feet and occasional sore knees or blisters, for most that's as bad as it gets.
But what if you do come across someone who's had an accident, or if one of your party takes a fall? What should you do if you're first on the scene? Let's look at three potential incidents.
1. Hypothermia
This is a cold-related illness defined as a decrease in the 'normal' core body temperature (37.5˚C) by just under 2˚C or more. The two most common causes of hypothermia in the British hills are exhaustion and injury.
Hikers should be able to detect the early signs of hypothermia and be able to stop the condition worsening. Hypothermia affects the brain and normal cognitive function so look out for the 'umbles': stumbles, mumbles, fumbles and grumbles.
"The pain caused by the fracture may be distracting the casualty and a less competent first aider from a more serious injury that could be a threat to life"
It might be necessary to change damp clothing for dry, warm gear; add extra layers, a hat, gloves and waterproofs, and replace lost energy through food and fluid. It may be appropriate to stop walking in order to help hypothermic group members, in which case a group shelter or bothy-tent is invaluable. Then get moving again, and get down off the hill.
For a severely hypothermic casualty it's important NOT to be so quick and active. The casualty will be very poorly, and movement can cause cardiac arrest. Provide shelter, and call for help. Roll the casualty on to a thermarest or clothing placed on floor, and cover him or her with other clothing. If the casualty is hypothermic and not breathing, CPR should only be started if it can be continued throughout the rescue.
2. Unconscious casualty
If your casualty is unconscious, immediately call for help. If there is no major, life-threatening bleeding, you need to establish a clear airway and visually check whether their airway is free from obstruction.
To open the airway, place one hand on the casualty's forehead. Tilt their head backwards by placing two fingers on their chin and lifting. Moving the head in this way ensures that the tongue does not fall backwards into the mouth and block the airway. A visual check of the mouth should confirm whether it's free of obstruction. If there's an obvious obstruction, do what you can to remove it, being cautious of potential neck injuries in the process.
Breathing: put your ear next to their mouth/nose area and listen/feel for inhale and exhale of air. At the same time, look down the casualty's chest area and check whether you can see it rise as air is inhaled, and fall when exhaling. Check for about 10 seconds and make a decision whether the casualty is breathing or not.
If not: start CPR and keep going until more qualified help arrives on scene, the casualty starts breathing/ regains consciousness, or you are too exhausted to continue. If there is someone else present, switch CPR with them every two minutes to avoid exhaustion.
3. Potential broken bones
If a walker hears or feels a 'crack' then a fracture is a possibility. Other signs and symptoms when assessing a limb for a fracture might be:
Pain at the injury site
Inability to weight bear/loss of function
Reduced range of movement at the relevant join
Swollen limb
Wound with blood loss (suggesting an open fracture)
Angulated/abnormal position of limb
Crepitus (grating of bone as the broken ends rub over one another)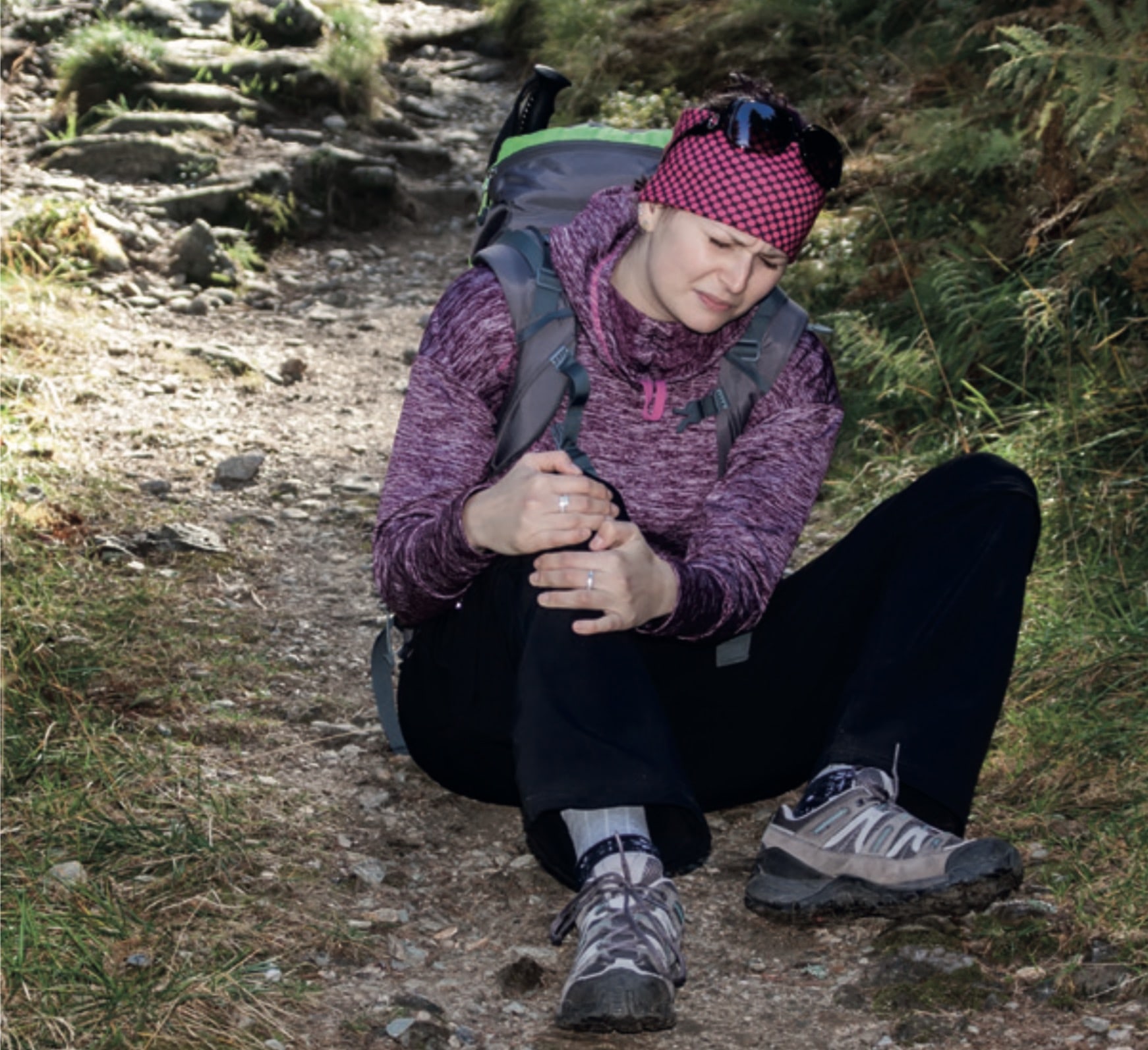 It's worth noting that fractures may be a 'distracting' injury. The pain caused by the fracture may be distracting the casualty and a less competent first aider from a more serious injury that could be a threat to life. For example, a mountain biker who has fallen over their handlebars and has an obvious arm fracture may well have neck and spinal injuries because of the forces and twisting motions experienced in the accident.
So know your limitations and call or send for help at an early stage. Protect yourself from any bodily fluids, including blood, by wearing medical examination gloves if possible. Deal with any blood loss from an open fracture using direct pressure and bandaging. This will also reduce the risk of infection. And be aware of hypovolemic shock (low blood volume) caused by excessive blood loss either internally or externally. Signs may include: evidence of blood loss, reduced level of consciousness, increased breathing and heart rates and sweaty skin. Shock can kill and requires urgent treatment and evacuation. First aid treatment should involve elevating the legs and stemming blood loss.
How to call for help
Ring 999 or 112 in the first instance and ask for police if you think mountain rescue is needed. No mobile signal? Part of your essential kit is to carry a whistle. Six blasts, repeated every minute until help arrives. The same sequence applies to using a torch to attract attention. Or just keep shouting and hope someone hears you, if you have nothing else.
Emergency SMS
If you are unable to get a mobile signal to make a call, you can now contact the emergency services by SMS text message. You need to register your phone with the emergencySMS service first – do it now, rather than waiting until you need it.
Send the word 'register' in an SMS message to 999
You will then receive SMS messages about the service
When you have read these SMS messages reply by sending 'yes' in an SMS message to 999
You will receive a SMS message telling you that your mobile phone is registered or if there is a problem with your registration
Only use the text service in an emergency if you can't get through on the phone. Send a text message to 999 including brief information on which service you need, what the problem is and accurate information on your location.
The emergency service will reply to you asking either for more information or telling you that help is on the way. Do not assume your message has been received until you get one back – this could take around two minutes. If you haven't received a reply within three minutes, send another message immediately.
The First Aid Kit
Vinyl or nitrile gloves – It is important these are latex-free in case of allergies. They should be the first thing you see when you open your kit.

Scissors and tweezers – Scissors can be used for cutting clothing if needed, or for cutting dressings to fit. Tweezers are good for removing splinters and ticks.
Safety pins – For fixing bandages in place or pinning back clothing if necessary.
Antiseptic wipes – For cleaning small wounds.
Micropore tape – For holding dressings in place, not very effective if the skin is wet however. Consider swapping or supplementing with zinc oxide tape.
Small crepe bandage – A stretchy bandage for supporting sprained joints and applying compression. Includes 'grips' to fix in place.
Woven bandage – Good for keeping a dressing or swab in place if tape won't stick – use safety pins to fix the bandage, or tie the ends. Can also be used as padding, or folded as a dressing for a large wound and held with tape or the crepe bandage.
Small low-adherent dressing – Useful for grazes that are too big for a plaster, they won't stick to the wound too much. Hold in place with tape.
Blister plasters – Catch the blisters early before they become a problem.
Fabric plasters – Larger plasters are more useful as they can be cut to shape.
Gauze swabs – For cuts that are too big for a plaster. Will soak up some blood but you may need to apply more than one. Hold in place with tape or a bandage.