Here's our review of the Suunto 5 Peak GPS watch, Alex Roddie gives us his full thoughts… 
The Suunto 5 Peak is a compact, lightweight watch at an attractive price and features in our guide to The best GPS watches for hiking 2023. You get five buttons for easy use even with gloves on, no touchscreen, and a quick-release silicone strap. It offers a minimal and pared-back user interface that requires no setup and is very easy to use. However, there is little customisable possible beyond tweaking data screens.
Check out the best price for the Suunto 5 Peak here
The screen on the Suunto 5 Peak is in colour, but small and dim compared to the other watches we have tested (see our guide to the best GPS watches) – it's fine in bright sun but visibility struggles in duller light. Operation feels less fluid. There's usually a lag of a second or so after a button push. This isn't a big problem, but users accustomed to responsive smartphones might notice it.
The watch focuses on tracking, fitness, and basic navigation tasks – although there is no compass or barometric altimeter. You can get an OS grid reference, it will accurately track your walk, and you can follow a pre-planned route. The phone app will connect to komoot, FATMAP, Strava and other services, but in general offers less flexibility than the Garmin or COROS apps.
Find out more on how to use GPS for hiking navigation.
Although Suunto claims that the 5 peak has 20-100 hours of GPS training time, 100 hours is for the 'Tour' mode, which has greatly reduced track recording and is less useful if you want to analyse your route afterwards. In practice, I was getting 18-22 hours out of the Suunto 5 Peak's battery. That's still quite usable – especially for day hikes, and especially considering the great price point – but for multi-day walks you will be charging from a power bank most days.
Have you checked out our Do GPS watches need the internet?
The Suunto 5 Peak is said to be made with 100% renewable energy. If you are looking for an affordable watch to cover the basics, and don't need mapping, compass, barometric altimeter or best-in-class battery
life, this watch is a good choice.
Check out some other GPS watches in our Guide to the best GPS watches
---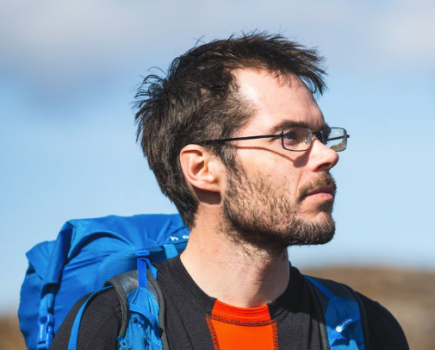 Written and Tested by Alex Roddie
Alex tested these watches on a variety of day hikes and short backpacking trips in the Lincolnshire Wolds, Lake District, Scottish Highlands and Suffolk Sandlings. Weights stated include the standard strap, weighed on Alex's digital scale.