Chris Townsend looks at some excellent accessories for outdoor photographers including a Peak Design capture, leash and tripod set up.
Camera accessories company Peak Design makes some innovative products and I've been trying three of them – Peak Design capture, leash and tripod – to see how suitable they are for hillwalking and backpacking photography.
Capture
The Peak Design Capture is a lightweight compact two-part device that lets you carry your camera securely on a rucksack shoulder strap and access it almost instantly.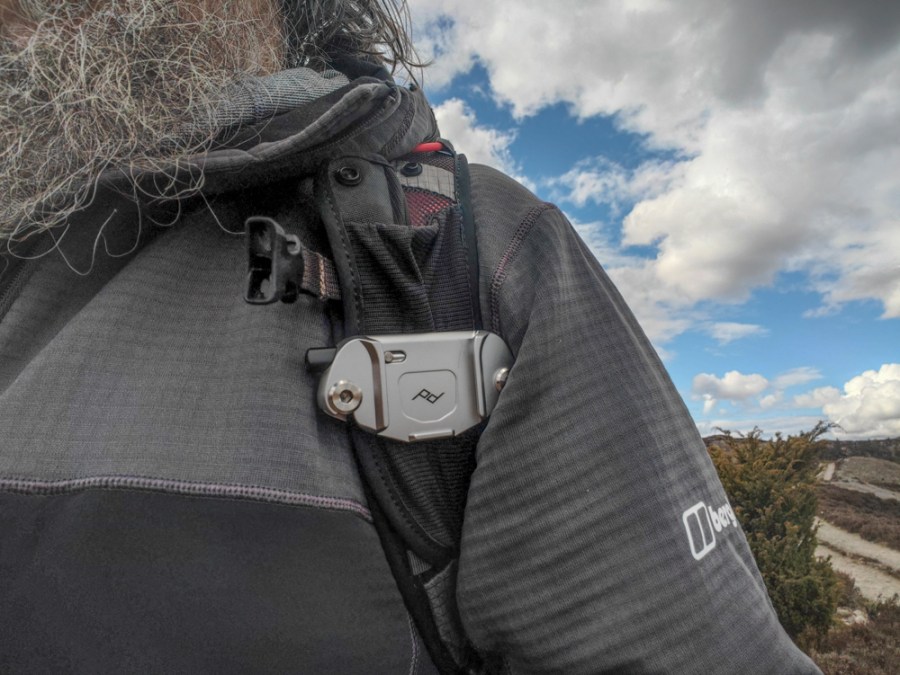 The Capture consists of a plate that screws onto the base of the camera and a two-part clip that fastens round the rucksack strap with two screws – two sets of different lengths are provided for different thicknesses of straps. The plate slides into the clip and immediately locks into place. I tried it with my biggest and heaviest camera and lens combination which weighs 1.2kg and it felt very secure on a walk over rough boggy ground where I was lurching around a great deal. It also felt comfortable and once I was used to finding and pressing the release button I could have the camera to my eye far faster than when removing it from a bag.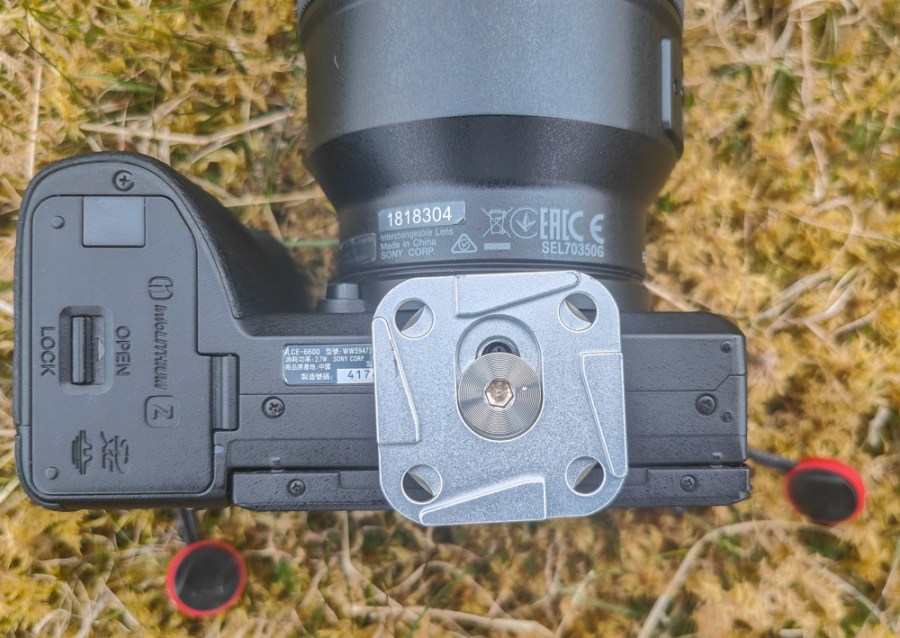 As the Capture is rated to hold over 90kg it should be fine with much bigger cameras and lenses than mine.
I tried the Peak Design Capture on two different packs and it fitted both well though on one it covered the mesh shoulder strap pocket.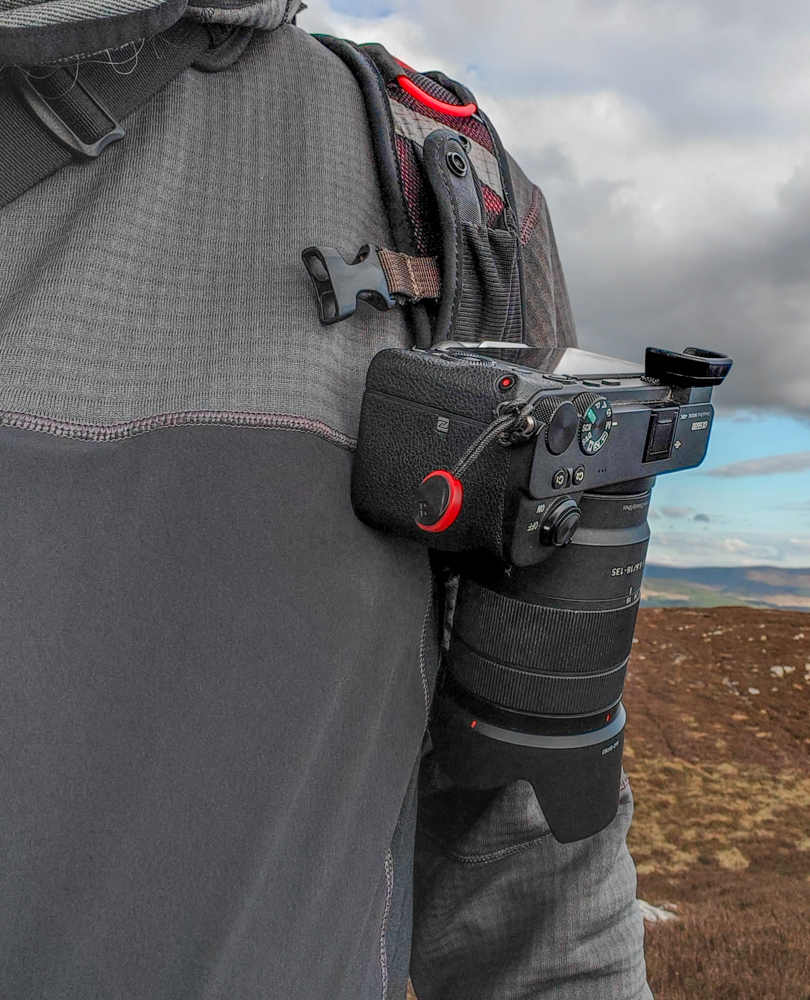 The Peak Design Capture is a great device if you want very quick access to your camera. Of course it gives no protection against rain or knocks so you still need a waterproof camera bag for use in rain or when scrambling. On a rather wet five-day trip in Knoydart I only used it on the last day, when the sun finally shone. It doesn't get in the way though so it's no problem just having it in place ready for use.
RECOMMENDED: This product has been awarded our 'Recommended' endorsement, meaning our reviewer believes it is a strong product which works well for its intended purpose.
Leash
On first attaching my camera to the Capture I immediately discovered that the dangling camera strap was a nuisance. As I rarely actually use a camera strap I've always stuck with those that come with the camera. These however are hard to remove and hard to adjust. To solve this I bought a Peak Design Leash. This is a brilliant strap.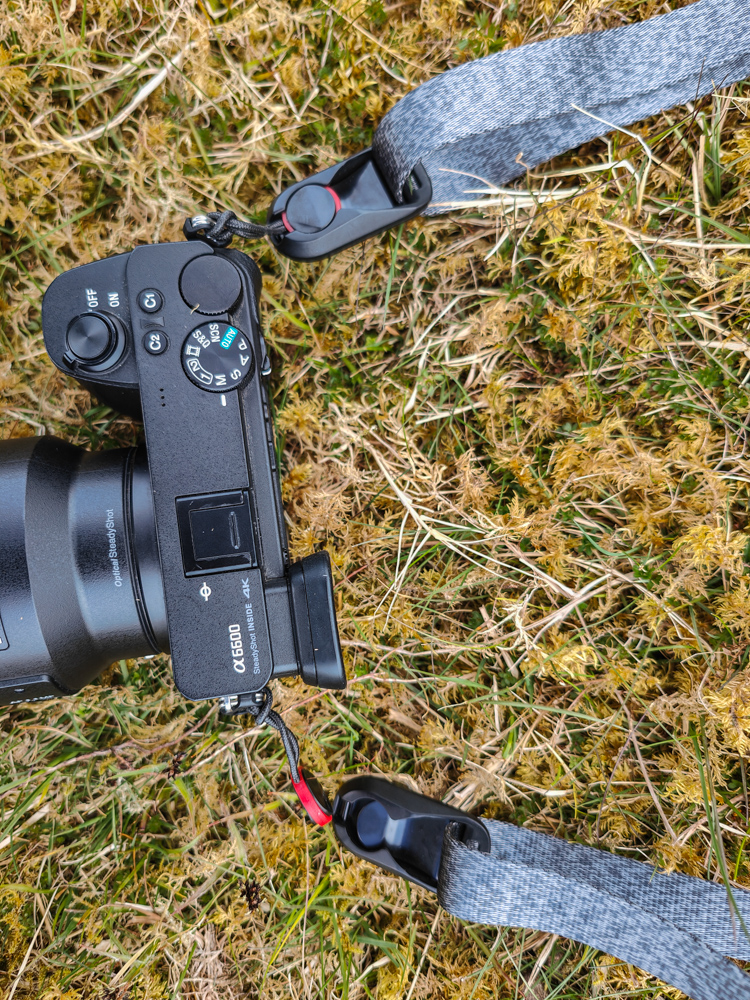 The Leash attaches to the camera with tiny anchors that can be released very quickly and is very easy to adjust with one hand. I've never actually liked a camera strap before but this one is actually a pleasure to use.
The strap is made from seatbelt-style nylon webbing with aluminium and Hypalon adjusters. The camera anchors are made from glass-reinforced nylon and anti-abrasion woven thermoplastic cord rated to withstand over 90kg. It should prove tough and long-lasting.
Carrying the camera on the leash is comfortable as you can adjust the length so easily for different positions. This is especially so if an anchor is attached to the base of the camera – a third one is provided for this.
Being able to quickly and easily remove the strap is also a boon when using a tripod. No more getting the strap tangled with the tripod legs!
BEST BUY: This product has been awarded our 'Best Buy' endorsement, meaning our reviewer believes it to be one of the best items of its kind available.
Travel Tripod
Along with the Capture Clip Peak Design also loaned me an aluminium Travel Tripod. This is superb brilliant, the best tripod I have ever used. But it's also the heaviest at 1.56kg – there is a carbon-fibre version but that still weighs 1.29kg and costs even more at £541.63. The tripod I've mostly used for many years, a now battered Velbon V-Pod weighs 281 grams. My 'heavy' tripod weighs 600 grams.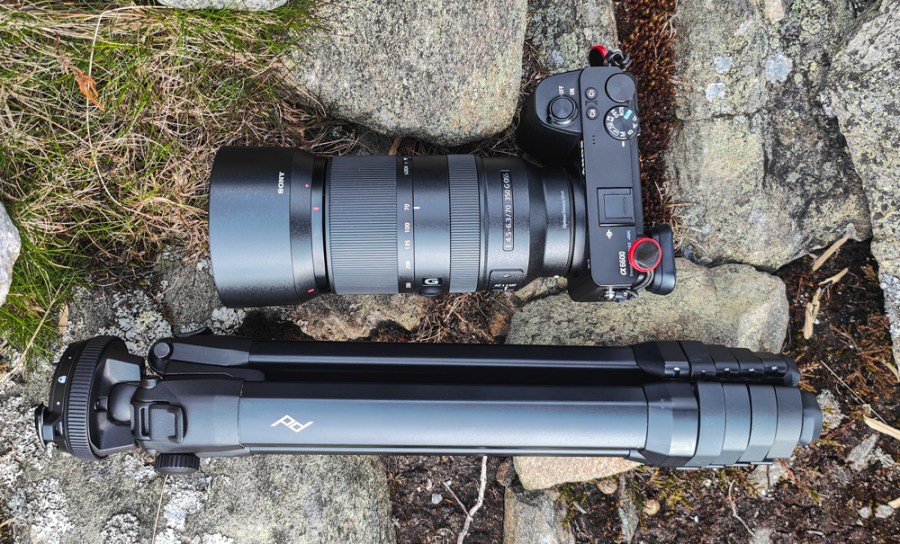 The Peak Design Travel Tripod is superbly designed. It's very compact, fast to set up, and easy to use. It comes with a quick-release plate (the same as the Capture plate) and the camera can be slid onto the ball head very quickly. I took the tripod on a day walk and set it up on a breezy summit. It easily supported my camera with 70-350 zoom lens – a combination that's too heavy for the V-pod but then I'd never take that lens backpacking. If the weight doesn't matter this is a brilliant tripod. I'd say it's best suited to larger cameras and lenses and for those who spend more time photographing than walking.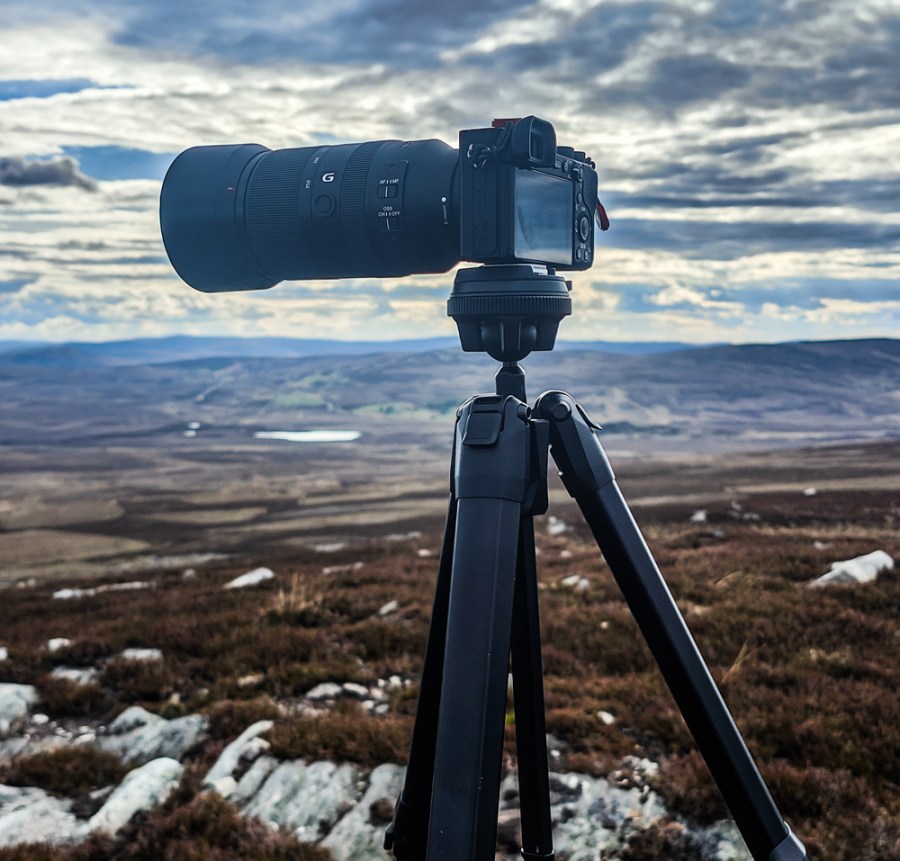 I'd love Peak Design to make an ultralight version.