In a recent test flight in the Lake District, a pilot wearing an Iron Man-style jet suit reached a simulated casualty high in the hills. But will mountain rescuers really be swapping boots for rockets in the future? 
Are futuristic flying paramedics the future of mountain rescue? It's a tantalising notion – and one that took root in reality this week when jet suit pilot Richard Browning performed a test flight to a simulated casualty scene in the Langdale Pikes (and no, it's not April 1).
The idea came about when Andy Mawson, director of operations at the Great North Air Ambulance Service (GNNAS), heard about the jet suits being developed by Browning's company Gravity Industries and speculated that a jet suit paramedic could reach mountain casualties in the Lake District far quicker than a ground-based team.
He said: "It showed dozens of patients every month within the complex but relatively small geographical footprint of the Lakes. We could see the need. What we didn't know for sure is how this would work in practice. Well we've seen it now and it is, quite honestly, awesome."
The simulated casualty site on The Band near Bowfell would normally take around 25 minutes to reach on foot for the valley bottom – it took the jet suit just 90 seconds.
Mawson added: "We think this technology could enable our team to reach some patients much quicker than ever before. In many cases this would ease the patient's suffering. In some cases, it would save their lives."
I am so excited to be sharing this after being sworn to secrecy for so long! Durning my time at the Great North Air Ambulance Service, we have always strived to make the patient our priority. Innovating and experimenting is what helps care to improve! https://t.co/ZxwBEgvOtf

— Simon Le Clerc (@SimonLeClerc6) September 29, 2020
"Will we be rescuing jet suit flyers?"
So, what could the successful test flight mean for mountain rescue teams? Mawson was clear that aircraft and ground-based mountain rescue teams would "remain a vital part of the emergency response in this terrain" – jet suit paramedics would be supplementary to existing resources.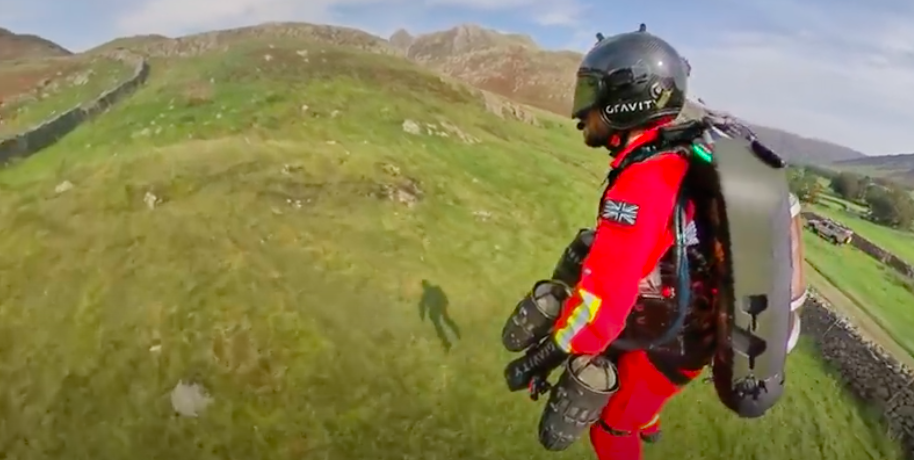 The mountain rescue team representatives that The Great Outdoors spoke to remained non-committal. "This is really so new it would not be fair to say we have any view about yet," said Mike Margeson, Operations Director at Mountain Rescue England and Wales (MREW). "Our general view always in a rescue situation [is to] use all the resources that might be available and useful.
"There are so many questions though about weather, visibility, darkness, wind levels, do you have to have a pilot licence, etc. Will we be rescuing jet suit flyers?!"
Gravity Industries also points out that the biggest safety risk of its jet suits involves the pilot deciding to fly over "unsafe" terrain. "For this reason we limit the majority of our flying to over grass, water or low altitude, so the risk of failure is minimised and no dissimilar to falling off a motorcycle," says company founder Richard Browning.
How this approach might work in the hills remains to be seen. But in an age of ongoing bad news stories, it's no surprise that the idea of jet-propelled mountain rescue heroes racing to the rescue has captured the public imagination.
---
Meet the jet suit pilot who could give mountain rescue teams a boost
We asked Lake District test flight pilot and entrepreneur Richard Browning how he turned a superhero concept into reality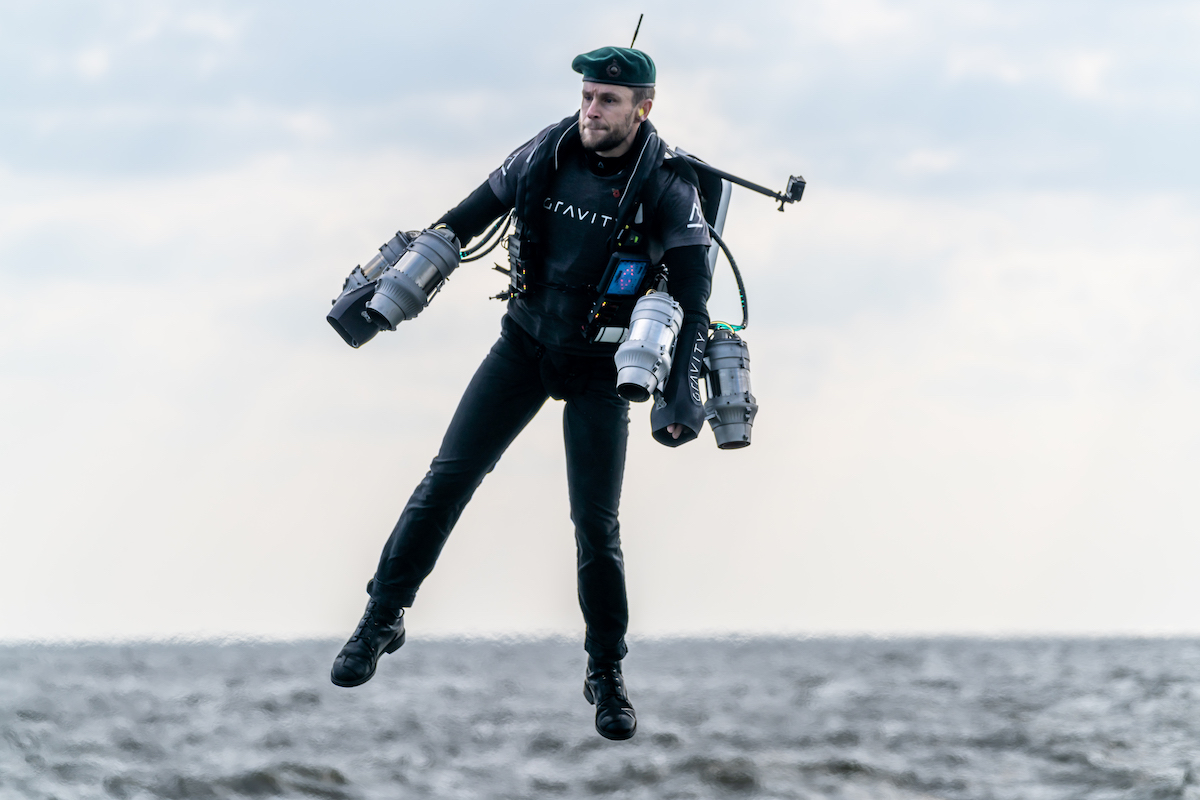 Where did the idea for a 'jet suit' come from?
In hindsight my inspiration was derived from my childhood growing up around my aeronautical engineer father tinkering in his workshop and flying model gliders with him until he sadly died when I was 15. His father was a wartime and civil pilot and my other grandfather was Sir Basil Blackwell who used to run Westland Helicopters in the UK.
I spent six years in the Royal Marine Reserve [and that] inspired a real passion for human capability and how adaptable mind and body can be when suitably motivated and trained. It was there I hatched the idea that you could potentially achieve an entirely new form of authentic human flight by just adding the right amount of horse power the and relying on the mind and body for everything else, no seat, no yoke or stick, no autopilot.
How did the suit go from idea to reality?
The build experimental build process, in the evenings and weekends alongside a busy career, started in March 2016 when I bought the first jet engine and then advanced through endless prototyping attempts before achieving the first flight in November 2016 with a small gas turbine on the back of each leg and two on each arm. Over the next six months the system was further refined and we were ready to publicly launch Gravity Industries in April 2017. Since then we have executed over 105 live flight events in 31 countries
What does it feel like to fly one?
It is hard to describe because it is such an intense dream-like experience. As you squeeze that trigger and feel the thrust come in in a very gentle but powerful way and you feel your weight get lighter and lighter off your feet and then suddenly you're free, the ties of gravity fall away and it's just peaceful, and then you realise you can go anywhere you want. You can simply think about where you want go and you go there. It is the ultimate realisation of the dream of human flight.
How could jet suits work in a mountain rescue setting?   
It was wonderful to be invited to explore the capabilities of the Gravity Jet Suit in an emergency response simulation and work alongside the team at GNAAS. We are just scratching the surface in terms of what is possible to achieve with our technology. Emergency response is one of the areas Gravity are actively pursuing, alongside launching a new commercial training location at the world-renowned Goodwood Estate.
Subscribe to The Great Outdoors

The Great Outdoors is the UK's original hiking magazine. We have been inspiring people to explore wild places for more than 40 years.
Through compelling writing, beautifully illustrated stories and eye-catching content, we seek to convey the joy of adventure, the thrill of mountainous and wild environments, and the wonder of the natural world.
Want to read more from us?