In the latest of our lockdown stories, mountaineer Paul Devaney reveals how he's training for an upcoming expedition using the stairwell of his apartment building.
I am spending 'lock-in' in a 24-floor apartment building in East London where I live with my wife Rima who is an NHS doctor. We live in a one-bedroom apartment, but are lucky to have a small wooden patio area attached to our apartment to allow us the opportunity to sit outside and get some fresh air. The building normally has amenities and common spaces for residents, however for the past few weeks those areas, along with the gym attached to the development, have been closed. I work from home so adjusting to the new normal is not too difficult, but having to restrict my exercise routine to the indoors is a challenge in a rather confined environment.
One step at a time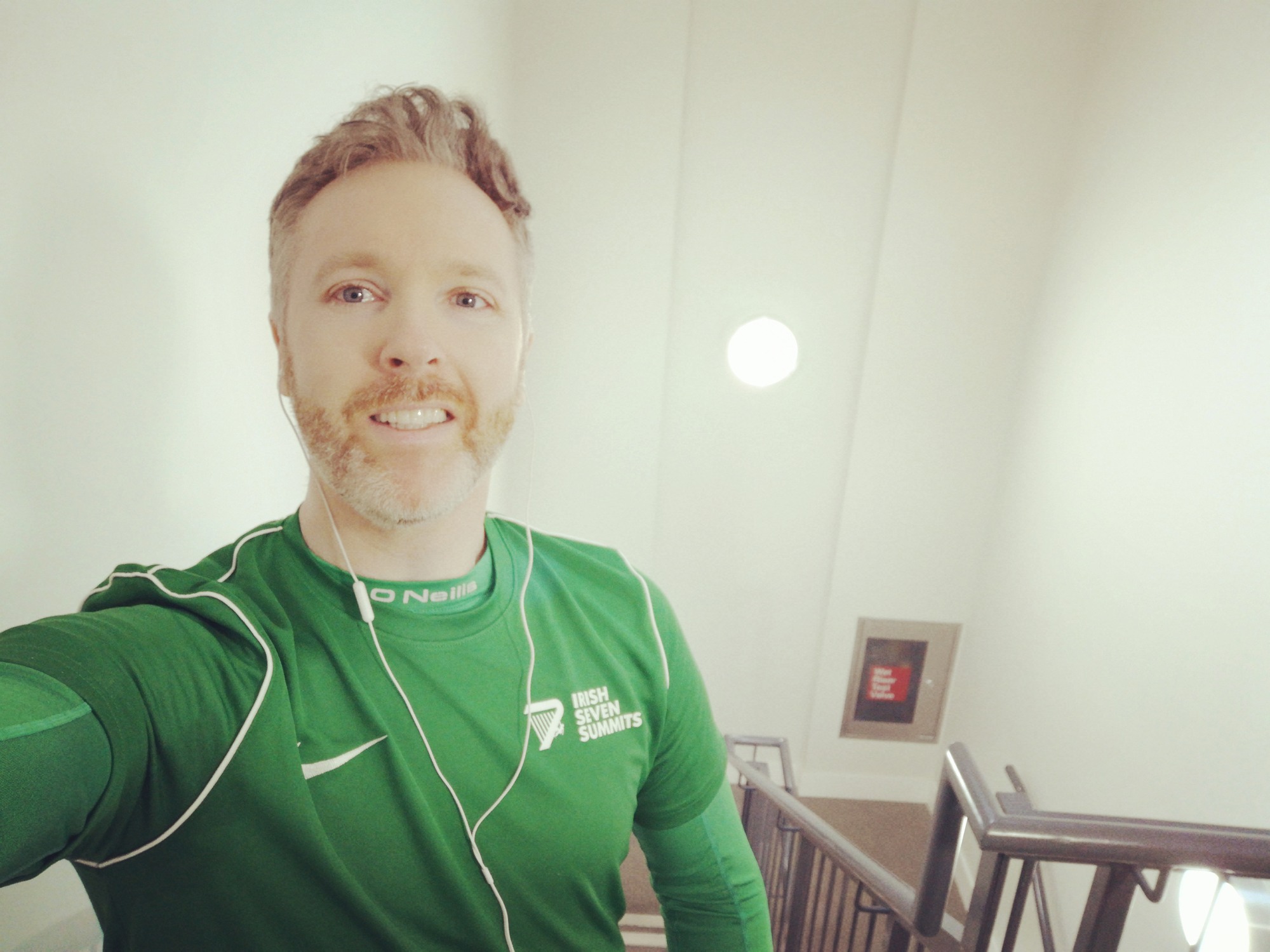 I use the stairwell to exercise and train. Nobody ever uses the stairs here since the building has two large elevators, so I have it all to myself. I am planning to climb some high mountains later this year so I need to keep active and keep my training going as best I can. The stairs have therefore become my gym and my hills, all 24 floors and 456 steps from bottom to top, with no crowds and not much of a view. The new routine involves podcasts or audiobooks, and repetitive ascent and descent, clocking up 3,000 steps or more at a time. Soon the backpack with weights will be added to increase the intensity, and the areas at the top and bottom of the 456 steps have become my stretching zone. 
Being in isolation is not new to me. I trained for the Seven Summits on mountains in the USA, Ireland, UK, Jordan or further afield, trekking for hours or days on my own to build up sufficient endurance to be match-fit for each expedition. I am as content wandering for hours on Carrauntoohil in Kerry or Monadnock in New Hampshire or in the Peak District in the UK as I am to be wandering up and down the stairs of an East London apartment building. Being alone with your thoughts or lost in an audiobook on the hills is a big part of the attraction of the great outdoors. Alas, the view in the stairwell is repetitive magnolia wall paint, but I feel extremely lucky to have access to enough stairs to avoid it becoming overly repetitive or boring.
When I was training for Aconcagua in 2011, I trained on the only significant incline I could find in Berlin (the flattest city on the planet), where I was living at the time. The 'Teufelsberg' is a man-made hill comprised of the rubble cleared from the city after WW2. I would spend my weekends with 25kg on my back, hiking up and down this small hill again and again and again up to the CIA listening tower and back down to the bottom of the hill, often crossing paths with the same people multiple times as they walked their dogs. It proved a great conversation starter ("Excuse me, what the hell are you doing?") and a great opportunity to practice my German. I learned in that experience that it is not the size of the mountain or hill that matters for your training, once you can repeat the required actions to build up sufficient endurance and strength over time. Yes it was significantly more boring than the beautiful Hartz Mountains, but it had everything I needed and allowed me to work on mental strength and focus. (PS. We got up and down Aconcagua that year, no problem!)
Acclimatising to isolation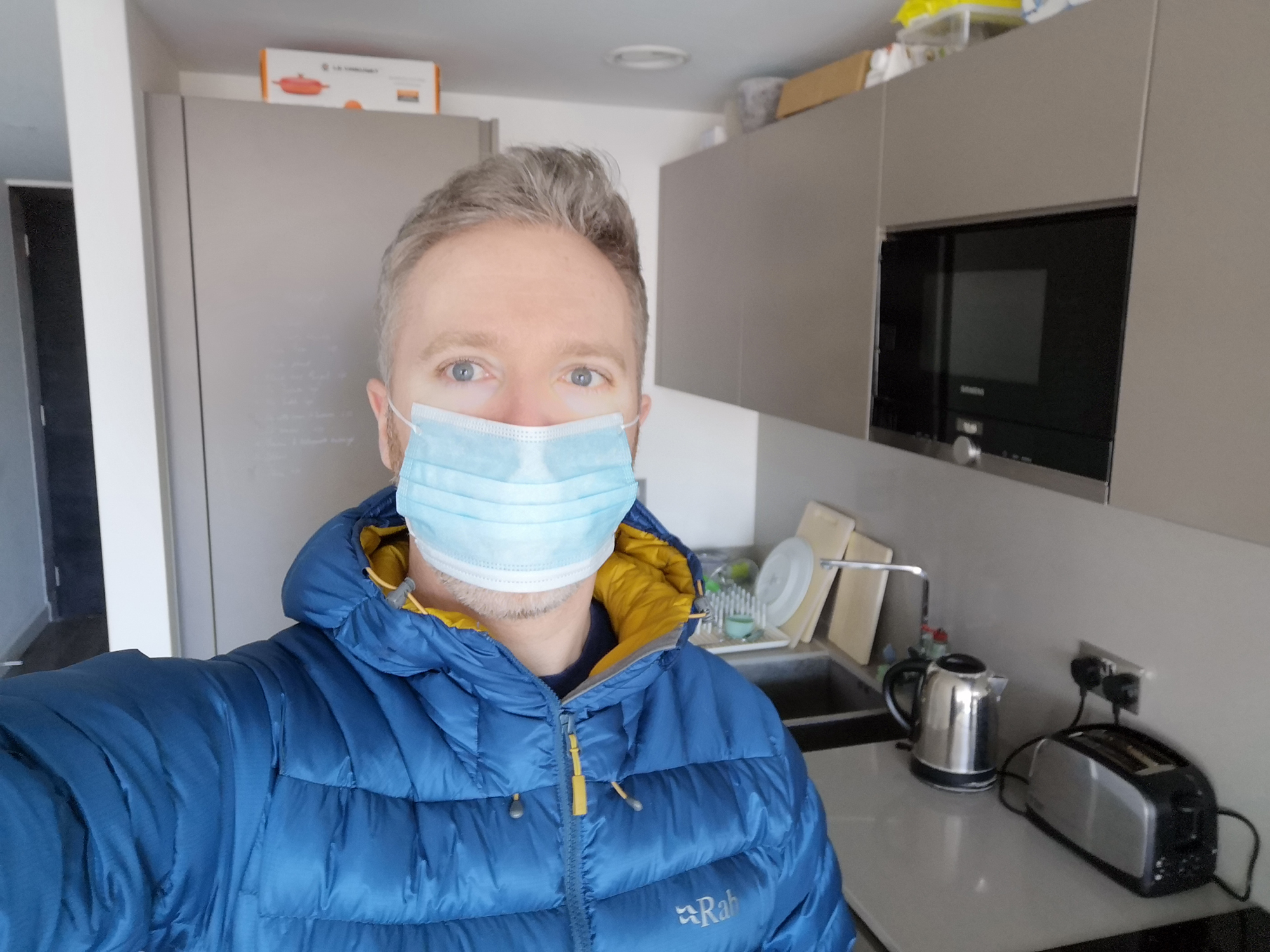 I am also no stranger to adapting to indoor isolation. In preparation for Everest 2014, I spent six months living in an altitude house on the University of Limerick campus, where I was alone for most of the time, and restricted to indoors from 5pm to 9am every day when the altitude house was 'on' and I was effectively living at 4000m or higher. I repeated the experience with another few months of isolation in the altitude house ahead of Everest 2015. I learned that you have to be creative in how you spend your time, and how you exercise your body and mind.
My wife Rima works at one of London's largest hospitals, so each day she heads off to work, facing all the risks that exist at the moment. She is my superhero. My job is to stay home, stay inside and ensure that she comes back to a happy and relaxed environment each day as the challenges increase and the numbers climb higher. Both of her parents currently have coronavirus and are in early stages of recovery. We are doing everything we can to protect them and everyone else around us and play our part to flatten the curve. For me that means setting an example…no outdoor activity, no trips to the hills, and a change to my daily and weekly routine. This won't last forever, we will return to a new normality later in the summer and, when we do, the views and warm air and open spaces will feel incredible. What is rare is wonderful, and if this crisis has one upside it is that we are all feeling that in a more meaningful way.
Make indoor time better with The Great Outdoors
During the lockdown, we're continuing to work (from home!) to make a magazine that will help you keep your outdoor spirit alive. Even though you can't go physically go to the hills and mountains, we aim to take you there with our words and images, and perhaps conjure some of the feelings they inspire. 
To show our readers our gratitude for their support at this time, current subscribers have had their subscriptions upgraded to include free access to the digital edition of the magazine.
To give you some great reading material for these indoor days, we're also offering new readers:
Stay home, stay safe, and see you on the hills when the day comes!