Long-distance backpacker and beginner climber Richard Hartfield shares some hard-won experience on staying warm and dry in testing conditions.
This advertising feature is sponsored by our friends at Haglofs
The most important consideration with winter layering is ensuring that you don't become too wet – either from moisture in the air or from your own sweat. If this happens, you can become hypothermic. 
Many opt for a 3- or 4-layer system, consisting of a wicking base layer, an active mid layer, an insulating layer and a hard shell. Sometimes one of those layers is swapped for a lighter, windproof shell; but the key thing is versatility – your layers must be adaptable to fit the changing conditions.
Winter weather in Scotland can be particularly unforgiving in this regard. Being surrounded by the Atlantic Ocean means that the air temperature in the Highlands often hovers just above freezing, with high humidity.
This results in wet precipitation, like sleet and rain, rather than dry snow. In these conditions, it's especially difficult to stay warm and dry, especially when coupled with strong winds, which can make the actual temperature feel way below freezing. Because of this, a good-quality shell is crucial.
Your shell must be able to keep out driving wind and wet snow, for hours on end; but the shell membrane is only as effective as the layers underneath. If the base and mid layers don't 'wick' moisture out to the shell, you'll end up wet from perspiration, even if the shell is keeping out the weather.
An active mid layer like the Betula fleece that I tested is ideal. This is because the Polartec material wicks moisture away and ventilates efficiently when you're moving, so that you stay dry (and therefore warm) when you slow down or stop.
The front zip, hood and thumbholes on the cuffs also allow you to trap more warmth inside when needed. 
When it comes to choosing an insulating layer, versatility and moisture management are again crucial. A jacket that uses synthetic insulation or hydrophobic down will cope with getting damp (unavoidable in Scottish winter conditions!).
The L.I.M Down Hood I used on our trip was filled with hydrophobic down. This specially treated down ensured that the jacket retained its 'loft' (fluffiness) when damp. Despite the light weight of the jacket, it features a hood, a high collar and hand pockets, which provide extra warmth when needed.
The L.I.M Down Hood was a perfect choice for the milder temperatures encountered on the fringes of winter. It could also be worn on the move – such as when ascending a cold, shady gully in the early morning, where the mid layer on its own wasn't quite warm enough. 
The gear: kit to keep you warm on active adventures 
Here's a rundown of what Richard used on his Cairngorms trip…
The L.I.M Down Hood features two zipped pockets and a hood, and sits at the lighter end of the spectrum when it comes to insulating jackets. I weighed it at a mere 266 grams in a size Large. This is thanks to the high-quality hydrophobic down and lightweight Pertex Quantum fa
ce fabrics used.
The L.I.M Down Hood is a versatile insulator in winter that can be worn on the move, working well with a mid or shell layer. It also makes a good belay or camp jacket in 3-season conditions. When I wasn't wearing it, the added weight in the rucksack was barely noticeable.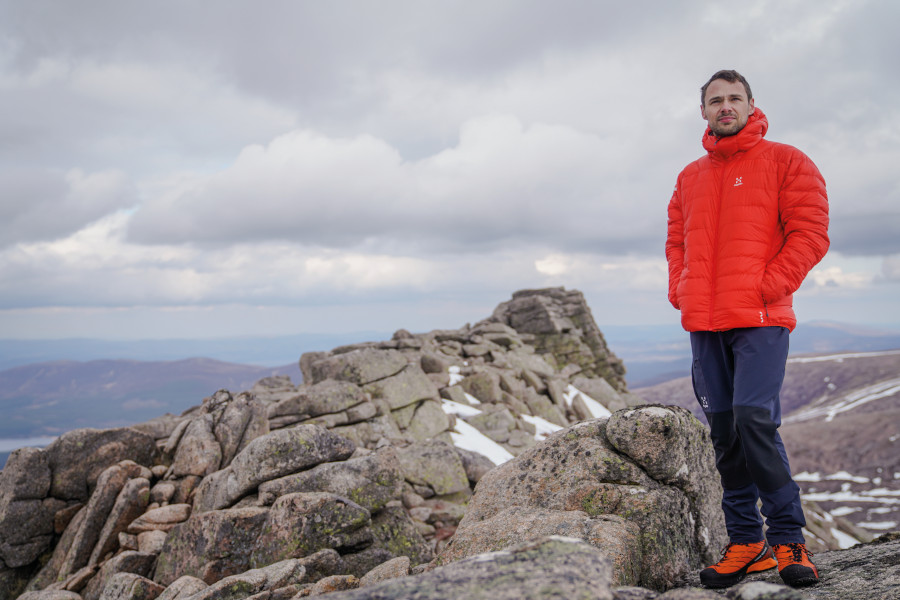 Winter trousers need to have a good amount of durability and weather resistance, since you will often be facing biting winds and wet snow. The Rugged Pants lived up to their name in this regard! The rugged material and DWR treatment meant that they remained warm enough on a wind-blasted, snow-covered ridge during our trip.
The stretchy fabric and panelled construction also made them extremely comfortable for walking and scrambling in, enabling a full range of movement at all times. The clever panel on the back should mean extra durability, too. I also loved the zipped pockets, and the adjustable elastic straps on the ankles, which made it easy to avoid catching the fabric with crampon points when walking.  
I prefer a hooded mid layer like the Betula, because the hood can seal warmth inside like a balaclava, without the need for an extra hat that can easily blow away in bad weather. The Polartec fabric is a high-quality choice when it comes to wicking away moisture. This is crucial when working hard in cold conditions, as your sweat can make you dangerously cold when you stop moving.
The Polartec fabric also felt soft and comfy against my skin, and the grid construction on the hood meant that it vented nicely under a helmet. Two zipped pockets and thumb loops on the cuffs kept my hands extra-warm and meant no gaps at the wrists when wearing gloves. The pockets also made it easy to stash my phone somewhere warm, which can greatly prolong the battery life in cold weather.