Andy Cole climbed Ben Nevis 31 times in October in memory of a friend who lost his battle with depression. Here's his story
Today it's our pleasure to chat with Andy Cole, who has recently completed an incredible challenge – and done a lot of good in the process, raising awareness of mental health issues and fundraising for Lochaber Mountain Rescue.
Please introduce yourself. Who are you and what do you do?
I am Andy, aka the lone walker, 40 years old and a survivor of severe depression who found peace in the great outdoors. I currently live in Blackpool, Lancashire.
Tell us about your 31-day Ben Nevis challenge.
Three years ago I had given up with life and was knocking on the door of suicide. After being brave and taking the first step I asked my doctor for help. After medication for a few months and a few counselling sessions, my doctor recommended the outdoors. She is a keen hiker and suggested a day in the Lake District.
After a few bimbles into the Lake District and Snowdonia, a friend of mine suggested the Highlands of Scotland as our next visit. I was still recovering from my bout of depression but planning a camping trip up in the Highlands helped my mind so much.
A few days before I started this challenge a friend of mine sadly lost his battle with depression and that gave the walk even more of a personal touch
In 2017 my progress into recovery is still ongoing, but I'm better than I was. As I turned the ripe old age of 40 this year I decided I wanted to do something good, and raise some awareness about depression and mental health by way of a challenge.
I follow the voluntary work of Mountain Rescue teams across the UK on social media and chose Lochaber MRT for my fundraising. Next I had to choose a challenge – Ben Nevis was the obvious choice. I wanted to reach as many people as I could, and Ben Nevis would be perfect, being one of the most popular mountains (and it also starts almost at sea level). Target decided, I realised that in order to reach as many people as I could I would have to walk it a few times – so I decided to climb every day to the top for a month.

I set up a
page on Facebook
to log my daily walks and discuss my own experiences of depression in order to help others. A few days before I started this challenge a friend of mine sadly lost his battle with depression and that gave the walk even more of a personal touch. I dedicated this walk to his memory.
You certainly picked a challenging month for climbing Ben Nevis every day! How did the weather affect your daily climb? Any problems with early-season snow and ice?
Won't lie, the weather was awful from day one, with torrential rain and high winds constantly. It was hard from the outset; in fact it was difficult to get clothes and boots dry ready for the next day.
My Facebook page had a fair few followers by day three, and words of encouragement kept me trundling up that path regardless of the weather. Fortunately Ben-Nevis.com donated some clothing items which enabled me to have a dry day guaranteed from them. Early snow flurries came and went, the rain was relentless and I had to wait a long time for any views. One day I actually had to turn back because the wind was so strong it wasn't safe for me to continue on my own.

Out of 31 days, I had 3 dry days of no rain and 2 days with some views from the summit – and these all came at the end of the month.
Did you climb the Ben via the same route every day or did you select different routes?
The majority of the month was spent walking up the tourist/pony trail. It was always a busy path and I got to meet and chat to many people from all around the world, which was great. A lot of people could relate to the issues I was raising awareness about.
I did occasionlly ascend via Coire Leis and also via the CMD Arête routes, and on 31 October a friend of mine who is a guide in the mountains took me up Ledge Route as a treat. I'd been wanting to discover the north face all month but due to the weather I chose not to for safety reasons. I also set off at different times, sometimes as early as 4.00am – especially when the weather was predicted to be even worse in the afternoon.

Tell us about the high and low points. Ever feel tempted to give up?
I never felt a real urge to give up but I do admit after the first few days I did ask myself as to whether I'd bitten off too much. The support I was gaining from my followers kept me going though and day after day it got easier to get up and down. My quickest time was 4 hours 15 minutes – no running!
One day I'd set off up the path with a family, who later in the afternoon were in a bit of trouble. I went back up up the mountain to help out. Due to the time and weather conditions, and the deteriorating health of the elderly member of the group, we made a call to the Lochaber Mountain Rescue team. Meeting the team in the first few days of my challenge was inspiring but to see how the volunteers are in action on the hills was truly incredible. Seeing this first hand gave me more drive to complete this challenge. I was being asked to walk up with followers too which was great and helped kept me going.
During my month I also took part in the annual Real3Peaks Challenge, a litter pick on Ben Nevis which resulted in 120kg of rubbish being bought down off the summit and hillside.
How much did you raise for Lochaber MRT altogether?
As well as having almost 12,000 visits to my Facebook page, I have to date managed to raise over £2,000 for Lochaber Mountain Rescue (including £1,680 from my JustGiving page). I didn't expect to raise a tenner or create a page with so many followers, but what a great feeling of achievement – and now another challenge is rattling around my brain!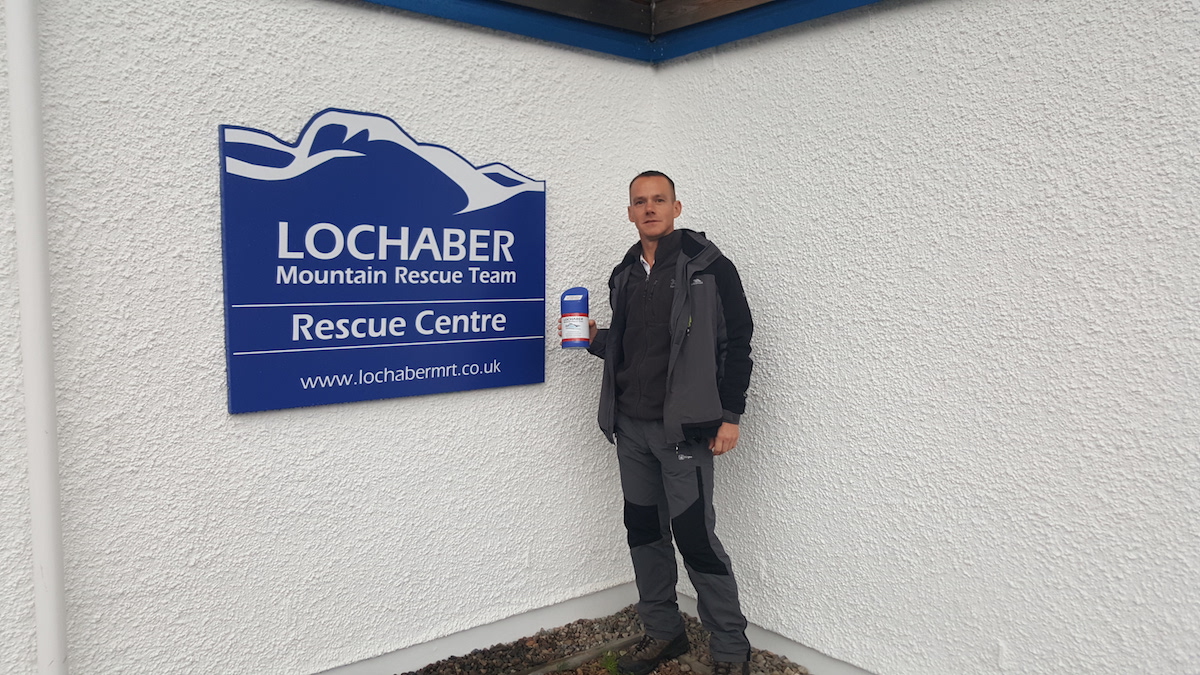 Any advice for someone considering taking on a similar challenge?
My advice to anyone undertaking a huge challenge is to prepare well, eat well, but most of all, enjoy what you're doing. Even though the weather was typically Scottish I still had a smile on my face. I probably wouldn't pick October again, though…!
A few words from Lochaber MRT…
Malcolm Lawson from Lochaber Mountain Rescue said: "Our team is heavily dependent on donations and fundraising, and without the efforts of people like Andy we would not be able to provide a service. We are very grateful for the money Andy has raised and he should be proud of his achievements, not only in supporting the team, but in raising awareness of mental health issues. Our thanks go out to Andy and everyone who supported him in his challenge."
You can still donate at Andy's JustGiving page.
Andy's Facebook page
lochabermrt.co.uk