Four outdoor enthusiasts recall spending a combined 2000-plus wild nights within the safety and comfort of their Hilleberg tents. They describe some of their hairiest moments in the outdoors and explain why they've come to think of these tents as home away from home.
This is a paid for advertisement in association with our friends at Hilleberg
Most outdoors enthusiasts trust that the right gear can get you through even the worst conditions. But trust has to be earned.
Chris Townsend, Kerstin Langenberger, Will Copestake and Lina Hallebratt have come to trust in their Hilleberg tents to withstand the wildest nights outdoors, from gusty gales to deep snowdrifts and lashing rain.
Altogether, the four adventurers have spent more than 2000 nights under Hilleberg cover across the globe.
They have chosen Hilleberg tents for adventures in Patagonia, Iceland, Sweden, the Cairngorms, North America and more – always fully confident in their tents. Here, we share extracts from these experiences.
A wild night
Chris Townsend recalls a fierce night in the Cairngorms.
"Am Moine Mhor means 'the big moss', and it's usually wet. Today it was even wetter. The drier, stonier slopes of Mullach Clach a'Bhlair were welcome. I wasn't lingering here though.
In case the weather changed earlier than forecast I descended the long east ridge of the mountain, the Druim nam Bo, to Lochannam Bo. Here, at 755 metres, I pitched the Hilleberg Soulo just as darkness fell.
The forest in Glen Feshie lay just a kilometre away. I like to have an escape route when storms are forecast. I'd brought the Soulo in case the storm reached me during the night.
It's the strongest, most stable solo tent I know. At 1am I was woken by very strong gusty winds and heavy rain hammering on the outer tent, and I was very glad I'd chosen it over a lighter but less stable tent.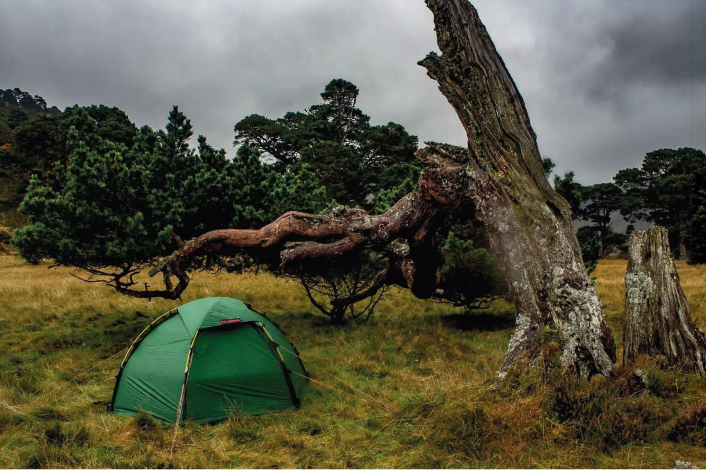 The noise from the wind was tremendous. I had no worries the Soulo would collapse, but after lying there listening to the storm for half an hour I realised I wouldn't get back to sleep unless the roaring and rattling abated.
As the shelter of the forest wasn't far below I decided to pack up and descend into the trees. The night was pitch-black. The rain lashing down. The wind knocking me sideways. I knew there was an old, little-used path down into the trees.
A compass bearing located it but then I lost it several times, trying to follow it down through knee-deep heather. After an hour I was on the glen floor. The wind was still howling down here.
I wanted shelter but I didn't want to camp under the trees in case one came down in the storm. Eventually I found a spot by a tree that had already toppled. It didn't really offer much shelter, but it felt a bit less exposed than being right out in the open.
I pitched the Soulo again, not much more than a kilometre from my first camp but over 400 metres lower. The wind was quieter here and I was tired from my night-time descent. I soon fell asleep. It had been an exciting trip – rather more exciting than I'd hoped.
I wouldn't forget the night descent for a long time. I was very glad I'd taken the Soulo. This was just the conditions for its stability and security."
---
Homes in the wild
Prolific hiker, kayaking guide and adventurer Will Copestake has spent hundreds of nights in wild places around the world. Why have his Hilleberg shelters proved so enduring?
"The day my tent earned its trust I was 300 kilometres into a 650-kilometre (403-mile) trek across Iceland. I had set camp beside my friend in a particularly barren and exposed section of the Ódáðahraun interior desert.
We were as remote as either of us had ever been, and without a reliable forecast we were watching the sky for the weather. The clouds started swirling into Picasso painting shapes, which by then we'd learnt meant a storm was coming.
We dug the sand pegs deep and lifted heavy rocks over them to doubly secure our stable night in the loose volcanic sand. Our only shelter from the gale would be each other's tent amidst the ocean of sand.
Under the midnight sun, the wind arrived with a roar, throwing sand into the air with a strange hissing sound as it bounced off the fabric of our tents. Safe in my sleeping bag, I first watched my tent with some trepidation but soon saw the unfaltering rigidity of my pitch.
Outside the conditions may have been intimidating, but inside I knew I was going nowhere. My friend, however, was having an entirely different night. We watched as one by one the guy lines snapped on his 'no-name' ultralight tent. Not long later, his pole broke.
I found it somewhat amusing how the fabric collapsed, leaving a perfect profile of his (now quite grumpy) body inside. With a loud tear the tent then tore in two completely. He crawled across to my shelter, and we made space to tuck inside together.
We weathered the night as two in a solo tent; crammed together it was surprisingly warm. For a 'cosy' seven weeks we continued to share my 'solo' Soulo and completed our trek successfully.
With that same tent, I then circumnavigated Scotland by sea kayak, summited winter rounds of both the Munros and the Corbetts, and worked countless days as a freelance guide. Ultimately, I spent over 500 nights under its roof. Not once did it fail me, and over a decade later it still goes on."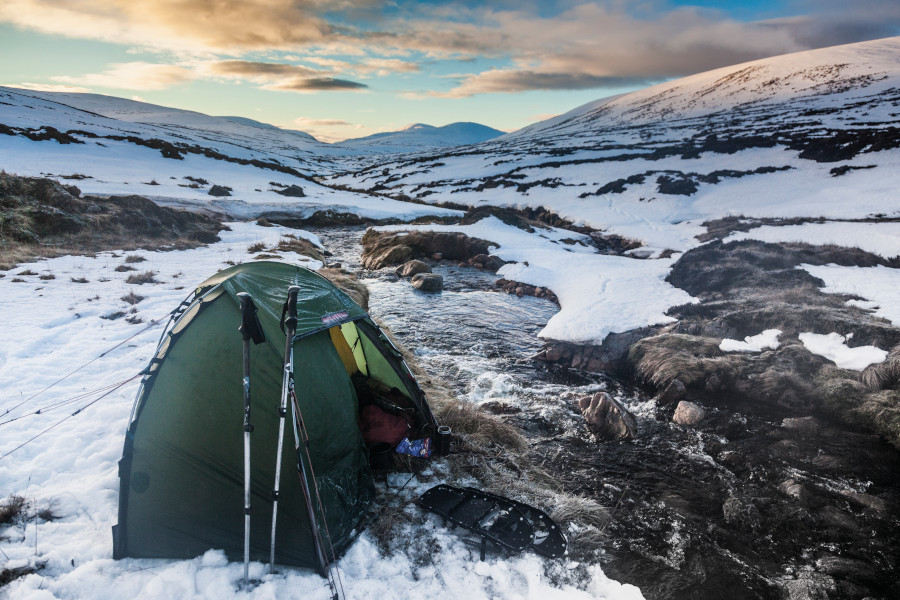 THE HILLEBERG SOULO: Insight from the tentmaker
Hilleberg's Stuart Craig explains why the Soulo stood up to punishment in the Cairngorms and Iceland…
The Soulo, with its fully freestanding construction and very robust, multiple-crossing-point dome structure, will handle nearly any weather in any season and any terrain.
With the Soulo, you can confidently tackle trips, year-round, where demanding situations are likely, be that challenging pitching circumstances or uncertain temperamental (and foul) weather, knowing that the tent's structure will handle it all.
---
Staying down to earth
Kerstin Langenberger, who has spent much of her adult life in Iceland, recalls one of her windiest wild camps – and explains why she came to totally trust Hilleberg tents.
"When Covid had just hit in 2020, I decided to take 'social distancing' seriously and set off on a 17-day solo skiing expedition through Iceland. One windy afternoon I was engulfed by white-out, and within an incredibly short amount of time the gusts were so strong I could hardly stand upright any more.
This was far windier than the weather forecast had predicted! In order to avoid another episode of 'flying tent', I tied a short string to one peg attachment when I was first pitching the tent, which I connected to a ski stuck into the snow.
With the tent secured upwind, I was able to pitch it, alone, even in those gale-force winds. Once inside my precious home-away-from-home, I could warm up, make myself dinner – and relax.
The wind was battering the tent so violently that I would have feared broken poles or ripped fabric, had I not learned by now to totally trust the robustness of Black Label Hilleberg tents.
My biggest worry during winter camping is snow accumulation on the tent, which is why I usually stick my head out every few hours, ready to shovel some snow or build a snow-block wall for protection.
That night, though, with a comfortable feeling of safety, I decided to just wait it out. The next morning came and the winds and snow drift continued, but the visibility improved. Relatively well-rested, warm and happy, I packed my sled and took down my Nammatj.
Once again it had proven itself a worthy expedition tent: it passed the battering of snow-laden gale-force winds with flying colours and enabled me to continue my wonderful solo adventure through my beloved Arctic winter wonderland."
THE NAMMATJ TENTS: Insight from the tentmaker
Stuart Craig of Hilleberg says the brand's versatile Nammatj range is ideal for remote, challenging journeys…
"Our Nammatj tents are arguably our most versatile tents. They offer exceptional strength and durability at a remarkably low weight, and their all-season construction makes them as equally at home in winter storms as in fine weather.
Like many other adventurers who spend time in remote locations, Kerstin finds the Nammatj 2 ideal. It is easy to pitch, and its compact footprint allows it to be set up almost anywhere. As a solo tent, it is wonderfully roomy, and for two-person teams it offers perhaps the best strength-to-weight ratio available."
hilleberg.com
---
A home away from home
Prolific hiker, skier, kayaker and double Swedish Adventurer of the Year winner Lina Hallebratt has spent over 1500 nights in Hilleberg tents. Here's why she trusts them on the toughest of expeditions.
"There is something special with nature and the force of it. You can't put your finger on it, but it is healing. In the outdoors, for every challenge, you manage to do it, because you have to, and you feel better, and you grow.
The best thing about being outdoors is that even if challenges are hard, you can always succeed. I'm the best version of myself when I'm outdoors. I find harmony, I'm so happy, everything is good. I've used Hilleberg tents since 2012.
They are my home away from home, and their reliability enables me to be out for so long and feel safe. Hilleberg tents are functional in all weathers and they are known for outstanding quality, which always makes me feel secure.
I've used Hilleberg tents in all conditions; calm summer weather to the depths of winter and they have coped with everything from plus 40C to minus 40C. It has been a great honour to have been a Hilleberg ambassador for more than 10 years.
I've spent over 1500 safe and comfy nights in Hilleberg tents – and I look forward to enjoying many more in the future."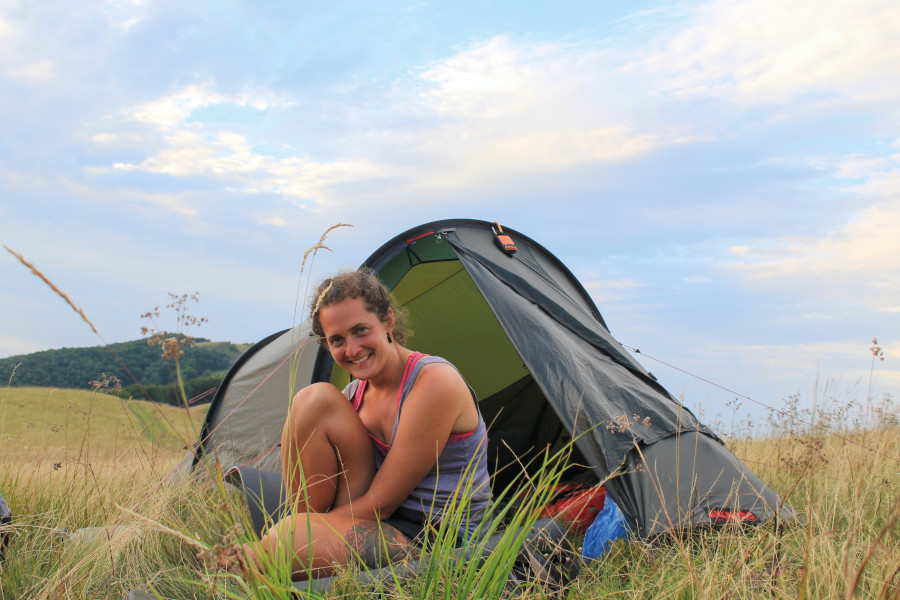 THE HILLEBERG RANGE: Insight from the tentmaker
Stuart Craig of Hilleberg describes why the Hilleberg range can cater to the need of a prolific adventurer like Lina…
"Lina knows exactly what she needs from her tents and how to choose the best option for each journey. When she needs all-season capability, she chooses from the Black Label series – the Keron, Nammatj GT and Staika – because they provide exceptional comfort in any weather.
The Nammatj GT is an excellent choice for trips requiring a lot of gear – in Lina's case, that's skis, kayaks, and sometimes, dogs. During snow-free months, Lina takes one of the Yellow Label models – the Enan, Anjan, and Niak – for their impressively low weight and extra ventilation."
hilleberg.com