The team from Scotland's national outdoor training centre, Glenmore Lodge, take us through the steps you need to take to have a safe and fun day on the hills in winter conditions.  
1: Perfect your planning 
As well as being essential, this can also be a lot of fun. It's your excuse to pour over avalanche forecasts, maps (who doesn't love a map?), walking guide books, weather forecasts and general logistics.  
 2: Know your team  
Understand the people in your group and their skillsets; get a sense of their weaknesses, strengths and shared experiences. Teamwork in the mountains is really important. And you all enjoy the day, you'll be guaranteed hill buddies for your next adventure. 
3: Choose your route  
Know your route ahead of time. Think carefully about your itinerary. How long it should take? What sort of terrain will it involve? Are you on established tracks, tramping across heather, or does it involve a bit of scrambling? What height gain is involved, and have an idea how much time this will take you and your friends? Above all, does your chosen route match you and your team's skillset and experience? 
4: Do your research  
Monitor conditions in the week leading up to your adventure.  In the winter, weather patterns can have a big impact on how much you enjoy your chosen adventure.  How has wind deposited snow?  Read the Scottish Avalanche Information Service reports and blog (sais.gov.uk).  Read other blogs as well, but be selective. How many blog posts do you read that rave about how amazing the conditions/day was – was it really? All of this will help you plan and visualise the mountain conditions that you could be faced with.   
5. Have the right equipment and clothing 
Carry good quality, winter equipment and know how to use it, for example ice axe and crampons.  Boots need to be suitable for winter (stiffer than your normal summer weight walking boots and able to cope with snow all day) and compatible with crampons.  Clothing needs to be able to cope with cold and wet environments. Take multiple spare gloves – wet hands are miserable if they get cold! – and winter-weight waterproof tops and bottom. Layer up with warm mid-layers and have an insulating jacket made from down or synthetic insulation which you can put on over your other layers to keep you warm when you are stationary. 
 6: Protect your eyes  
Work out whether you need sunglasses or clear goggles, or maybe both. If the forecast is a windy one, with snow, goggles are essential to protect your eyes from spindrift (windblow shards of ice).  And sunglasses will protect your eyes from the glare of the sun reflecting off a blue sky, winter wonderland – it does happen! 
 7: Use walking poles  
These are useful all year, but especially so in winter, as they are a great tool when faced with deep snow conditions and will provide you with extra stability. They will also make long hill days a bit kinder on your knees and are excellent at helping you cross streams. 
 8: Know your navigation skills 
Winter navigation is more challenging and harder than summer navigation. Ensure that you are up to speed and well–practised and have learnt the skills required.  Consider carrying digital navigation tools for back up. For example, apps like Viewranger, or a GPS. But crucially, you need to be able to navigate with and without GPS, so practice navigation in all its forms – map, phone, and GPS, before heading out.  Remember to keep your phone and compass separate – phones can affect the compass and may cause something called reverse polarity. Remember that most phones were not built for outdoor use and even when protected with a waterproof case can still be susceptible to cold and other harsh winter conditions.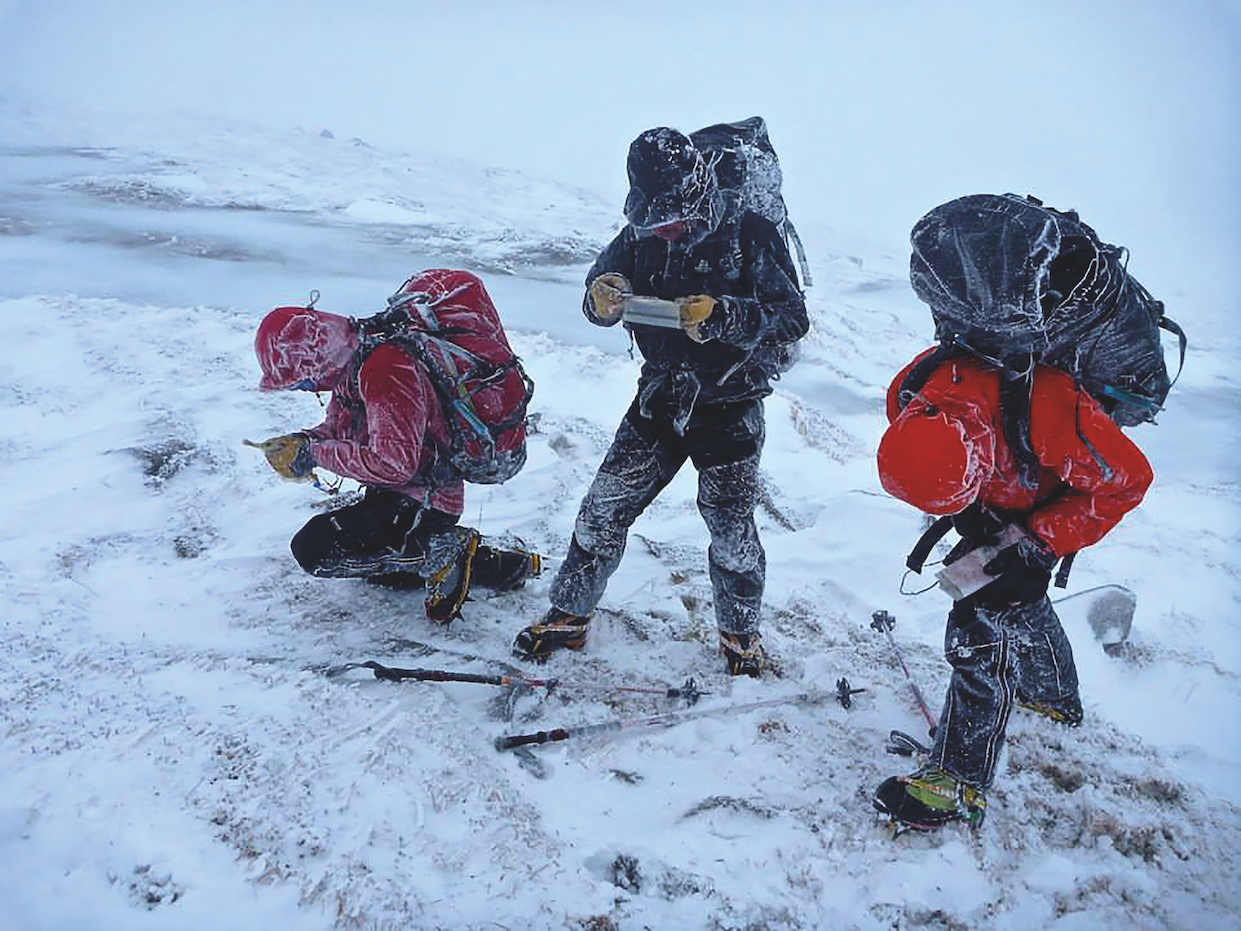 9: Factor in the short days  
Particularly in the early winter months, you'll need to factor in earlier starts, so carry a fully charged head torch.  Consider the length of day and the length of route choice.  Refer to walking guidebooks for planning advice.  
 10: Be prepared for a big day 
 Winter conditions can be slow going and energy–sapping, so be prepared for a long, demanding day. The fitness of every person in your team is important. Can every member of your party cope?  Don't underestimate how tiring a winter hill walk can be. Good fitness, strength and experience will mean you'll enjoy the day a whole lot more, and mean you'll have more energy in reserve if conditions deteriorate. 
11: Leave a route plan  
Let a friend, family member or accommodation provider know your plans in advance.    
12: Get training  
If you are unsure on any of the above, especially winter navigation and winter skills, then seek out a bit of training to get skilled up. Glenmore Lodge runs Winter Skills and Winter Navigation courses throughout the winter, and Hill & Mountain Skills courses throughout the summer months. 
13: Be aware of winter hazards  
It sounds obvious, but winter means bitterly cold sub-zero temperatures, snowfall, and a new world of things to factor in. Icy footpaths; hard-frozen snow which can turn slopes which are harmless in summer into perilous places; avalanche risks; snow cornices disguising the edges of mountain crags; the potential for whiteouts and blizzards.  Don't be daunted and don't be put off; just learn how to manage them.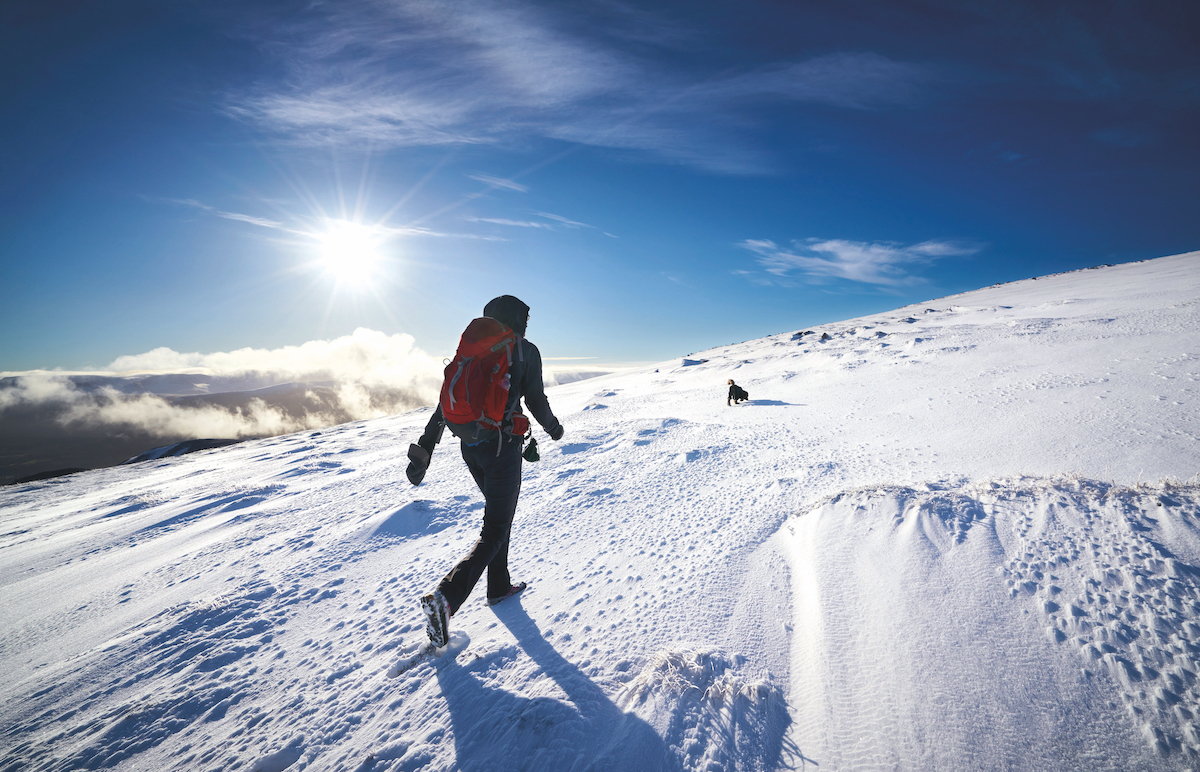 14: Enjoy the winter wonderland 
Winter does truly provide us with a wonderland. With snow and ice formations and winter light, it is a beautiful time of the year. Winter also comes with its own wildlife; In the Cairngorms, for example, you could encounter stags, reindeer herds, snow buntings, winter hares and ptarmigan.   
15: Meet like-minded people  
Clubs, walking groups and training centres like Glenmore Lodge provide you with the opportunity to not only learn from others, but also to meet like–minded people to share these experiences with. 
 16: Don't be afraid to turn back  
Don't be afraid to turn around if you don't like what you encounter. The hills will always be there another day – make sure you are too.