Autumn is a time for reflection, and also of joy. The turning of seasons is a thrilling time; everything is changing. The world glows red and golden around us. snow sprinkles the summits. The midges are gone. For many, it's the best time to visit the Highlands. Here's a few reasons why…
(Main image copyright of Malachit/Shutterstock)
---
Stag rutting
The soundtrack to walks in the autumnal Highlands is provided by the sounds of deer rutting. Red, sika and fallow deer all take part in fierce mating battles over the autumn, presenting an incredible spectacle for walkers.
The sounds of the red deer rut are haunting and the sight of deer at the rut, if you're lucky enough to observe it, can be a thrilling addition to a day on the hills.
The red deer rut, when dominant stags and aggressive opponents vie for mating rights and control of the hinds, takes place between mid-September and November. Rivals size up the dominant male by patrolling in parallel to them and bellowing their intent, or by sweeping undergrowth into their antlers to make them seem bigger.
Loch Katrine in The Trossachs and areas to the west and north of it are excellent red deer country.
---
Two cosy bothies
The bothy system is a great gift to hillwalkers. Here are two popular shelters (one is on TripAdvisor!). Light a fire, take a wee dram and put your feet up.
Glas-allt-Shiel, Lochnagar

"Surely not," I thought to myself as I wandered around the boarded-up Victorian mansion (Victorian in its truest sense: the loving couple commissioned its construction). I'd been alerted to the existence of a bothy at Glas-allt-Shiel by friends when I told them of my planned three-day Munro-bagging trip around Lochnagar, but I wasn't expecting this. I pushed a few doors, tried a few handles and then finally found the entrance to what was probably the stables; today, it's clearly a well-loved and maintained bothy (thanks, Dundee University Rucksack Club). For more bothies, visit
mountainbothies.org.uk
.
Hutchison Memorial Hut, Coire Etchachan
Snuggle in your sleeping bag as rain streams down the grey granite crags, and beats against the window of Hutchison Hut. It was built in 1954 with funds subscribed by friends of the late Dr A G Hutchison of Aberdeen, who was killed in a climbing accident in Pembrokeshire in 1949. These simple shelters lend Scotland something truly invaluable. Visit 
mountainbothies.org.uk
.
---
Five pubs to wet your whistle in!
There is no denying it – for many of us, pubs are an essential part of the hill-going experience. They are where we reward ourselves after a long day's trekking, refuel our battered bodies and warm our weather-worn bones. It is difficult to say what makes the definitive muddy boots pub – real ales on tap, local grub, roaring log fires and panoramic mountain views all help, of course – but one element is always constant in these classic hillwalking haunts: adventures happen in the mountains, pubs are where they are recounted. Luckily, the Highlands has an abundance of hop‑serving havens for you to rest your feet and recall your tales.
Drovers Inn, Loch Lomond
Not only is this watering hole located on the West Highlands Way, it is also perched at the top end of Loch Lomond. Live music, locally sourced food and the occasional burst of paranormal activity are all part of this classic pub's character.
thedroversinn.co.uk
Old Bridge Inn, Aviemore
Traditional cuisine, intimate candlelit gigs and crackling log fires all define this classic hillwalking pub, which is situated among the dramatic scenery of Cairngorms National Park. oldbridgeinn.co.uk
Old Forge, Knoydart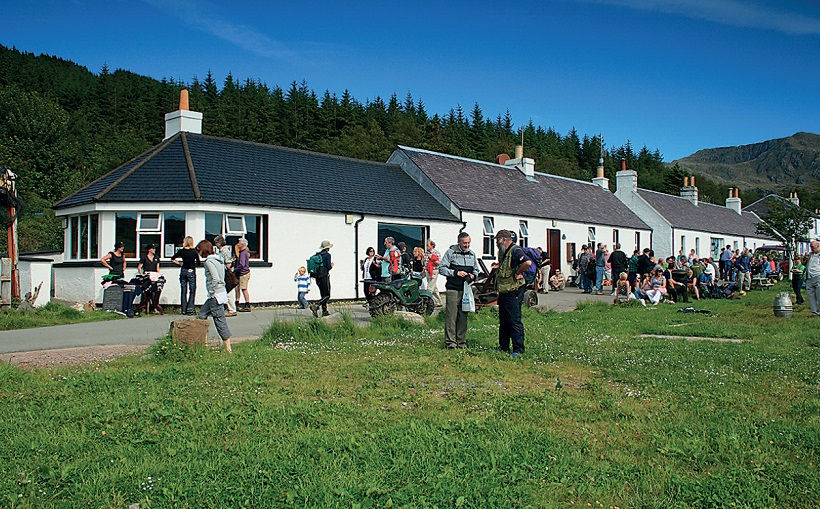 The Old Forge holds the Guinness World Record for being mainland Britain's remotest saloon. With zero road access, it can only be reached by boot (18 miles) or sea (seven miles). Its seafood is locally sourced as well, all within seven miles of Knoydart itself.
theoldforge.co.uk
Clachaig Inn, Glencoe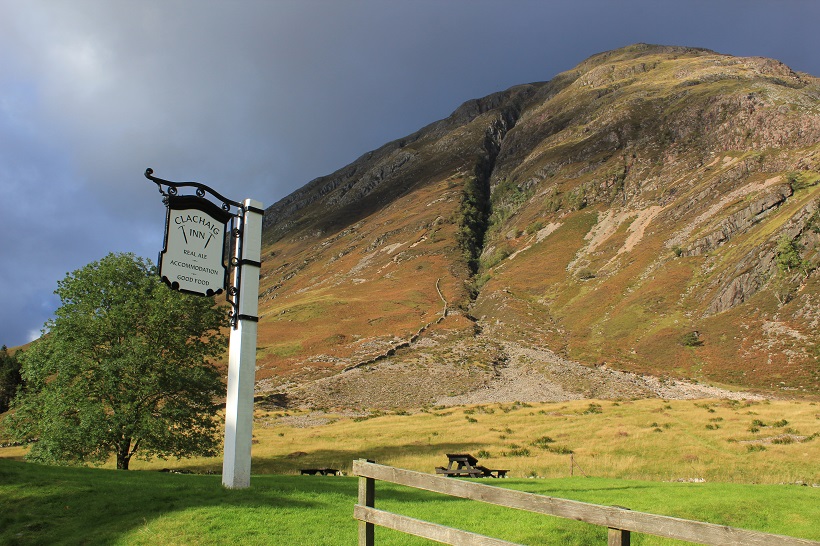 This perfectly-positioned pub, which is nestled between the looming mountains of Glen Coe, serves local ales from a wide range of Highlands based breweries and over 300 blends of whisky. The Great Outdoors Awards 2013 crowned Clachaig Inn as 'Pub, Restaurant or Cafe of the Year'.
clachaig.com
Applecross Inn, Wester Ross
With remarkable views of the Isle of Skye from the west coast shores of Applecross Bay, this award-winning pub is perfect for those descending the surrounding mountains and passes. It's also famed for its lively bar atmosphere and locally-caught seafood.
applecross.uk.com/inn