Depending on your outlook, the arrival of snow in the hills can mean extraordinary opportunities to experience Britain at its purest and wildest… or something frankly daunting. Whether you relish pulling out your ice axe and crampons or would quite honestly rather stay off the tops till spring arrives, we've got plenty of ideas to help you make the most of the next few months
---
No.1. Reacquaint yourself with an old friend
Under cover of snow, even the most familiar hills undergo a personality change and become both more formidable and more beautiful. When the snow settles take the time to revisit an old favourite and remind yourself why you've always loved to walk there.
No.2. Discover who came before you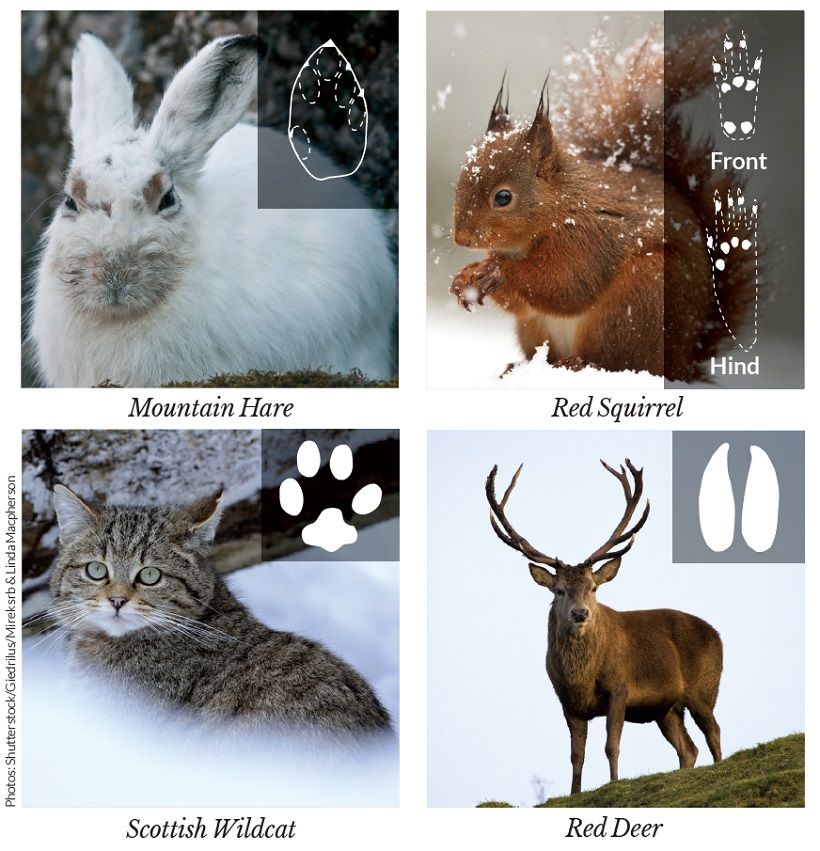 Learn to read animal racks in the snow (or mud)
No.3.  Complete a classic circuit
A big day out can be made even more spectacular under snow. Read about the Lochaber Traverse in the January 2017 issue of The Great Outdoors (out from December 2016).
No.4. Find a new form of travel
Winter walking can be magical. But when the cover is deep it can also be hard work. For a more efficient means of crossing the snow, consider ski touring – an activity which combines mountaineering and skiing skills and allows you to climb up hills as well as gliding down them. The Scottish outdoor training centre Glenmore Lodge is the place to go to learn how to do it. Or try snowshoeing – the equipment might look unwieldy but there's a reason why people have been strapping something approximate to tennis racquets to their footwear for thousands of years. It spreads your weight over a greater surface area and makes it far easier to make progress.
No.5. Get geared up
Make sure you have the proper kit for winter conditions and, crucially, that you know how to use it. Click here for our tips for using crampons and here for our ice axe tips.
No.6. Eat chips!
When you've just come down off the hill and have wind-stung cheeks, snow clings to your gaiters and ice cubes seem to have replaced your toes, a plastic-wrapped sandwich really won't cut it. Salty, greasy chunks of potato and a wooden fork? at'll do nicely. TGO's favourite walkers' chippies include Keswick's Old Keswickian, the inimitable Real Food Cafe in Tyndrum and the winners of this year's TGO Cafe of the Year award, Pete's Eats in Llanberis.
No.7.Consolations of the forest
When the mountains are being battered and bruised by winter winds on all sides you can still count on finding some refuge in the woods. Get deep among the trees and not only will you fi nd peace from the wind, but you'll also likely find some peace of mind as well. Grizedale Forest on the eastern side of Coniston Water is a good enough spot for this – 25km2 of woodland for wandering. There's also the much quieter Hafren Forest near Llanidloes in Mid Wales, where evergreen trees cluster between the hills and the edge of Clywedog reservoir. And of course don't forget Kielder in Northumberland, the largest man-made forest in England. Perhaps some of the finest woodland to be found in the UK is at Glen Affric in the North-West Highlands. Many will head to the glen with a climb of one of the eight peaks to the north in mind, but when the wind is biting and the conditions just too tough then stick down low to seek out all that's hidden among the pine, birch and oak trees. There's the roaring gorge that spits out the torrent known as Dog Falls and the 40m-high Plodda Falls, while a walk alongside the River Affric might reward sharp eyes with a sighting of a golden eagle or a fl ash of red deer through the brush.
No.8. See the best sunrise of your life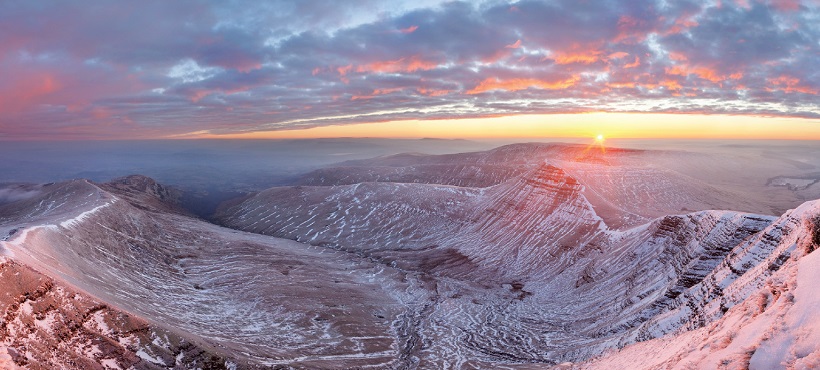 A sunrise over snow can be something unforgettable. To take this shot, photographer Alex Nail climbed to the top of the Brecon Beacons in freezing rain and then camped out on the summit of Pen y Fan, getting up every few hours through the night to check the weather. The hard work and sleepless night paid off at 5.30am when a gap appeared on the eastern horizon, with the promise of a beautiful sunrise to come. "Getting out the tent revealed just how cold it had been overnight, with ice covering the tent, but photography was the only thing on my mind," recalls Alex. "Donning my crampons I set off around Pen y Fan in search of compositions…"
Check out Alex's website for details of photography workshops in 2016: www.alexnail.com
No.9. Make the first tracks
Be the first to walk over newly fallen flakes. Just watch out for those unexpected deep plunges.
No.10. Sleep over snow
Get into cold-weather camping and no longer do you have to worry about long walks-in clashing with your plans for short winter days. Instead, treat your whole weekend as a window of opportunity to spend time in snow-covered hills. Keep your ambitions low-key to start with – choose camp spots in areas that you know while you test out your cold weather kit. And don't forget that the extra weight of camping gear, possibly combined with crampons and an ice axe, can be a burden on your back – so consider setting up a base camp from which to head out on a day route. The effort of carrying in all that kit will be worth it for the view of pristine snow while you make your porridge.
No.11. Wave hello to a Brocken spectre
Some magical phenomena can come out to play in winter, including cloud inversions, moonbows and Brocken spectres.
No.12. Walk on the mud, not through it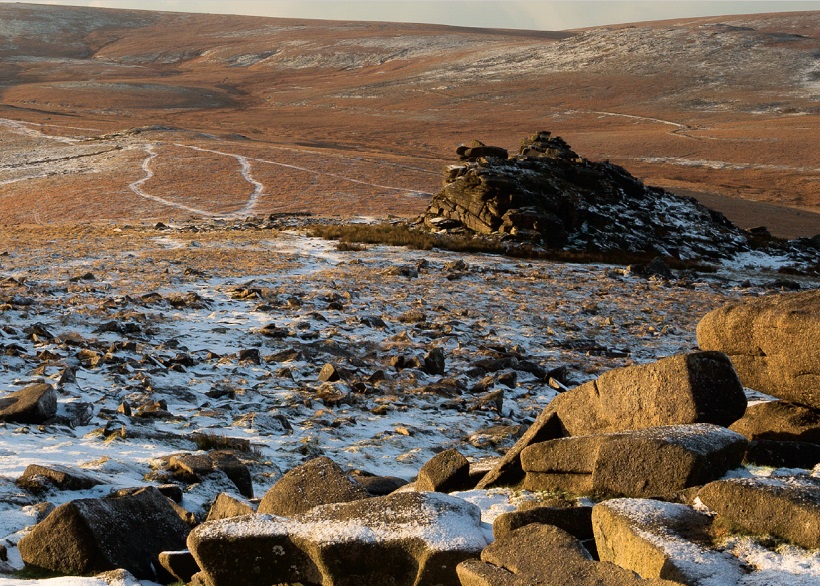 Wait for a touch of frost and what can be a quagmire in the warmer months suddenly becomes ripe for exploration. Catch these places on an ice-cold winter's day and things can be much plainer sailing than they are in warmer weather.
Pennine Way: The 11km section across the boggy moorland between Standedge and Blackstone is a good place to test this theory out. Best of all you'll find a pub at each end.
Plynlimon, Mid Wales: Locating the sources of the Severn, the Wye and the Rheidol on this fiercely wild mountain can be a soggy affair, but less so when they're all frozen.
Hatterall Hill, Black Mountains: One of the best sections of the Offa's Dyke Path can be found here but the peat-topped ridge will swallow many a hiking boot if conditions aren't just right.
Corrour, Rannoch Moor: "Britain's most isolated train station", Corrour on the West Highland Railway, has some stunning lochs surrounding it. The best time to reach them is when the air is crisp and the ground is hard.
Fox Tor, Dartmoor: The peat-covered landscape of Dartmoor will always be damp, but less so when it's frosty. The mires around Fox Tor are worth visiting but they can still be perilous – they're said to have provided the inspiration for the setting of The Hound of the Baskervilles.
No.13. Long distance the comfortable way
Backpacking may instinctively feel like a summer activity, but long-distance walks can be just as rewarding in winter: think crisp air, isolation and rugged frost-bitten landscapes. Camping is still an option, although you'll need to carry warmer kit, which can be a burden on a multi-day route. Alternatively, seek out trails where you can book into B&Bs, inns and hostels along the way (and it's definitely worth booking, as some close over the winter months). You should have no problems on the Offa's Dyke Path, and an even easier time on the Pembrokeshire Coast where just about every inlet or 'cwm' as the Welsh say, has somewhere warm and cosy to rest your head. Or try a section of the wonderful South West Coast Path.
No.14. Go star gazing
Last year, Snowdonia was officially named as an International Dark Sky Reserve, making Wales the country with the highest proportion of its skies receiving such a designation (the Brecon Beacons are also a Dark Sky Reserve and the Elan Valley a Dark Sky Estate). International Dark Sky status means that an area has put measures in place to prevent light pollution and preserve their dark skies, in the process benefiting local wildlife and providing wonderful opportunities for star-spotting. You don't need a telescope to enjoy Wales's wonderful dark skies – but if you have a pair of binoculars, carry them with you when wild camping or when you know it's likely you'll be finishing your walk after dark. They're a brilliant way of getting a better look at the moon or the Milky Way (pictured here above the Isle of Skye).
No.15. Watch the waves
High winds keeping you off the tops? Head to the coast for an exhilarating day watching he gusts create mountains of water.
No.16. Become a regular
Oh, to have a brilliant walkers' pub on your doorstep… If you're lucky enough to call yourself a regular at the bar of a proper country boozer, then you're the envy of the team here at The Great Outdoors and probably a fair bunch of your fellow readers. For the rest of us, there's always the option of booking in for a few nights at your favourite inn and using it as a base for a series of day walks. And if the weather turns truly dire, sitting in front of a log fire with a pile of maps and a copy of your favourite hillwalking magazine is a great foul weather alternative to a day in the hills.
No.17. Eyes to the sky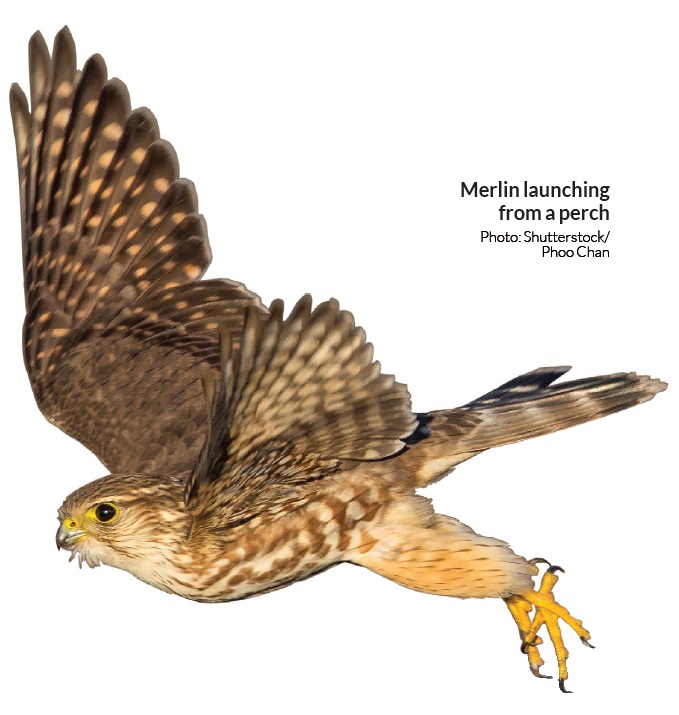 Many of Britain's birds migrate to warmer climes during the winter, but there are some hardy types in our wild places that choose to stick it out at home. It can take some patience to spot the best of them but they're
always worth the wait…
Merlin Zippy little falcon, likely to be spotted chasing Meadow Pipits.
Hot zone: North Yorkshire Moors
Meadow pipit Just about the only small songbird on heather moorland in winter: squeaky, streaky and non-descript.
Hot zone: widespread
Short-eared owl Large pale owl that flies by day, hunting voles over rough grazing and moorland.
Hot zone: Cornish coast clifftops and hinterland.
Crossbill A sprightly little bird. Flocks feed inconspicuously on pine cones in upland conifer plantations.
Hot zone: Derwent reservoirs in the Derbyshire Peak and Rothiemurchus.
Ptarmigan White winter plumage can make it hard to spot among rocks in mountain grassland.
Hot zone: Ben Lawers is its most southerly stronghold.
No.18. A night in a bothy
Small, unlocked buildings in wild or semi-wild areas, bothies are a longstanding and lovable part of Britain's hillwalking heritage. The Mountain Bothies Association does a fantastic job of maintaining nearly 100 of them, mostly in Scotland. They're a great place to kip after a day in remote hills, or even to stop off and take a breather on your way to and from a summit. If you're planning to stay over, you'll need to bring your own sleeping bag, mat and stove – and carry a tent too, in case you find the bothy closed or already full. You can find the Bothy Code, along with details of the locations of all MBA bothies, at
www.mountainbothies.org.uk
.
No.19. Escape!
Need to thaw out? Cicerone publishes a brilliant range of guides to walking destinations, including some of the sunnier parts of the Mediterranean. And we hear there's some lovely walking to be had in the Caribbean in the early months of the year. Dominica, anyone?