Not so long ago, it was taken as gospel that every hiker needed a big pair of solid, chunky hiking boots to help them stomp over any terrain. Things have changed a little in recent years, however, with some people starting to move towards a lighter, nimbler approach to footwear and choosing hiking shoes or trail running shoes instead.
While a pair of hiking boots can come in at as much as a 35 ounces or a kilogram in weight, trail shoes can come in as light as 14 ounces or 400g. Over the course of a day, especially if you're carrying a heavy backpacking pack or covering a big distance with ascent thrown in too, that weight saving can make a real difference to your energy levels.
These days, it's possible to find hiking shoes that will offer many of the benefits that hiking boots bring too. Many options have just as much grip, waterproofing and protection. But the trade-off to consider, however, is that hiking shoes don't provide as much ankle support as some hiking boots and that support can be important if you're hiking with a heavy backpack. The same goes for if you're hiking over very uneven or boggy terrain.
If you're wondering whether you should buy hiking boots or hiking shoes, you should make a decision based on your own requirements and the types of trips you'll be needing the footwear for. If you're taking on some rocky alpine climbs, for instance, then you might be better off with some footwear that'll provide some ankle support, whereas if you're heading off into a hot area to take on some well-defined trails, you'll more than likely benefit from something low cut and light that'll let your feet breathe.
Most hikers will have a pair of hiking boots and a pair of hiking shoes and will wear the pair that suits hike they're taking on. When I hiked the Cambrian Way a few years ago, for example, I decided to wear a pair of Danner boots as I knew that I'd be facing bogs, boulders and scree slopes but when I walked the Camino de Santiago through Spain during a hot summer, I wore a breathable pair of trail shoes.
Best hiking shoes for 2023: our pick
In this article you'll find our selection of the best hiking shoes we've tested and how we got on with them. There's a mix of footwear types, from trail running shoes that are great for hiking in to specialist shoes designed specifically for hiking. We've also thrown some budget hiking shoes into the mix here.
Best overall hiking shoe: Danner Trail 2650
Best hiking shoe for trekking: Aku Rock DFS GTX
Best trail running shoe for hiking: Altra Lone Peak
Best value hiking shoe: Merrell Moab 3 GTX
Best approach shoe: Scarpa Mescalito
Danner Trail 2650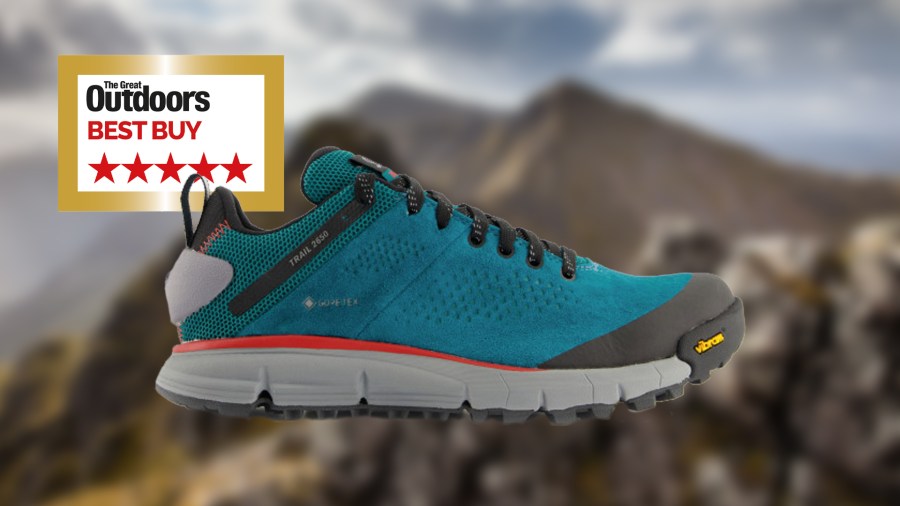 ---
Price: £158 | Weight: 27 oz / 765g (pair) | Type: hiking shoe | Waterproof: yes but also available without waterproofing | Pros: very comfortable, well made, good grip, breathable | Cons: none | Rating: 5/5
---
I had a pair of these that lasted me a good four years with many miles of hiking. They were incredibly comfortable – perhaps the most comfortable hiking shoes I've owned and I found they were great for hiking on trails. The outsole has decent sized lugs and a sticky Vibram compound giving good grip on a range of surfaces, the lightweight EVA foam in the midsole provided plush cushioning that held up well over time, the TPU blocked out rough rocks and roots well and the upper never felt too hot or created clamminess around my feet.
I had the Gore-Tex version of this and was never let down by the waterproof and breathable protection. An unlined version is also available – I can see that as being excellent for any hikes in really hot conditions.
This also comes in a mid cut version. I recommend that version if you want something just a little bit more supportive around the ankle.
Available at: countryside.co.uk
Aku Rock DFS GTX Low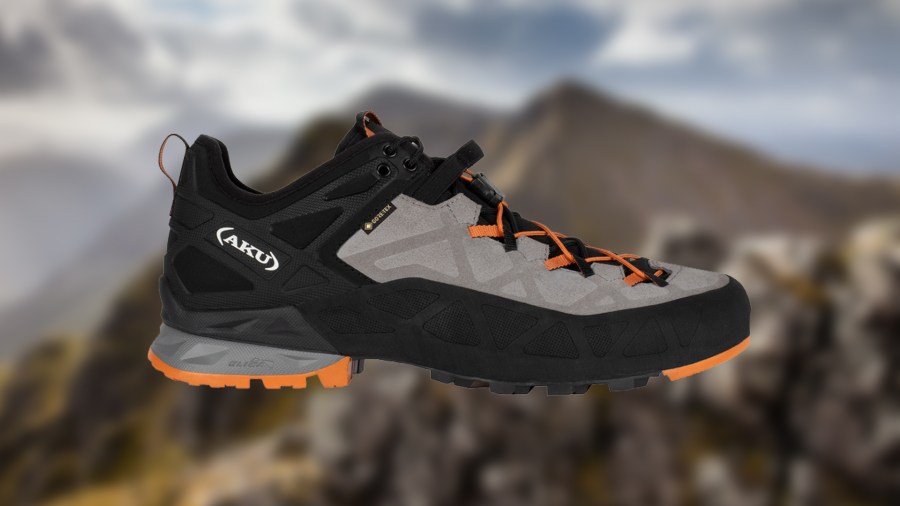 ---
Price: £200 | Weight: 26 oz / 740g (pair) | Type: approach shoe / hiking shoe | Waterproof: yes | Pros: grippy, hard-wearing, excellent lacing system | Cons: expensive | Rating: 4.5/5
---
Big credit to AKU, the Italian brand has put a lot of thought into this shoe and has given it some really nice touches, all-in-all making it a very good, versatile option for hiking in – one that picked up silver in The Great Outdoors Awards this year.
The standout feature – you could say its USP – is its two-stage lacing system. This includes standard lacing that runs from the toes up to the ankle and then a toggled set of laces that lets you cinch in around the forefoot when you want a more precise fit. During my review period with these shoes, I found myself using the standard lacing for a relaxed, comfortable fit and then I'd cinch in the toggle when I wanted a more precise, close fit when taking on scrambly sections. Essentially, this creates a kind of multi-purpose shoe that can capably serve almost like a hiking shoe and an approach shoe rolled into one.
It has a durable upper that's made from 1.6mm suede leather and AKU's highly breathable Air 8000 fabric. This is also overlaid with a wraparound rubber rand to protect the fabric against rough rock. On the heel, a synthetic exoskeleton cage provides stability, support and extra toughness and there's also a Gore-Tex extended comfort membrane for reliable waterproof performance.
I found the sole had just the right level of flex that I like; it's rigid enough to block out roots and rocks while it's also bendy enough to make these shoes comfortable to wear over long distances.
Available at: alpinetrek.co.uk
Altra Lone Peak 7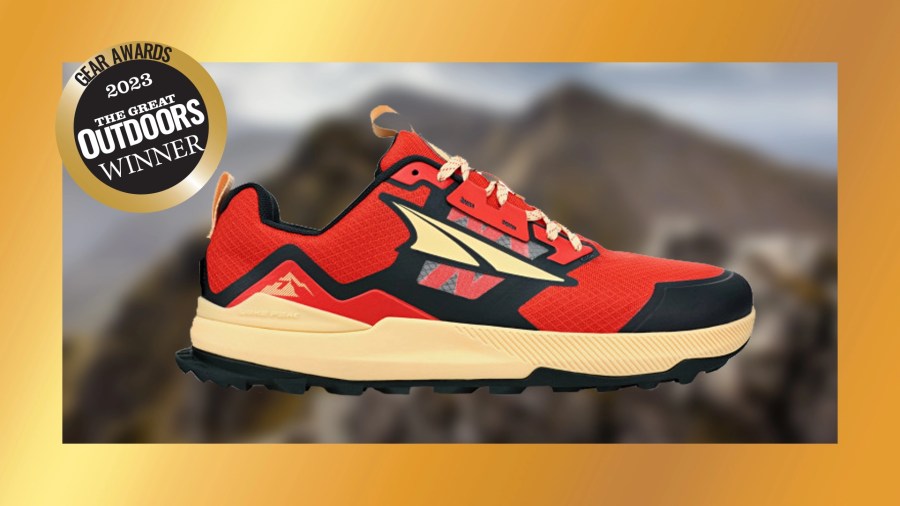 ---
Price: £135 | Weight: 22 oz / 628g (pair) | Type: trail running shoe | Waterproof: no | Pros: grippy, light, comfortable toe box | Cons: large toe box means less precision and a bit of internal movement | Rating: 4.5/5
---
Altra's Lone Peak series is immensely popular with ultralight hikers due to its lightweight design, grippy outsole and large toe box which will accommodate feet that have begun to swell and splay after a large amount of mileage.
The Lone Peak's last design is modelled on the natural shape of a human foot, so the toes aren't as cramped up as they can be in most other trail shoes. There's also no drop from the heel to the toe, so the shoes will accommodate a natural stride.
I personally find the Lone Peak's toe box just a little too large for me and my feet can move from side to side a bit in them when I'm contouring across steep slopes. Other reviewers in The Great Outdoors team, including Chris Townsend and Alex Roddie, absolutely swear by them.
Available at: alpinetrek.co.uk
Merrell Moab 3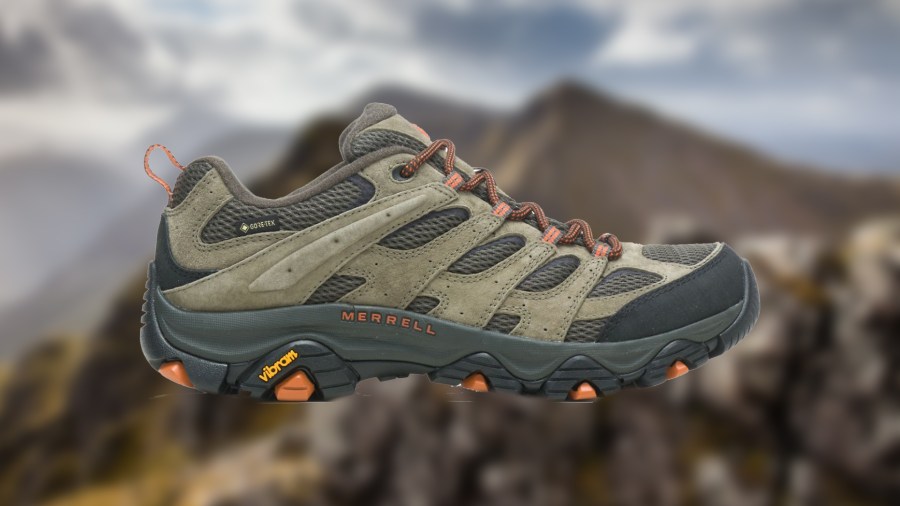 ---
Price: £140 | Weight: 30 oz / 850g (pair) | Type: hiking shoe | Waterproof: yes but also available without waterproofing | Pros: rigid but comfortable sole unit, good cushioning | Cons: heavy, not very hardwearing, could be grippier | Rating: 3.5/5
---
The Moab has been one of Merrell's most popular shoes for over a decade and, while it's now in its third iteration, it hasn't changed too much. If it ain't broke don't fix it, as they say. What stands out about the Merrell Moab for me is the stiffness to the sole. Inside the midsole there's a lightweight nylon shank that blocks out rocks and roots excellently, making for a lot of protection underfoot. Still, there's also a bit of flex that makes these comfortable to wear over long distances,
I tested out the version with a Gore-Tex membrane. There is a version without waterproofing, however, and I've heard that one is excellent for ventilation. The waterproof protection of the membrane version, as you'd expect from Gore-Tex, is very good but the ankle is very low cut so you do need to take care to not allow any water to get over the top and into the shoe. From my experience with previous versions of the Moab and other Merrell shoes, the membrane can get easily damaged if you wear these through rough vegetation. The mesh panels on the upper just don't provide enough protection from things like thorns and sharp branches.
The grip on this latest model is better than on the previous edition but it does still have its limitations. It's fine on reasonably muddy or dusty trails but it can be a bit slippery on steep muddy stuff. It also has limitations on wet rock, as I found out during a long descent on a bouldery track in Eryri once.
Available at: merrell.com
Keen Targhee III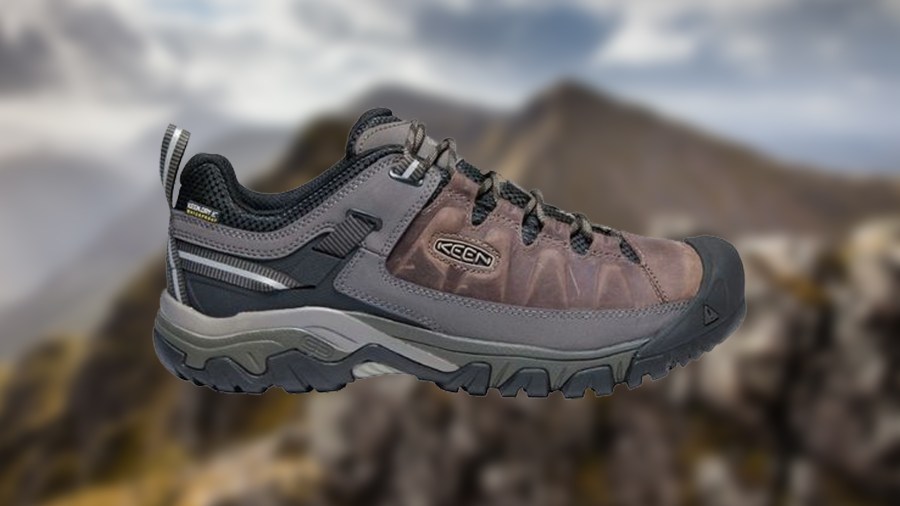 ---
Price: £135 | Weight: 31 oz / 898g (pair) | Type: hiking shoe | Waterproof: yes but also available in a non waterproof version | Pros: cushioned, durable, comfortable padding | Cons: quite heavy, fit might not suit everyone, could be grippier | Rating: 4/5
---
A bit like the Altra shoe that's also reviewed here, this is one of those options that'll suit those who love plenty of space around their toes to give a relaxed fit. That's obviously good if you want comfort but the trade-off is less precision on any technical sections of trail where you want a good reliable foot placement over rocky scrambles.
I've hiked in the last couple of iterations of this and I've always liked it for trail hiking. It's comfortable for long-distances, the membrane provides breathable waterproof protection and there's a fairly stiff plate in the midsole that blocks out sharp stuff underfoot.
Aspects that I really liked during my tests were the solid toe bumper, the padded tongue and the overall build quality of the upper. For the kind of hiking I mainly do, usually on muddy Welsh hillsides, the grip wasn't quite as aggressive as I'd like it to be. Keen do have hiking shoes that offer a bit more grip, however – check out the Zion or the NXIS Evo. Still, it's a great option for light trails in not-too-gnarly conditions.
Available at: gooutdoors.co.uk
Salomon Speedcross 6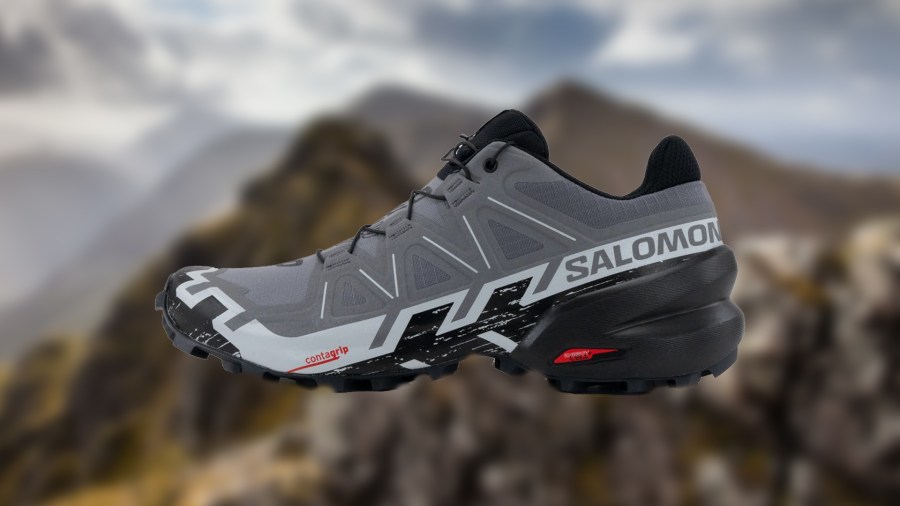 ---
Price: £140 | Weight: 21 oz / 596g (pair) | Type: trail running shoe | Waterproof: no but a Gore-Tex version is available | Pros: light, breathable, very grippy | Cons: narrow fit at the toe | Rating: 4/5
---
This differs a fair bit from most of the other shoes in this round up as it's definitely first and foremost a trail running shoe rather than a shoe for hiking in. Still, I thought it was worthy of inclusion as it does bring a lot of very useful things to the table for hikers.
First of all, it's the grip that makes this stand out. The lugs are super aggressive and will bite hard into all kinds of terrain, but in particular any soft and sloppy stuff. As you can see in the picture above, the lugs curl right up the toe and this gives a handy little bit of extra uphill traction too.
The 32mm heel stack height,10mm drop and thick-foamed midsole all combine to make for a sole unit that provides loads of suspension in the heel and midfoot. I found that there was a nice bit of feel for the trail underfoot in these but not so much that you can feel all lumps and bumps.
Instead of a traditional lacing system the Speedcross 6 employs a kind-of quick-draw toggle. This, I found, is very convenient and gives a nice even and comfortable fit right around the foot in a quick and easy pull. I like the fact that you can tuck the toggle securely away too.
I tested out the version of this that doesn't have waterproof protection. It is available with a Gore-Tex membrane though.
Available at: cotswoldoutdoor.com
Arc'teryx Norvan LD 3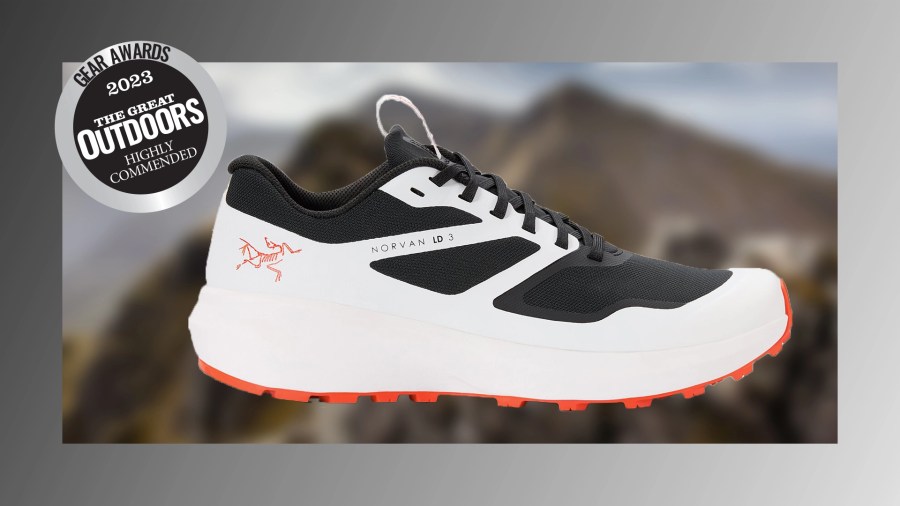 ---
Price: £150 | Weight: 18 oz / 530g (pair) | Type: trail running shoe | Waterproof: no but a Gore-Tex version is available | Pros: light, grippy, good cushioning | Cons: quite expensive, narrow fit at the toe | Rating: 4.5/5
---
This picked up Highly Commended in the footwear category ofThe Great Outdoors Awards this year. I've tested this last three iterations of this and I've found each one to be absolutely excellent for trail running. With its lightweight but cushioned design, it's grippy lugs and wraparound fit, it's also a good option for any hikers who take an ultralight approach and hike in trail running footwear.
I particularly liked the Vibram Litebase outsole that's employed on this latest version of the Norvan. It's a grippy, tacky compound that sticks to both hard and soft surfaces extremely well but it also has a lightweight construction that, combined with the thin PU laminated mesh upper, keeps the overall gram count of the Norvan impressively low.
The springy sole and slight drop from the heel to the toe makes for an agile feel. This, for me, is a positive, but those who like a 'barefoot' style of shoe might want to look elsewhere – to the Altra Lone Peak 7, perhaps.
Available at: arcteryx.com
Scarpa Mescalito Low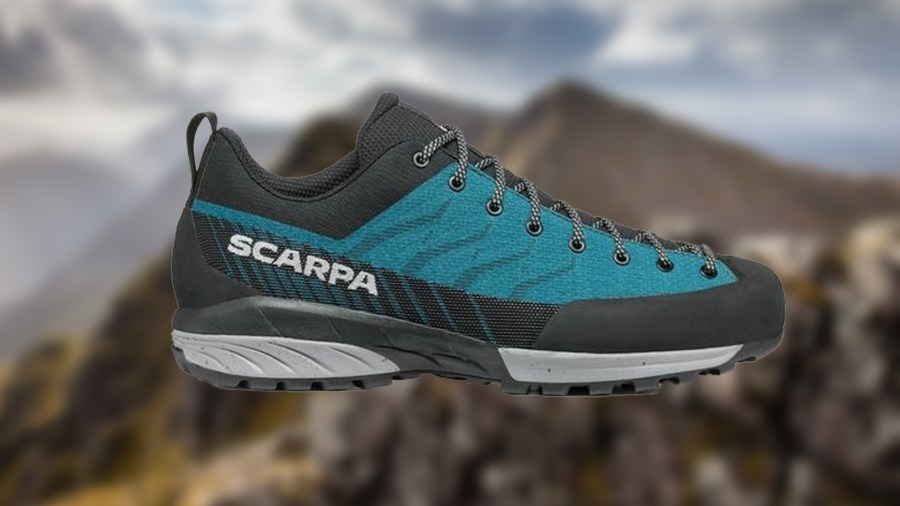 ---
Price: £175 | Weight: 28 oz / 800g | Type: trail running shoe | Waterproof: no but a Gore-Tex version is available | Pros: solid sole unit, good grip, hard wearing | Cons: quite narrow, precise fit at the toe, quite expensive | Rating: 4/5
---
The Mescalito stands apart from almost all of the other shoes in this round up as it can be more closely defined as an approach shoe. That means it's designed for climbers to wear on the usually rocky, somewhat technical approaches to a rock face.
As is typical for an approach shoe, this has a somewhat narrow toe with a climbing zone at its very tip that helps you to get a precise foothold on small rocky ledges. There's a good line of sight down the toe as well, so you can see exactly where the tip of the shoe is being placed. The lacing comes right down to the toes so you can get a close sock-like fit right across the foot.
That narrow toe and precise fit does mean that the Mescalito isn't great for hiking long distances in, however, and, during my tests, I did find that it did started to feel a little tight after foot swelling brought on by heavy mileage. It was still comfortable for short to medium distance day hikes though and I found myself calling upon it every time I was heading out for a trip that involved scrambling.
The outsole has a reasonably deep tread that provides a good bit of bite. It's not as aggressive as the grip on the Altra and Salomon shoes in this round up, but it offers more bite than the Merrell, Keen and Danner pairs.
Available at: alpinetrek.co.uk
How to choose a pair of hiking shoes
Hiking shoes actually come in a surprising amount of forms. There are out-and-out hiking shoes, approach shoes and then there are also trail running shoes. What's the difference between trail shoes and hiking shoes? Which type of hiking shoes is best for you? That all depends on your preferences and needs. Let's break down each category.
Hiking shoes
Imagine a hiking boot that has had the ankle cut off the top. That's basically what an out-and-out hiking shoe is. It'll have a grippy outsole, a slightly stiff but still slightly flexible sole, plenty of cushioning and usually a plate in the sole to block out things like protruding roots. Hiking shoes tend to have a tougher build than trail running shoes, with increased use of leather and durable nylons as opposed to mesh. The weight for a standard pair of hiking shoes will usually be around 1kg or just under 2 lb.
Approach shoes
An approach shoe is a versatile and hardy type of outdoor footwear that's specifically designed to bridge the gap between hiking boots and climbing shoes. They're usually made from materials like leather or synthetics and have grippy outsoles for traction on various surfaces. You'll also often find them with a climbing zone on the sole for tackling mild climbing sections. With features like toe protection, cushioned midsoles, and a customizable lacing system, approach shoes offer a balance of comfort and support for both hiking and scrambling.
Generally, approach shoes will be comfortable for short to medium distance hikes but might be a little restrictive on long hikes – particularly multi-day stuff.
Trail running shoes
Hikers often opt for trail running shoes for several reasons. Firstly, trail running shoes offer a balance between lightweight comfort and durability, which is beneficial for covering long distances and varied terrain. Their design emphasizes agility and flexibility, allowing hikers to navigate uneven surfaces with ease. Additionally, the grippy outsoles of trail running shoes provide reliable traction on different trail conditions, enhancing stability and preventing slips. The breathable construction of these shoes helps keep feet cool during strenuous hikes and they're often designed for fast drainage, so if your feet get wet, they won't stay wet for long.
Waterproof of non-waterproof?
The choice between hiking shoes that are lined or unlined depends on a few things. First of all, I'd say that the climate and terrain that you'll mainly be hiking in should dictate your choice. If you're likely to be wearing the shoes in some wet conditions on a regular basis, you might want to opt for waterproof shoes. If you'll mainly be hiking in hot and dry conditions, then your priority should be ventilation – and non waterproof shoes will suit you better in that case.
There's another school of thought, however and that's that non waterproof shoes are better, whatever the weather. Those who choose this approach would argue that hiking shoes are always going to let in some moisture when it rains (at the ankle), and it's better to have shoes that can let that water out. These people will therefore favour hiking shoes that have good drainage and that can dry out quickly once the conditions improve.
For me, if I know I'm going to be hiking in wet weather for hours on end then I'll favour the unlined, non waterproof approach. That's because I've had long hikes where my waterproof shoes have basically turned into bath tubs for my feet and caused what could be diagnosed as trench foot! I'll wear waterproof hiking shoes on days where I know there might be a bit of rain – but not too much – and I'll want something to keep moisture from puddles and wet grass out. Then, of course, when it's super hot and dry, I'll always favour non-waterproof shoes just to keep my feet nice and ventilated.