Will Renwick rounds up the current best bargains out there in the hiking shoe category, with affordable options from the likes of Merrell, Keen, Salomon and more
Hiking shoes are a good choice for anyone who likes to feel light-footed and prefers to not be weighed down by a boot that's high on the ankle. They're also ideal for hikes in warm and dry weather when a hiking boot might end up feeling hot and clammy. We've already looked at the best trail shoes for hiking, highlighting our favourite options that are designed primarily for trail running but that also suit trail-based adventures at a slower pace. In this instance, we're going to profile the best budget hiking shoes that are designed first and foremost for hiking, backpacking and trekking. Wondering what's the difference between hiking shoes and trail shoes? We've compiled this handy trail shoes versus hiking shoes guide to help you there. 
The most important thing to look for when choosing a pair of good value hiking shoes is comfort. If you can, it's really important to try on hiking shoes before you buy them as many manufacturers build their shoes around different lasts (basically a model of what they deem to be the average shaped human foot). That means a size 10 from one brand could fit somewhat differently to another size 10 from a different brand. 
Other things to consider include whether you want your shoes to be waterproof or not and how much cushioning and grip you'd like. You might also want to weigh up the overall durability, the thickness of the upper and then perhaps the overall level of eco-friendliness.
When it comes to choosing hiking footwear, you do tend to get what you pay for. In fact, the saying 'buy cheap, but twice' is so applicable. The options we've selected on this page are the 10 we believe will do the job that's required of them and, if you know how to clean your boots properly, you should be able to extend the lifespan you get out of them.
Top 10 Best Budget Hiking Shoes for 2023
Here are the 10 best budget hiking shoes for 2023 according to our team. We've selected a range of options to bring you the pairs we believe will offer a good balance of cushioning, protection, breathability, grip and longevity. Many of these are waterproof, though not all of them, and we'll mark this out alongside each pair.  
Merrell Moab 3 Low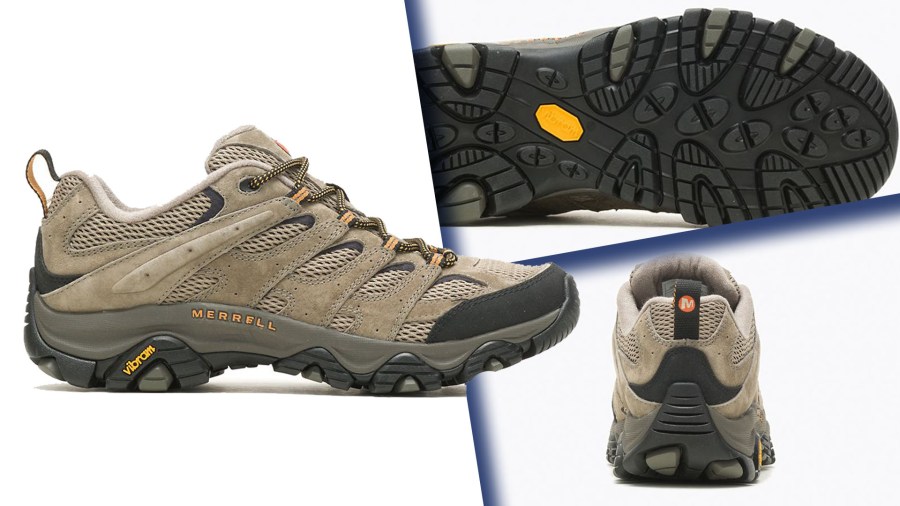 Price: $110 | £105 (Available from merrell.com)
Weight: 28 oz | 793g (men's pair size 9)
The Moab from Merrell has been one of their most popular hiking shoe over the years, with thousands upon thousands of hikers having relied on the various iterations of the shoe. This, the Moab 3, is the latest version, and it offers the same tried and tested design features and elements but with a new and improved look.
Those who've worn Moabs before will know that they have a good solid feel underfoot thanks to their midsole that's designed to shield your feet from any sharp roots or rocks. It's a stiff sole, but there's still enough flex to keep you comfortable when the mileage creeps up. 
The upper mixes leather for durability and synthetic mesh for breathability and there's a decent toe bumper to protect your toes and to protect the upper materials too. The sole compound is by Vibram and will be reliable on all but the slipperiest of surfaces. At 4mm the lugs aren't that deep or aggressive, so there will be limitations on really muddy inclines. 
This particular version of the Moab doesn't have a waterproof lining, so it'll be best suited to hikes in warm and dry conditions where breathability is more important than rain protection. 
Materials: leather and mesh upper, 100% recycled laces | Features: Kinetic Fit Advanced footbed, Vibram TC5+ outsole, Merrell Air Cushion | Waterproofing: non-waterproof though a waterproof version is available.
Available at: merrell.com

Keen Circadia Vent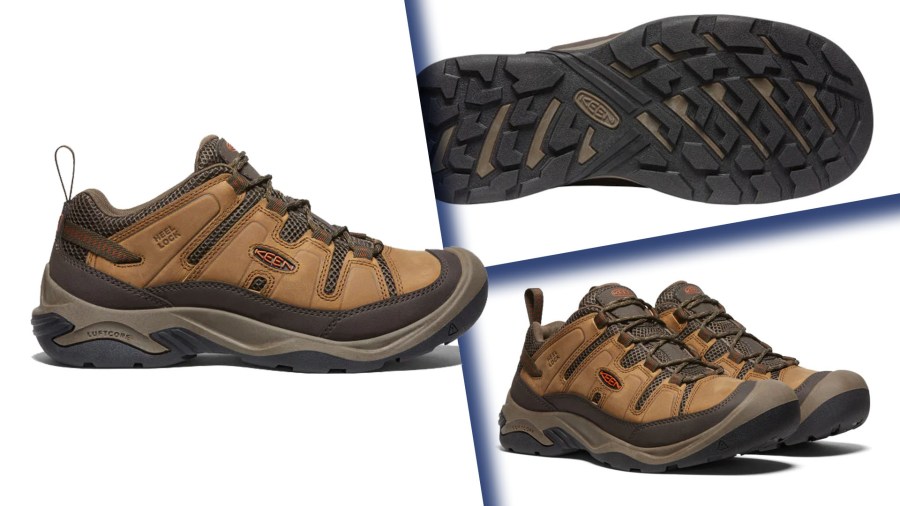 Price: $120 | £85 (Available from keenfootwear.com or alpinetrek.co.uk)
Weight: 31 oz | 900g (pair)
This budget hiking shoe from popular U.S. footwear specialists, Keen, is designed for warmer weather hiking and that means breathability has been prioritized over weather protection (in other words, it doesn't have a waterproof membrane). The upper mixes both leather and synthetics so you can expect a good balance between durability and breathability. Admirably, the leather that's used comes from a tannery that meets high standards in terms of sustainability and responsible production. Kudos to Keen for using an anti-odour treatment that contains no eco-hazardous chemicals too.
Those familiar with Keen shoes will know that they tend to have a nice relaxed fit around the toes to allow them to spread out and that's true of this particular model from them. The same goes for the toe bumper – you've got that classic chunky one that's basically a trademark of the brand.
The outsole features 5mm lugs so expect a good amount of grip on muddy or gravelly tracks. 
Materials: LWG certified leather and mesh upper | Features: Eco anti-odor treatment, Keen Luftcore foam midsole, heel lock | Waterproofing: non-waterproof, though a waterproof version is available.
Available at: uskeenfootwear.com
Berghaus Revolute Active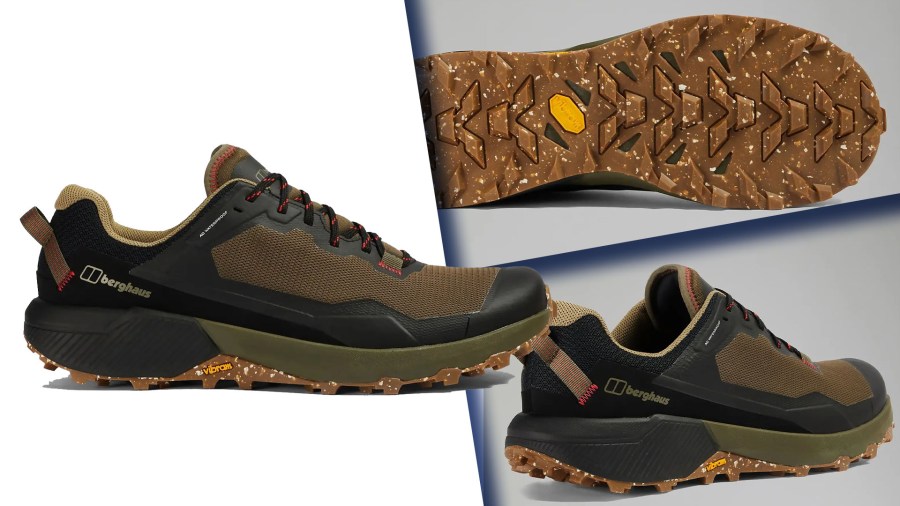 Price: £125 | International shipping available (Available from berghaus.com)
Weight: 25.89 oz | 734g (pair size 9)
This budget hiking shoe carries a lot of the same characteristics of a trail running shoe. It's light, cushioning and will offer plenty of grip thanks to its Vibram outsole. But it's also lined by an AQ lining, meaning it'll keep your feet dry through wet grass and through shallow puddles. 
Mesh lines most of the upper to create breathability and there's a TPU laminate on the toe and at the base of the upper to add a bit of protection and durability. 
Vegans will appreciate that there are no animal products used here. There are some good efforts towards sustainability too. The waterproof lining, for instance, is made from a bio-based material and no harmful chemicals are used to add water resistance. 
Handily, the Berghaus Revolute Active comes in half sizes and is available in men's and women's versions. 
Materials: 100% synthetic upper | Features: AQ bio-based lining, Opti-stud Vibram Eco Step outsole, Ortholite footbed | Waterproofing: AQ lining
Available at: berghaus.com
Regatta Vendeavour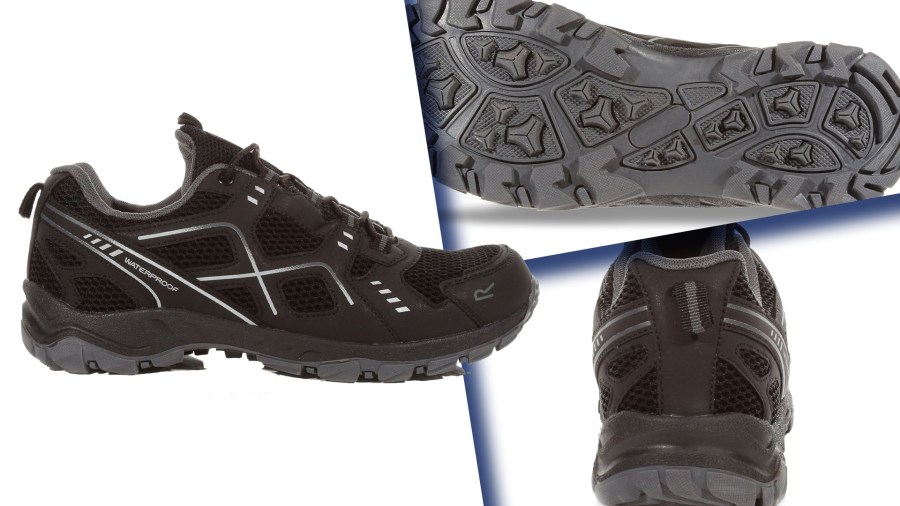 Price: $58 | £49 (Available from regatta.com)
Weight: 29.98 oz |  850g (per pair)
This has the lowest retail price of all of the budget hiking shoes on this page and, at the time of writing, it's actually on sale so it's going for even cheaper. 
The upper features an ISOTEX membrane and seam sealing for waterproofing. This is protected by a breathable mesh that's reinforced with TPU overlays.
Underfoot, there's EVA foam for cushioning and shock absorption and there's a light plate in the midsole to block out sharp roots and rocks. The outsole has fairly deep, multi-directional lugs and a slight heel cut which will give a bit of extra traction when walking downhill. 
Materials: synthetic mesh and PU upper | Features: EVA footbed, TPR outsole | Waterproofing: ISOTEX waterproof membrane.
Available at: regatta.com
Salomon X Ultra Pioneer Climasalomon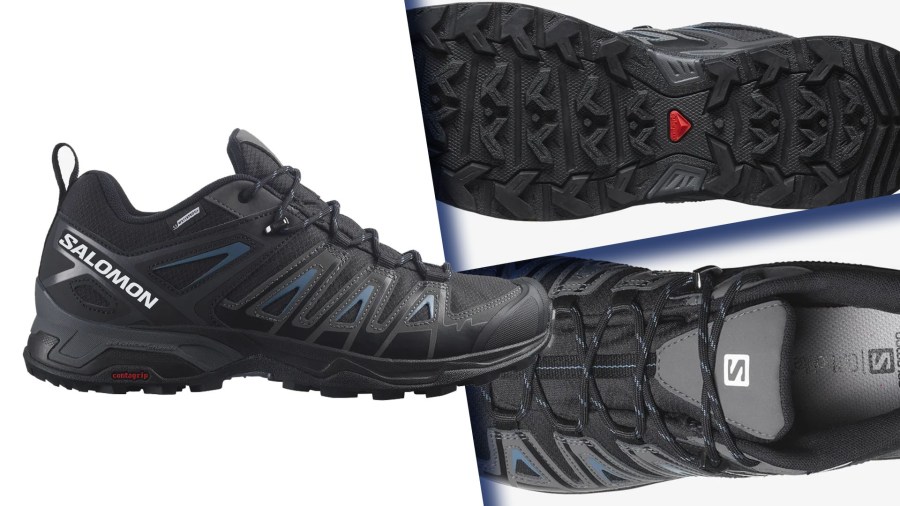 Price: £120 | $135 (Available from alpinetrek.co.uk)
Weight: 27.5 oz | 780g (per pair)
This is a good value budget hiking shoe from one of the most popular outdoor brands in the world – and one that's especially well regarded for its footwear. It features many of the French brand's popular technologies, including their proprietary Climasalomon waterproof membrane and Contragrip rubber outsole. 
The outsole looks similar to the kind of outsole you'd find on one of Salomon's trail running shoes. It's specifically designed for soft trails – so anything muddy, sandy or gravelly. 
Alongside the waterproof membrane, the upper also has a breathable mesh and a soft lining. It's designed to provide a sock-like and supportive fit. There's also an ergonomic insole that's designed to cradle the foot and keep it comfortably in place while you're contouring. 
Materials: leather and synthetic upper | Features: Contragrip outsole, Advanced Chassis midsole, EVA foam, Ortholite insole | Waterproofing: ClimaSalomon membrane.
Available at: salomon.com
Adidas Terrex Skychaser 2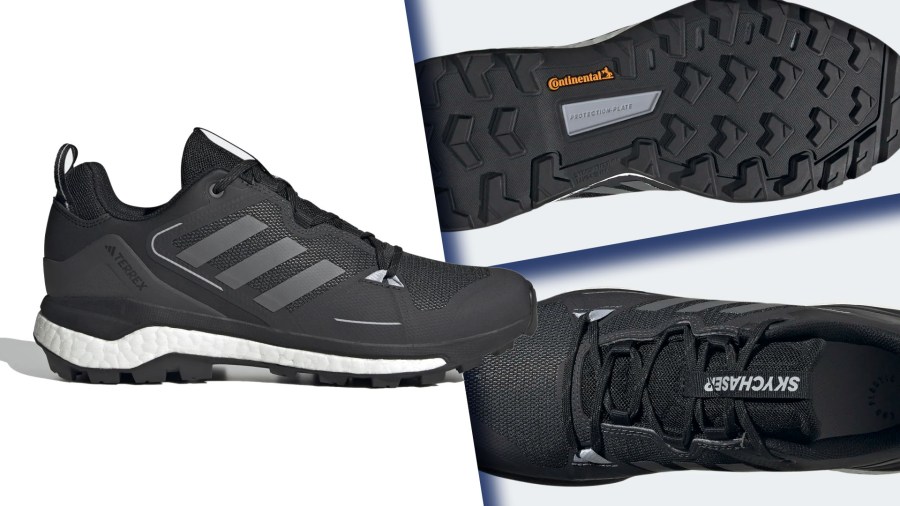 Price: $139 | £140 (Available from alpinetrek.co.uk)
Weight: 27.93 oz | 792g
The RRP might be fairly high but you can find this at great prices at a number of different retailers to work within your set budget. Adidas have designed this shoe with a wide range of terrain in mind. It features a rugged outsole for grip and traction on uneven surfaces, as well as a durable upper to keep your feet comfortable and protected. The shoe's midsole is designed to provide responsive cushioning and support. It's made from the same springy and durable Boost foam that's utilised across the majority of Adidas's range of sports footwear. 
As for the outsole, that's made from Continental rubber. Our testers here at The Great Outdoors have used a number of hiking shoes with this specific rubber compound and it's always proved versatile.

Bear in mind that this particular model isn't waterproof and the focus is instead on breathability, evidenced by the extent of mesh throughout the upper (which is made from 50% recycled materials). There is a Gore-tex version but it costs considerably more. 
Materials: 50% recycled mesh upper with TPU overlays | Features: Boost midsole, Continental rubber outsole, TPU plate and EVA  | Waterproofing: The model featured here isn't waterproof but a Gore-tex version is available.
Available at: adidas.co.uk
Quechua MH500 walking shoes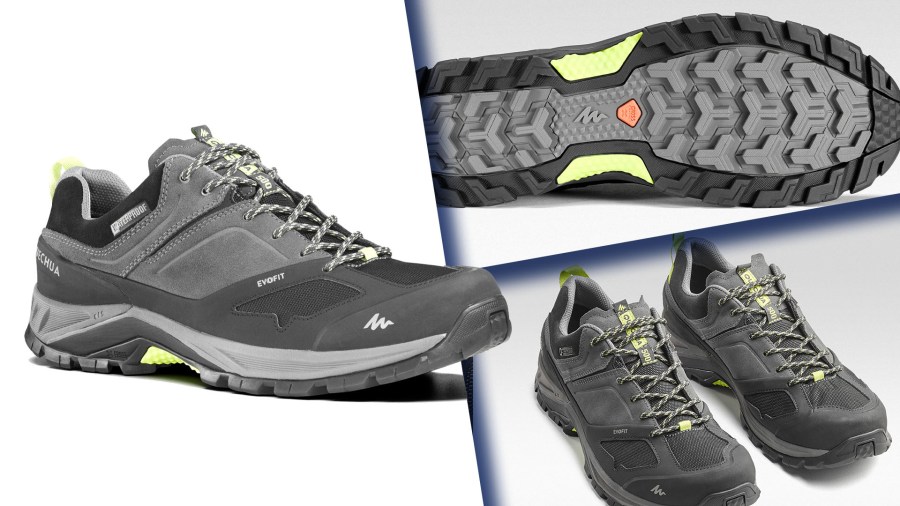 Price:  £60 | $99 (Available from decathlon.com)
Weight: 31.39 oz |  890g (per pair)
The Quechua MH500 walking shoes are designed for trekking and hiking over moderate trails. The upper is made from a mix of leather and synthetic mesh, a combination designed to balance both breathability and durability. A reinforced toe cap provides protection against rocks. 
The midsole is made of EVA foam to provide cushioning and support, while the outsole is made of a durable rubber compound for traction on both wet and dry surfaces.
The shoes have a secure lace-up closure and a padded collar and tongue for added comfort. They also feature a removable insole, which allows for easy customization of the fit or replacement with a personal orthotic.

Materials: Polyamide Upper of 46.5% Leather and 35.6% Polyurethane, Polyester lining | Features: EVOFit last, EVA foam, 5mm lugs | Waterproofing: Quechua proprietary membrane.
Available at: decathlon.com
Columbia Crestwood Hiking Shoe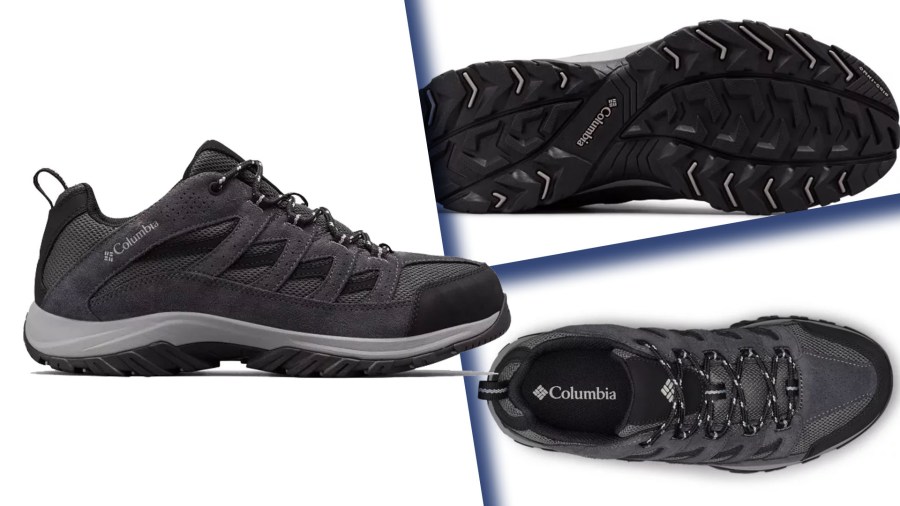 Price: $67 | £80 (Available from gooutdoors.co.uk)
Weight: 24.6 oz | 700g (per size 9 pair)
The Crestwood is a budget hiking shoe that'll be best suited to light trails and country walks in warm and dry conditions.

Like many of the other shoes in this round up, this is a shoe that has an upper that's made from a combination of leather and synthetic mesh and that means you'll get a balance between durability and breathability. There's no waterproof membrane here so these will feel very breathable, though there'll be drawbacks when hiking in these in wet weather. 
The outsole features Columbia's proprietary Omni-Grip rubber compound. This is designed to provide traction on a variety of surfaces, including wet, dry, and uneven terrain. The lugs aren't that deep or aggressive, so while you'll get a bit of grip on muddy surfaces, there will be limitations. 
You'll find this available in men's and women's versions and in half sizes too. 
Materials: leather, mesh, webbing | Features: Techlite midsole, Omni-Grip outsole  | Waterproofing: The one in profile here isn't waterproof but a waterproof version is available.
Available at: columbia.com
Halti Fara Low Freelock DrymaxX Outdoor Shoes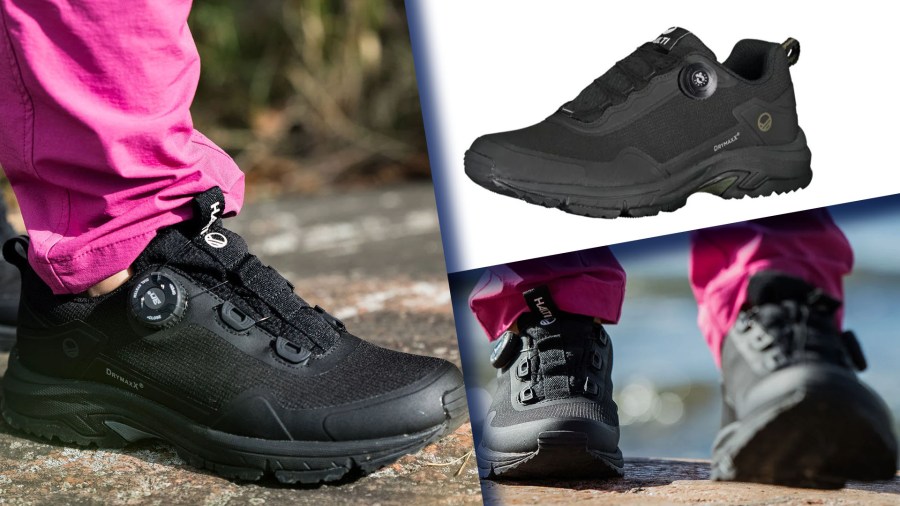 Price: $100 | £101 (Available from alpinetrek.co.uk)
Weight: 31.39 oz |  890g (per pair)
Halti was founded in 1976 by two brothers, Juhani and Martti Hyökyvaara, in the town of Rovaniemi, located in Finnish Lapland. They specialise in all kinds of outdoor gear from shoes to trousers, waterproof jackets and backpacks. 
The Fara Low Drymax is a good budget hiking shoe that brings a lot to the table. First of all, it's waterproofed by Halti's proprietary membrane and also features their own GripmaxX 'anti-slip' sole. Instead of lacing, it has Halti's clever Freelock system. This involves a cable that is tightened or loosened by a locking cog. Anyone who's used this type of system before will know that it gives for a very precise and reliable fit that never comes undone when you don't want it to.

The lugs on the outsole aren't too deep so don't expect a really aggressive grip on super slippy trails – it's perhaps more suited to light defined trails. You've also got a removable, ergonomically-shaped insole.

The upper is almost entirely mesh with a few PU overlays for durability – at the toe for instance. It's worth noting that 80% of this is made up of recycled content. Halti, we should point out, have good eco credentials that extend right throughout their entire line.
Materials: Polyester softshell upper made of recycled PET bottles, with PU reinforcements | Features: GripmaxX rubber sole, Phylon midsole, Freelock safety laces with disc adjustment, removable footbed | Waterproofing: DryMaxX waterproof membrane.
Available at: halti.com
Craghoppers Lite Leather walking shoes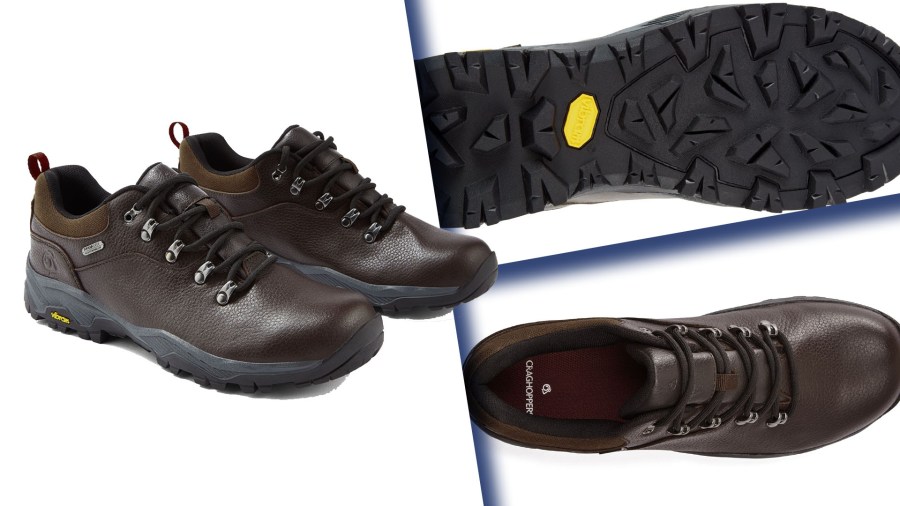 Price: £110 | International delivery available (Available from matalan.co.uk)
Weight: 33.15 oz | 940g (per pair)
The Lite Leather by British travel and outdoors brand Craghoppers will suit trail hiking, country walking and day-to-day wear. It features lightweight leather uppers with minimal stitching and it's waterproofed by an AquaDry waterproof membrane. What's more, the mesh that lines the cuff of the shoe comes treated with Craghoppers' tried and tested NosiLife treatment – that's a permanently embedded substance that actively deters insects like ticks and mosquitos. 
In the midsole there's an EVA foam for cushioning and shock absorption. As for the outsole, you can expect a fair bit of bite from this thanks to the deep multi-directions lugs and slight heel brake for downhill traction. The rubber compound is by Vibram so you can expect versatility when it comes to grip on different types of surfaces. 
Metal eyelets then round off what is a well made shoe at a very good price. 
Materials: Full grain leather upper with Nosilife treatment, polyester liner | Features: Vibram outsole, metal eyelets | Waterproofing: Aquadry lining
Available at: craghoppers.com
---
A budget hiking shoes buyer's guide
Everyone has individual preferences when it comes to choosing the right pair of budget hiking shoes for them. By and large, however, each pair should cover some essential basics. Here's what to look for when you're looking to make a new purchase. 
Comfort
This is the most obvious thing to look for. Obviously the best way to know if a pair of shoes will be comfortable will be to try them on in a store and walk around in them. Stores often have platforms that simulate different types of terrain and these are great for forming an idea about how you'll get on with the shoes. 
If you can't try the shoes on before you buy them, it's recommended that you look for shoes that are described in any customer reviews as being true to size. Looking at a shoe online, the level of breathability can be judged by the type of material used across the upper and whether there's a waterproof membrane or not. Mesh panels are a good sign of breathability. Shoes with a membrane might be clammy if you're mainly intending to wear them during warm and dry conditions. Any mention of ergonomic footbeds and shock absorption or foam cushioning underfoot also tend to be good indicators of comfort.
Traction
The sole on any hiking shoes is normally the main thing that sets them apart from just normal day-to-day shoes or trainers. On hiking shoes, you want an outsole that has a tread with deep lugs – kind of like on the wheel of a tractor – and a rubber compound that is sticky in the sense that it will grip onto any smooth surfaces – stuff like slimy rocks and roots. Ideally look for anything with lugs that are multi-directional and over 4mm in depth. A bit of space between the lugs is a good thing as this means they're more likely to shed mud rather than get clogged up by it.
Weight
Many choose to wear hiking shoes instead of hiking boots because they tend to be much lighter. It's worth remembering that the weight of your shoes is weight that's carried and for days with big mileage every extra gramme can count. 7 oz / 200g per shoe will be at the lighter end of the scale and anything at 17 oz / 500g or over will be at the heavier end.
Waterproof or not waterproof?
There's quite an even split between waterproof and non-waterproof hiking shoes in this gear guide. Whether you want the protection of a membrane really depends on your own preference and perhaps more importantly the type of conditions you'll be hiking in. If you're planning on hiking in wet weather, where puddles and wet grass will be expected, then you'll want a pair of shoes that are lined with a membrane. Conversely, if you're mainly going to be hiking in warm and dry conditions then unlined shoes will keep your feet cooler, less sweaty and ultimately less at risk from blisters. 
Waterproof walking shoes can have their drawbacks in certain wet conditions. If you're hiking in heavy and prolonged rain or through long, wet grass without gaiters or waterproof overtrousers, it's likely that water will get in through the top of the shoe, and when it's in it'll stay in. With non-waterproof shoes, water might get in but at least it can also get out. So, if you choose waterproof hiking shoes for wet weather use, just be mindful that you'll often need to wear them with something to block out any moisture entry at the ankle.
Lifespan
As we mentioned in the introduction, you do tend to get what you pay for with hiking shoes and hiking footwear in general. In many cases, hiking shoes that are very cheap will be quite flimsy and won't last long. To avoid getting caught out by this, look to buy from a reputable brand, particularly one that is a footwear specialist rather than one that has a product for everything. 
It's also a good idea to look for shoes with uppers that aren't made out of loads of different parts. The more parts there are, the more stitching there tends to be and that then means a greater risk of things starting to come apart. If your last pair of shoes wore out, have a think about where it was that the problem occurred and look for shoes that might be particularly durable – or flexible – in that specific area.