Lightweight boots with an unusual sole
Swiss company On Running has launched its first lightweight hiking boot, the Cloudrock Waterproof, using the same Zero-Gravity CloudTec  technology as it's running shoes.  The boots have a distinctive sole with slots running through the sides of the lugs at the front and mid foot.  These compress when weighted, cushioning the foot. The lugs are solid at the front, providing a firm platform for when you push off. I can see this design might work well for running. For walking I didn't notice any significant difference with other well-cushioned lightweight boots.
The deep sticky rubber lugs grip well and have coped with wet rock, dry rock, wet grass, boggy ground and mud. The last did lead to some clogging, though no worse than with other boots. The slots in the sides of the lugs pick up mud too. Above the lugs is a synthetic plate called the Speedboard. This is designed to enhance the rolling motion of the boots. It also provides torsional stiffness.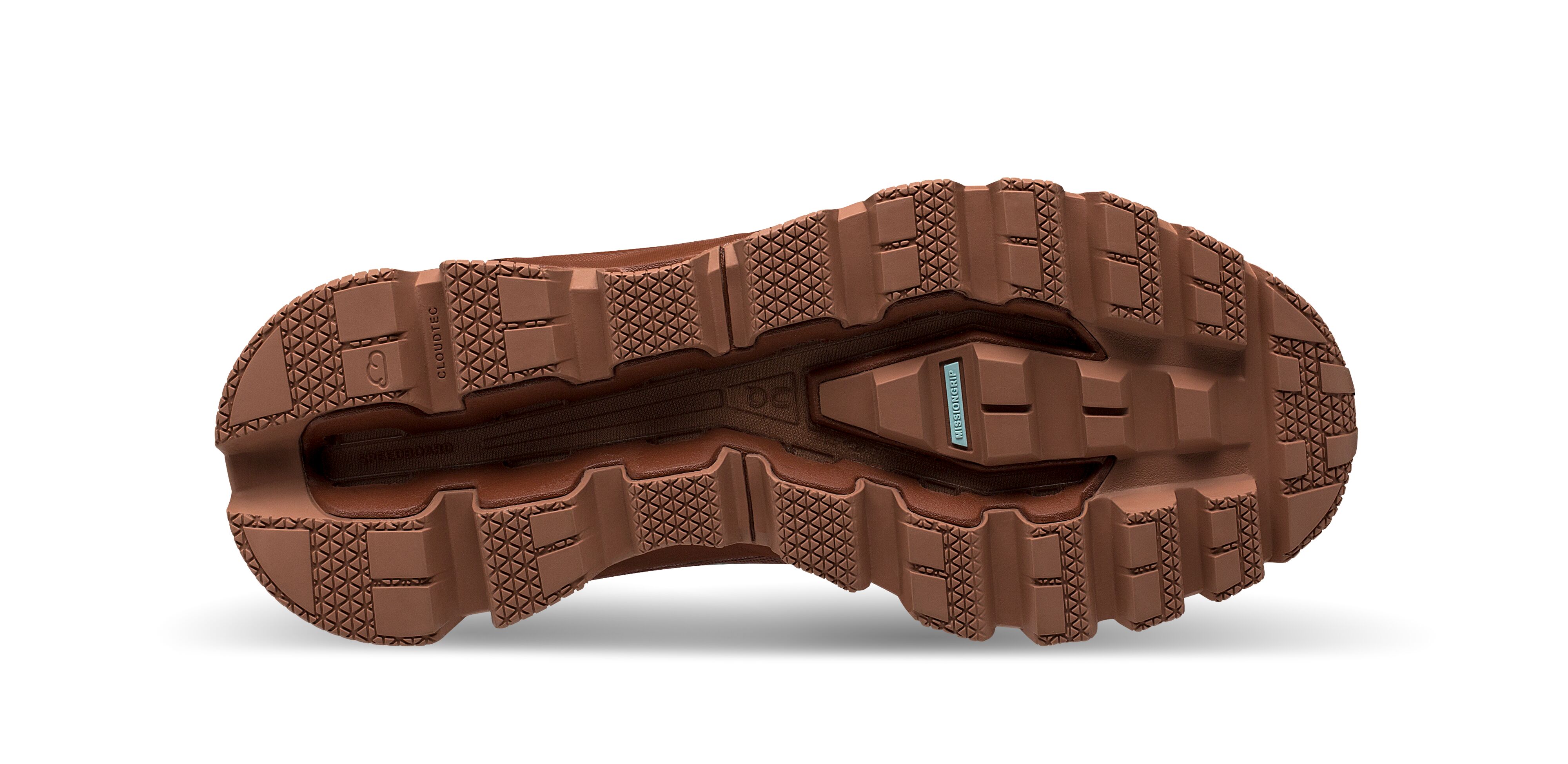 The uppers are made from mesh with reinforcing strips over the forefoot and a wide protective rubberised rand. The toe and heel are reinforced and quite solid. The mesh is firmer in the midfoot for support and more flexible at the forefoot. The tongue and collar are well-padded. Lacing is via eyelets and two upper hooks. The laces can be tied normally or just pulled tight and the ends tucked into little pockets on the sides of the tongue. On call this speedy, one-pull lacing. It works but I found tying the laces quicker.
Inside there's a waterproof/breathable membrane. This has certainly kept any water out, but it does make the boots quite warm. I've worn them in snow and my feet haven't got cold. On warmer autumn days my feet have been quite hot. And that's wearing lightweight socks.
The test pair of size 9s weigh 944 grams. On says the boots are 35% lighter than competitors. I don't know who they mean but I reviewed three pairs of boots earlier in the year that weigh less.
The forefoot fit is moderately wide. I can wear them with light socks but not thick ones. The fit around the heel is snug and the boots feel secure with no heel slippage.
If they fit properly the Cloudrocks are good lightweight hiking boots. I don't think they're quite as innovative as On makes out but there's nothing wrong with them.
£180