Lightweight wide-fitting trail shoes
Last year I reviewed the Altra Lone Peak 2.0 shoes, which I really loved as the wide fit was perfect for me. They're designed for trail running but proved just as good for hillwalking and backpacking. I wore them on the TGO Challenge and they were excellent. There have been a few versions since then, the current one being the 3.5. I've been trying these recently and like them just as much as the 2.0. I think they should prove more durable too though finding that out will take much more wear.
The distinctive features of Altra shoes are the wide toebox, designed to allow your toes to spread, and the zero drop sole unit, that is one where the heel and toe are the same thickness. The zero drop doesn't mean thin soles though and the Lone Peak 3.5, like the 2.0, is well-cushioned with a thick midsole.
I've been trying the Lone Peak 3.5 shoes on several hill, moorland and forest walks up to 8 miles in length and have found them very comfortable and secure. The tread grips well on a wide variety of terrain. On the 2.0 I did find the small triangular studs at the toe wore out fairly quickly. The 3.5 has hexagonal studs that are bigger and should wear better. They do clog up a bit on muddy ground as the photo above shows.
The uppers are a bit more substantial than on the 2.0 with less mesh and more strips of firmer material. Again this should lead to better durability. It also makes the shoes a little warmer. At the back of the heel there's a 'gaiter trap', a Velcro tab designed to hold trail running gaiters in place. I haven't used this but I can see it being useful. The toe and heel are stiffened.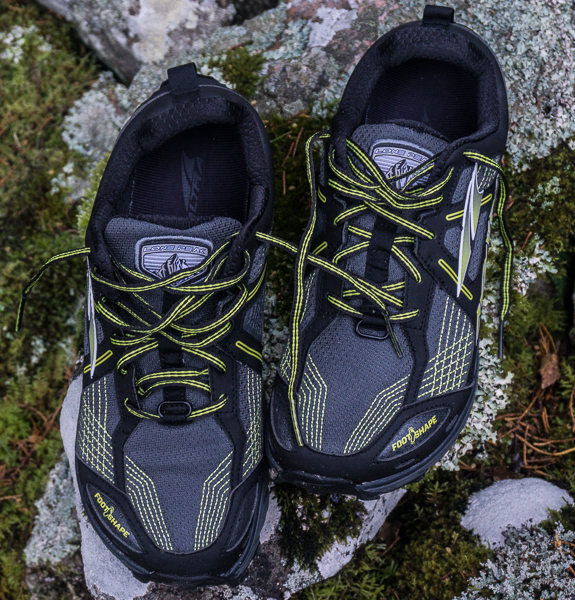 The shoes are flexible toe to heel or easy walking. Side to side there is some stiffness, which is good when traversing steep and rough ground.
The fit of the size 9s is a little snugger than with the 2.0. At first I thought the shoes were narrower but when I compared them with the 2.0 I found that they're actually slightly shorter. This combined with firmer uppers which don't have as much give is the reason they don't feel as roomy as the 2.0. For day walks with a light pack this hasn't been a problem but for a multi-day backpacking trip I'd go half a size up.
Despite feeling more durable the Lone Peak 3.5 actually weigh less than the 2.0 – 622 as opposed to 702 grams.
If you have wide feet and narrow heels, as I do, then the Lone Peak 3.5 are an excellent choice. The price is quite high but I expect them to last well.
£120