TGO Editor Emily Rodway and partner John Chivall head into the Highlands to test backpacking gear suitable for camping with young children
This feature was first published in the June 2018 issue of The Great Outdoors
Taking a three- and a five-year-old on their first wild camping experience in the Highlands was always going to be a challenge, especially when we wanted to do the trip by train and on foot. We had several requirements for our gear: it had to pack down small enough to fit the entire family's overnight kit into just the adult's rucksacks; it had to be light enough for two adults to carry everything; it had to be robust enough to cope with excited small people potentially spending lots of time inside the tent in case of terrible weather. In the end, on our trip to Corrour and Arisaig, we experienced both cold and warm nights, heavy rain and blazing sunshine, and a fair amount of walking with our packs.
---
Dressing children for camping
Camping at an altitude of around 450m at the end of a cold winter, we had to ensure the children were suitably warm and protected.
Footwear: The children both wore Bogs Boots, which were perfect for splashing about in burns and in the sea as well as for wading through actual bog, at which point the boys gleefully chanted: "It's ok, we've got Bog Boots (sic)!"
Socks: Take plenty of spares! Although children's feet don't get as sweaty as adults', they are experts at getting wet and dirty.
Sleepwear: We dressed the children for bed in long-sleeve base layers from Reima and Didriksons that could double up as insulating daywear.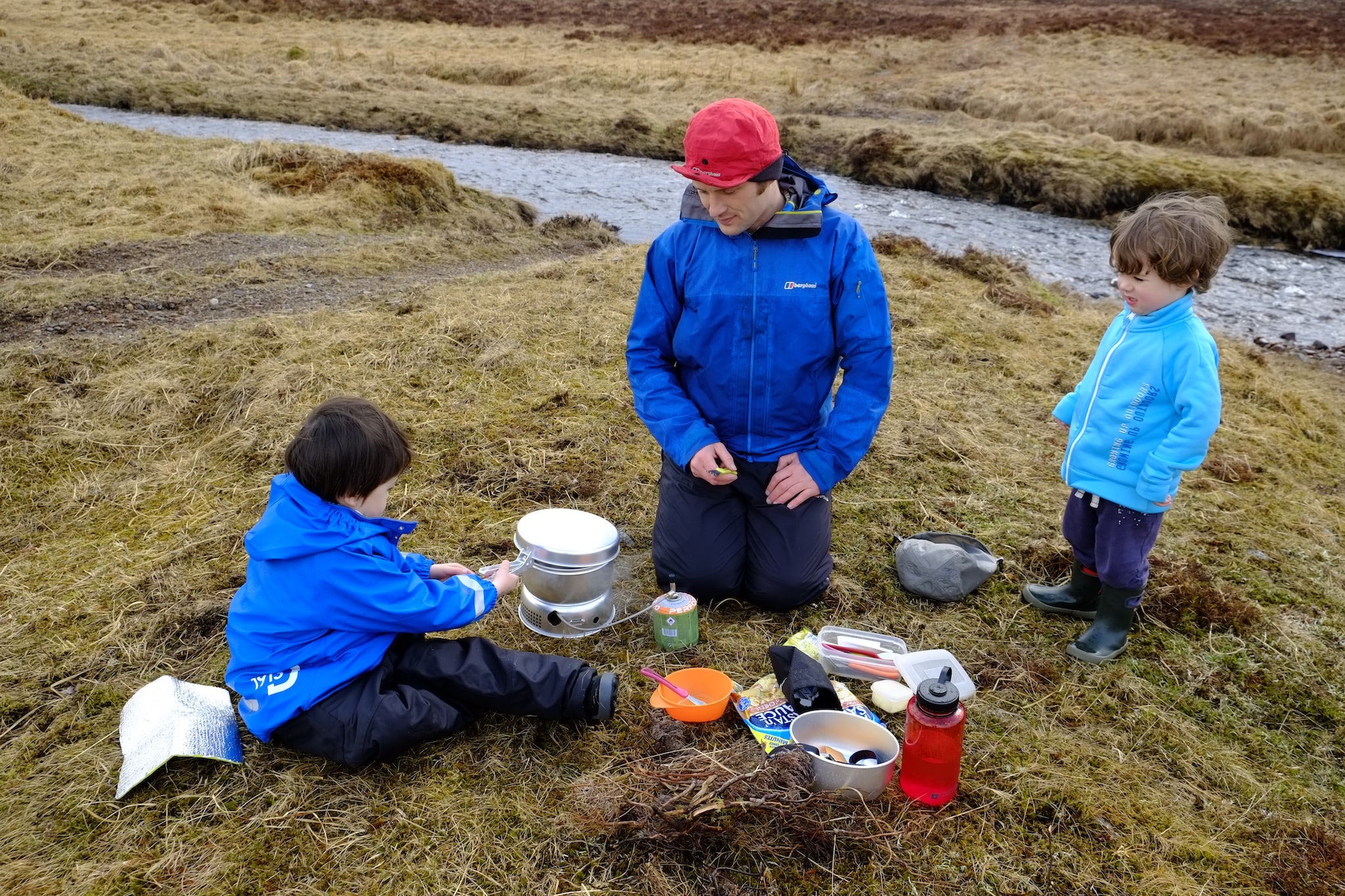 Clothing: The children wore plentiful layers, including tough Reima Lento waterproof trousers, Reima Bro fleeces, a Reima Fleet Down jacket, Didriksons Slaskeman overalls and waterpoofs, Reimatec Tag 3-in-1 jacket, and Isbjorn Trapper trousers and Lynx Microfleece.
Packs: Our youngest took an eight-litre Deuter Schmusebär rucksack. Our eldest took his schoolbag, complete with pencil case. Both ended up being carried by the adults!
---
Tent
MSR Papa Hubba NX
£600 / 2.96kg / msrgear.com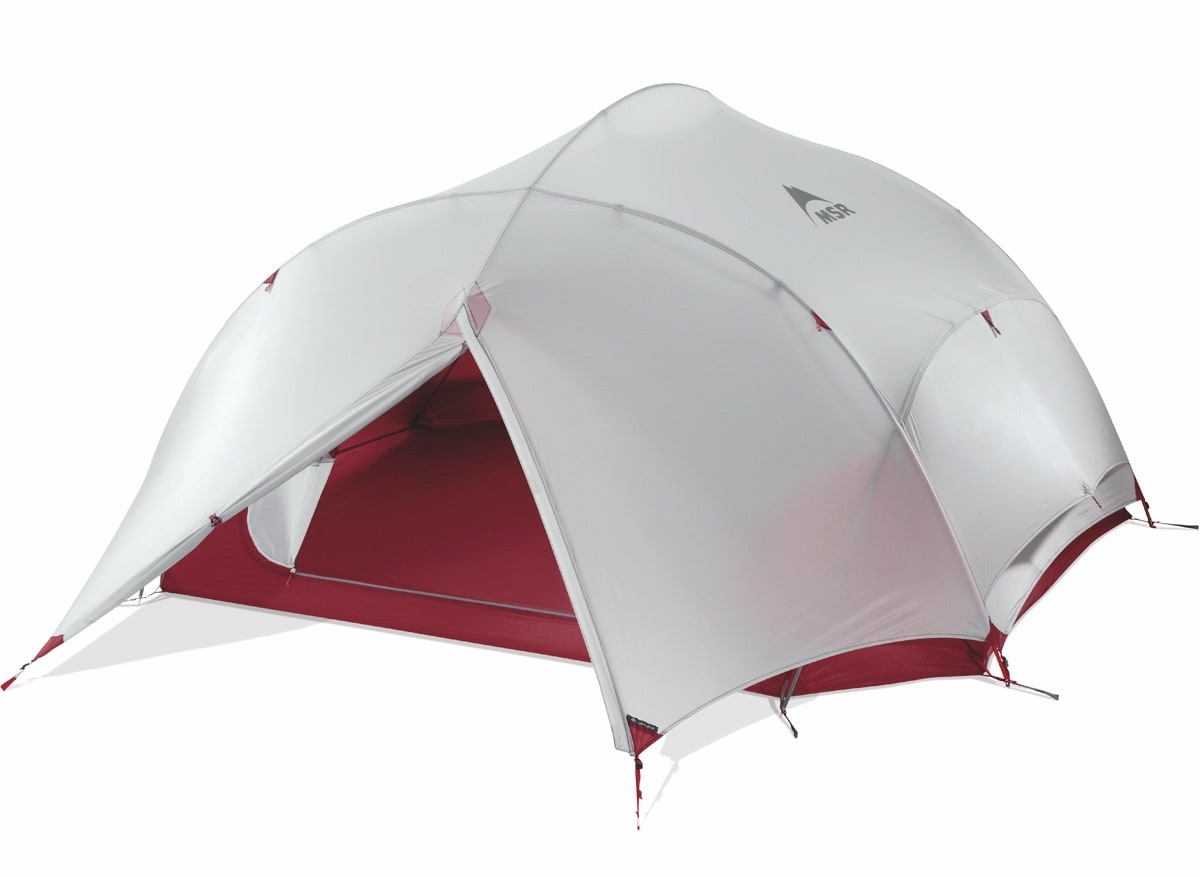 This 4-person tent is the largest in MSR's backpacking range. It's effectively a dome-shaped development of the Hubba linked-pole system that MSR have used successfully for years. The poles are industry standard DAC Featherlite NSL aluminium alloy, with the main poles linked in an 'H' shape forming the main structure and two auxiliary poles supporting the tent sides. The poles fold down to 53cm long – short enough to fit inside most packs of 40 litres and up – and the whole tent weighs 2.67kg without its stuff sack. The tent is freestanding, and pitches inner first with the main tent hanging from the poles by clips, and the rain fly going over the top. With practice, it can be easily erected by a single person in under 10 minutes. It's supplied with 16 lightweight red-anodized aluminium square-profile stakes and six reflective guylines.
Our first night out, on the moor near Corrour station, was cold with a moderate breeze and a couple of heavy showers – one of which came just as we were getting the tent up. This is always a disadvantage of tents with inner-first pitching – despite being exposed to the rain for less than 5 minutes before we got the fly on, the floor and walls of the inner were wet enough that we had to towel them dry before we could unpack. At least this is the kind of job that small children find fun!
The tent has doors and vestibules at both ends. The shape of the tent means that it's best to pitch with one door facing into the wind. There are guying points on the tent sides although lines aren't supplied fixed to these, so we moved two guys from the lee end onto the sides to keep them from flapping. In stronger winds two more guys would be helpful, but you'll have to supply your own for this.
Inside, the tent is very roomy, with space for four adults to sleep and 112cm of headroom for sitting up comfortably – our 5-year-old was able to stand up straight. The vestibules were big enough that we were able to stow both our 80-litre expedition packs in one end, leaving the other free for boots and waterproofs. Four mesh pockets provided enough places to stash kit off the floor of the inner, and there's small loops in the inner roof that a utility line can be strung from if desired.
The tent is well ventilated, thanks to large areas of mesh in the walls and doors of the inner and a large adjustable vent on each side of the fly. Even with all doors zipped up and the vents closed, we had no condensation in the first night with the breeze. We did need to partially undo the zips and open the vents on a subsequent still night near the coast though. Despite the venting, the tent is warm enough for spring and autumn use, and in dry warm weather you could be optimistic and leave the rain fly behind to have a 400g lighter and very well-ventilated midge-proof shelter.
As a lightweight shelter for our family of four, the tent performed very well, giving us enough room to sleep, dress and play, and packing down small and light enough to easily carry.
---
Sleeping mats
We tried four different mats from three different manufacturers, swapping them between us each night to be able to compare. All the mats were supplied with stuff sacks and repair kits.
Multimat Trekker 25 S
£30.99 / 890g (without bag) / multimat.uk.com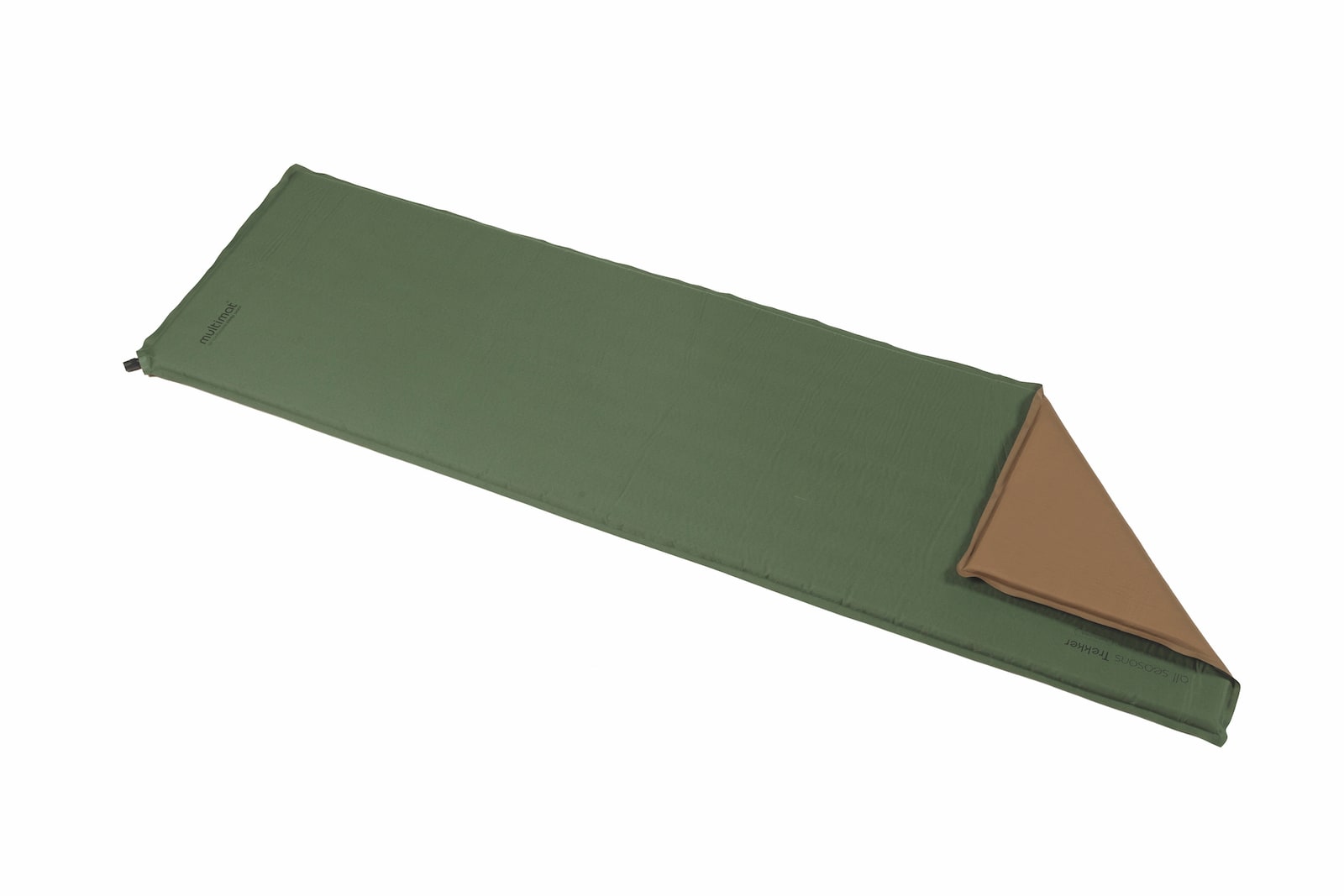 The Multimat Trekker foam-filled self-inflating mat comes in two lengths – 183cm and 122cm. We took the shorter one with us as it's lighter and two of our campers were shorter than that anyway! This is a well constructed and durable mat, with a tried-and-tested design. It's not as light for the length and doesn't pack down as small as some of the other mats we tested, but it's robust enough to cope with small people jumping on it and the dense foam inside makes it warm enough to sleep on without cold spots. The outer fabric is a tough nylon that has enough friction to prevent slipping about. This is a good-value, no-frills mat that does a decent job at a half the price of the other mats here, but if you're after a lower weight you'll need to spend more.
Thermarest Neo Air All Season SV R
£149.99 / 680g (without bag) / thermarest.com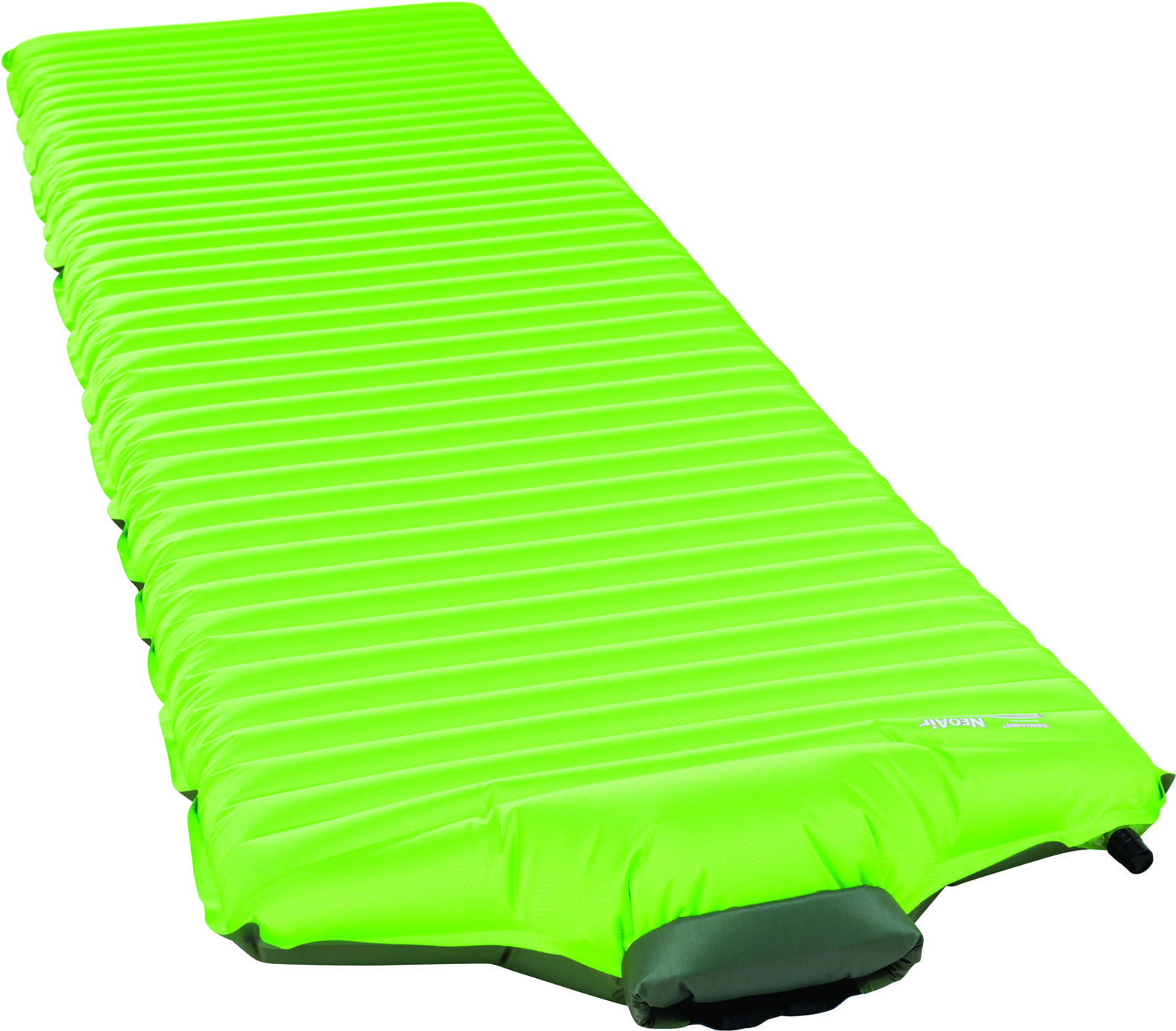 This 4-season air mattress has a comparatively huge volume, lofting to over 6cm thick. Handily, it has Thermarest's SpeedValve system for inflation, which does make it very quick to blow up. The SpeedValve is a simple loose open bag inside a roll-top entry, into which you blow from about 10-15cm away. The wide opening lets air be drawn in alongside your breath using the Bernoulli principle, which effectively amplifies your breath. It sounds gimmicky but it really does work to get the mat inflated quickly before you roll the opening down and clip it shut like a drybag. Pressure can be then be adjusted easily using the standard valve. The downside of the system is around 80g of added weight. In use, the mat is very comfortable, and it's thick enough not to get cold spots at pressure points. There's layers of reflective material and baffles inside the air chambers which make it easily warm enough for year round use. It's fairly noisy though, crinkling and creaking when you shift around on it, and doesn't pack down nearly as small as the Exped mat we tested.
Thermarest Trail Pro R
£95 / 740g (without bag)  / thermarest.com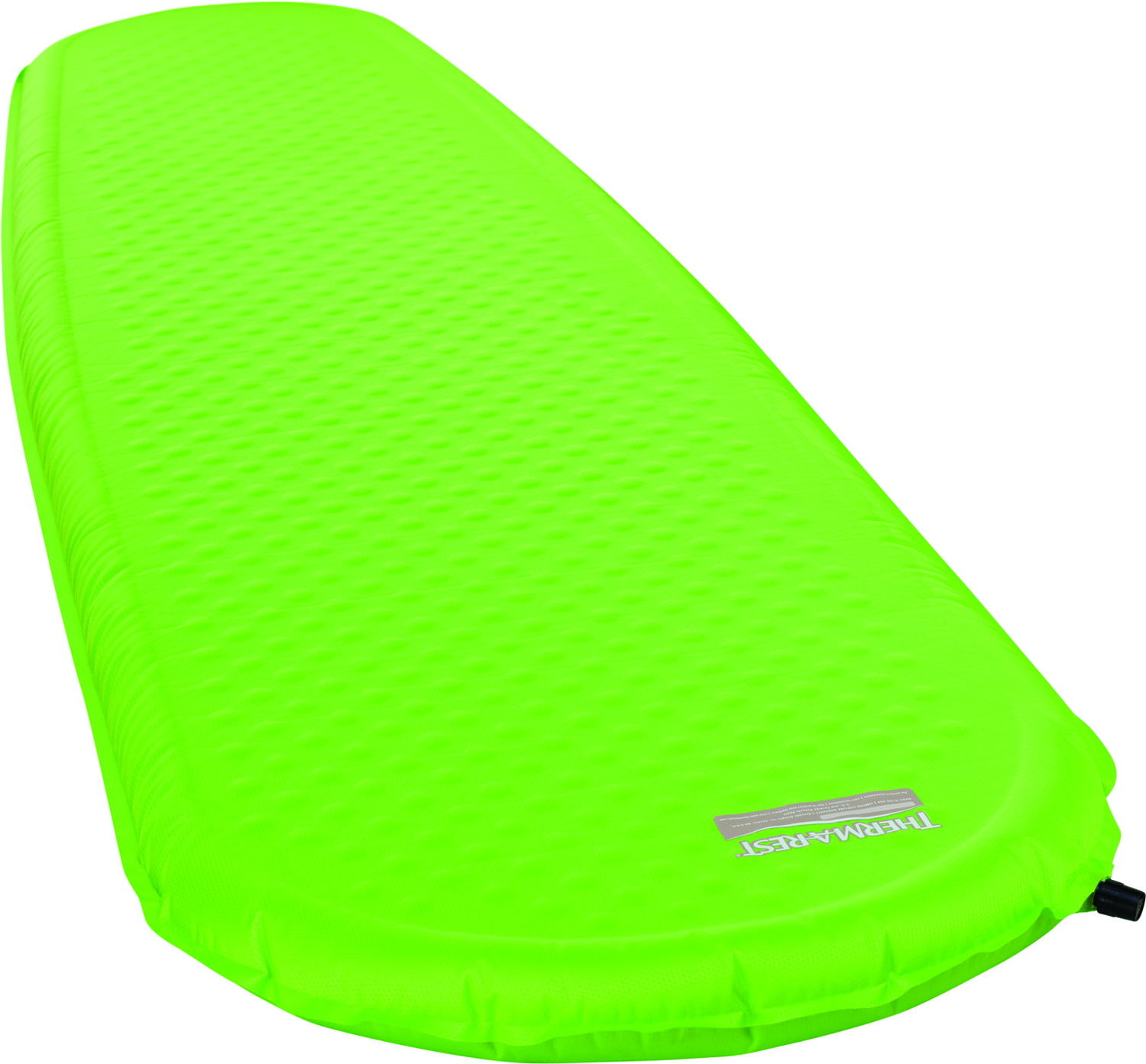 The Trail Pro is an exceptionally thick and plush foam-filled self-inflating mat. It's cut in a tapered mummy shape unlike the other mats on test which were all rectangular. Impressively, it packs down to the same size as the full-length Multimat Trekker 25 despite being twice as thick when inflated – it's just over 5cm. The generous amount of foam inside means that it doesn't need to be at uncomfortably hard pressure to avoid cold spots at hip and shoulder when sleeping on your side. Some weight and bulk is saved by having no foam in the outer 5cm of the mat – there's air-filled bolster tubes instead. It weighs just under 750g, which is a reasonable sacrifice to carry in return for a very warm and comfortable night's sleep.
Exped Synmat UL
£144.99 / 475g (without bag) / exped.com


This had the smallest pack size and lightest weight by far of the mats we tested. It's an air mattress that comes with a silnylon pump bag which can be used as a stuff sack for clothes or other kit. Inflation using the pump bag takes a bit of practise but is efficient once you've mastered the correct technique (actually reading the instructions helps!). There's two flat valves for inflation and deflation. A thin layer of synthetic insulation that lofts as the mat inflates makes it impressively warm to lie on given the low weight, but it's easy to create cold spots when not fully lying down. During our trip this mat suffered a mysterious scissor attack –­ the 5-year-old claimed it was something to do with ninjas – which left a 2cm-long gash. This took about 30 minutes to fix permanently using the repair kit that came with the mat. Sharp implements aside, the material of this mat is surprisingly tough and a silicone pattern stops it being slippery. The first night we used this mat, it slowly deflated during the night, but on subsequent nights it stayed up with no problems. We can only think that the flap in the inflation valve wasn't properly seated that first time. This would be a great mat for solo backpacking year round, and its tiny pack size was very helpful.
Thermarest Synergy Sheet Coupler
£46.99 / 320g (without bag) / thermarest.com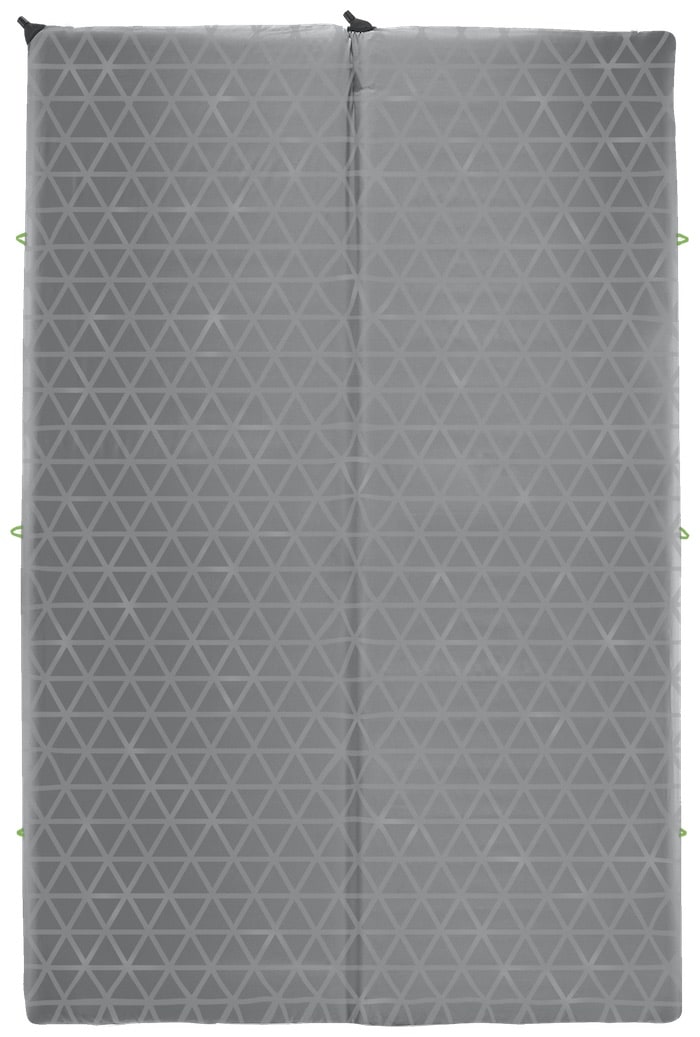 A bit of a luxury for our trip. The Synergy coupler is a sheet with elasticated sides and two straps underneath. It goes over two sleeping mats and holds them in position side by side, effectively creating a double bed. It's quick to fit the sheet over the mats and do up the straps, which can then be tightened to draw the mats closer together and reduce the gap between them. This was useful for our 3-year-old who likes to have a cuddle in the night – he could snuggle right up to mummy without ending up falling down a gap onto the cold ground. We tried different combinations of mats with the coupler, and all worked well, even the mummy-shaped Trail Pro. It was best to have two mats of similar thicknesses but it didn't make a huge difference. The brushed polyester material added some warmth and comfort.
---
Sleeping bags
Deuter Little Star EXP
£65 / 700g / deuter.com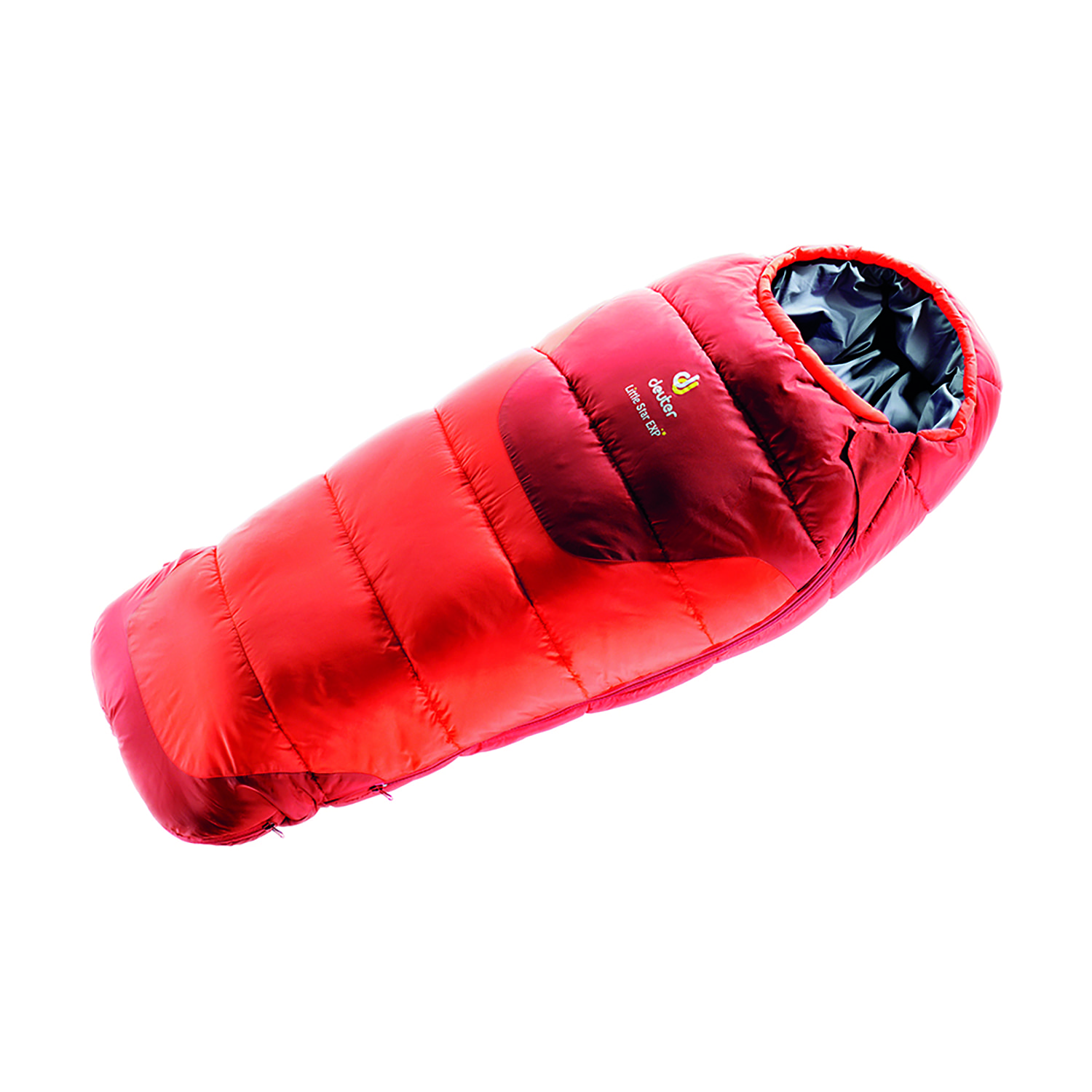 Each of the children slept in one of these bags. Filled with synthetic hollow-fibre insulation, the Little Star is easily washable – a must for a child's sleeping bag – and warm. Mummy shaped with a hood, there's also a zip to allow the bottom section to expand meaning the bag will last a growing child for several years. With the bottom section zipped short, smaller children are snug. The hood doesn't have a drawcord to avoid strangulation hazard with young children. The bag packs down into its stuff sack as well as any synthetic bag, and at 700g it's not too heavy for an adult to carry on a child's behalf.
Sea to Summit Thermolite Reactor Extreme liner
£60 / 399g / seatosummit.co.uk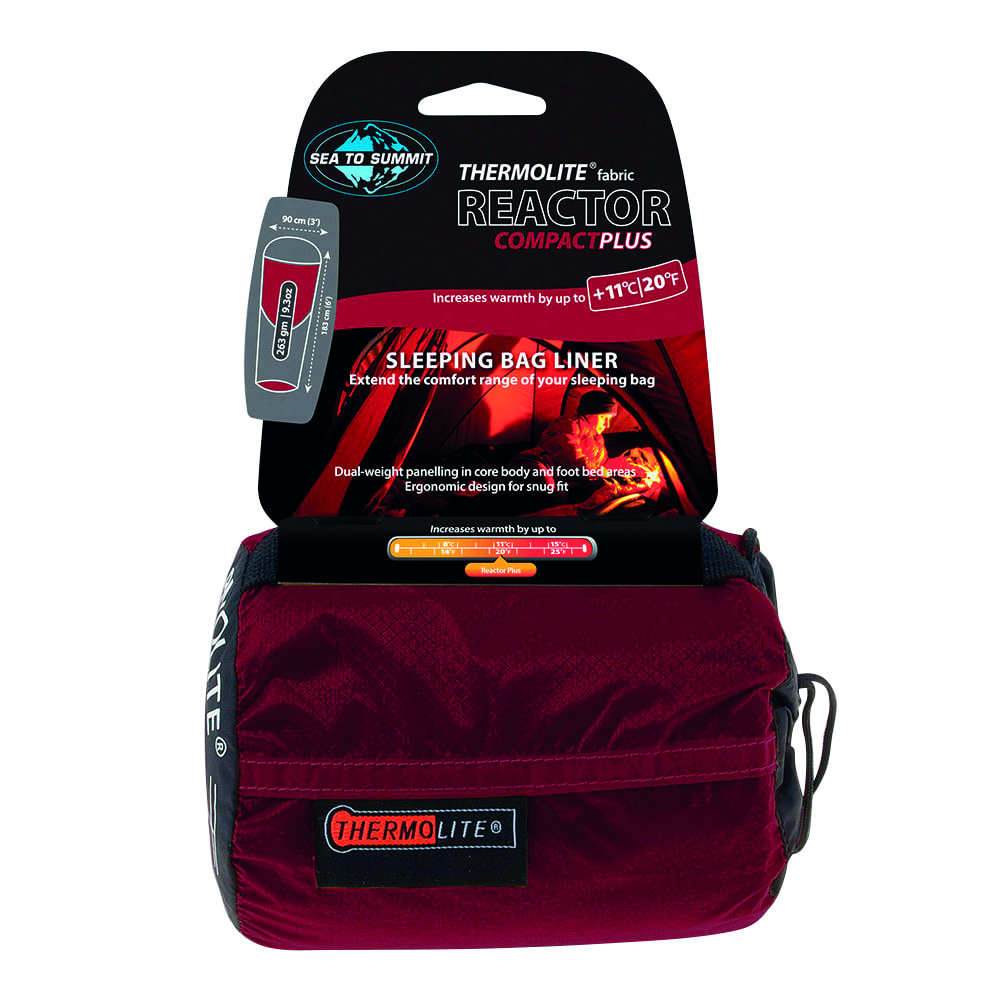 We took two of these liners on the trip with us, knowing that our first night out would be at 400m altitude at the edge of the Rannoch Moor. Made of stretchy Thermolite fleece, the Thermolite Reactor Extreme is claimed by Sea to Summit to add as much as 15˚C to the temperature rating of a sleeping bag. It's soft to handle, with striking red sections that make it quick to find the open end. There's a drawcord which needed careful management from the adults to make sure the kids didn't get wrapped in it while they slept – if we were going to use these liners with the children regularly we'd probably cut the drawcords out. The children both slept in one of these inside their Deuter sleeping bags, and were very warm even when outside temperatures dropped to just above freezing. On warmer nights, the liners weren't needed at all.
---
Stove
Trangia 25-1 UL with gas burner
£110.99 / 915g / trangia.se


To make things easier and safer for us to cook with young children around, we needed a stove that was stable and burned gas rather than liquid fuel. We also needed a pan set of reasonable capacity to feed four of us. We went for the classic Trangia stove – a tried-and-tested design that's very stable in use. The 25-1 UL comes with a pan grip handle, two pans – 1.75l and 1.5l – and a frying pan that doubles as a lid. The stove and pans nest inside each other to pack, with a strap keeping everything together in transit. To use, the windshield twists on to the base, and the pan sits on supports inside the windshield. The gas burner replaces the traditional liquid-fuel burner and has a braided metal hose that feeds through a hole in the base to connect to a standard gas canister.
The windshield is very effective at keeping heat around the pot even in strong winds, giving fast cooking times and saving on fuel. Like many gas stoves, controlling the heat is a simple turn knob at the canister which gives fine adjustment. A full pan of water with the lid on can be boiled very quickly at full heat, although the burner's minimum output is a high simmer rather than anything gentler.
The wide base makes the whole setup very stable even with a full pan of water on the go, which means there's less chance of an errant child knocking the whole thing over. Gas can be turned off instantly and can't spill burning fuel onto the ground, reducing the risk of fire compared to a liquid-fuel burner
Any cooking system is a compromise between weight, size and usability. The Trangia is a larger and heavier than many backpacking stoves, but it wins for stability and efficiency.