Will Renwick tests out a new Nikwax Analogy jacket by Paramo
---
The Velez is a lighter offering by Paramo that's aimed at high tempo outdoor pursuits such as trail running, cycling and climbing.
The jacket is made from Nikwax Analogy which is a waterproof fabric synonymous with Paramo. It doesn't feature a conventional waterproof membrane but instead combines a windproof outer fabric with an inner lining that's able to efficiently direct water away from the body. Analogy has been tried and tested by us before and we've always been impressed.
With the Velez this Nikwax Analogy is lighter and thinner than the versions used in Paramo's other jackets. It's also been swapped for the even thinner (and 20 per cent lighter ) Analogy Light in certain panels, including on the lower arms, around the neck and around the hem. Altogether this blend of Analogy fabrics means that while other Paramo jackets such as the Alta 2 and the  Pajaro weigh between 840 to 900g, the Velez is only 600g (size M).
The Velez is also much more breathable than other options by the British brand thanks to the zips on the inside of each arm, plus hand pockets on the chest that all open up to wide meshing allowing air to channel right under and around the outer fabric.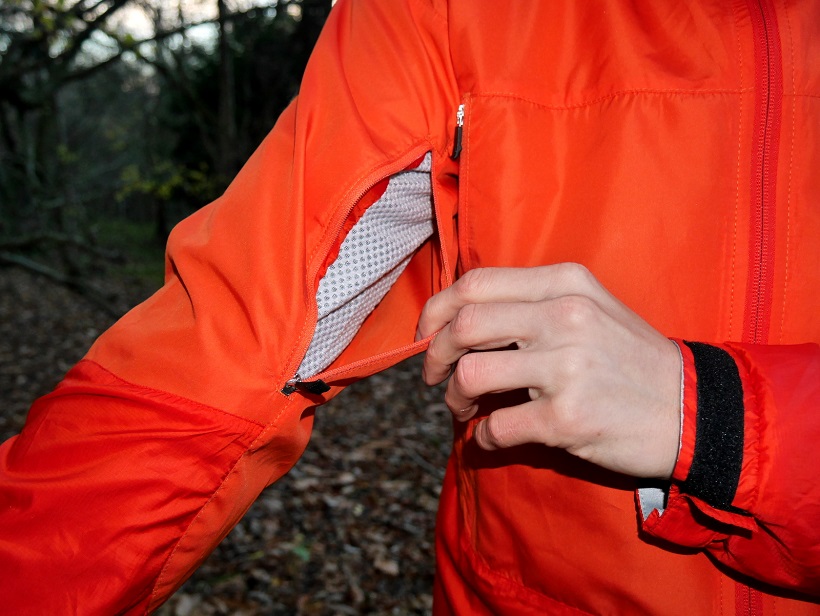 So how does the performance of the Velez compare to typical waterproof jackets for high tempos?
Well, despite its use of thinner fabrics, it's still a fair bit thicker than typical lightweight Gore-Tex or eVent membrane jackets, especially around the chest, and it's therefore a touch on the warm side so it makes for a hot run or cycle in anything other than winter conditions. At 600g it's not the lightest either. On the plus side, the Nikwax Analogy fabric is smooth and quiet – no irritating rustling.
Its levels of waterproofing and breathability make this an excellent jacket for hiking in though, and there are some nice design features, including subtle reflective tabs, a fully adjustable hood with a wire peak and zipped pockets inside the vented hand pockets. Those who've found Paramo's fit a little on the baggy side before might appreciate the more athletic trim and shorter hem of the Velez as well.
Best of all, while some membrane waterproof jackets rely on environmentally hazardous fluorocarbons for waterproofing, the Velez stays well clear of them and its production is ethically sound also – Páramo works with the Miquelina Foundation in Bogotá which gives vulnerable women training and employment, and helps to care for and educate their children.