The Alpkit Polestar received a top rating in Chris Townsend's review of the best solo tents for 2022.
The Alpkit Polestar one-person tent has an innovative, unusual design. Most shelters that require trekking poles to pitch are ridge tents or pyramids with upright poles. With the Polestar the poles are angled and cross near the top. They are situated at one end of the tent. To give it a little height (though it's still quite low at 45cm) the other end has a small arch pole.
Price: $170 | £150 (buy from Alpkit)
Weight: 910g
Pros: light, innovative pole use, tough groundsheet, stability, low cost
Cons: small porch depth
Flysheet: 20D polyester ripstop silicone/PU, 3000mm HH | Inner: 20D nylon ripstop/mesh | Groundsheet: 20D ripstop polyester PU, 5000mm HH | Poles: small 7001 alloy, 2 trekking poles also needed | Pegs: 8x 16cm V | Porches: x 1, 50cm deep | Inner Dimensions: 200cm x 80 /65 cm, 90cm high point
The fabrics feel tough and hydrostatic heads are quite high, especially for the groundsheet. A footprint is available, but I don't think it's necessary.
Pitching this one-person tent is quick and easy with a little practice. Once attached the inner can be left in place for the next time. The crossed poles make for a secure stable structure and unusually the tent resists wind best with the high end pitched into the wind. This also gives protection from the weather to the porch when the flysheet door is open.
The Alpkit Polestar opens along one side, which makes getting in and out easy and allows good views. There's reasonable headroom at the high end. The tent isn't that long however and that, combined with the low foot end, makes it best suited for people like me who aren't that tall.
The porch is long but not that deep, so cooking with the door closed would require great care. The door can be pegged out to form an awning and create a reasonably sheltered cooking area in bad weather. An extra guyline is needed for this.
For ventilation, there's a hooded mesh vent by the top of the flysheet door and another at the foot end.
The Polestar is great value for money as well as very light. The flysheet can be used on its own with just a groundsheet or bivi bag and this is how I'd use it outside midge season as it gives much more room.
To read the other tent reviews in this test head to The Great Outdoors' best one-person backpacking tents.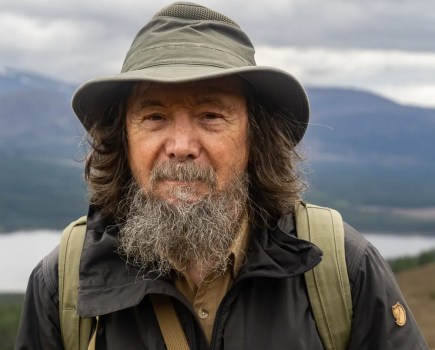 Tested by Chris Townsend
Chris tested these tents in the Scottish Highlands, mostly the Cairngorms, over autumn 2021 and winter 2022. Sites were both high and low level and at times the tents were subjected to more severe weather than they are designed for. Note: weights are for the tent complete with stuffsacks.
This review first appeared in the May 2022 issue of The Great Outdoors.