Chris Townsend likes the Osprey Stratos, a little daypack with a sophisticated harness system.
The Osprey Stratos 26 is a daypack with the suspension system of a much bigger pack. That makes it quite heavy but also very comfortable to carry, especially if you have a heavier load than usual for a daypack.
The Stratos has a curved wire frame and a tensioned mesh panel that covers the back so there's an airgap between the two. This certainly reduces sweat built-up on your back compared with a body-hugging design and on a small pack like this has little effect on stability.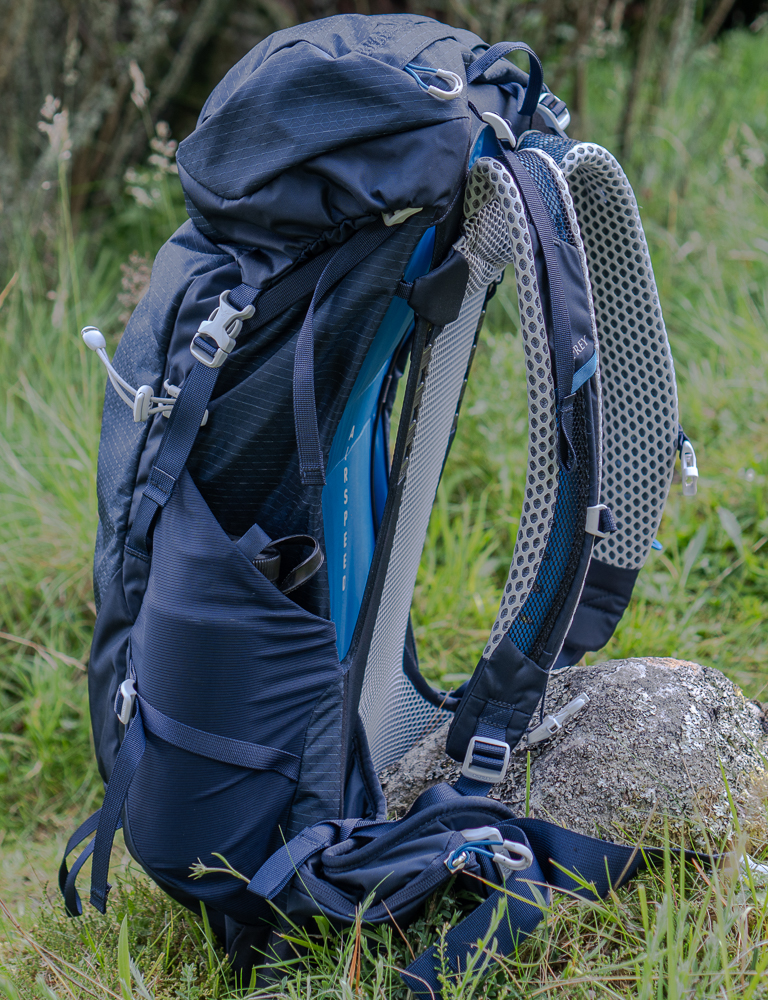 The position of the Osprey Stratos' shoulder straps can be adjusted up and down via plastic tabs that fit into slots in injection-moulded strips that run along the sides of the mesh so the pack, which only comes in one size, will fit people with different length backs. This is one of the easiest adjustment systems I've used. The back also has load lifter straps at the top and there's an adjustable sternum strap on the shoulder straps. The mesh on the back extends to cover the inside of the hipbelt.
The pack itself is quite tall and narrow. There are five external zipped pockets and two stretch mesh pockets. The front zipped pocket is big enough for waterproofs or a light warm top. The mesh pockets are taller than on many packs and hold litre size water bottles securely. Removing a bottle while wearing the pack is very difficult however due to the height of the pocket and putting one back impossible, unless you're much more flexible than me. It's much easier just to take the pack off when you want a drink.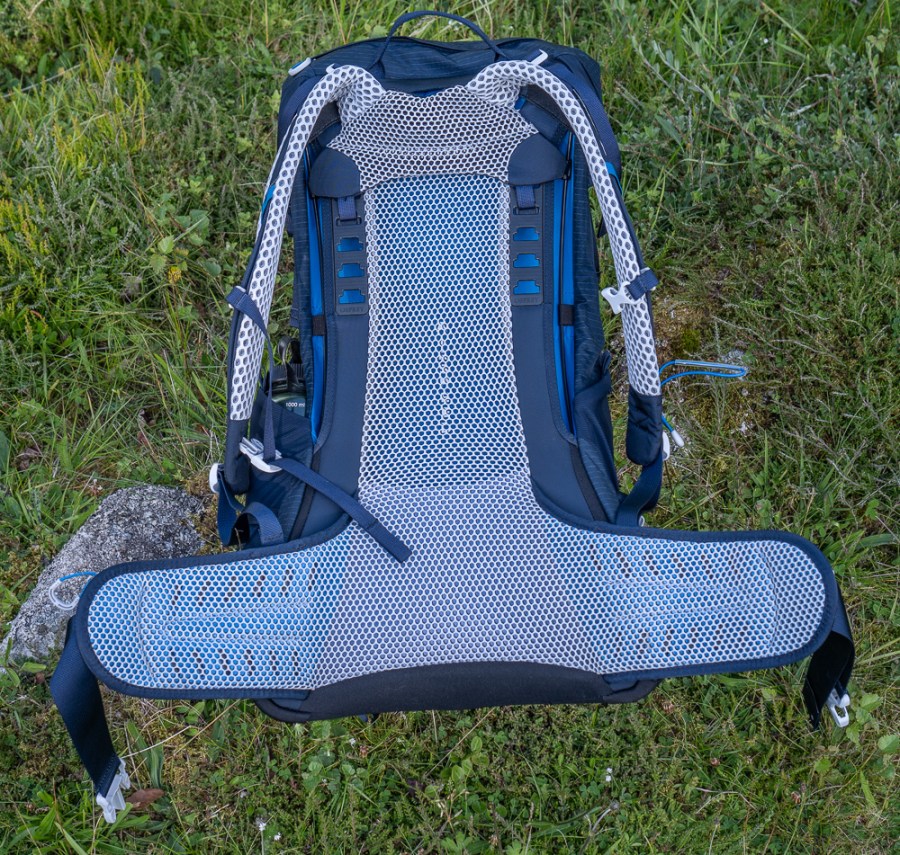 There is a hydration sleeve inside and a hole for a hose. This takes up so much room inside the pack, which isn't very deep front to back, that there's not much left for everything else though. I don't normally use a hydration bladder so this doesn't bother me. If you do use one I'd look for a pack with a roomier inner.
The Osprey Stratos easily holds enough for a day out for three-season walking. In winter it might not be big enough unless your gear is very compact. It would certainly handle the weight of snow and ice gear though. I loaded it with camera gear including a tripod for a total weight of 8kg and it was fine. I reckon it would carry several kilos more comfortably.
The pack is made from recycled nylon with a honeycomb pattern that feels tough. I think it will last well. It's not fully waterproof though it has stood up to a couple of hours of rain without letting any in. There is a rain cover in the base pocket. This weighs 75 grams so you could save a little weight by leaving it at home. I carry items I want to stay dry in drybags anyway so I don't need a rain cover.
Overall the Osprey Stratos 26 is a good little daypack. The harness system is perhaps a bit over-designed for a 26-litre pack but it does make for a comfortable carry.
RECOMMENDED: This product has been awarded our 'Recommended' endorsement, meaning our reviewer believes it is a strong product which works well for its intended purpose.