Sleeping in this classic A-frame family camping tent is a bit like kipping in a time tunnel, and took me right back to my first, week-long camps as a Scout (this definitely dates me).
It's made from polycotton and therefore has a low hydrostatic head; but in this case the tendency for the cotton to absorb water, rather than give it up, means we stayed completely dry on our test. The DWR treatment has worked well so far, but the brand warns that this is a tent for use in 'mainly fair weather'. What you lack in technical waterproofness, you gain in breathability.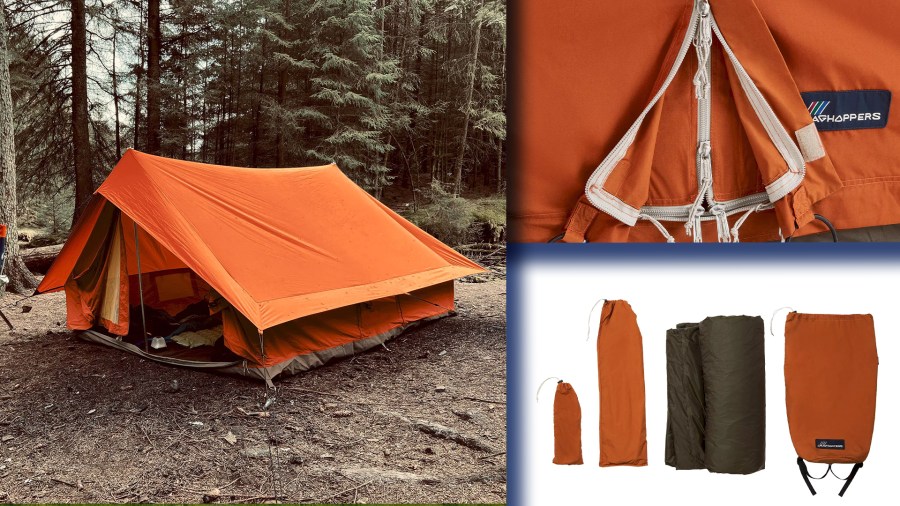 It's really comfortable and airy to sleep in, with none of the clamminess and condensation that can beset plastic fabrics. It even smells nice!
Unlike my old canvas Scout tent, the floor in this single-skin shelter is sewn in. There are four capacious pockets, the pegs and poles are thick steel, and there are eight pegging points and another eight guys.There's a single entrance protected from the elements by a slight 'beak', the door of which opens from left, right or on both sides.
Each side has a full-size mesh window, and there's an additional two side vents low down on the long sides of the tent – again with mesh windows. Each opening has zips and toggles, and every component is beautifully made and very robust. 'Sustainability' has obviously been a priority.
The A-frame design means it's a cinch to pitch and it's actually very wind-resistant, even in sudden gusts. Given the sturdy build quality, the carry weight isn't too onerous, and it helps that a comfortable polycotton rucksack is supplied.
What would make this better? A door at each end would be far more practical, as would at least one porch – the beak could simply be extended, which would create a cooking and storage area. We'd struggle to get our family of four in without fisticuffs, too – it's more like a 2-3-person, with gear.
But despite its obvious limitations, the Kiwi tent turns out to be the most fun shelter we've used in a long time, and I'll be sorry to see it go.
For retro 'I'm sleeping in a Wes Anderson film prop' atmosphere, nothing else comes close!
Flysheet: polycotton blend, (65/35) treated with PFC DWR and Eco Anti Mildew, 500mm hydrostatic head | Groundsheet: 420D recycled polyester with PU coating, 10,000mm hydrostatic head | Poles: 2x steel | Pegs: 20 steel | Porches: none | Inner: 1 living area, approx. 255x188cm, centre height 148cm, side height 42cm.
Price: £550
Weight: 8.2kg
More info: craghoppers.com