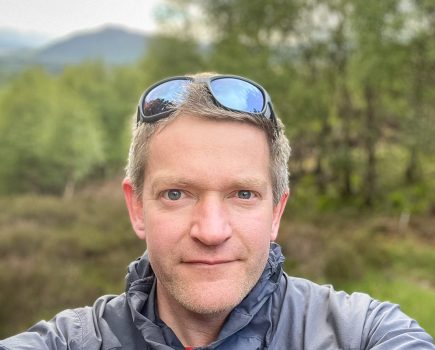 Tested by David Lintern
David tested these poles on a wide mix of ground, from multiday backpacks to his local trails on days out with the kids, right across Scotland from Spring through to Autumn. Weights are from his digital scales and for individual poles (not pairs). 
This review first appeared in the January 2023 issue of The Great Outdoors.
The Black Diamond Trail is a personal favourite of our expert gear tester despite being quite a heavy trekking pole.
The Black Diamond Trail trekking pole is a personal favourite, despite being quite a heavy trekking pole. It's a 3-section aluminium pole, with instantly readable measurements in metric given on the lower two sections, and a good range of height adjustability.
Rating: 4.5/5
Pros: Price, durability 
Cons: Not the lightest
Price: $120 | £95 (pair)
Buy now from blackdiamondequipment.com
Weight: 0.56 lb. | 256g each
Materials: aluminium shaft, foam handle | Features: 3-section pole, fabric straps, flick lock system, 3-season and winter baskets supplied | Sizes: packed length 64cm, fully extended 140cm
The sections are joined using the flick lock system, and tension-adjusted via a recessed Phillips screw. I always carry a small penknife on anything longer than a daywalk, and I prefer this lower-profile method of tensioning each joint, as they are less prone to collecting dirt or being knocked when in use. The foam handle is well suited for medium-sized hands and comes in a single, long piece, with very basic moulding for the bottom of the palm. This allows the user to move the hand up and down the pole when covering uneven terrain.
I never use pole straps, but should you choose to this one has some basic padding and is comfortable. In use, the pole is weighted slightly to the tip, which gives a slight swing in forward motion. The aluminium shafts are strong and do not bend or wobble when under strain.
This new version of the classic Black Diamond trail design is a few centimetres longer when collapsed than my originals, but otherwise this is a tried and true trekking pole whose strength lies in its simplicity. In combination with a reasonable price, the BD Trail gets my Best Buy recommendation.
See more trekking poles in our guide to the best trekking poles.