An unusual garment made from natural fibres
---
This lovely if rather unusual garment is the first item from Keela's new Heritage range. As the name says it's made from genuine Harris Tweed woven in the Western Isles with British Millerain Stay Wax Cotton panels on the shoulders and lower sleeves for abrasion resistance. It has a loose fit – I can easily wear the Medium size over a thick fleece (though it would have to be very cold before I'd need to do so). There are two button-closed roomy pockets on the chest. The neck opening and cuffs also fasten with buttons. No zips or Velcro on this top. There's a pen slot on one sleeve and a loop for a fire steel in one pocket. The stand-up collar and cuffs are lined with cotton, necessary as the tweed is a bit itchy. I certainly wouldn't want to wear this over a short-sleeved top.
The Bush Smock is water and wind- resistant. I wore it on a breezy day with light rain falling and it kept me dry. I did notice the wind cutting through it when out in the open though. The smock is surprisingly warm. In temperatures only a few degrees above freezing it kept me warm worn over a light base layer. It's not that light for the warmth however as it weighs 765 grams. It's quite bulky when rolled up too. This is a garment for wearing all day not carrying in the pack.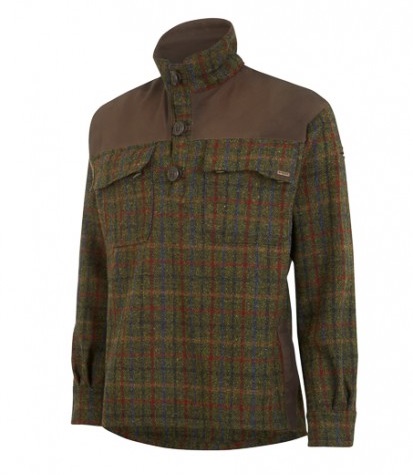 Designed in conjunction with bushcraft company Woodland Ways the smock isn't really aimed at hillwalkers and backpackers, though it could be used by both. For low level walks it's excellent and if you're lighting camp fires the fabrics are fire resistant. The look is very different to that of modern designs and synthetic fabrics too. I like it very much. The cost is £139.95.
CLICK HERE TO READ CHRIS'S REVIEW OF THE RAB NEUTRINO 800 SLEEPING BAG
The rest of the Heritage Range will be launched on April I and includes several items that look a bit more useful than the Smock for hillwalking, including a Ventile jacket and a microfleece top.