A freezing night on the Moine Mhor shows Chris Townsend just how warm the Rab Neutrino 800 sleeping bag is
---
The moonlight shining on my face woke me. I stuck a hand out of the sleeping bag, displacing frost from round the hood, and grabbed my extremely cold watch. 1.30 a.m. I checked the temperature -12.6°C. I was lying with my head in the open door of the tent. Above I could see bright stars. The tent was white with frost. I debated removing my socks. My feet were rather hot. The rest of me was pretty warm too, clad only in thin base layers. In fact I felt very comfortable and snug and soon feel back to sleep, only waking again at dawn, when the temperature was a milder -6°C.
The sleeping bag that was keeping me so warm was Rab's Neutrino 800, a lightweight bag with phenomenal loft. I'd been waiting for some really cold weather to try it in and now that it had arrived I was impressed. This really is a very warm bag for the weight. It has a thin Pertex Quantum shell that allows the down to loft fully and all the usual features – shaped foot, hood, neck baffle, thick baffle behind the zip. The very high fill power down is held in chambers with trapezoidal baffles – internal walls angled towards each other. The down is also treated with a Nikwax product to make it hydrophobic so it will resist a fair amount of moisture, as I found when the frost round the hood melted, though it's not waterproof.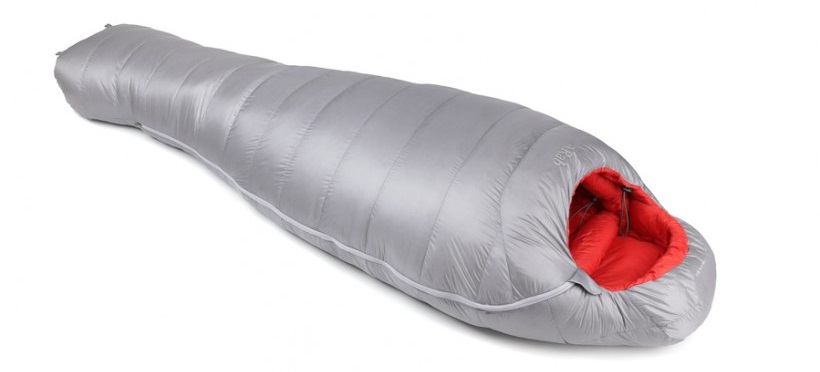 Whilst the shell of the bag is made in China it's hand-filled in Rab's factory in Derbyshire (one of the reasons for the high price). The down is traceable under the European Down & Feather Association Codex, which means it's either the by-product of geese slaughtered for food or is harvested during moulting and not from live-plucked birds.
The Neutrino 800 is an ideal winter backpacking bag, especially if you're a cold sleeper (I suspect I'd be too warm in it in above zero temperatures). The only drawbacks are the cost – though some comparable bags cost even more – and that it's only available in one length, suitable according to Rab , for people up to 185cms tall.
Information
Star rating: 4.5/5 Price: £490 Fill: 800 grams 800 fill power hydrophobic European goose down Shell: Pertex Quantum Zip: 3/4 YKK Sizes: 1 Maker's rating: -20°C Weight: 1293 grams