Where can you camp? What should you take? Is wild camping legal – and how have coronavirus restrictions changed the situation? If you're new to the idea of camping in the wild, here's what you need to know. 
Wild camping is the act of setting up a self-sufficient camp for the night in a wild, remote or beautiful place away from civilisation, and doing so in a discreet and responsible way. It has long been a feature of backpacking and trekking journeys, but in more recent years it has taken on a character of its own as an activity, with the camp itself becoming as prized as the journey to it.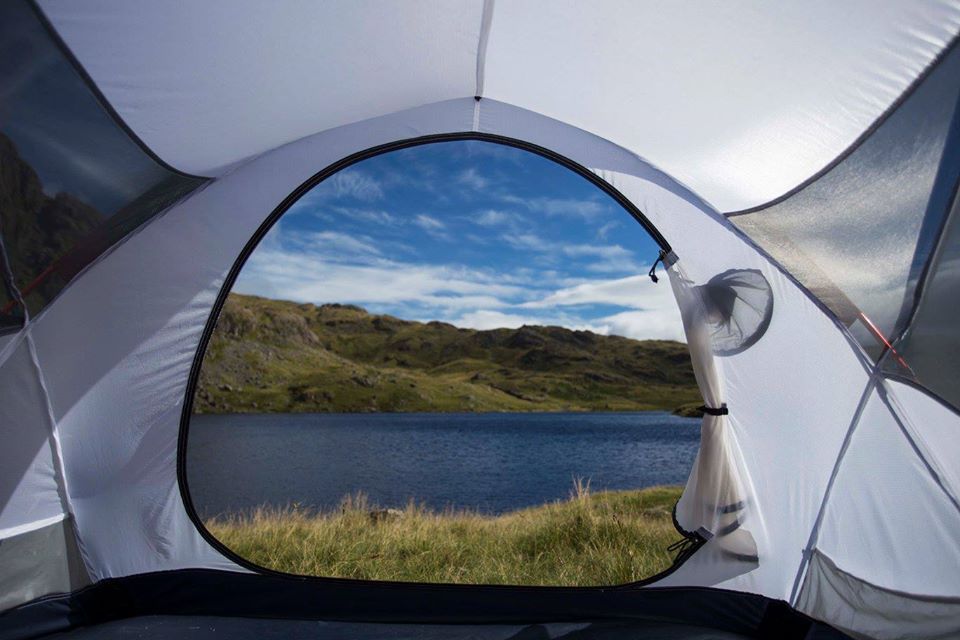 As unlikely as it may seem, camping for fun was first popularised on the shores of the Thames in the late nineteenth century, and equipment was so heavy that it had to be transported by boat. Today the lightest tent on the market today weighs about as much as a loaf of bread. It's never been easier to roam in wild and open spaces and bed down wherever takes your fancy.
However, like all outdoor activities, wild camping has a learning curve, and there are some important considerations involved. Here are a few pointers to help get you started.
Start small
Don't bite off more than you can chew at first. For your first wild camp, head somewhere with civilisation relatively close to and so that you can easily 'escape' if necessary, and tag along with someone more experienced. That should give you a taste of sleeping in the wild – and whether or not you actually like it!
Watch your weight
It's easy to carry too much when wild camping. The necessities are a tent or other shelter; sleeping bag, sleeping mat, cooking gear (stove, pot, spoon), food, water bottle, torch and rucksack. These should all be as light and compact as you can manage. On top of your normal walking gear, a snug down or synthetic insulated jacket is invaluable for keeping you cosy in camp when the temperature drops.
Try and strike a balance between leaving non-essential items behind and having enough to ensure comfort and safety. You can tweak this balance with experience.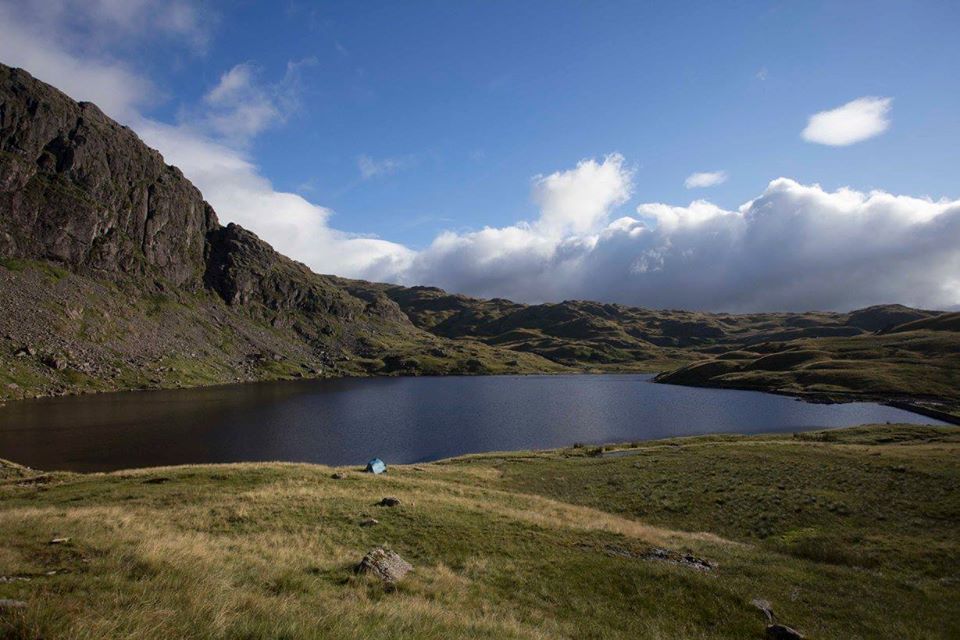 Choose your spot carefully
Everyone loves an Instagram-friendly wild camp, with a spectacular mountain backdrop. But in reality, more basic considerations of shelter and comfort come first. A good is flat, dry, and sheltered from wind, even if it is less photogenic. You'll also need water in the camp, so a water source nearby is very useful.
Camp away from footpaths whenever possible and away from any other tents so you don't disturb people – and they don't disturb you!
Leave no trace
Wild camping sites should be left the same as you found them; it should be impossible to tell anyone has camped there. Camp on durable ground, like short coarse vegetation, if possible. You shouldn't need to put rocks on pegs if you pitch your tent properly and have good pegs. Once you walk a short distance away and look back. Always bury human waste at least six inches deep and 50 metres away from water. Never camp on or near archaeological or heritage sites.
Small campfires are permitted in Scotland, but with many exceptions such as in forests, on farmland or peaty ground, or in very dry conditions. They are not permitted in England, Wales and Northern Ireland unless you have landowner's permission. Carrying a stove means you shouldn't need to light a camp fire in any case.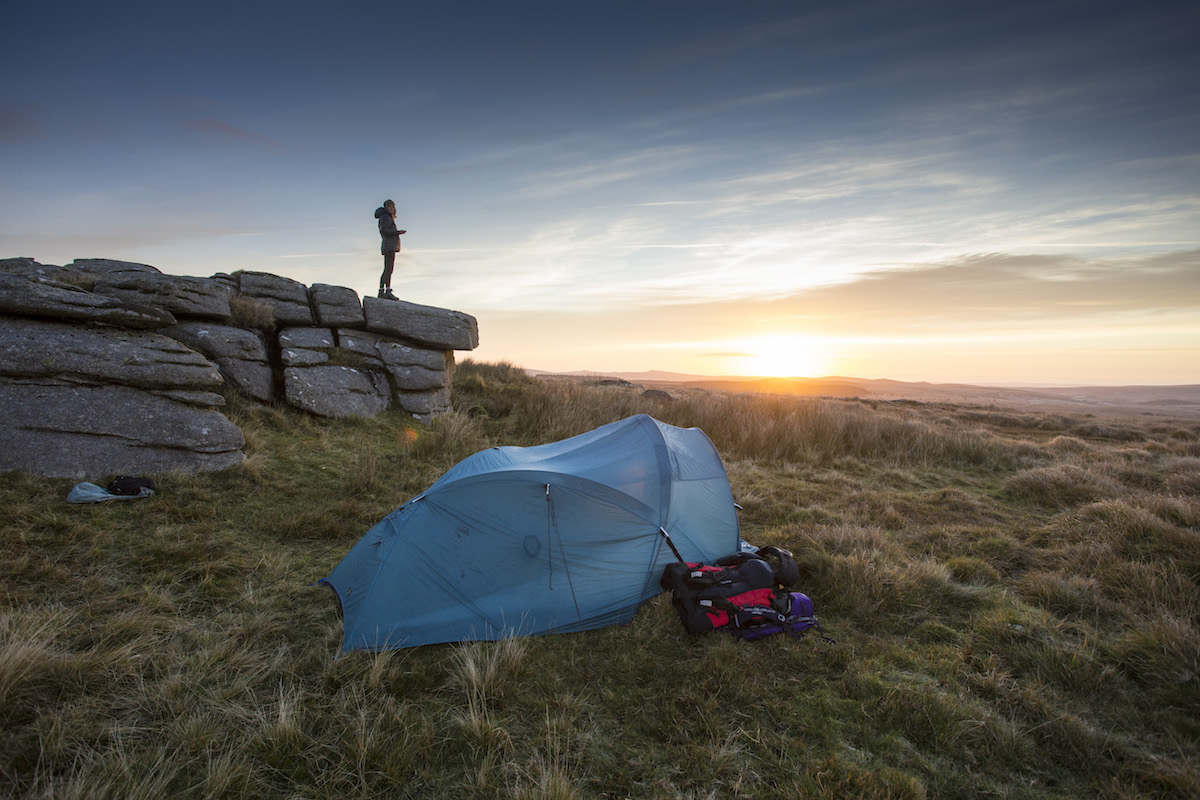 Understand the legalities
The law around wild camping varies across the UK. In Scotland wild camping is legal as long as you follow the Outdoor Access Code, which basically means leave no trace and don't disturb people or animals. Camp late in the day and move on early the next morning and you're less likely to encounter problems. Camping out of sight of buildings and roads, and on open rather than enclosed land, is certainly best too.
Outside of Scotland, there is no legal right to camp wild in the UK. Technically, in England, Wales and Northern Ireland you need to ask the landowner's permission. However, in many hill areas such as the Lake District, wild camping away from roads and cultivated land is traditionally tolerated. Wherever you choose to wild camp, you should always be discreet, respectful, and follow 'leave no trace' principles.
(Note: wild camping was considered legal on Dartmoor until January 2023, when the high court ruled in favour of a wealthy landowner's legal claim against the national park and revoked wild camping rights there, making the legal situation there the same as the rest of England and Wales).
Check coronavirus restrictions before you pitch
Wild camping is currently off the table in Scotland and Wales due to COVID-19 restrictions – see this article for more on the situation as of 3rd July 2020. Recommendations are changing rapidly, so it's important to check national and local rules before you head off on a wild camp.
Bear in mind that irresponsible behaviour – mainly by roadside campers – may have created prejudices against wild campers. We'd recommend being sensitive to the concerns of locals and making your camp as remote and unobtrusive as possible.